At the past New York, London, Milan and Paris Fashion Weeks designers presented us the main trends of season spring-summer 2020. But many trends turned out to be so practical that you shouldn't not wait six months and may introduce them into your wardrobe now. Here's a list of eight trends to look out for
80's style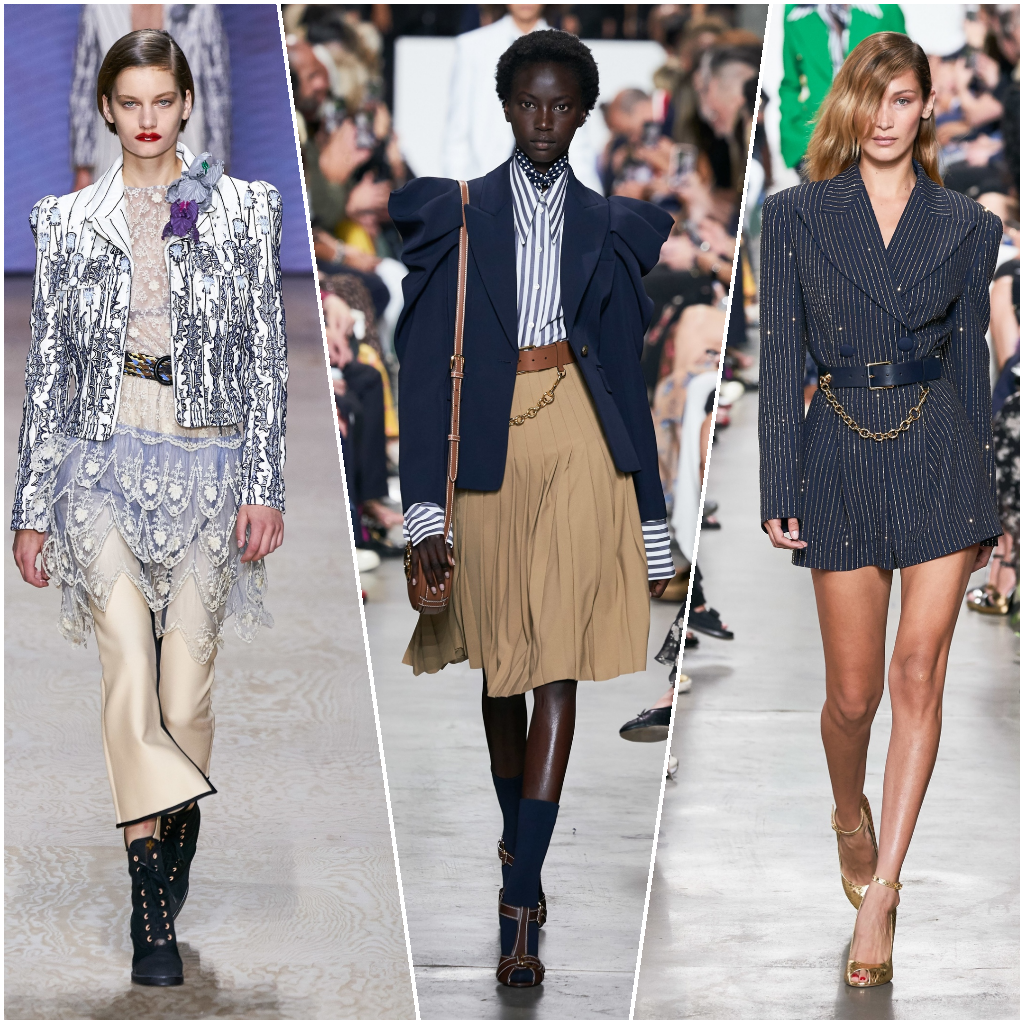 Louis Vuitton, Michael Kors, Michael Kors
Many designers again and again succumb to nostalgia and bring some elements from the era of the 80's to their new collections. Bigshoulders, sleeves, flashlights, bright colours and unusual styles - all this is a distinctive feature of the 80's. Pick up a jacket with voluminous shoulders or a similar blouse. These items also go well with leather pants (the trend of autumn 2019).
Vests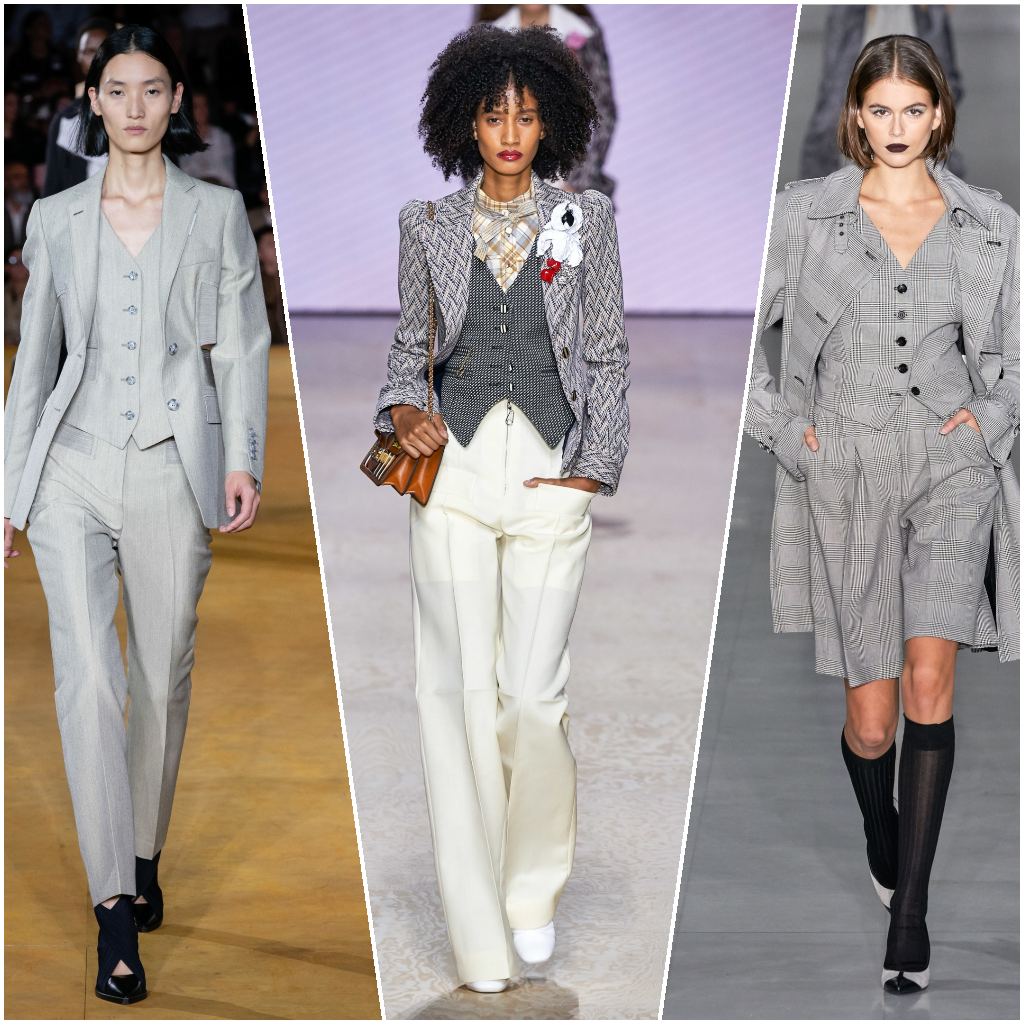 Max Mara, Louis Vuitton, Max Mara
A piece of clothing that many undeservedly ignore. Very in vain, we must say: a stylish vest will help to diversify both office and everyday style. As if seeking to right a wrong, designers obsessively advise us to purchase a vest for our wardrobe. We should also pay attention to the jackets in different interpretations: a strict solid-colour options, plaid models or models with contrasting prints. You can safely buy all this stuff without waiting for spring.
The classic vest can be worn with both blouses and turtlenecks. Choose a plain vest in black or grey to match with most blouses. Or play with colours and combinations to create more vivid and unconventional images. In any case, even if you are not trying to keep up with fashion, a vest can become a very useful addition to your style.
Psychedelic prints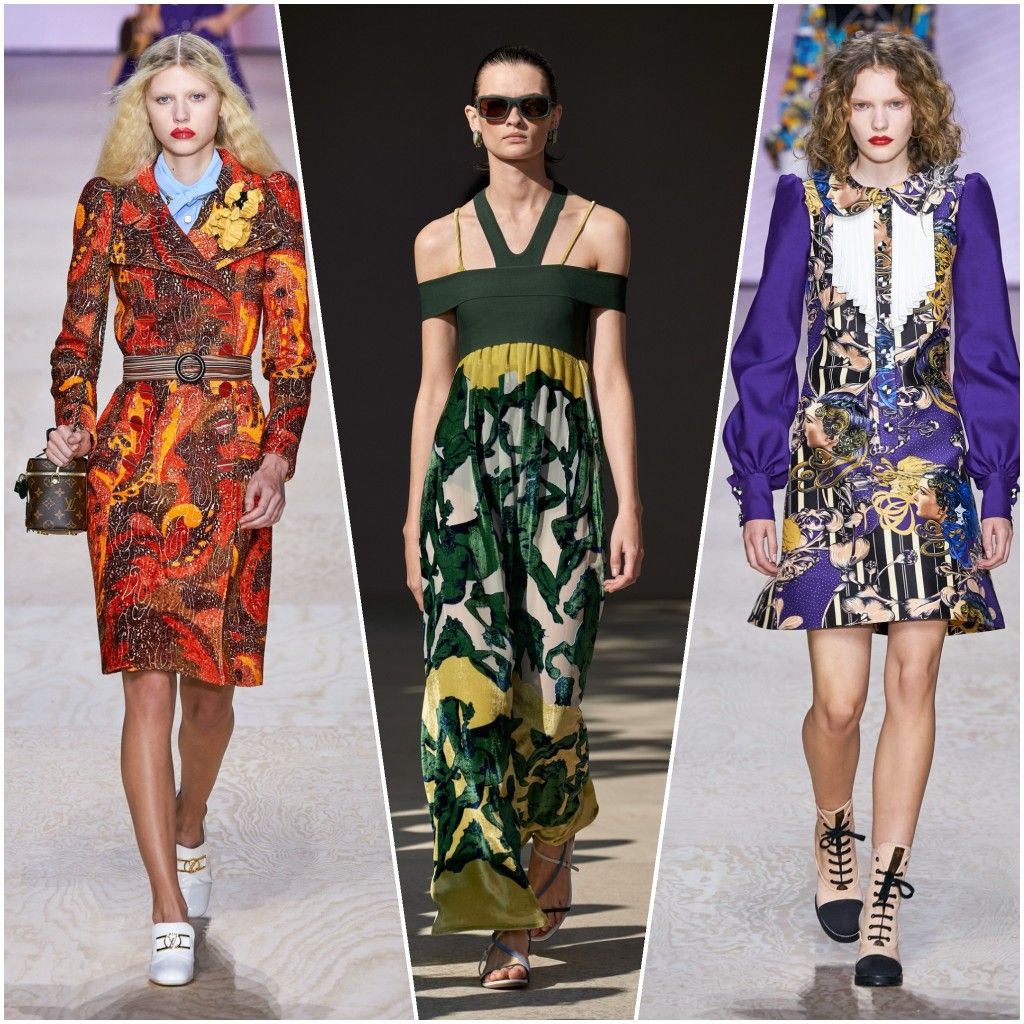 Louis Vuitton, Salvatore Ferragamo, Louis Vuitton
If last year designers drew our attention to floral prints, the next spring trend will be psychedelic motifs. Of course, some models may make you feel dizzy and look very unusual, but other options are very wearable. Some looks resemble Van Gogh's paintings, others as if they are painted by Gustav Klimt or even Paul Klee. Dresses, sweaters, skirts - designers presented a variety of clothes with psychedelic prints. And this will be one of the main next spring trends.
However, autumn (especially cold and rainy) is a period when we are particularly in need of bright colours. So don't wait for the heat: start to apply this fashionable advice in practice immediately. Bright sweaters, scarves and other accessories with psychedelic prints - all this can be used now.
Coloured leather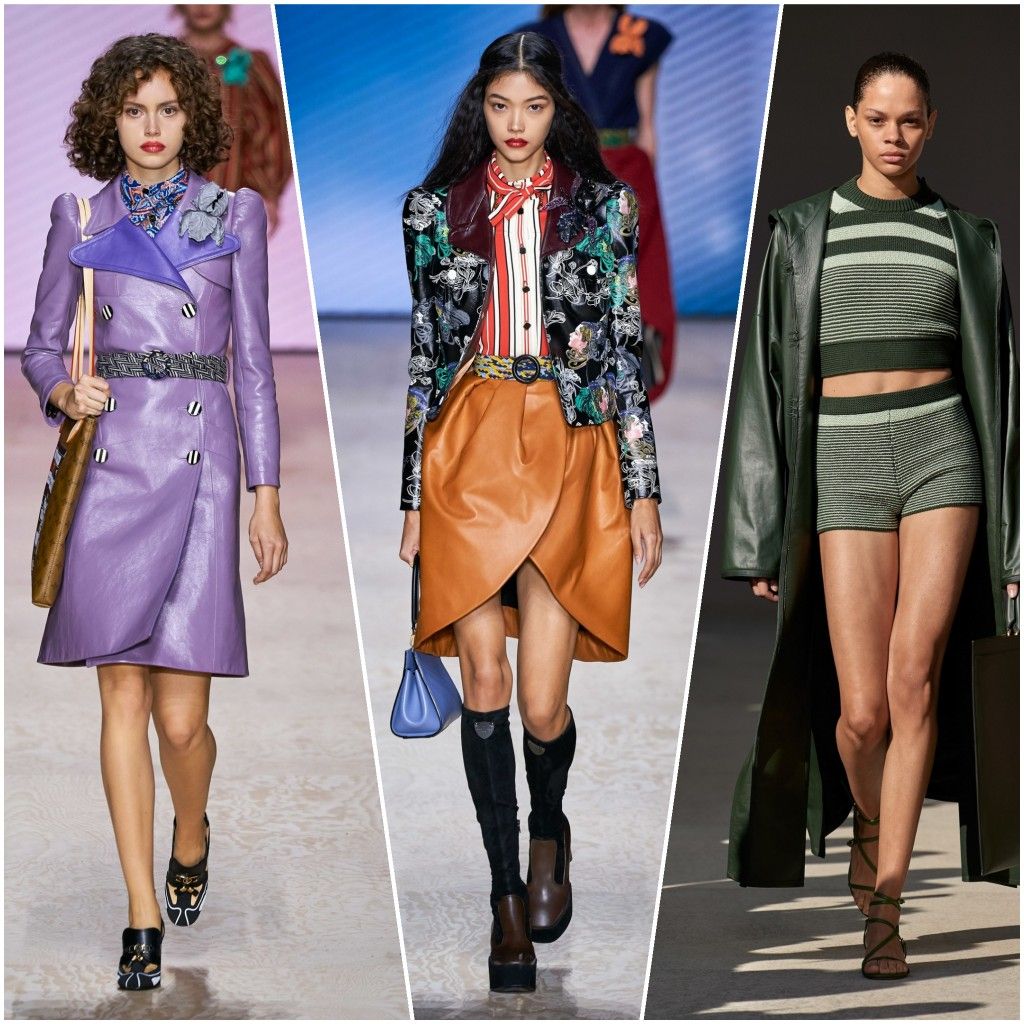 Louis Vuitton, Louis Vuitton, Salvatore Ferragamo
Leather is one of the most popular materials for creating clothes and accessories. However, black leather has already got boring. So next spring coloured leather will be trendy. And we aren't talking about brown leather or Burgundy leather, which was one of the trends last year. At the past Fashion weeks, designers showed us the most unusual and bright colours of leather things: pink, orange, light green, blue. It seems that Fashion Houses offer us to plunge into the world of iridescent and juicy colours next spring.
We suggest you not to wait: coloured leather can be worn even now! Start with leather gloves or belts in bright colours, then switch your attention to bright leather coats. And, of course, don't forget about leather skirts. They can be successfully worn to the office or to some party.
Baggy trousers
Michael Kors, Roland Mouret, Tory Burch
Another next spring trend, which can be included in your wardrobe now is baggy pants. They are comfortable and very practical, you can create a successful everyday or even go out look with them. For late autumn choose a model of dense fabric.
In general, you must remember that bagginess will be a real trend next year, and this applies not only to trousers, but also to jeans, dresses and even jackets. So take note!
And please, pay attention: some models are quite suitable for office style. Combine them with a simple white blouse, a strict jacket, and the bagginess of the trousers won't stand out.
Big bag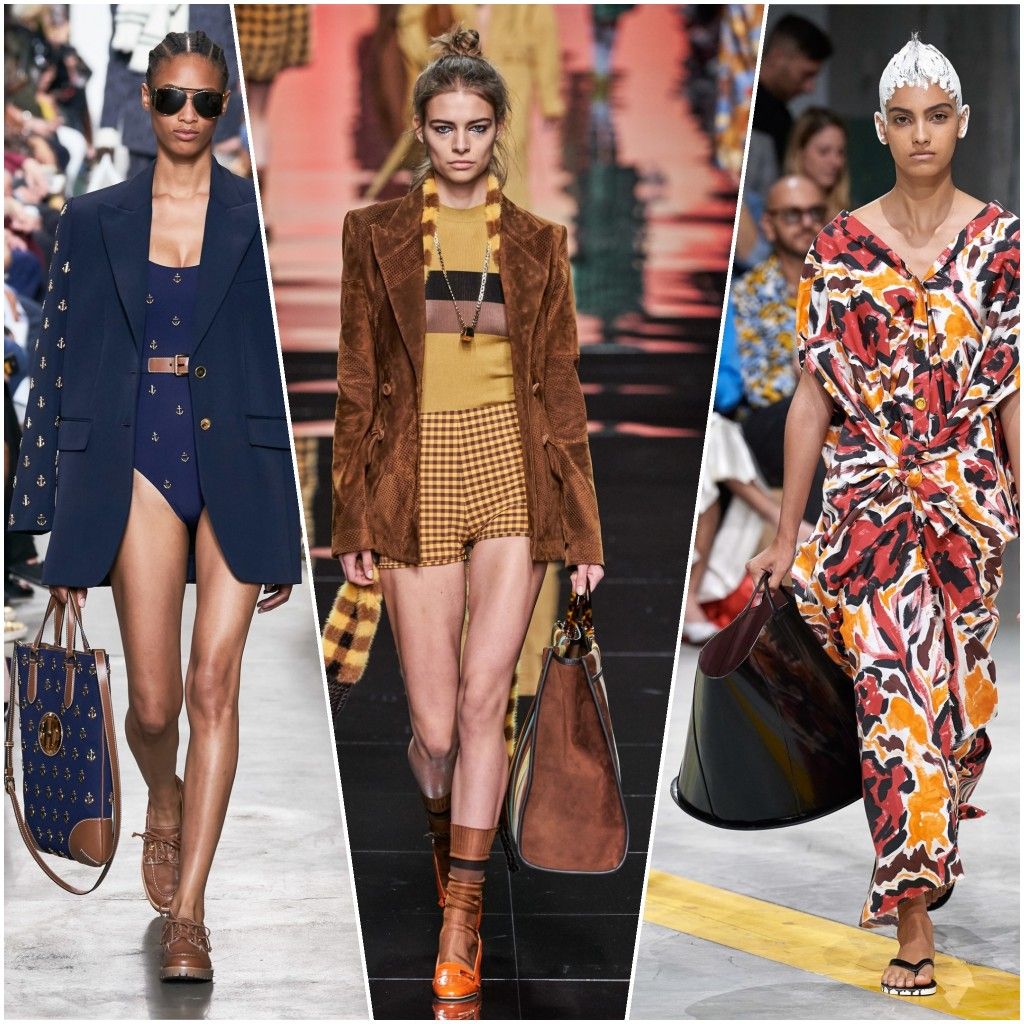 Michael Kors, Fendi, Marni
For those who like large and roomy bags, several brands have presented new interesting models. These are baggy shoulder bags and more traditional big bags like tote and shopping bags. And if the baggy bag is better to save for warm weather, the other options can be usednow. These are stylish, practical accessories that will complement any image you create.
Here is another argument in favour of buying a big bag now: this trend will hardly go out of fashion in the next few seasons and, even more, won't pass into the status of anti-trends.
Rope belts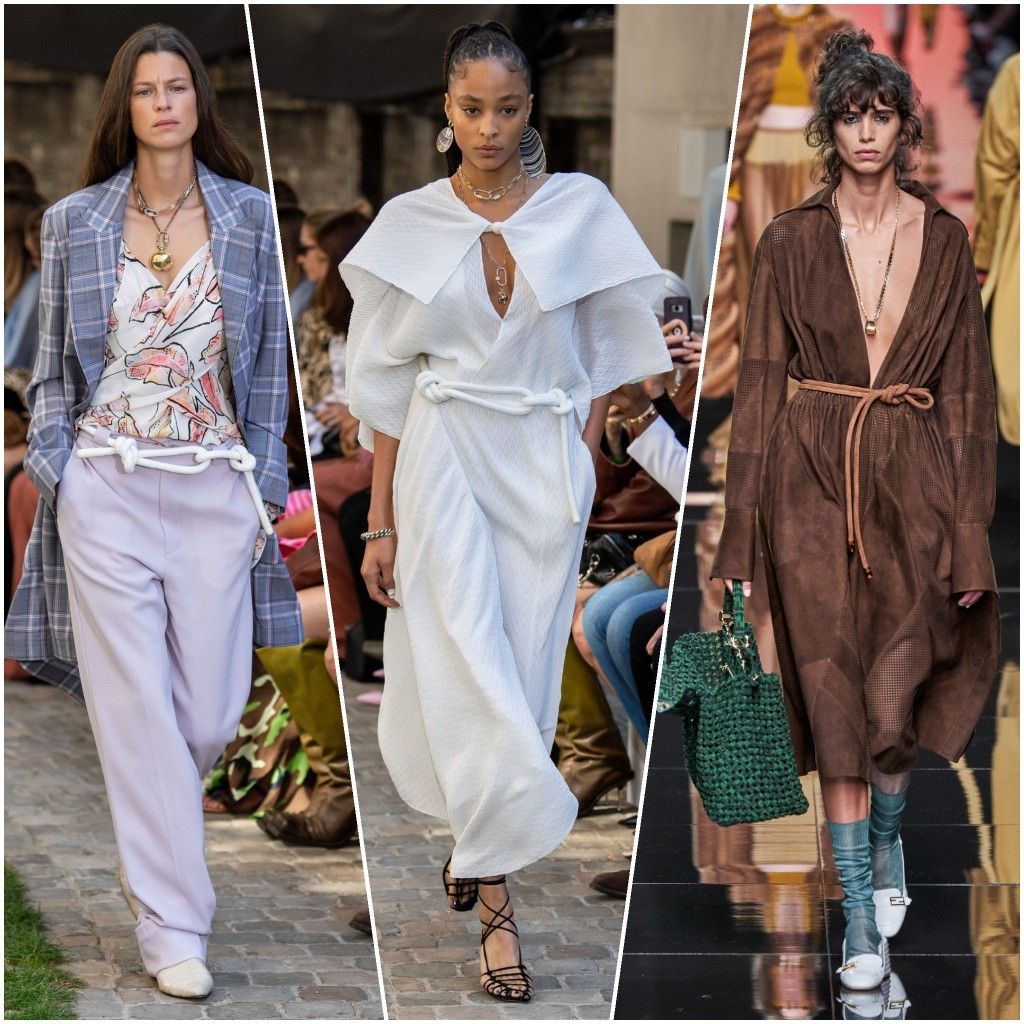 Roland Mouret, Roland Mouret, Fendi
Rope belt is a stylish and unusual detail, which is present in the collections of many designers. And while some of them offer a simple ordinary rope belts, the others create the real knots. This detail will complement any spring or summer look, especially if you have a sea cruise or a trip to some sunny country. But we highly recommend you not to limit yourself to these options and include a rope belt in your wardrobe now. This accessory can be worn not only with pants, but also with a dress. See how designer Roland Mouret offers to combine the same belt model with two different looks. You can use this tip to create a casual or even evening outfit. There is also a simpler version performed by the Fendi brand.
Necklace in the form of a chain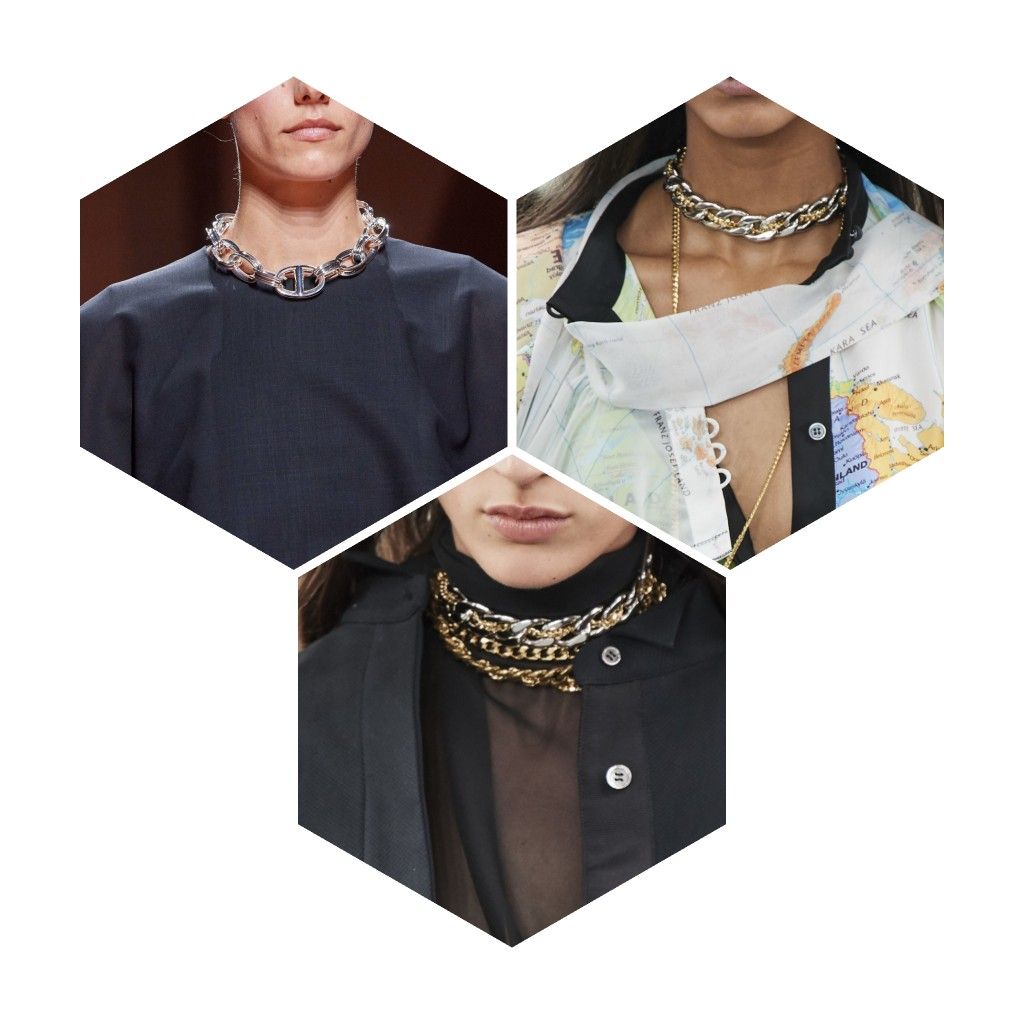 Hermes, Sacai, Sacai
Another stylish element, which is so loved by designers this year. We have already discussed jewelry in more detail, but now we are going to focus on this trend more. On the one hand, such large chains look catchy, on the other - almost minimalistic. It works due to the small number of details. Thanks to this, they are combined with clothes in different styles. Therefore, this necklace will be at the peak of popularity for at least a few seasons, and it can be used now too: it is best, of course, to decorate them with festive images, for example, an evening dress in the style of total-black. Such a bright detail will dilute the whole look and give it highlights. Options from a thinner chain can be added to the everyday look.