The trend for environmental friendliness is actively supported by the fashion industry. Brands are gradually starting to abandon natural fur and replace it with artificial one. Manufacturers have learned to make it both warm and beautiful. We've collected a selection of stylish teddy coats, which can be purchased on a different budget and worn even now.
By the way, in Russia faux fur coats are called Cheburashka, because the first versions of such outerwear were made of not very high-quality materials and reminded the fur of famous Russian cartoon's hero with the same name.
The main popularizer of teddy bear coats in the fashion industry and among celebrities was the Max Mara brand – they were one of the first to show outerwear made of faux fur on the catwalk, and later their example was followed by Kenzo, Burberry, Miu Miu and others. The trend was immediately picked up by many stars, including Sarah Jessica Parker, Kim Kardashian, Rosie Huntington-Whiteley and Rita Ora. The popularity of such coats is now gaining momentum, so if you're just thinking about buying it, don't pull –they will definitely be relevant in the coming years.
Посмотреть эту публикацию в Instagram
What to wear with?
Teddy coat will perfectly fit into any style. The main thing is to choose the right style and accessories. For a sporty or casual look, shortened oversize options are suitable, and for a classic look choose long fitted models with a belt.
Most often, these coats are found in calm shades: white, black, brown and beige, but recently they began to appear in more trendy colors-pink, green and blue.
Such item of wardrobe is quite independent, therefore it's better not to overload it with too bright and voluminous accessories and stop at something more restrained, for example, on plain scarves and hats. But you can have no limit choosing shoes-teddy coat will look good with sneakers and ankle boots.
Teddy bear coats correspond to several trends of this season:
they are easy to find in the brightest colors – this year, designers offer not to limit yourself to classic or pastel colors and to buy outerwear in yellow, pink and green;

these coats are often free cut, and it's suitable for girls with different types of figures;

teddy coat is combined with clothes and shoes of different styles;

it made of faux fur, which means no harm to animals.
The price of such coats depends on the quality of the material and accessories. We have compiled a selection of teddy bear coats for every taste and budget.
Inexpensive teddy bear coats up to 10 thousand rubles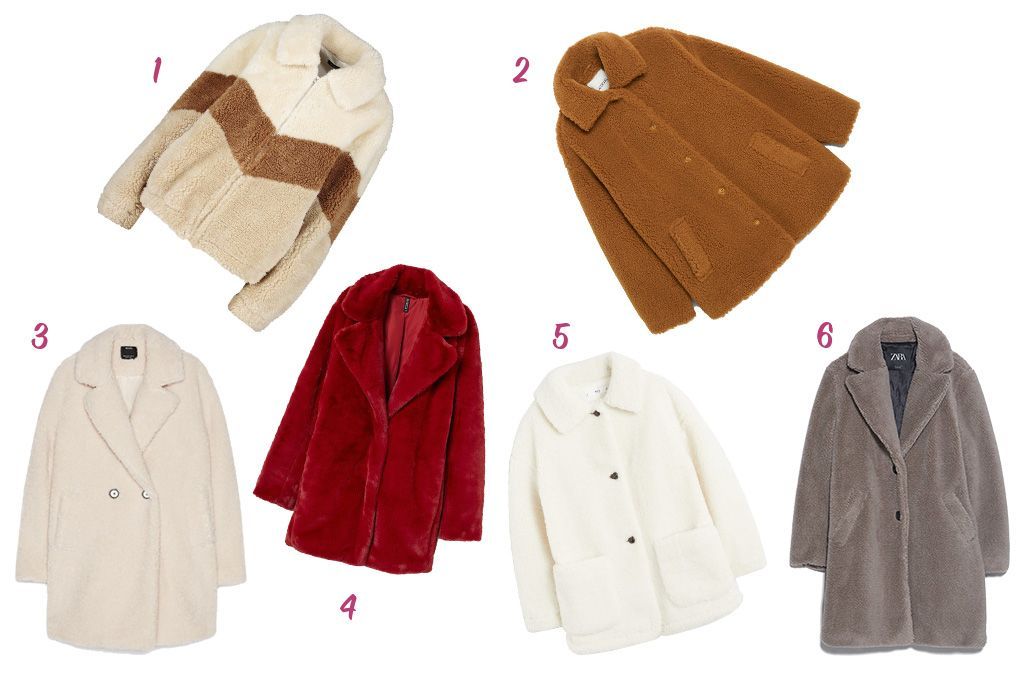 1-Boohoo 2-Monki 3 – Bershka 4 – H&M 5 – Mango 6 – Zara
Almost all mass-market brands have faux fur teddy coats in their collections. We advise you to pay attention to such brands as Zara, H&M, Mango, Uniqlo, Asos Design, Top Shop: you can find coats of different styles and colors worth less than 10 thousand rubles there.
Teddy coats up to 40 thousand rubles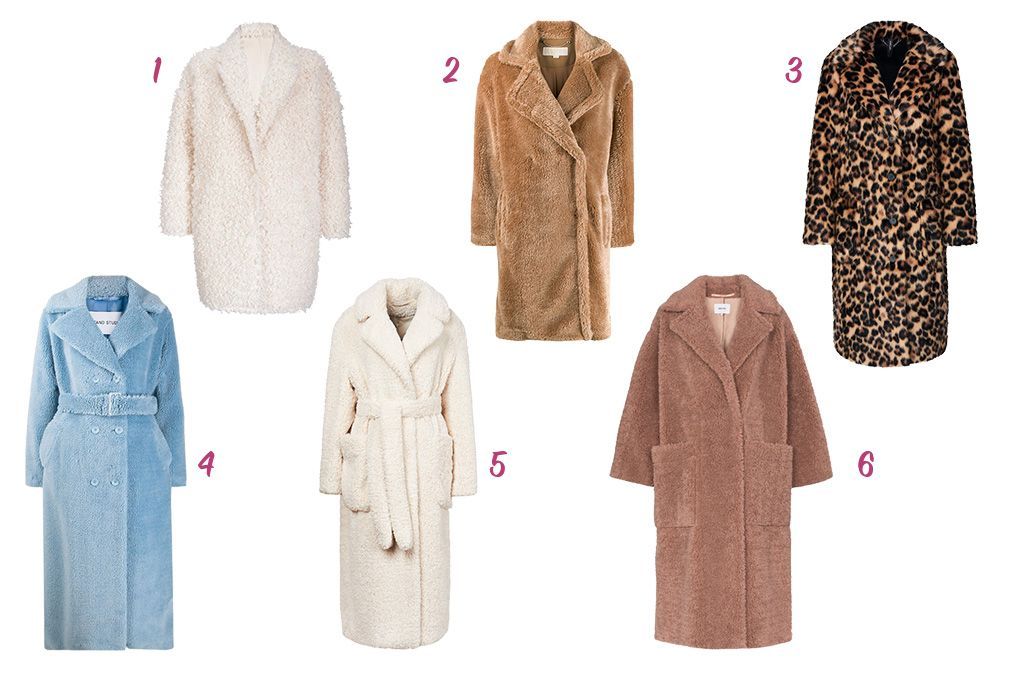 1 – Pinko 2 – Michael Michael Kors 3 – Marc Cain 4 – Stand Studio 5 – 12storeez 6 – Nanushka
Teddy coats up to 40 thousand rubles can be found at 12 storeez, Stand Studio, Apparis, Nanushka, Michael Kors and Ushatava brands.
Teddy coats from the luxury category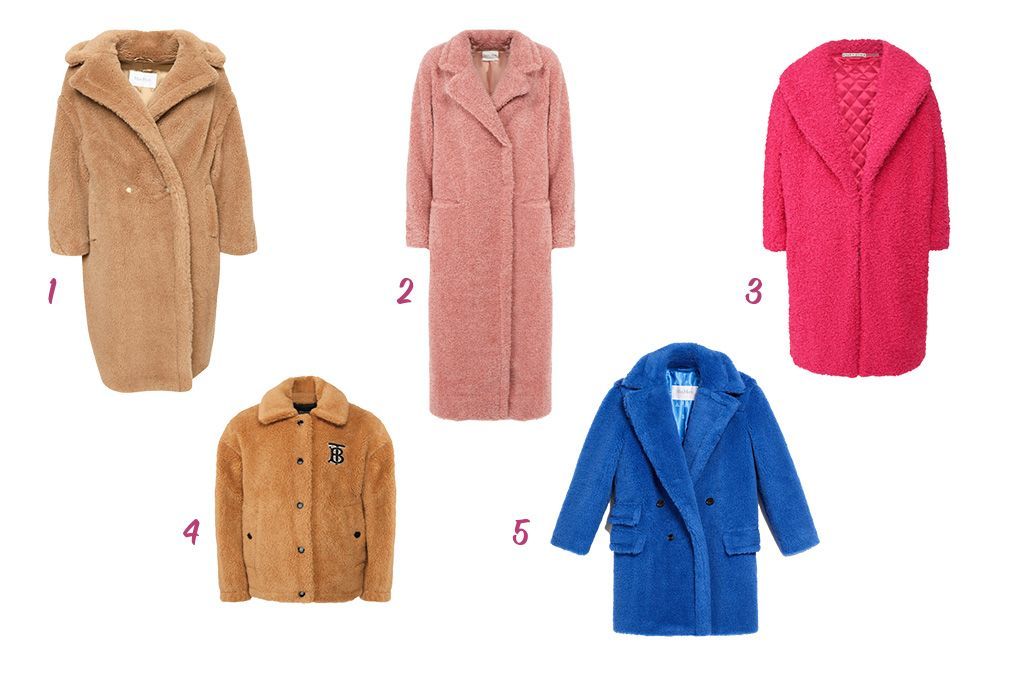 1-Max Mara 2-Forte Forte 3 – Alice+Olivia 4 – Burberry 5 – Max Mara
Designer Stella McCartney was one of the first to refuse using natural fur in her collections and came up with a special name for her fur coats - fur-free-fur. This trend was supported by Gucci, Versace, Dries van Noten and others, and recently Queen Elizabeth II announced the rejection of natural fur.
Russian brand Vika Gazinskaya knows exactly which teddy bear coats can keep you warm even in the harsh Russian winter. If it's still cold, put on a light jacket under the coat, for example, from Uniqlo.
But the British brand Shrimps offers not to limit yourself only by the cold season and wear lighter versions of teddy coats even in summer.
Посмотреть эту публикацию в Instagram