Fashion clothes, trendy prints and bold details: we're going to tell you about the main autumn/winter 2020 trends, which can be used in everyday wardrobe.
Leather and Latex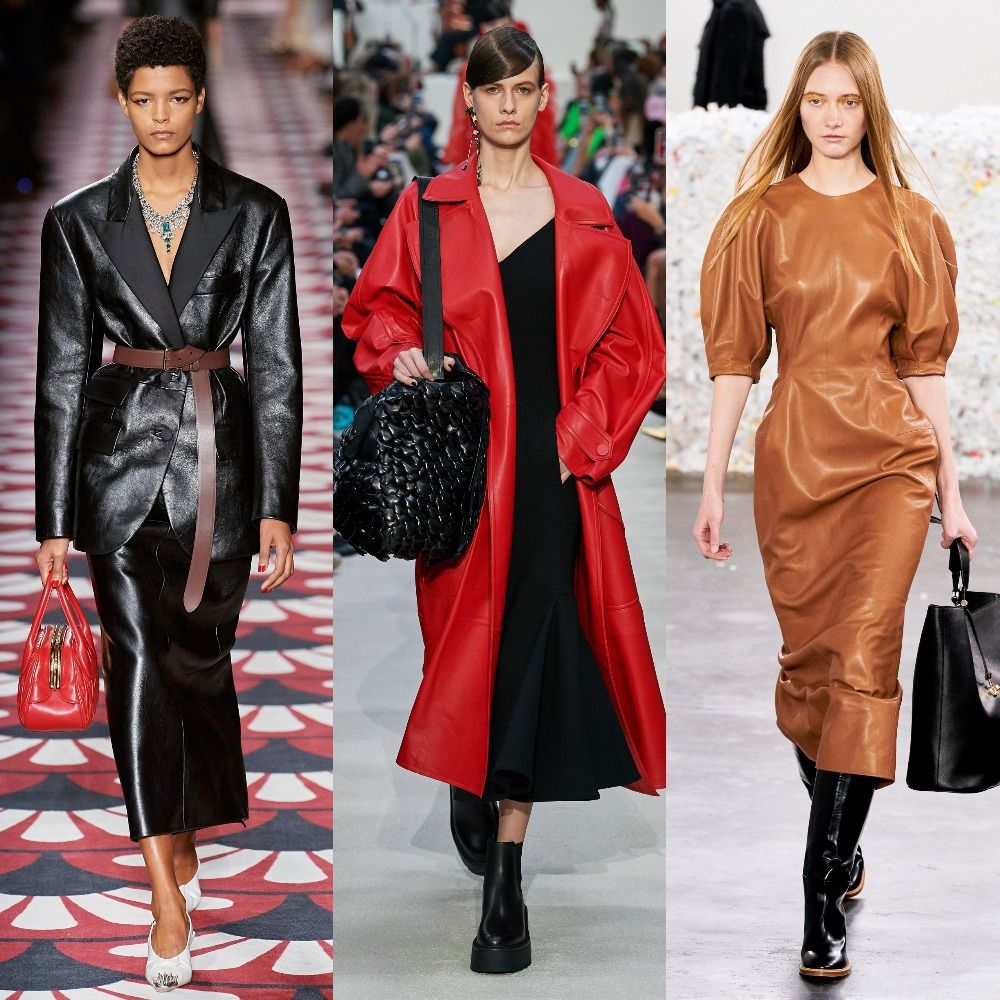 Miu Miu, Valentino, Gabriela Hearst
Inspired by the style of Trinity from The Matrix, Catwoman and other super heroines, the designers, not saying a word, make leather the main fabric of the autumn-winter 2020 season. Starting with accessories and ending with grunge total-looks, it becomes the basis for different styles and perhaps the most important element of every fashionista's wardrobe. No restrictions on colors: brutal black, elegant terracotta or catchy red - stylists predict that leather will become the new denim next season.
GCDS, Balmain, Saint Laurent
The same can be said about latex: fabric that until recently seemed to be too bold and provocative, wins catwalks of the world's major Fashion Weeks and looks versatile. Richard Quinn, Saint Laurent and Balmain invite to wear it with light dresses, pencil skirts and blouses, sometimes allowing yourself to be dressed in latex from head to toe.
Quilted Clothes and Sheepskin Coats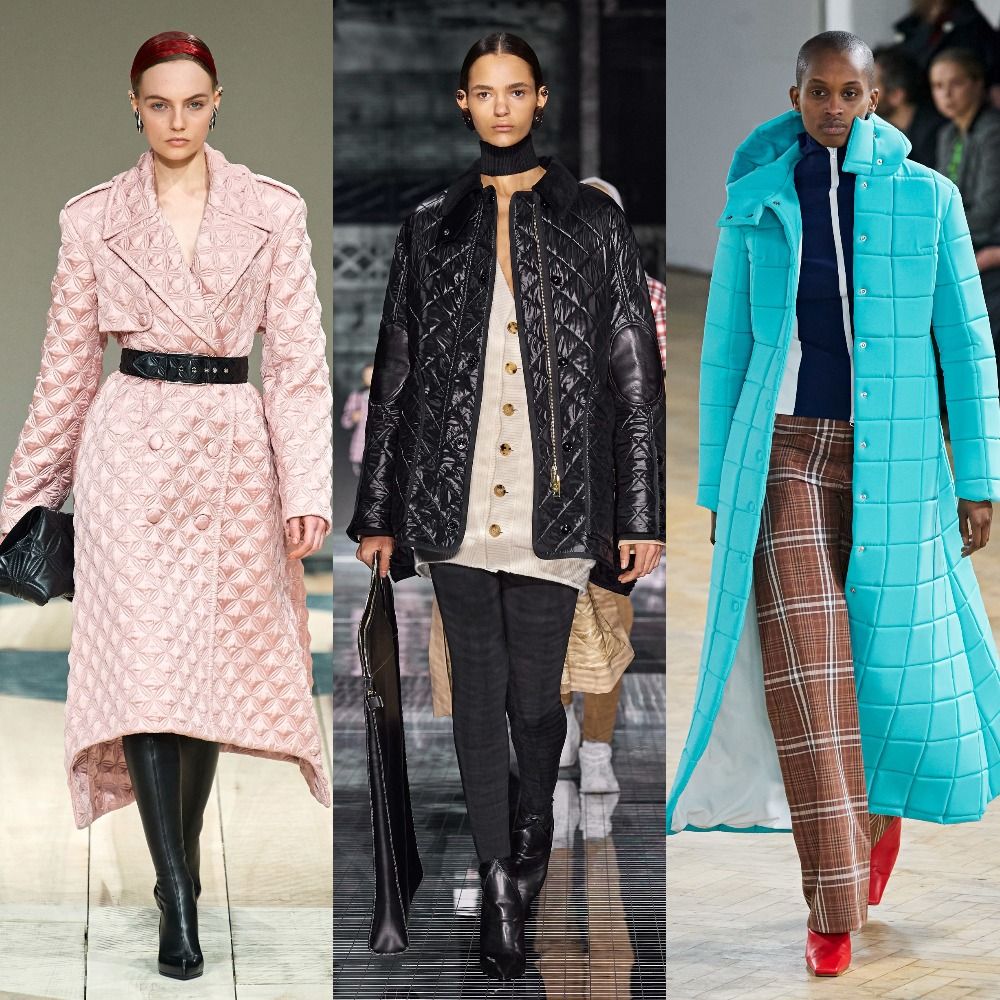 Alexander McQueen, Burberry, A.W.A.K.E MODE
Not only quilted coats, trench coats, puffers and jackets come back into fashion, but also skirts, dresses and accessories. However, it's not necessary to wait for autumn or winter: you can wear clothes that look like cozy blankets right now. Designers don't limit their imagination: stitch on fabric are not only in parallel, but also intertwining in abstract patterns that give the fabric unusual texture and extra volume.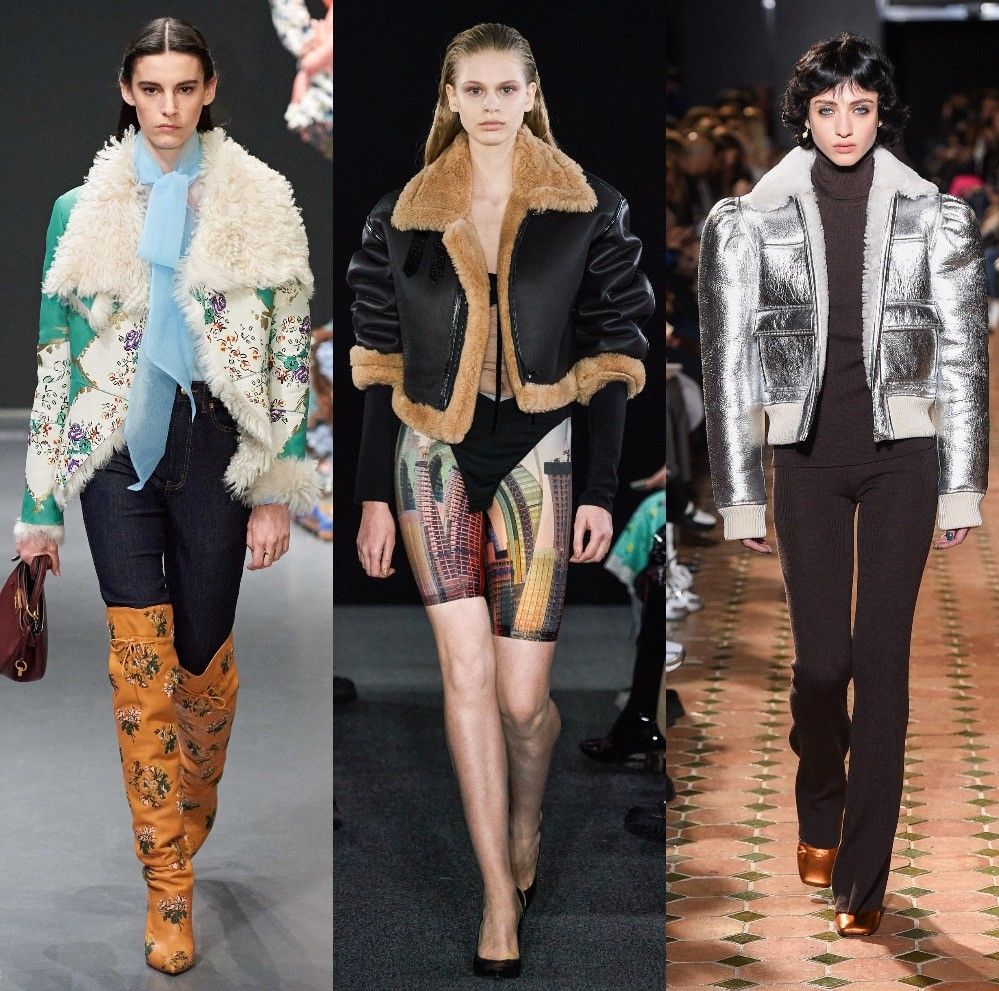 Tory Burch, David Koma, Paul & Joe
Among outerwear, the most relevant will be sheepskin coats, that will outshine classic coats and faux fur. A shortened version can be worn with jeans and boots with a massive sole, while extra-long models are perfect for midi skirts, dresses and pantsuits. The emphasis can be made on the oversize style, as well as on unusual color palette, for example, with a floral print or a pattern in the patchwork style.
Fringe and Feather
The main decorative elements of the autumn-winter 2020 season will be fringe and feathers, that go beyond the formal wardrobe and quite organically feel in the everyday.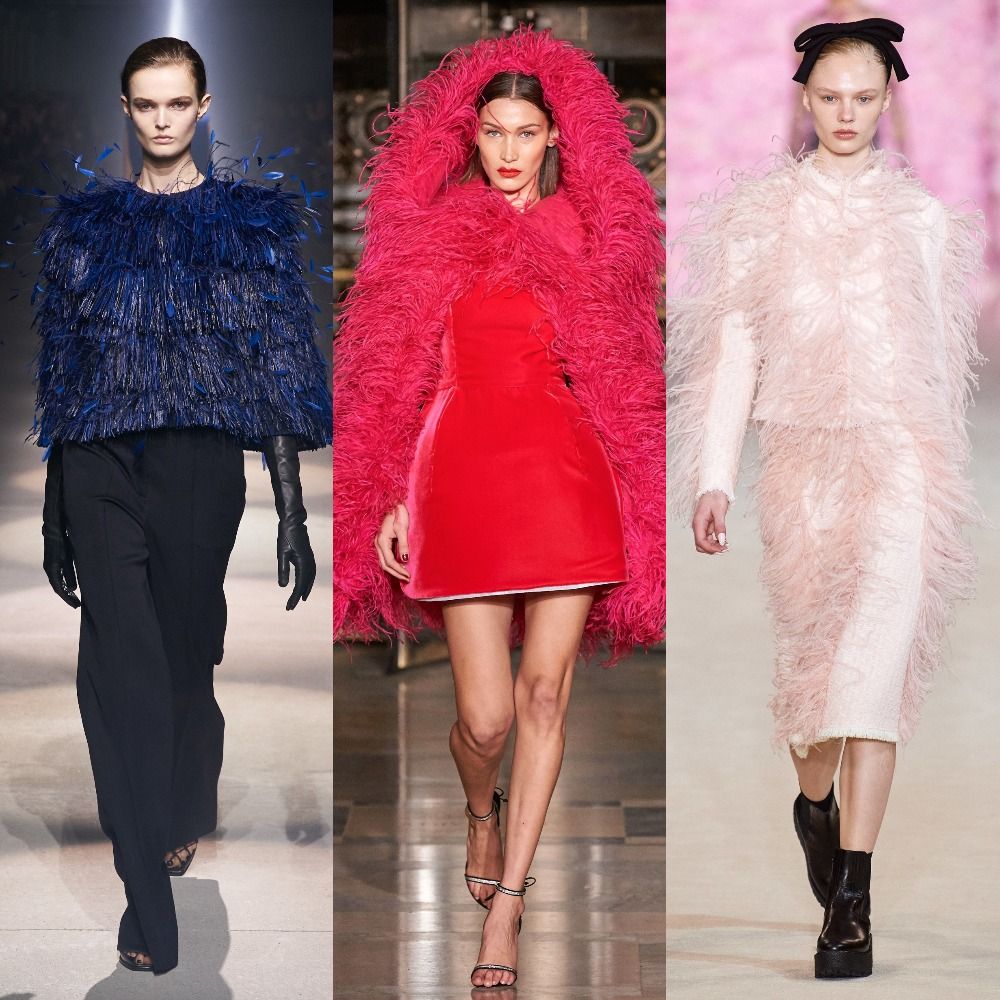 Givenchy, Oscar de la Renta, Giambattista Valli
If you are not willing to wear a boa over a coat or a fur coat, pay attention to shoes, accessories and unusual hats. And if you like designers' experiments at the past Fashion Weeks, then feel free to wear skirts like Prada's, and coats, like Bottega Veneta's.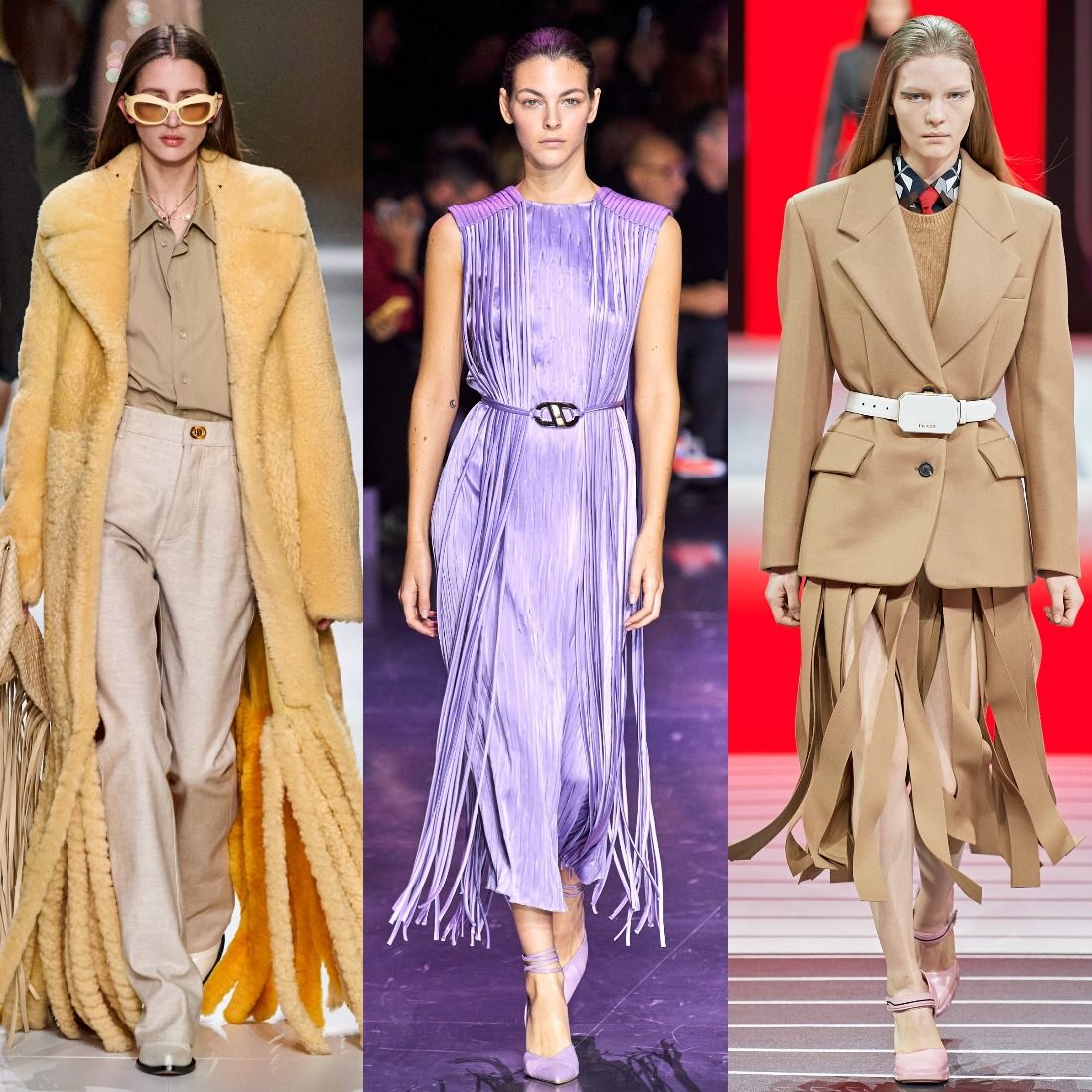 Bottega Veneta, Boss, Prada
Capes and Ponchos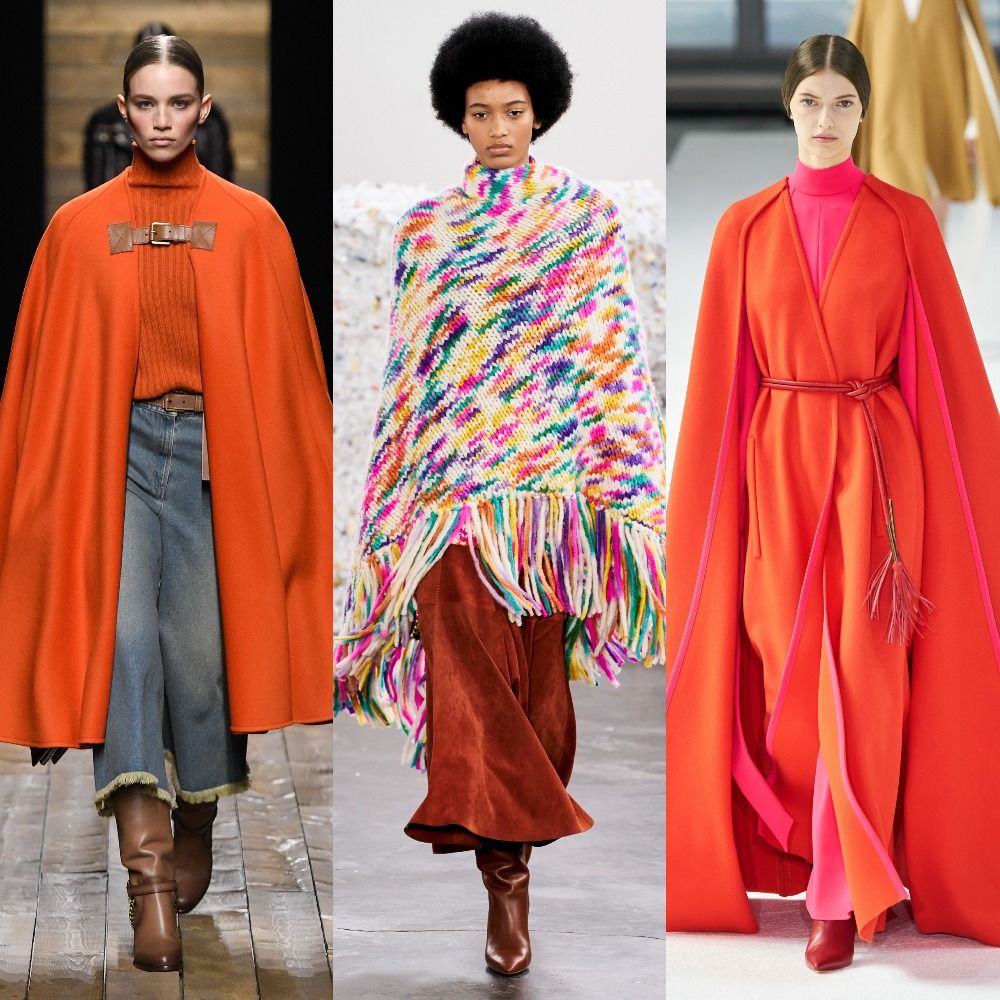 Givenchy, Oscar de la Renta, Giambattista Valli
In the autumn-winter 2020 season, capes cease to be an item of exclusively evening wardrobe and go into the everyday life, becoming a real must-have of all fashionistas. You can spy ideas for stylish looks from Melania Trump, Rihanna and Kate Moss, who keep demonstrating that capes can be bright and versatile.
Inspired by the aesthetics of films about the Wild West (the trend for fringe also came from there), designers invite to replace knitted sweaters and cardigans with voluminous ponchos that can be worn with jeans, dresses and costumes. The palette is very diverse – from full monochrome to ethnic and abstract op-art prints that lift the spirits.
Long Gloves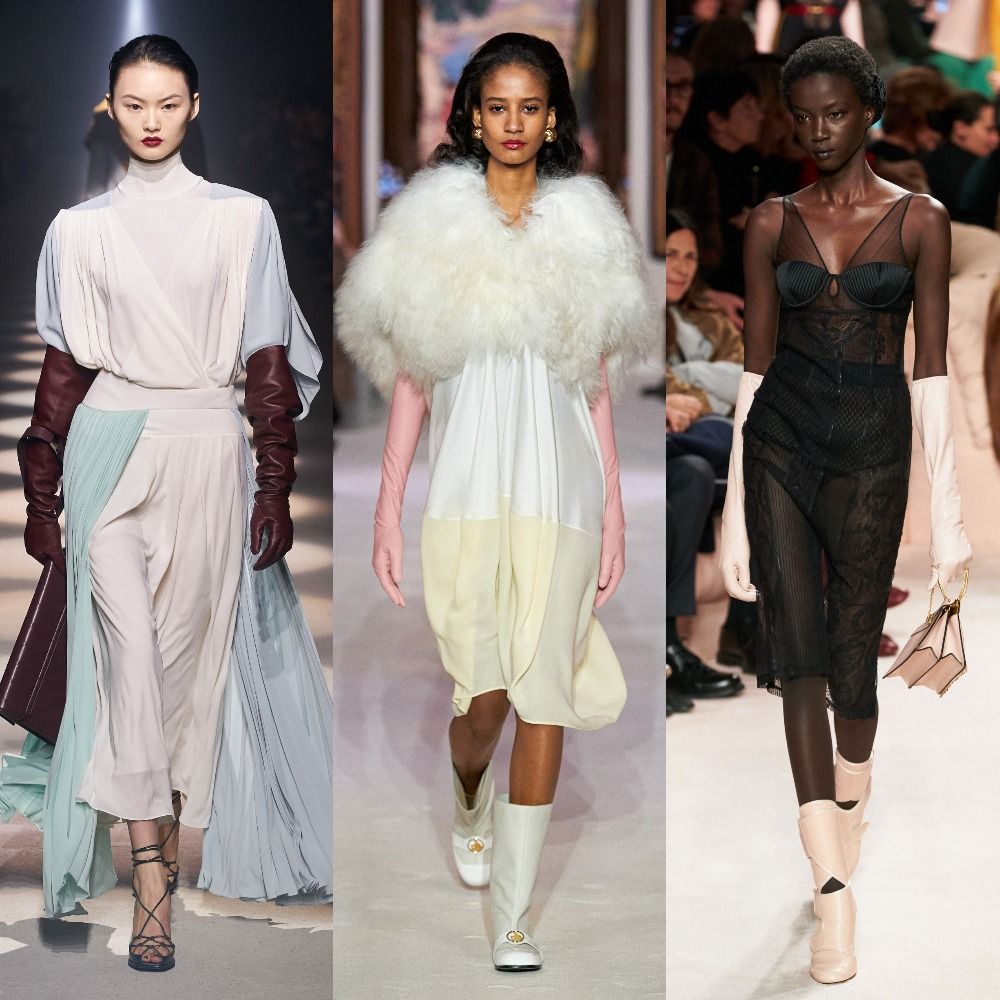 Givenchy, Lanvin, Fendi
The most elegant part of the wardrobe in the autumn-winter 2020 season will be long gloves made of thin leather, that you can wear with dresses, jackets, coats and blouses. Not limiting themselves in the choice of colors, Balmain, Givenchy, Lanvin and Valentino, still try to adhere to minimalism and avoid unnecessary details.
Statement-Sleeves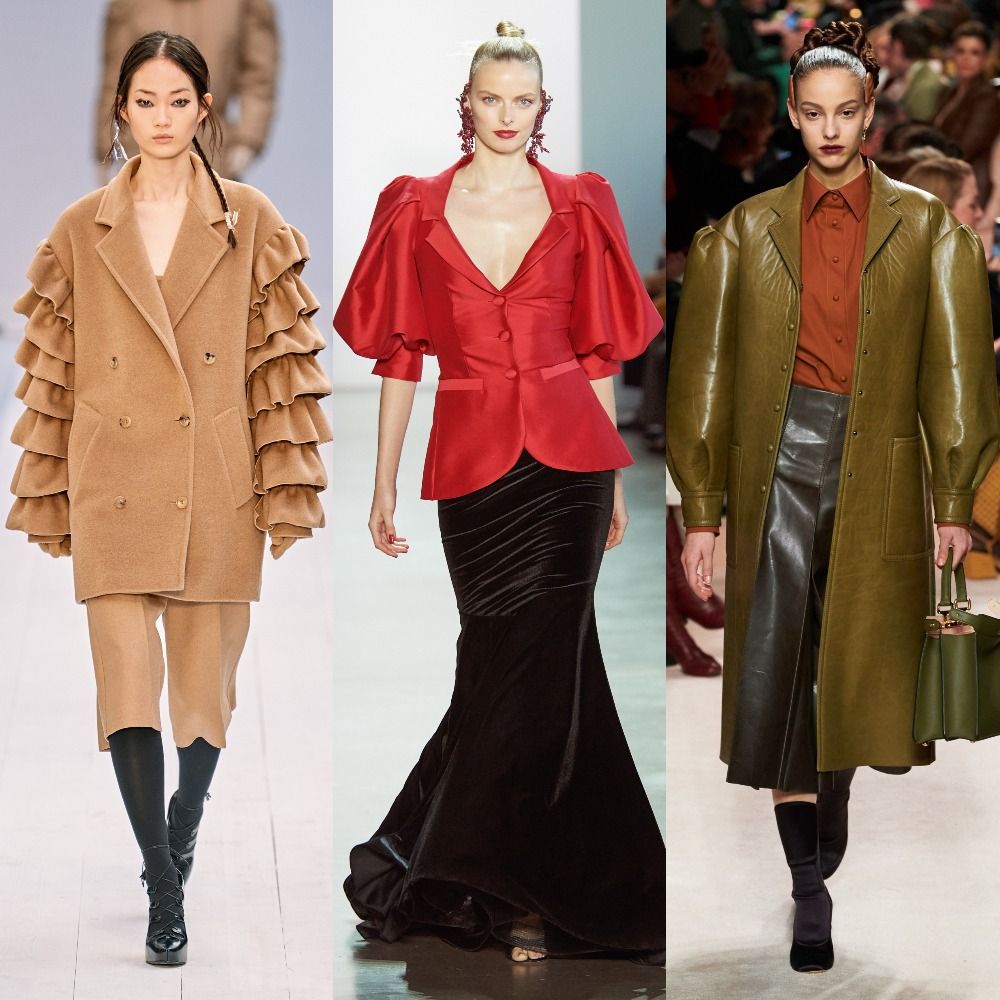 Max Mara, Badgley Mischka, Fendi
The trend for statement-sleeves - sleeves of the unusual shape - began to conquer the catwalks in the spring/summer of 2019, and now it has reached the autumn-winter wardrobe. Puffed sleeves, the ruffles and buff now adorn not only evening and casual dresses, but also coats, jackets and trench coats, becoming a bright element of the outfit. Due to the lightness and the increased volume, they expand the shoulder line, returning us to raging 80's, which, to be honest, we have already missed.
Pantsuits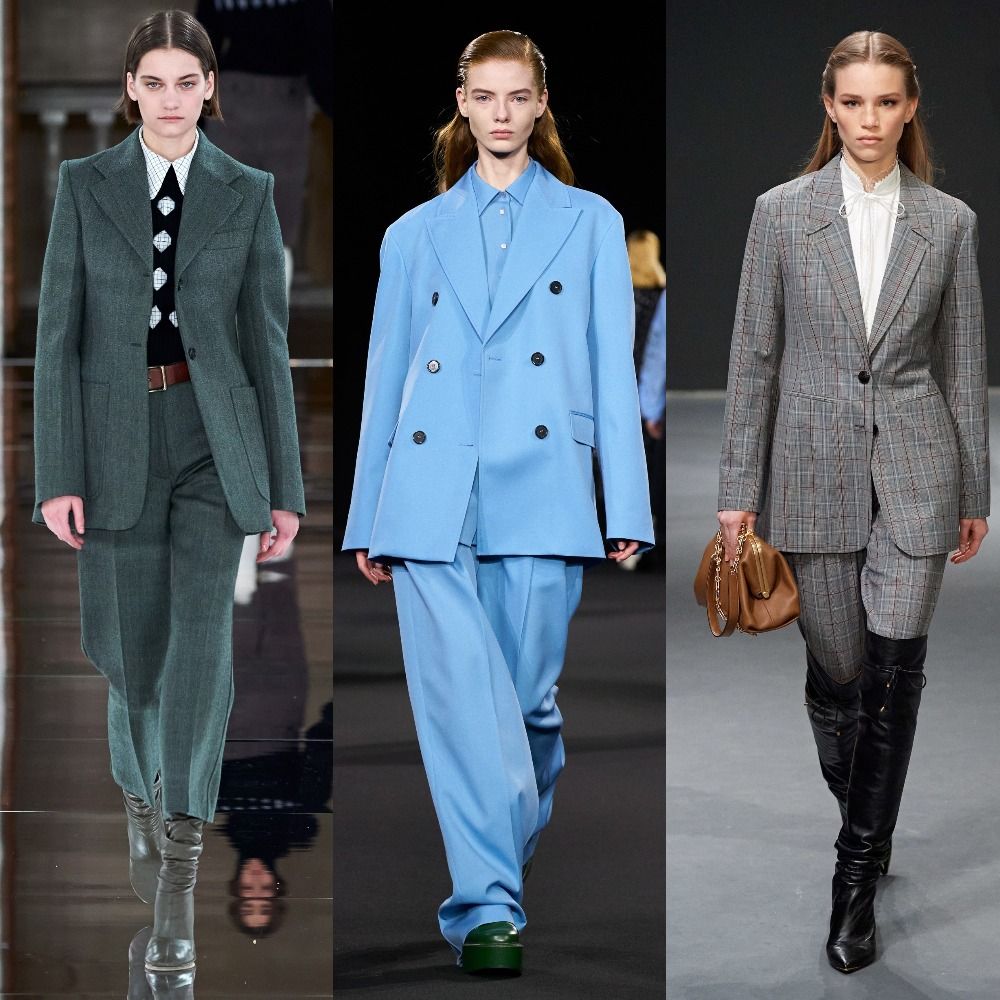 Victoria Beckham, Rochas, Tory Burch
Rethinking new femininity and refusing tight silhouettes, mini skirts and revealing cuts, designers invite girls to wear classic pantsuits in both pastel and bright colors. The most successful are options with broad-shouldered jackets and three-piece suits that have long ceased to be associated exclusively with men's wardrobe. The looser the silhouette, the better! If you want, you may emphasize the waist with a wide leather strap or belt, made of contrasting fabric. Another trend is pants, tucked into boots or ankle boots. By the way, models with both wide and narrow tops are suitable.
Translucent Fabric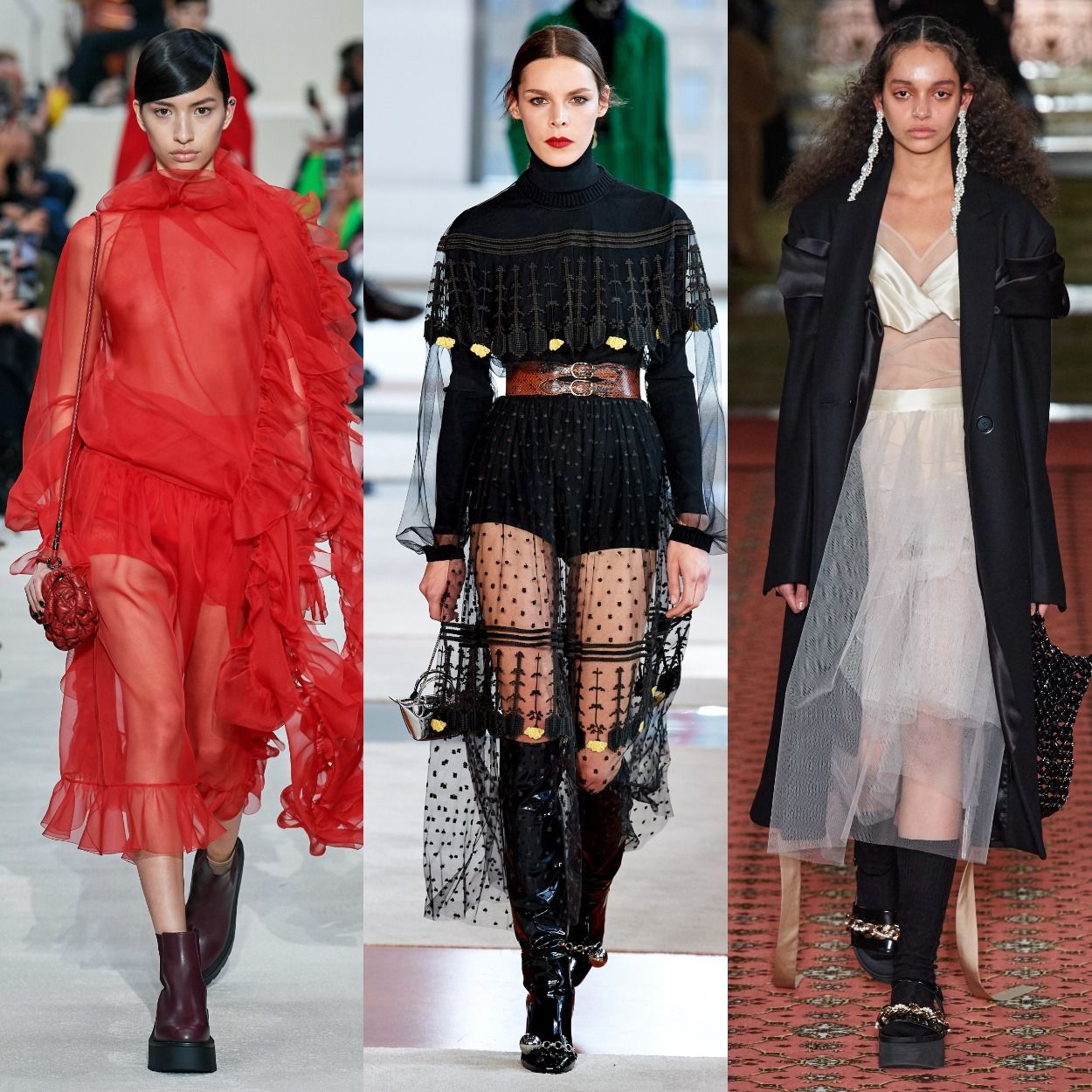 Valentino, Longchamp, Simone Rocha
In contrast to oversize and layering, that make the fashion more and more gender neutral, some designers are reviving sexuality, by using translucent fabric in their collections. They refute the idea that clothing should be protective armor, and offer to wear light dresses, blouses and capes made of organza, cambric and chiffon, which can be combined with more dense and tough fabrics, such as leather.
Shades of Pink and Purple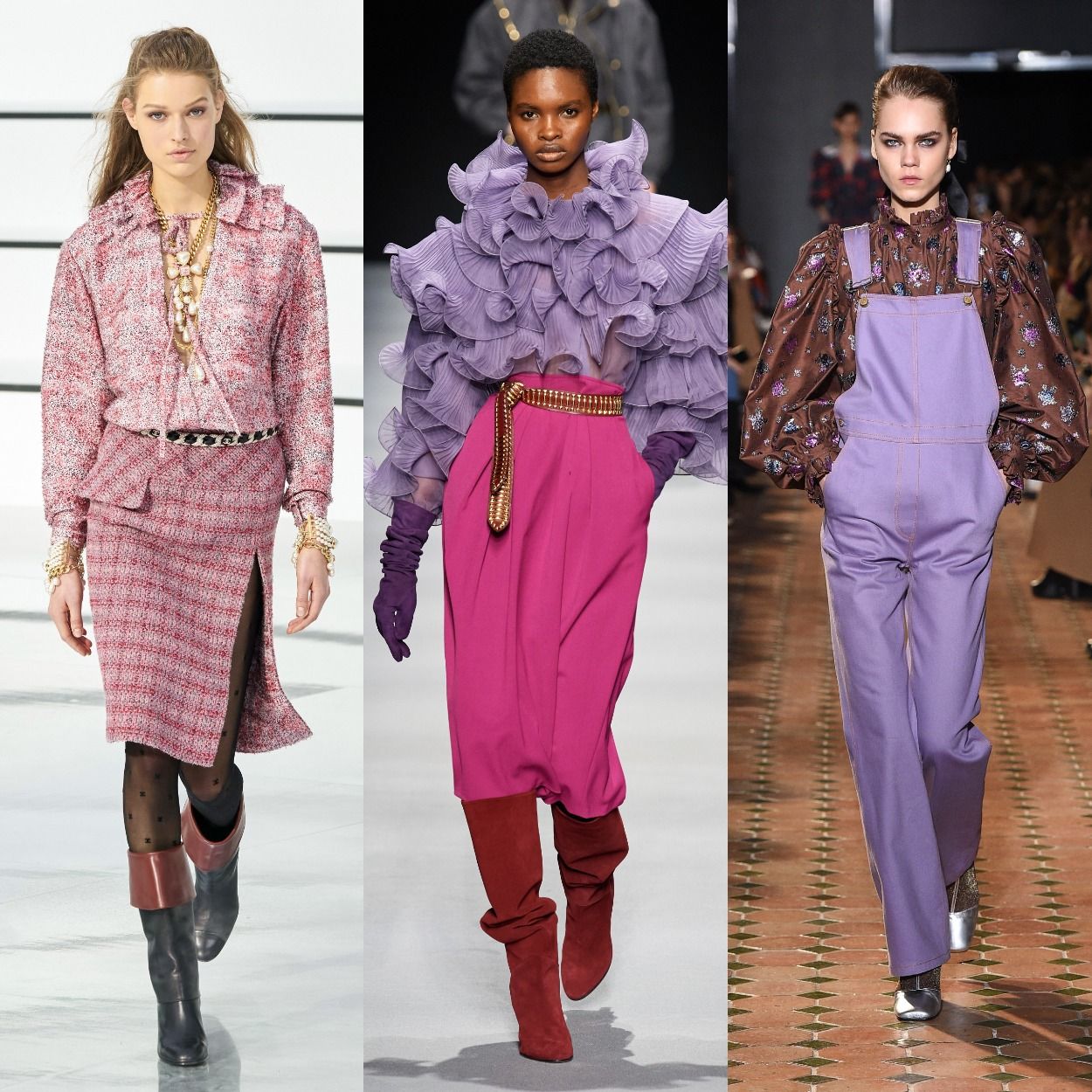 Chanel, Alberta Ferretti, Paul & Joe
Rebelling against monochrome, designers are increasingly using bright and even neon shades, the most popular of which are pink and purple. The color of corals, lavender fields of Provence, delicate quartz crystals and rich fuchsia - the passion for all shades of pink begins with clothing and ends with accessories, manicure and makeup, or even doesn't end at all, turning into a total-look.
Trendy Prints
Oscar de la Renta, Ellie Saab, Hermès
From animalistic prints to gardens with daisies and roses, blooming on clothes - in the fall-winter 2020 season, designers give preference to diversity and freedom of choice. A large plaid, pied-de-poule, argyle, tartan, ethnic and abstract motifs will look brighter and more attractive than a monophonic color palette, which many have already got bored of. Polka dots, jacquard, patchwork, tie-dye and paisley – it's time to stock up on everything at once, painting the wardrobe with bright flashes, mixing patterns, styles and trends from different eras.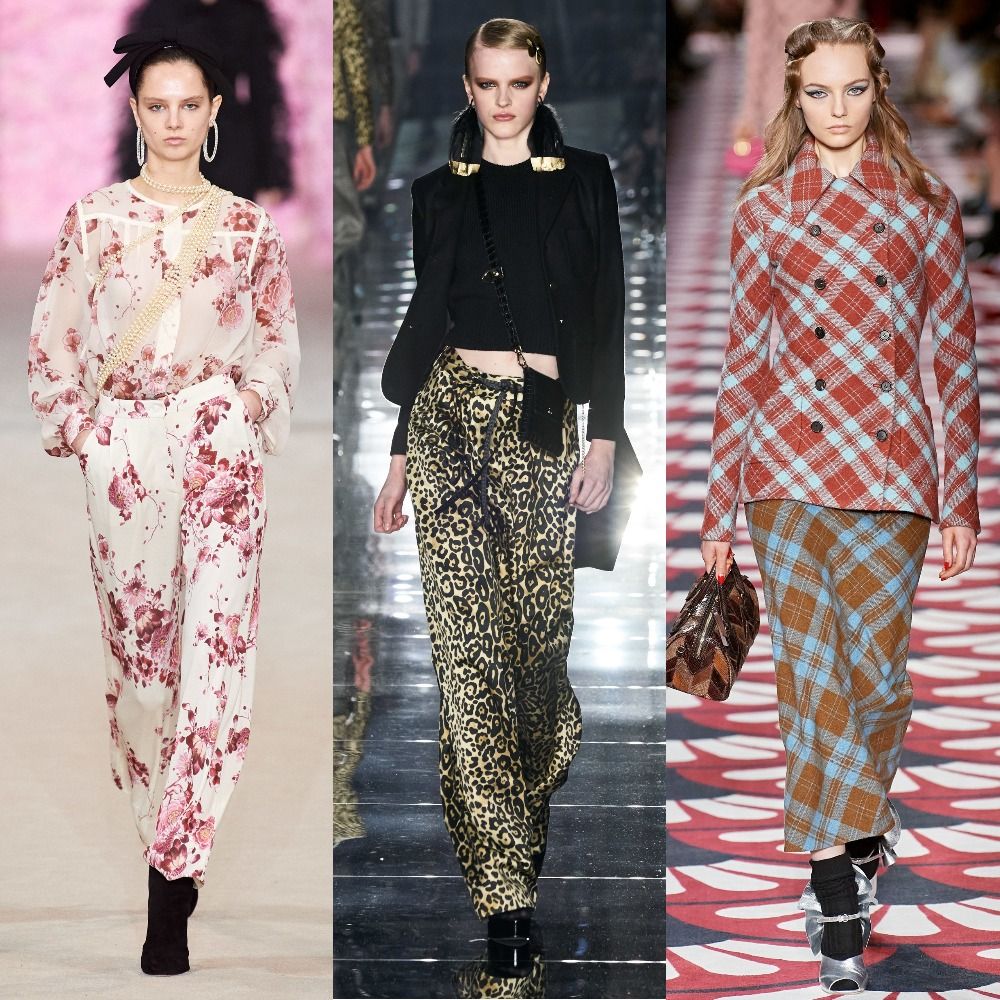 Giambattista Valli, Tom Ford, Miu Miu