Less than a month is left before the Academy Awards, and we keep on actively following the awards season and telling you about after parties' guests and their outfits. The 25th annual Critics' Choice Awards took place on Sunday, January 12. The ceremony was held in in Santa Monica, California and celebrated the biggest names in television and film. The list of winners wasn't a big surprise (Once Upon a Time in Hollywood, Joker and 1917), while celebs' outfits from the red carpet wows both critics and audience: a variety of dresses, hairstyles and accessories.
Zendaya
Посмотреть эту публикацию в Instagram
At her 23, Zendaya has already become not only one of the most talented and popular actresses of our time, but also won the title of style icon. For every outing, she chooses unusual dresses that accentuate her beauty and slender figure. This year, she was nominated in one of the most prestigious nominations – "Best actress in a drama series".
Despite the fact that the statuette went to Regina King for her role in Watchmen, Zendaya stole the spotlight in her bright outfit. She wore a fuchsia Tom Ford chromed breastplate with matching jersey evening skirt. Euphoria star paired the shimmering pink two-piece with Christian Louboutin pointed heels, geometric earrings and long, braided tresses. The look turned out to be very fresh and futuristic.
Saoirse Ronan
Посмотреть эту публикацию в Instagram
Saoirse Ronan hit the red carpet in a voluminous Erdem flowy floral dress. The gown turned out to be a piece of art, and the whole look, from her hair to her bangle, was styled to perfection. The girl focused on a bright manicure and massive diamonds jewelry.
Laura Dern
Eastnews
Laura Dern is ahead of the trends and opted for the minimalist Emilia Wickstead orange dress. This trend was also supported by Alison Brie and Rachel Brosnahan. The winner in the category "Best supporting actress" chose the outfit by Emilia Wickstead and supplemented her look with elegant hairstyle.
Eastnews
Renee Zellweger continues her triumphant return to the world of cinema and became "Best actress" for the film Judy. She took her well-deserved award in a simple black Dior strapless dress and satin pumps to match.
Lupita Nyong'o
Посмотреть эту публикацию в Instagram
For the Critics' Choice Awards, the Best Actress nominee Lupita Nyong'o looked stunning in a chocolate
brown Michael Kors dress, consisting of leather racerback and soft crepe-jersey skirt. Nyong'o amped up her look with some seriously gorgeous hair and makeup. She put her penchant for boldhair accessories front and center and made her updo complete with golden wiring that fittingly mimicked a halo or crown and matched her metallic jewelry.
Kate Beckinsale
Посмотреть эту публикацию в Instagram
Kate Beckinsale keeps dazzling and chooses glittering pale pink gown by Julien MacDonald. Kate accessorized her look with silver waterfall diamond earrings.
Olivia Wilde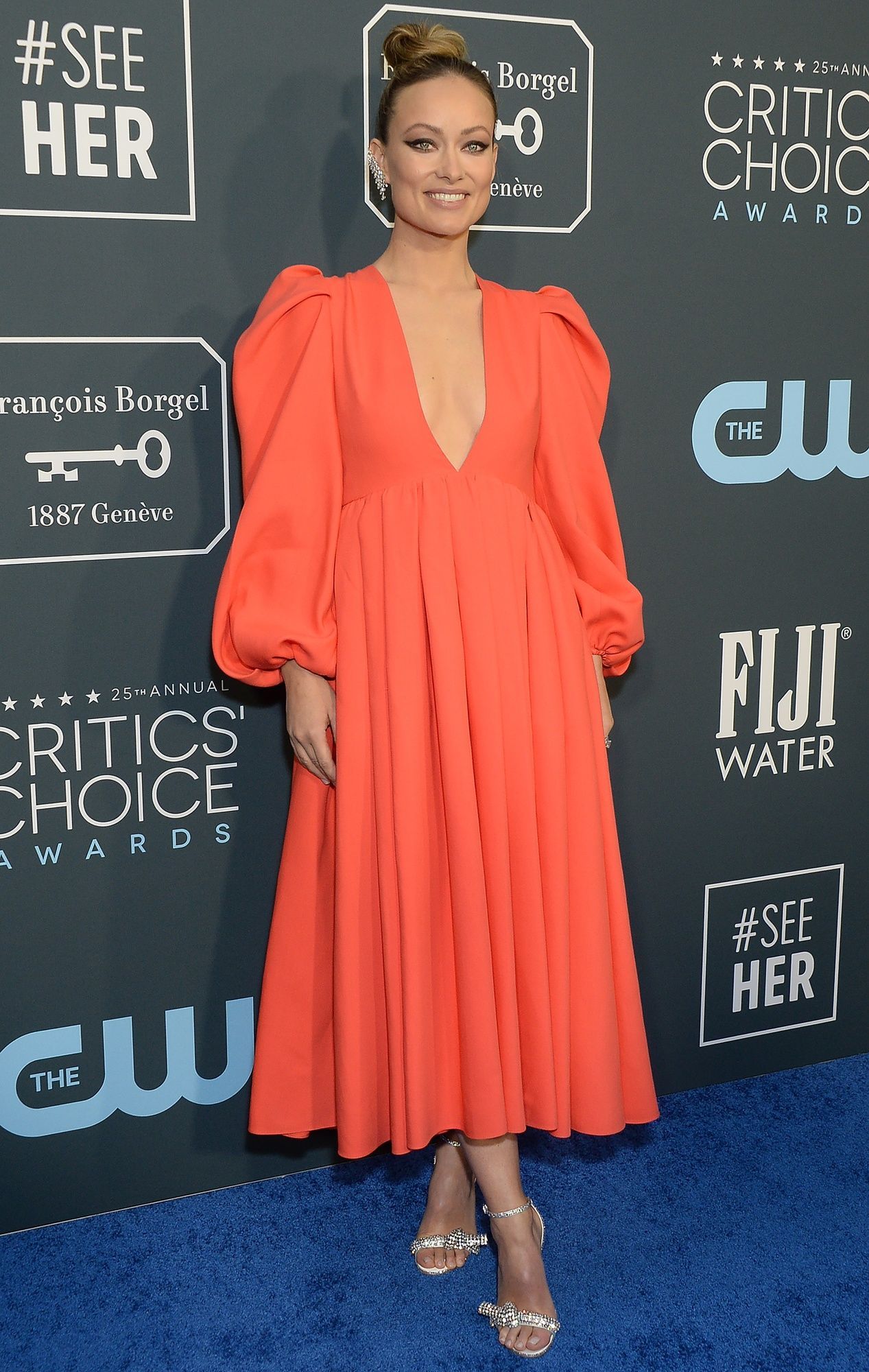 Eastnews
For the gala evening, Olivia Wilde chooses a plunging orange Valentino dress, teamed with silver sandals and statement earrings. The design featured a plunging neckline, pleated skirt and voluminous sleeves.