Despite the fact that the Royal etiquette imposes strict limitations on the wardrobe, Kate Middleton and Meghan Markle successfully retain the title of style icons. Each of them have their own favorites among designers and fashion brands. We're going to tell you what clothes modern British Duchesses prefer.
Kate Middleton – British style icon
Посмотреть эту публикацию в Instagram
Now, we can safely call Kate Middleton the Queen of elegance, but she did achieve this status only a few years after marriage. At first, the girl made some fashion mistakes: she could choose a dress with a too short hem or wear her favorite ankle boots out. But it was Kate who dared to ignore one of the main Royal rules - to go out only in a new outfit. She began to wear what she wanted and when she wanted. Now, this mindfulness has become a real trend among celebrities. It is shared by Cate Blanchett, Helen Mirren, Kate moss, Keira Knightley and many others.
The basis of the wardrobe of the Duchess of Cambridge is the mix of luxury and mass market brands. Her favorite are Zara and Topshop, Kate Spade and J Brand. By the way, Kate's attention has allowed them to significantly strengthen their position on the market. Affordable clothes, in which Kate appears in public, are sold out instantly and bring brands huge profit. For example, in 2012 the Duchess met with the Olympic team of Great Britain in blue jeans by Zara.
Посмотреть эту публикацию в Instagram
Посмотреть эту публикацию в Instagram
No doubt, the status of a member of the Royal family requires Kate Middleton to wear luxury labels. Alexander McQueen and designer Sarah Burton have a special place in the heart of the Duchess. The girl entrusted them the creation of her wedding dress. Kate opts for outfits from this brand for many official events and always demonstrates a win-win images. Duchess is fond of gowns and casual coat from Alexander McQueen.
Посмотреть эту публикацию в Instagram
Посмотреть эту публикацию в Instagram
Посмотреть эту публикацию в Instagram
Посмотреть эту публикацию в Instagram
Kate Middleton's wardrobe generally consists of British brands. It's hard to say, whether this is a tribute to her homeland or just personal preferences, but it works. Jenny Packham is another Kate's favorite. The head of this fashion house Jenny Packham managed to give Kate a little rebellion. She helped the Duchess to depart from the style adopted by Elizabeth II, and to start wearing clothes that are more in line with her age.
Посмотреть эту публикацию в Instagram
Посмотреть эту публикацию в Instagram
But during foreign visits, Kate tries to wear clothes made by local designers. For example, during a tour of Pakistan, Kate looked dazzling in outfits from Maher Khan.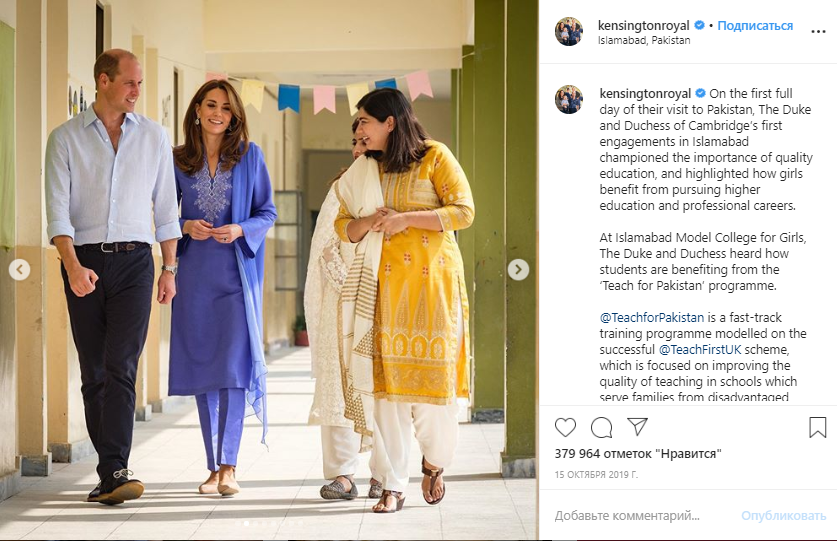 Посмотреть эту публикацию в Instagram
Meghan Markle's fashion riot
Посмотреть эту публикацию в Instagram
It seems, that getting married Prince Harry, the rebel Meghan Markle never planed to comply with the requirements of Royal etiquette. She chose the FrenchGivenchy over all British fashion brands and walked down the aisle in a dress sewn by Claire White. The Duchess turned out to be so fond of the result that she began to wear clothes from this fashion house more often. After Meghan and Harry announced that they want to become financially independent, there were rumors that the couple will be collaborating with the brand on commercial terms in the future.
Recently, Meghan is constantly blamed, because she flies on private jets and pollutes the environment, however, there are a lot of eco-friendly brand in her wardrobe, including Stella McCartney.
It was this brand that created the dress for her wedding party. This work turned out to be so inspiring, that in 2018, Stella McCartney decided to create her first Bridal collection.
Посмотреть эту публикацию в Instagram
Посмотреть эту публикацию в Instagram
Another Meghan's favorite is the American brand Ralph Lauren. She chose outfits from this brand for the christening of Prince Louis and visiting tennis tournament in Wimbledon.
Посмотреть эту публикацию в Instagram
For the big day to announce her engagement to the Prince, the girl opted for a coat by Canadian brand Line The Label, a website of which instantly collapsed because of the incredible flow of visitors. The director of the brand thanked the young woman for her choice and renamed the model of the coat in her honor.
According to shoes, Meghan Markle prefers Sarah Flint, Manolo Blahnik and Stuart Weitzman. Like Kate Middleton, she wears the same items for many times, trying to create different looks.