Winter is coming, so it's high time to choose a headdress that will warm us in the next months. We've collected the most stylish alternatives to knitted hats for those who couldn't find the right one by now.
Beret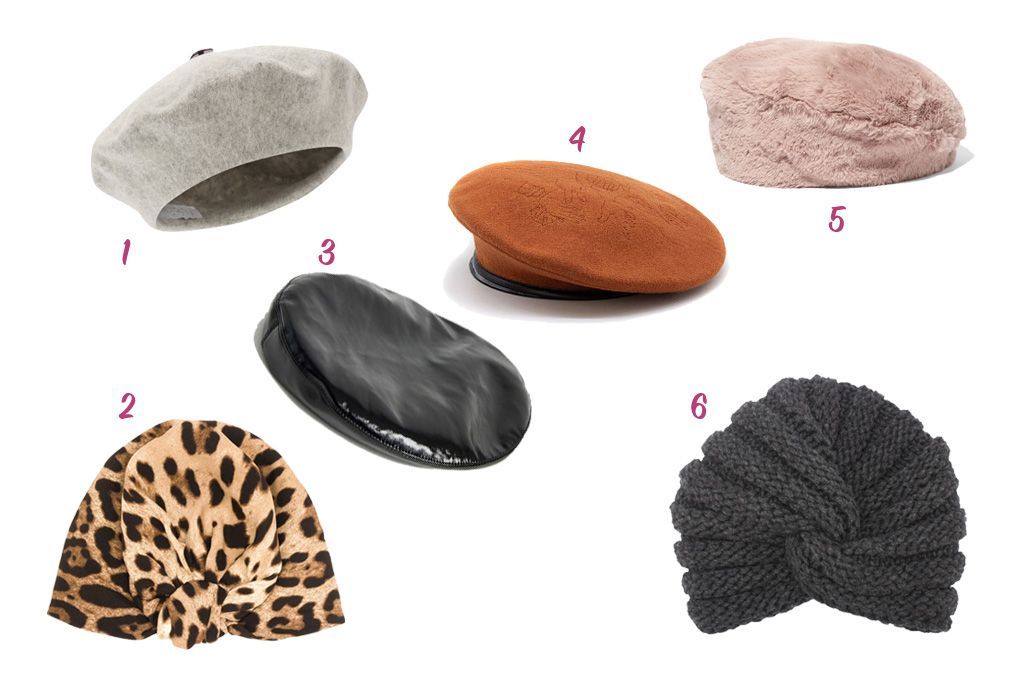 1 – Escada Sport 2 – Dolce&Gabbana 3 – Asos Design A 4 – Kangol 5 – Eugenia Kim 6 – Inverni
Beret is better to choose not too miniature, in winter its main purpose is to warm. For a more sporty look, voluminous knitted options are suitable, and with a coat it's better to wear classic models that keep their shape well. They can be made of thick wool, cashmere or felt.
Color is not important – you can make a bright accent on the beret, for example, with a brooch or choose a more pastel shade. The key point is to avoid pompoms. No pompoms at all! This accessory will kill all the seriousness of the image. It's suitable only for cartoon characters.
Another interesting option is a leather beret. It looks rather provocative, but very stylish at the same time.
Turban
This headdress, which is so common in the East, began to appear at fashion shows a few years ago and was originally presented as a summer accessory. Made of lightweight silk and chiffon, it goes well with both dresses and ripped jeans.
Just the next season after the premiere, the turban appeared in the winter version, as an alternative to the usual hat. It can be knitted or sewn from a dense fabric. Turban is, perhaps, the most practical analogue of the cap: it perfectly protects from cold and wind. And it's better to wear this headdress with a coat of straight or fitted cut.
Cap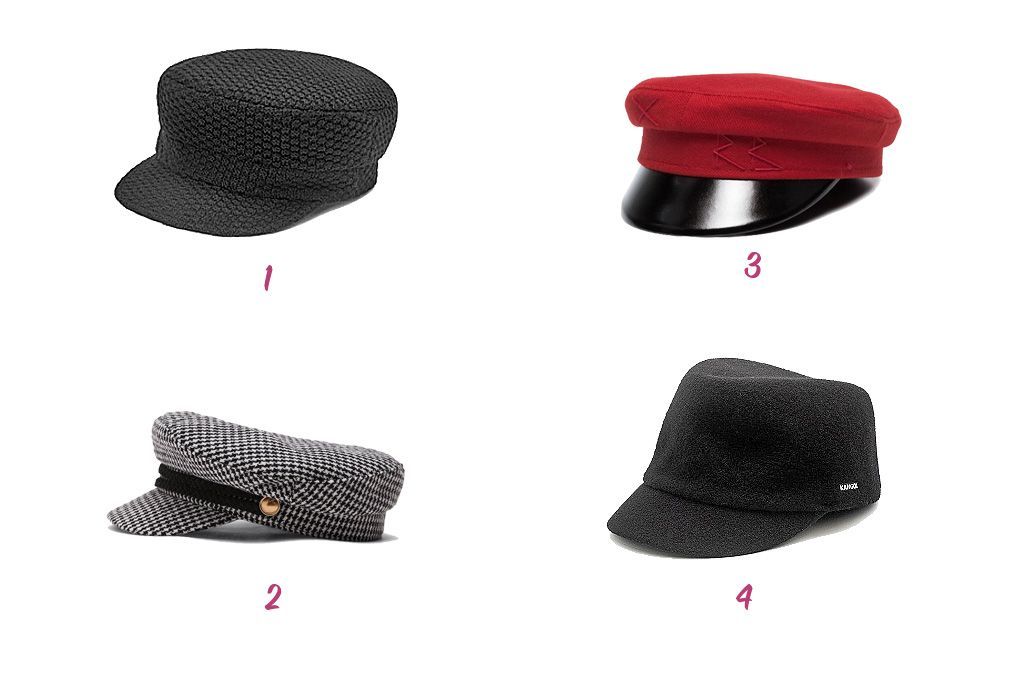 1-Chobi 2 – Zara 3 – Ruslan Baginsky 4 – Kangol
Brutal caps with a short visor are perfect for sheepskin coats, loose coats and long coats – they'll dilute the feminine image and add a little daring to it. At fashion shows, designers offer to wear caps, sliding to one side or on top, but for winter, such options won't work.
Often, when creating a single model, designers use several types of fabric and supplement caps with accessories-straps, chains and rivets. Another stylish detail is the polished visor.
Fur hat and earflaps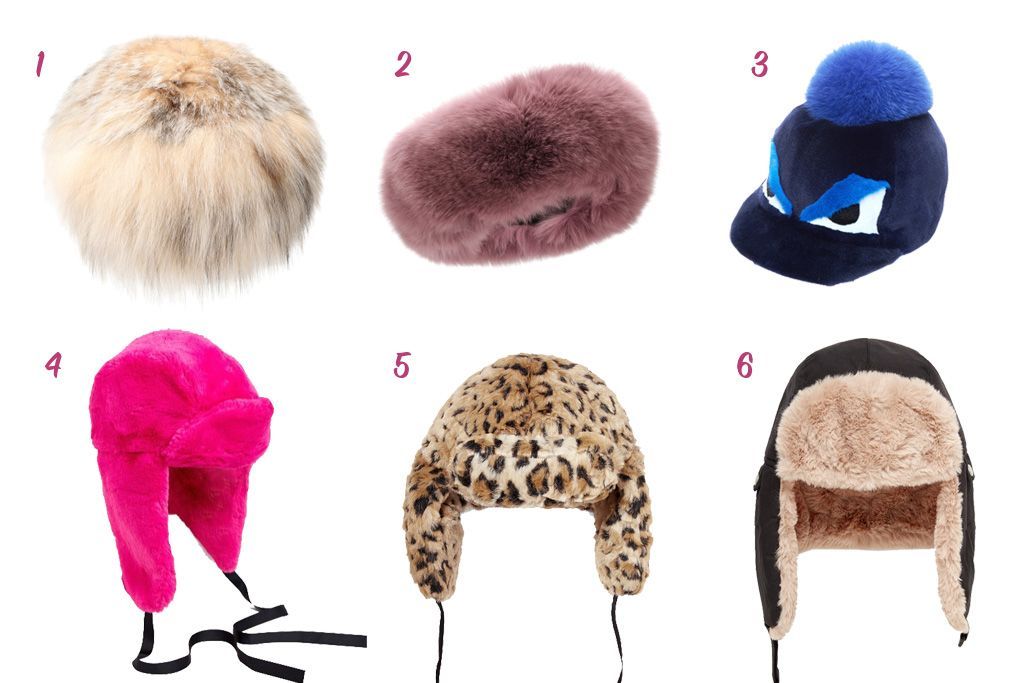 1-Kiton 2 – Nima 3- "Catherine's Furs" 4 – Asos Design 5 – R13 6 – United Colors of Benetton
The time's passed when fur hats were associated only with heroines of the Soviet cinema. Today it's one of the main accessories of fashionistas – not only stylish, but also very warm.
Now, many brands are trying to support the eco-initiative and refuse to produce goods from natural fur. If you are trying to take care of the environment, then try to look for such options.
Designers are advised to consider not only the traditional palette, but also to experiment and choose a model of muted pink. This shade will finally remove all associations with the 90's and make the look stylish and modern.
Fur earmuffs
1 – Dolce&Gabbana 2-Max Mara 3 – Yves Salomon 4 – Chobi 5 - Loro Piana
Fur earmuffs seem like an accessory that has been left in the distant past, but it's not so. They can be found in the collections of many brands. If you don't want to put a strong emphasis on them, then choose earmuffs in white, beige or black. And if you prefer a mild shocking, then wear bright models with a long pile.
This accessory will protect your ears from the cold, but not your hair, and you need to take care of them very carefully in winter. Therefore, earmuffs are a great option for late autumn.
Headband
Another alternative to a hat is a headband. This accessory has long ceased to be associated with the early 2000's and during this time has experienced a real rebranding. There are models in the fashion market that can fit into any style.
Knitted headbands without additional accessories will be perfectly coupled with volume sports down jacket. And to the outerwear of the classic style, you can choose something more original, such as a bound version. For lovers of luxury, designers create models made entirely of fur. They look very romantic and resemble the image of the heroines of Russian fairy tales.
Hat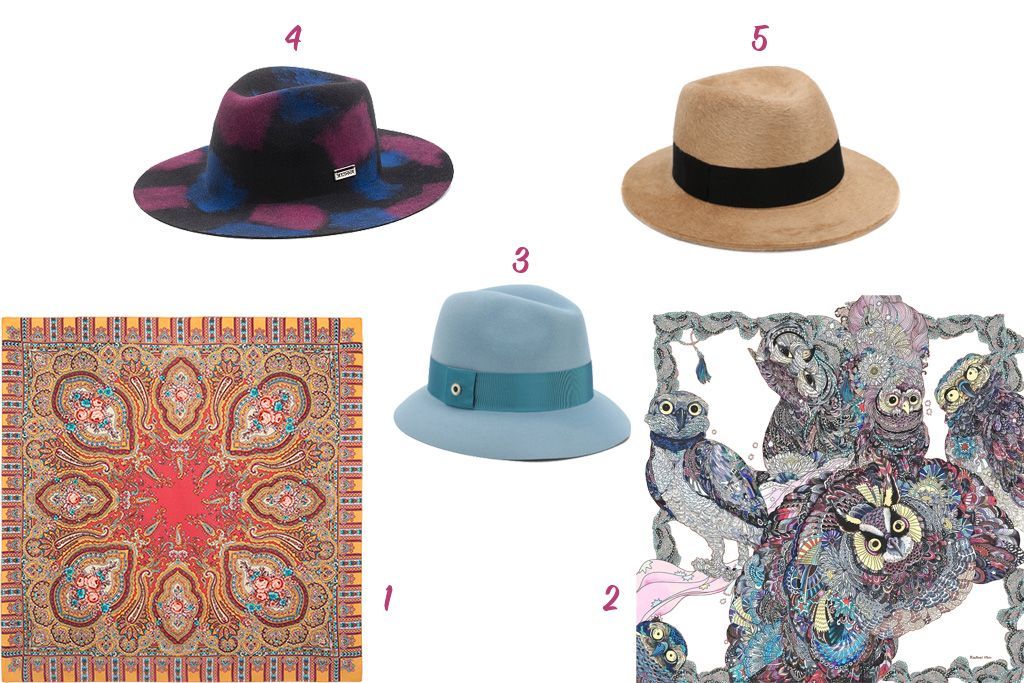 1-Pavlovsky Posad shawl manufactory 2-Radical Chic 3-Loro Piana 4 – Kangol 5-Saint Laurent
In winter you can wear a hat only with classic coats –such a headdress will look absolutely ridiculous with down jackets. Two types of hats are trendy now: with wide-soft and short-hard fields. The main thing is to wear this accessory in calm weather, otherwise you'll have to constantly hold it.
Some designers offer hats from... fur, but this option still needs to get used to.
Scarves
When choosing a scarf, you need to move away from Russian folk colors and look for something more modern and without fringe. For example, monochrome models look very stylish: white, black and dark green. It's better if the fabric is more dense, so that such a headdress looks neat and fashionable.
The scarf can be tied in the classic way, making a knot under the chin, and wrapping the ends around the neck. You can, of course, contrive to make a turban out of a scarf, but this will need to be practiced.