The thermometer inexorably creeps down – it's high time to warm up. Down jackets are traditionally offered as warm outerwear. If earlier they were only considered from the category of casual, now they belong to fashion category. Look through glossy magazines from fifteen years ago: there was nothing about down jackets. They were something like an attribute of sports or youth clothing. To wear such outer clothing in high society was considered as demonstrating poor taste. Nowadays, the situation has changed dramatically.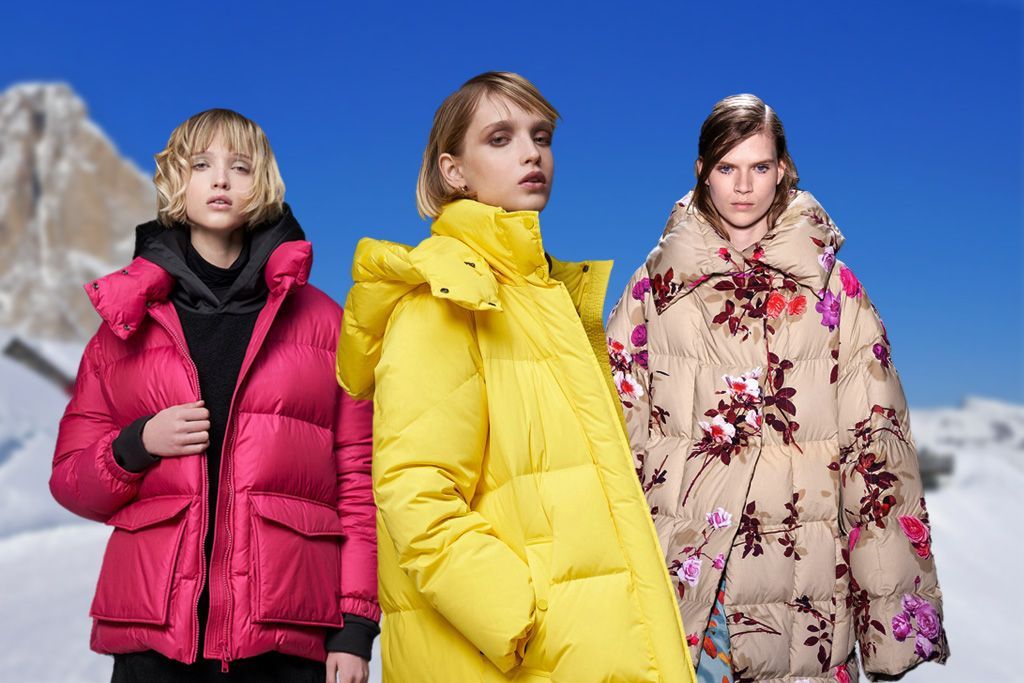 From left to right: Woolrich, Woolrich and Dries van Noten down jackets
Today, down-padded coats are in the collections of Balenciaga, Fendi, Versace, Dolce & Gabbana and many other leading brands, and you can wear them not only for a walk in the park or during a holiday at a ski resort, but also for a social party – it's enough to choose the right model. An extravagant alternative to a sports down jacket is a duvet or oversized cut. Here are models you should pay attention to this season.
Coloured down jackets
Classic black and dark blue down jackets are considered to be too basic. This year, designers are trying their best to pull us to the bright side and present down jackets of juicy colours - from citrus yellow, orange and green shades to ultraviolet, pastel shades of blue, pink, lavender to coral colour, which is so trendy this season. If you don't like to be in the spotlight - give preference to down jackets in powdery shades.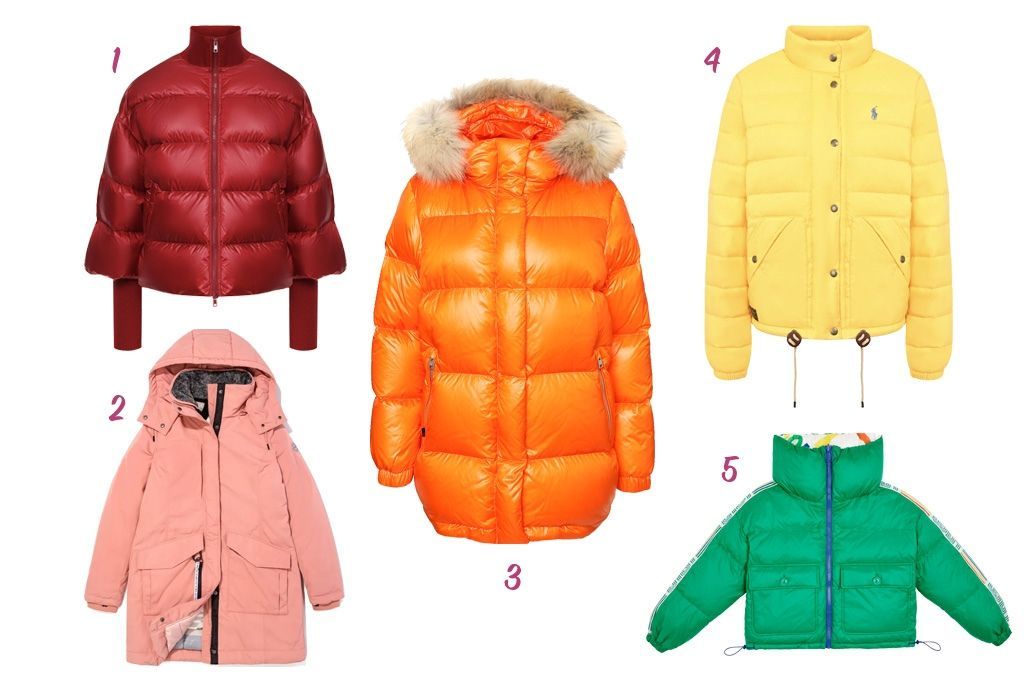 1-RED Valentino, 2-Tom Tailor, 3-Woolrich, 4-Ralph Lauren, 5-United Colors of Benetton
But still the main hit of the season is down jackets in metallic shades, with a mirror surface and fluorescent. Such an outwear is so similar to space suits, and the neon ebb attracts attention and looks futuristic.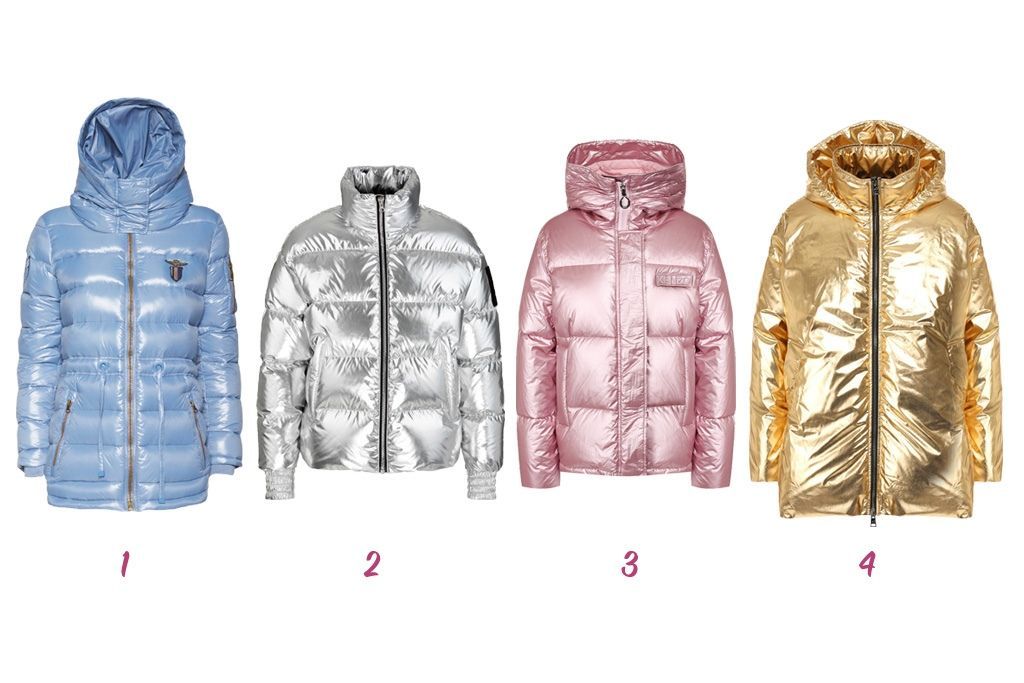 1-Aeronautica Militare, 2-Moose Knuckles, 3-Kenzo, 4-Goose Tech
Down jackets with fashionable prints
Outerwear with fashionable prints is for the more daring. If earlier it was only about colour blocks, now there is a real print mania: floral, geometric, psychedelic, in polka dot. There's plenty to choose from! For example, in Versace's autumn-winter collection there is a down jacket with the famous Savage Barocco print, and Dries Van Noten has a kimono down jacket decorated with oriental motifs prints.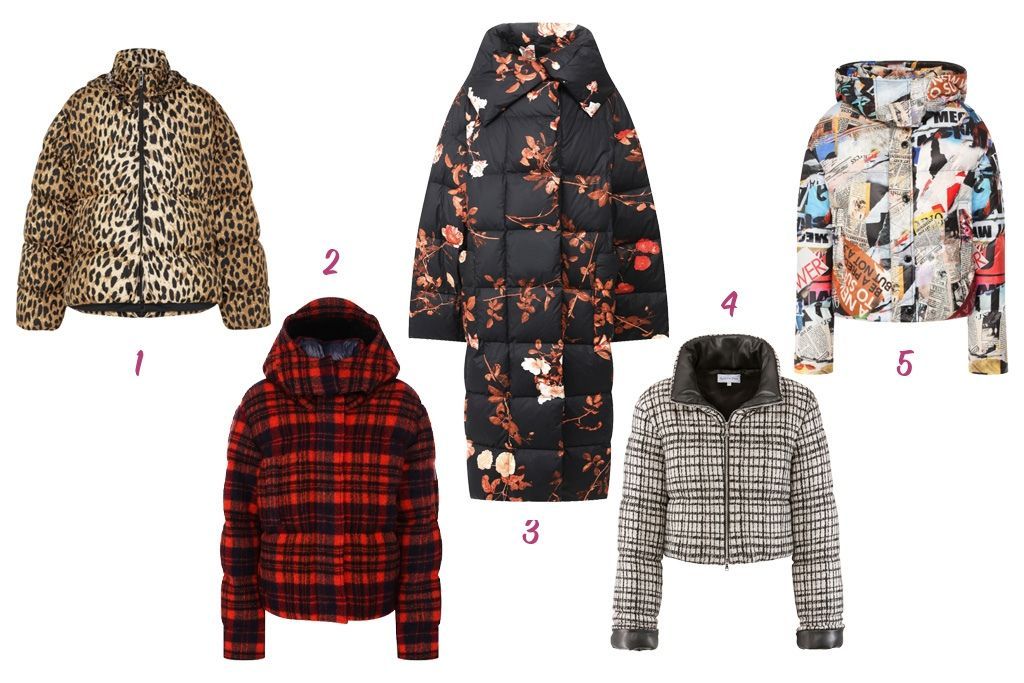 1-Balenciaga, 2-Chloe, 3-Dries van Noten, 4-Patrizia Pepe, 5-Ermanno Scervino
Designers aren't afraid to present down jackets with provocative and daring animalistic prints. Such models can be found in the collections of Balenciaga, Dolce & Gabbana, Escada and many others.
Down jackets in apres-ski style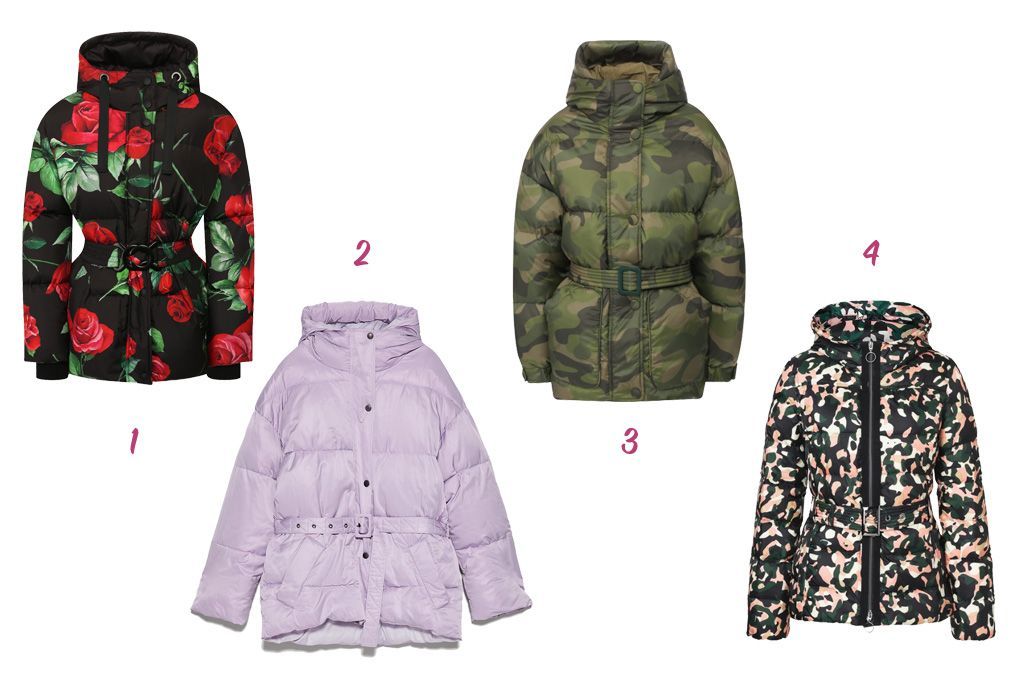 1-Dolce&Gabbana, 2 – Zara, 3-Ienki Ienki, 4-Laurel
Down waist-length jackets have long gone beyond the ski slopes and restaurants in winter resorts, and you can wear them without regard to whether you know how to ski or not. In the city, such jackets will look good with jeans or leather leggings, as well as with high lace-up shoes. It remains only to decide, which to choose-coloured or printed one? By the way, if the jacket has reflective details, you'll be trendy doubly.
Voluminous down jackets and duvets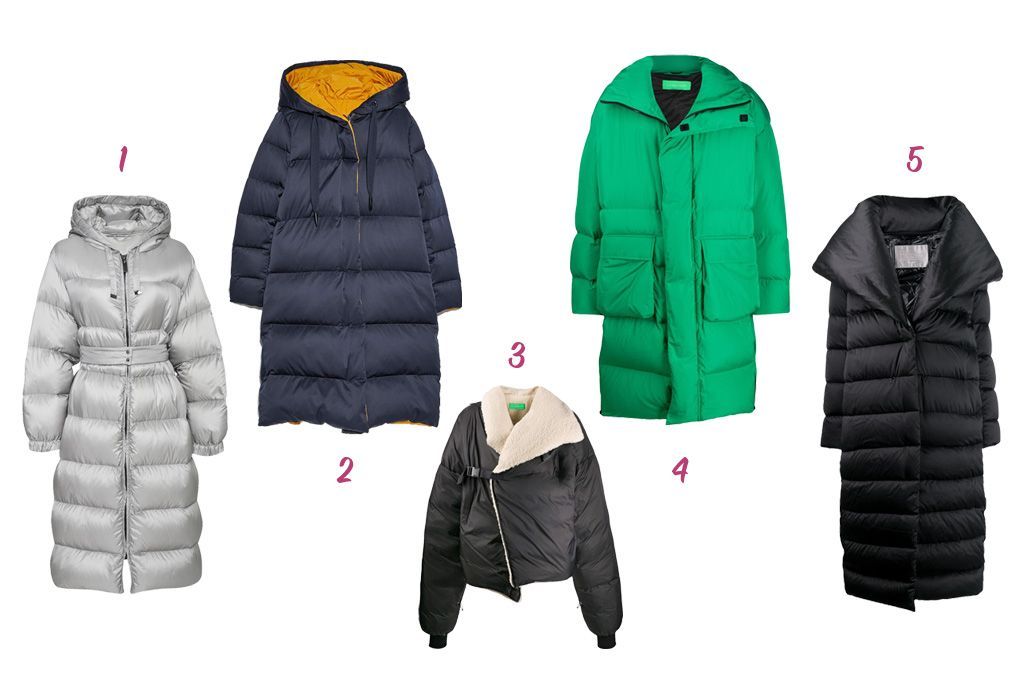 1-Max Mara, 2-Zara, 3 and 4-AA Spectrum, 5-Herno
Voluminous cut is still in fashion, and this extends to outerwear, too. Voluminous down coats and duvets are the right choice for fans of layering and those who want to get into the street style chronicle.
Down jackets from unusual fabrics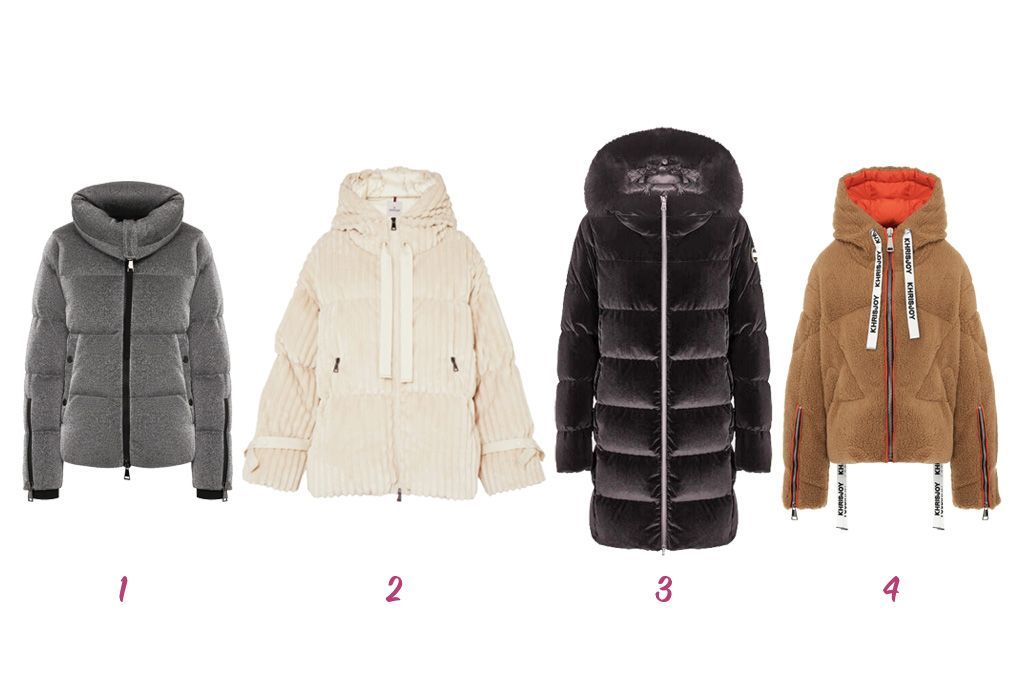 1 and 2-Moncler, 3-Colmar, 4-Khrisjoy
A down jacket made of unusual material is an interesting design idea. For example, it can be leather, wool, suede, velvet, corduroy or eco-fur. The imagination of designers is limitless. For example, leather down jackets were seen at Saint Laurent, Tom Ford and Nanushka collections. Such down-padded coat can look like a blende and resemble a jacket or a fur coat – it all depends on the material.
Long down jackets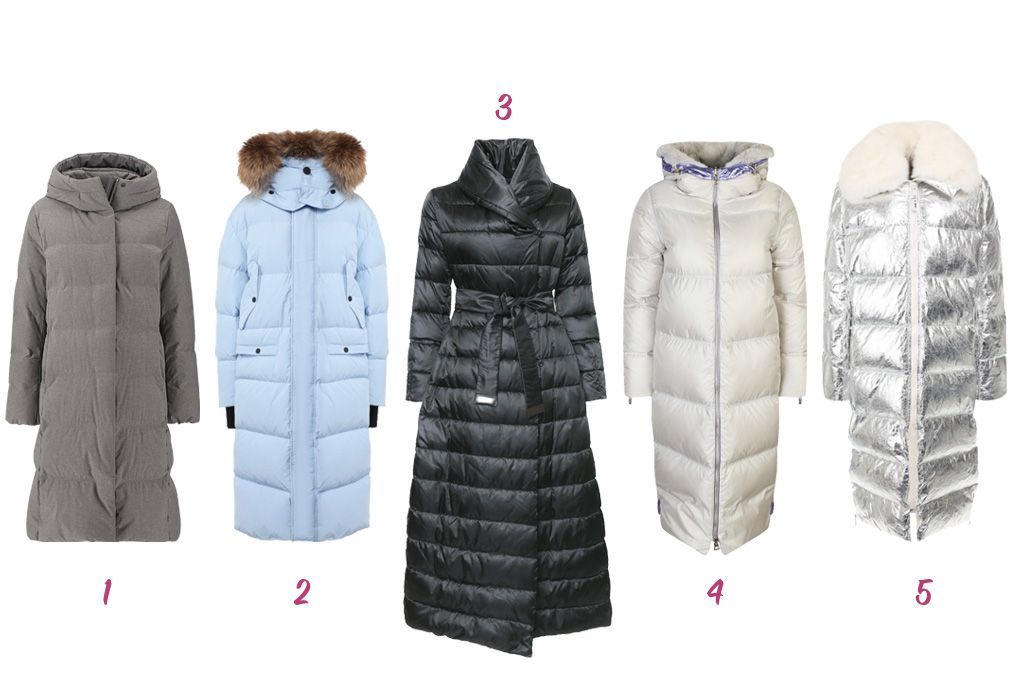 1-Uniqlo, 2-ADD, 3-Max Mara, 4 – Diego M, 5-Army Yves Salomon
Standard knee-length down jackets look too boring and routinely, don't the? So, short and long models are trendy now. The optimal length is midi. Even a cocktail dress can look impressive with such a down-padded coat!