It seems that the next few warm days will come only in April – that means it's time to fill up your wardrobe with a collection of stylish sweaters. We're going to tell you what models to note this fall to be trendy.
Sweaters with fashionable prints
Winter is coming, and sweaters with snowflakes and reindeer will be the most popular, but for now you should choose more traditional patterns of lines and geometric shapes. By the way, they can be combined with each other. But if you want something more informal, you can pay attention to models with ethnic motifs. Wearing sweaters with prints is better with more restrained things-wide classic trousers and plain leather MIDI skirts.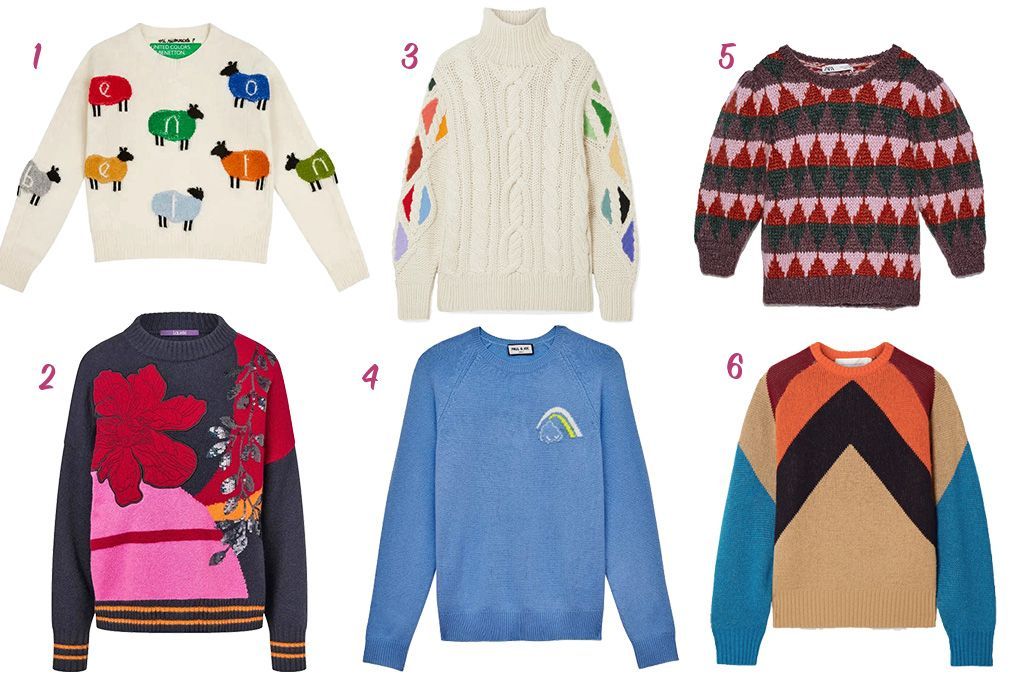 1 – United Colors of Benetton 2 – Laurel 3 – Rosie Assoulin 4 – Paul & Joe 5 – Zara 6 - Victoria Beckham
A new trend, which was outlined at the recent fashion weeks is a print of interwoven letters. The meaning of the inscription is not important at all; the main thing is bright colors. Models with appliques and prints in the form of color blocks look very interesting, too.
Sweater with neckline, balloon sleeve and other decoration
Classic sweaters are considered to be basic. Those who used to be a step ahead, should pay attention to models with sleeves of unusual shape, slits on the shoulders and vivid detail. However, the classic V-neckline won its place among the trends for a long time.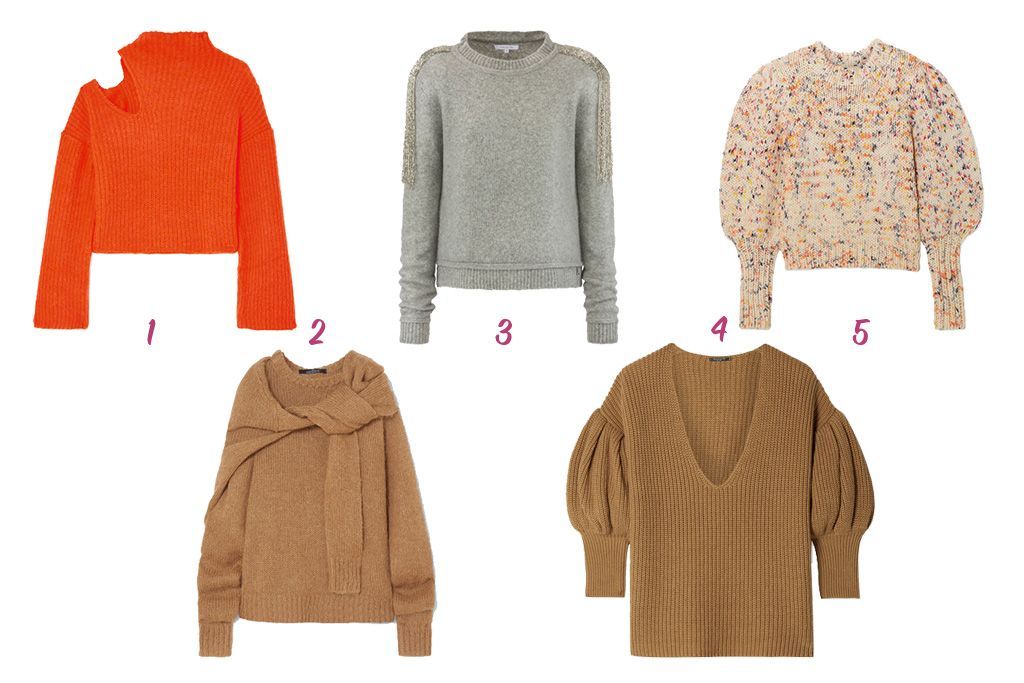 1 – 2 Beaufille – Ulla Johnson 3 – Patrizia Pepe 4 - Caroline Constas 5 – Rokh
Choose the slightly loose model, so as not to create too strict look. And, you can use a life hack from Instagram models and tuck the front edge of the sweater to jeans to add some volume and visually lengthen your legs.
Wide collar and oversized silhouette will give the image volume and a slight negligence, and both long and short models will look equally well It's important not to aggravate the volume top with the same bottom and choose skinny jeans and pencil skirts.
Textured and large knitted sweaters
Knitted sweaters of pastel colors look great with blue boyfriends jeans and tough black lace-up boots will create a great look in the casual style. It's better if such a sweater won't be overloaded with details, large loops will be more suitable brevity.
Textured knitting can be an alternative to prints. Using this sweater, you can create an image of a student from Oxford or a romantic lady. In the first case, put it over a white shirt and combine with straight trousers, and in the second - chose cropped models and wear them with dresses, flared skirts and high heeled shoes.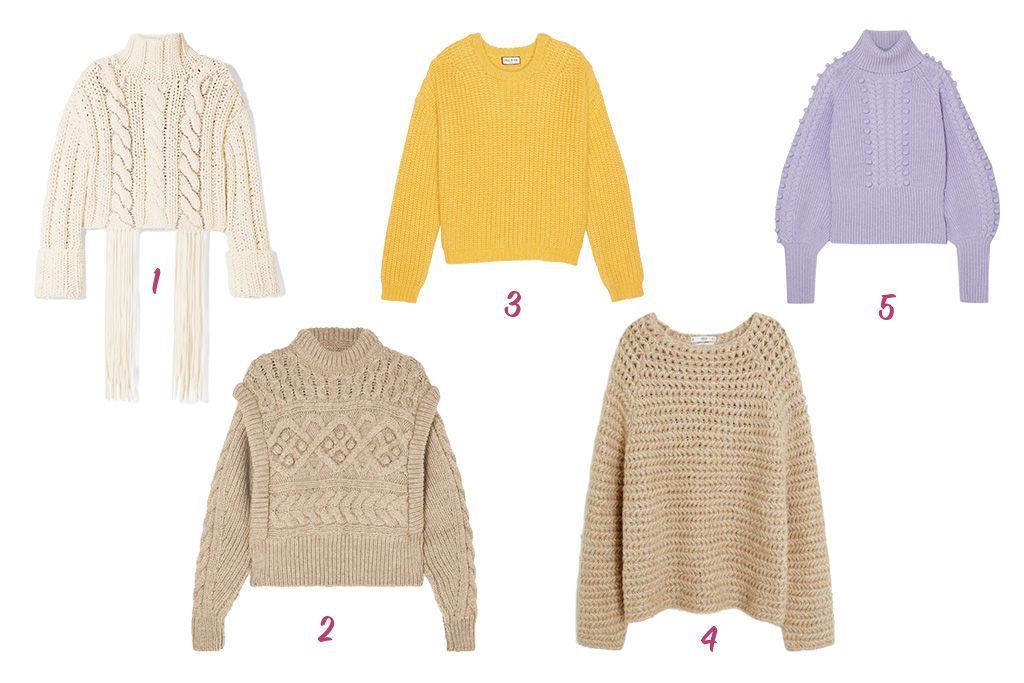 1 – Area 2 – 3 Isabel Marant Paul & Joe 4 – Mango 5 – Temperley London
Thin sweaters are going to replace the turtlenecks. The can be tucked into jeans and skirts to emphasize the waist. Turtlenecks, of course, won't disappear, but more loose models with a high neck will be trendy.
Fluffy sweater
The coziest trend of this autumn is a fluffy sweater, for example, from Alpaca or Angora goats. You can buy a "sweater-pot" with a long pile – these are usually made from synthetic materials. Of course, they are not so warm as items made of natural wool, but they look no less stylish.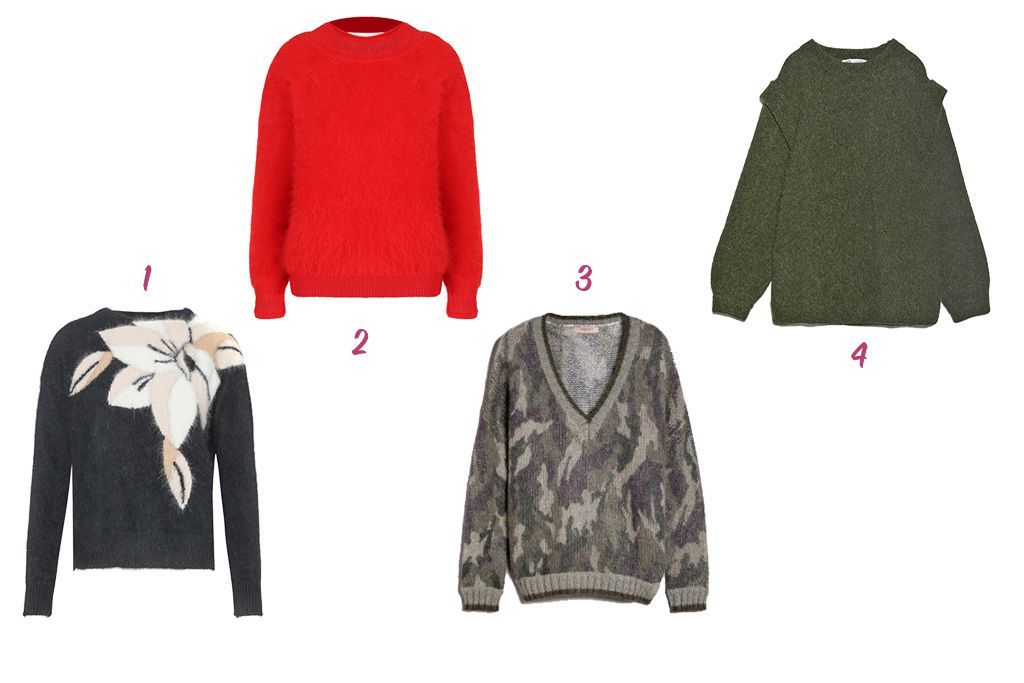 1 – Max Mara 2 – Tom Ford 3 – Twinset 4 – Zara
Combining these sweaters with other items of clothing, you can create different images. For example, in a fluffy sweater, skinny jeans and suede boots you can go for a walk, while a light dress, fluffy mohair sweater, ankle boots will create a perfect outfit for a romantic dinner.
Ski sweater
Ski sweater is not just an accessory for fans of outdoor activities this season, but an independent garment. It was originally worn only by the climbers – this sweater perfectly kept warm, and in the case of overheating you could unbutton the zipper. However, this outfit is good not only for the conquest of the Alps.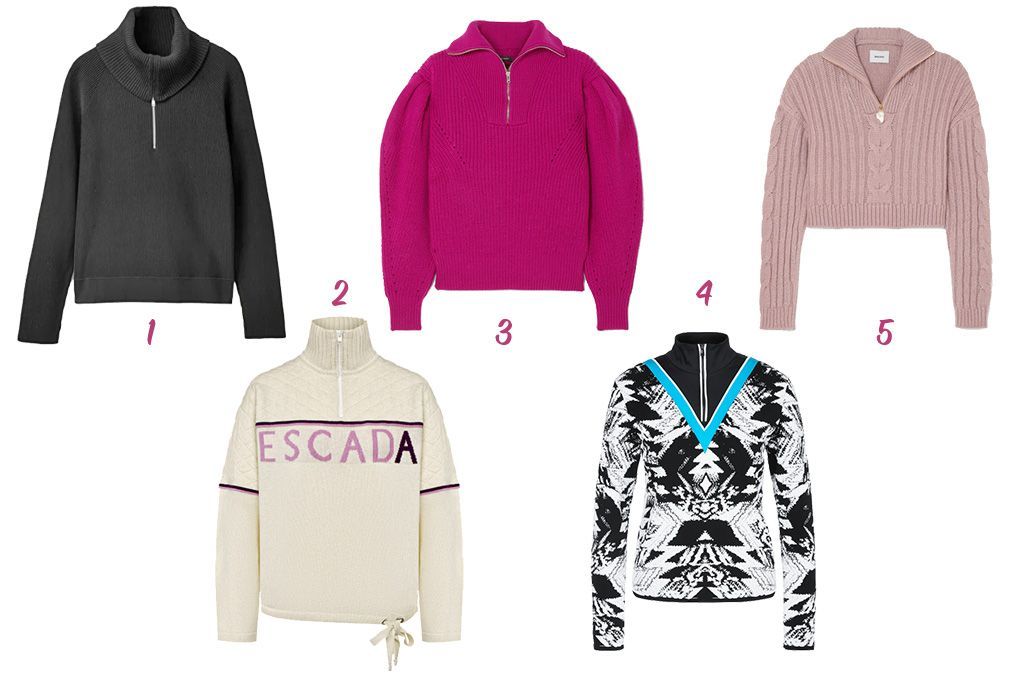 1 – Cos 2 – Escada 3 – Isabel Marant 4 – Marc Cain 5 – Nanushka
We advise you to wear a ski sweater with unbuttoned zipper and complement the image with a dark MIDI skirt and ankle boots on a stable heel. It can be worn over light dresses with floral print or turtlenecks. And to completely get rid of a touch of sporty style, choose to the image of massive accessories-earrings and chains.