This spring, the fuchsia dress will be at its peak. Let's find out, why it should definitely appear in your wardrobe.
This spring is the era of bright colors, huge ruffles and elegant silhouettes. While in 2019 Valentino and Giambattista Valli offered lush, layered and slightly surreal cake-dresses in all shades of pink, now they are replaced by semi transparent fuchsia gowns. Let's take the biggest trend of this spring into service and recall Nina Ricci and Valentino shows for inspiration.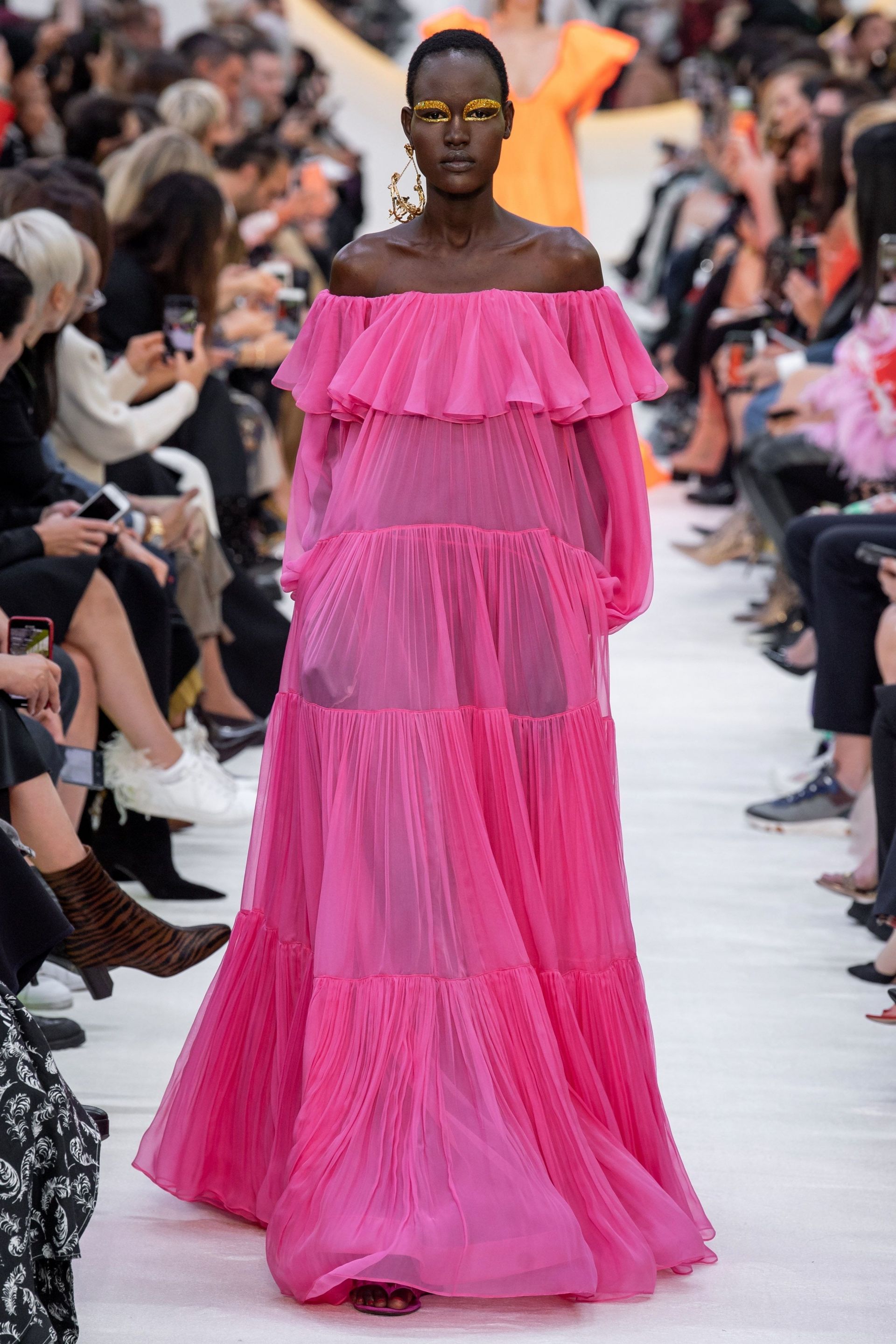 Valentino spring/summer 2020
Photo: nowfashion.com
Trends from the Runway
Back in 2018, almost everyone fell in love with the fuchsia dress by Giambattista Valli, Jennifer Lopez opted for to attend the Second Act premiere. Thanks to her choice of attire, Jennifer has become the most discussed person of the evening, and fuchsia hit not only catwalks, but also hearts of many girls. In 2020, the designers decided not to slow down and again paid attention to this complex, brilliant color. Sundresses, elegant floor-length gowns and mini-dresses with sleeves – with these outfits, it's very simple to turn the world into your personal catwalk.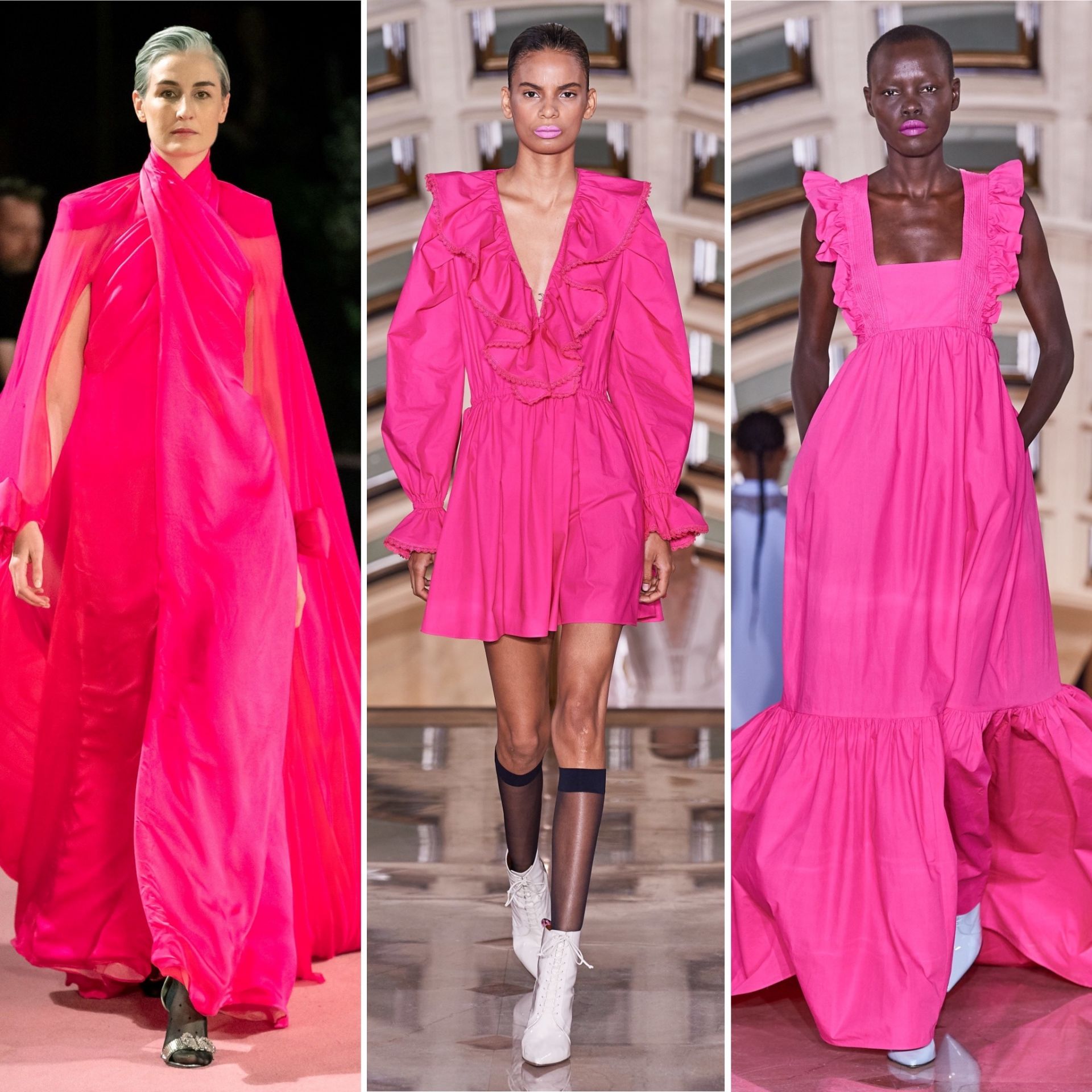 Richard Quinn, Self-Portrait, Self-Portrait spring/summer 2020
Photo: nowfashion.com
Fuchsia dress in everyday life
The fuchsia color is considered to be an option for evening outings, but much depends on the style of clothing and correctly selected accessories. A dress of this color stands out by itself. So, creating a casual look, you don't need to rely on bright jewelry and additional accents. Shoes and jewelry are better to choose in neutral shades: white, grey, black, and a bag to match the dress. A sexy high slit will add some charm, while lightweight, flowing fabric will bring romantic mood to grey routine days.
Посмотреть эту публикацию в Instagram
In order to dilute the bright look, many designers offer to combine fuchsia with a neutral white color. A white coat supports cold fuchsia shade and gives the necessary contrast. And paired with white ankle boots, this outfit will look bright and impressive – all you need for spring everyday life.
Посмотреть эту публикацию в Instagram
Evening Looks
It seems, that rich fuchsia color is designed for a holiday and fun, so cocktail mini-dress of this shade is a perfect option for any party. Accessories and jewelry made of metal, white gold or silver will perfectly match the dress, while sandals or shoes in the same tone will complete any festive look.
Посмотреть эту публикацию в Instagram
If you want to steal the spotlight, we advise you to opt for real must-have: dress-tuxedo. Metal accessories in the form of wide belts and chandelier earrings will perfectly fit into a festive look, and classic silver-colored pumps will help you to feel the heroine of your favorite children's fairy tale.
Посмотреть эту публикацию в Instagram
Bold combinations
Fuchsia plus orange is probably the most popular color combination over the past few years. The saturation of both colors and thermal contrast create harmony. A bold, but successful decision is to choose shoes with animalistic print – daring, but tasteful!
Посмотреть эту публикацию в Instagram
Celebrity in fuchsia dresses
The fuchsia color works great with blondes, that's why Nicole Kidman can often be seen in dresses of this bold hue. So, last year, the actress opted for a satin midi dress with open shoulders for the Venice film festival. The color of the dress successfully overshadowed her aristocratically fair skin, and nude makeup added the final touch to the look.
Посмотреть эту публикацию в Instagram
For sure, the most spectacular fuchsia dress belonged to Jennifer Lopez in 2018. The lush, multi-layered dress, resembling a cloud of pink chiffon, immediately attracted the attention of the public, and those who naively believed that fuchsia only goes to young girls, clearly had to change their views.
Посмотреть эту публикацию в Instagram
You can opt for a fuchsia dress not only to hit the red carpet, but also for everyday life. So, Rihanna attended the presentation of her debut collection of luxury clothing in a silk fuchsia mini dress with an open back and draped neckline. By the way, we invite you to wear this dress with sneakers and a denim jacket.
Посмотреть эту публикацию в Instagram
This year, designers offer a variety of fuchsia dresses that will perfectly fit into your casual or holiday wardrobe.
| | | |
| --- | --- | --- |
| | | |
| P.A.R.O.S.H. | Alexis | Lauren Ralph Lauren |
| | | |
| Versace | Escada | The Attico |