Let's learn how to wear all shades of green from fashion bloggers.
In spring/summer season, bright and fresh palette is dominating again: the green color instantly improves mood and symbolizes good luck. Over the years, the green color has managed to steal the spotlight, and left the runway for several seasons. We'll tell you what shades of green are considered the most popular and how to combine this controversial color in everyday life.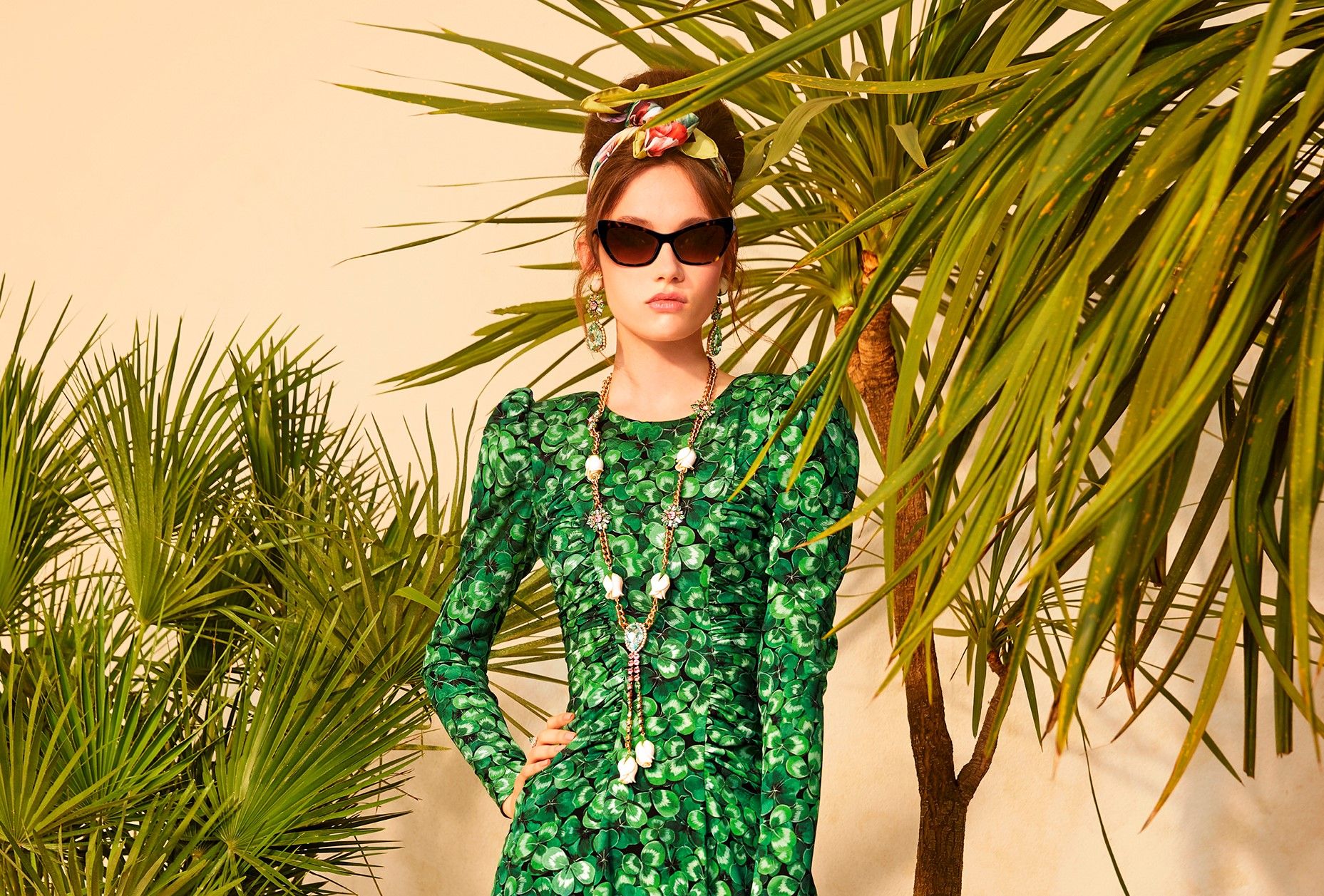 www.dolcegabbana.com
The most popular shades of green
Juicy Apple
For several seasons, not only adherents of proper nutrition are in love with the apple green color. Of course, apple color is not as bright as the neon-green and not as rich as emerald green, but this is the point. You can dress in apple-colored clothes from head to toe without looking like a lawn. Clothes of this shade is perfectly combined with basic colors, so taking one apple-colored item as a basis, you can create a smart casual look.
Посмотреть эту публикацию в Instagram
Emerald
Emerald monochrome will help you out in any situation: the noble color of the gemstone will give a touch of luxury and elegance to any outfit, even if your look is sporty. This rich color is most suitable for red-haired girls and brunettes. By the way, emerald blends perfectly with all neutral colors – white, grey, black.
Посмотреть эту публикацию в Instagram
Light green
Light green color is so vibrant that it almost glows in the dark. To dress in it from head to toe is a bold and brave decision. So, if you are not ready to fashion experiments yet, then stylists invite you to build the look on the base of one item of a juicy hue. Model Kendall Jenner is not afraid to combine light green top with chunky accessories and neon shades. And she looks extremely stylish, doesn't she?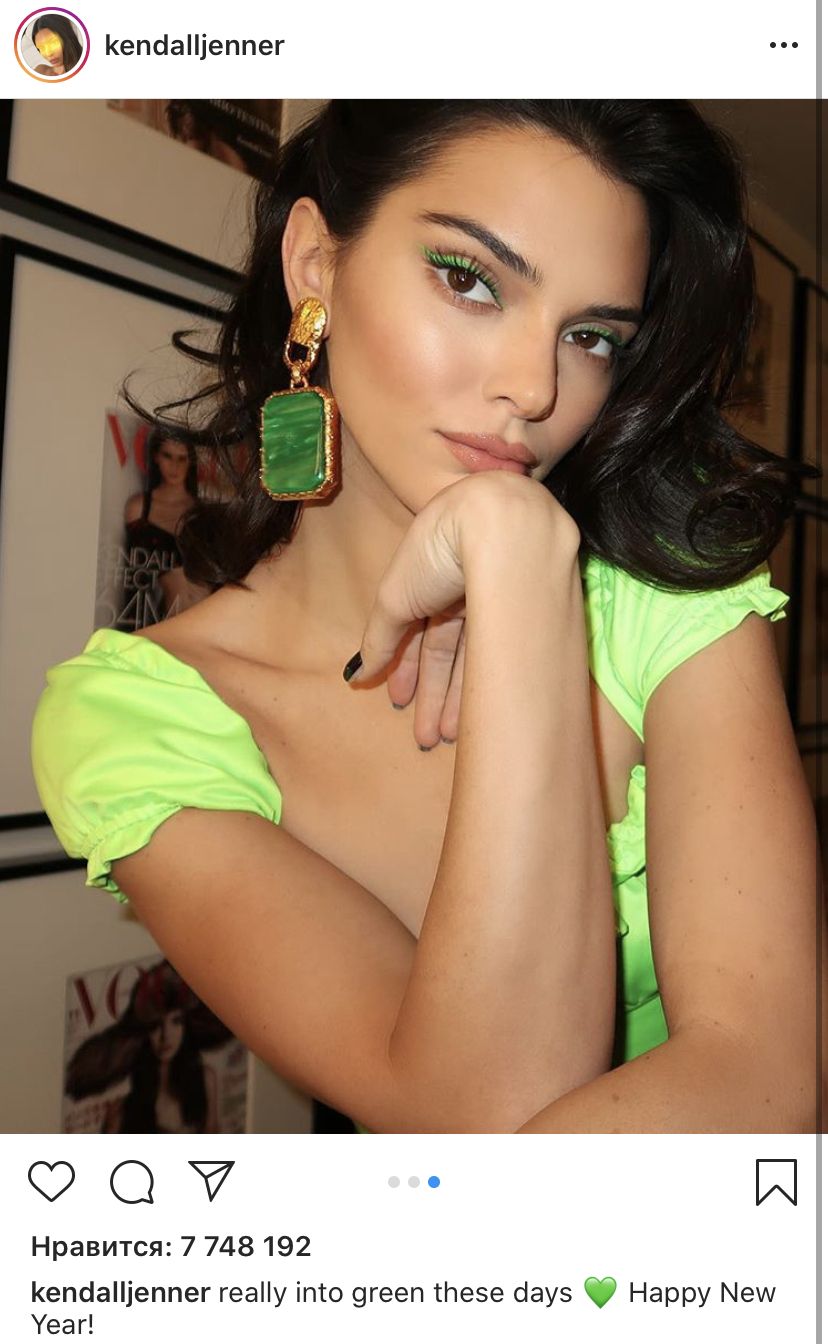 www.instagram.com
Olive
Muted olive color is associated with the military style and gives a peculiar charm. You can wear olive in everyday life and in more formal occasions: to the office and a business meeting. Don't be afraid to combine different shades of the same color, and add bright accessories, if necessary.
Посмотреть эту публикацию в Instagram
Mint
Mint is one of the most adored colors by designers: refreshing and moderately bright mint color is on-trend for several seasons. It's simply impossible not to fall in love with it: fashionistas prefer to slip into mint from head to toe. However, if you're not set up for a monochrome look, you can safely combine it with peach, coral and beige shades. And the duet of white and mint is a perfect combination for the coming spring.
Посмотреть эту публикацию в Instagram
How to combine: learning from fashion bloggers
How to combine an olive suit
An olive monochrome suit looks perfect without any additional accents, so take it as a basis and add accessories, depending on your preference. This costume is perfect to go to the office and for a walk. In the first case, complete your look with a top or a shirt and high-heeled shoes. But if you face the weekend in a new city – feel free to put on an olive suit over your naked body, sneakers and go out for an adventure.
Посмотреть эту публикацию в Instagram
How to combine a green printed dress
A green dress with animalistic print attracts attention in itself, so leave it to rule alone and opt for accessories in more neutral shades. Try to calm down the vibrant color and provocative print. For example, the white color will become an ideal companion, as always: a light shirt, tied a knot in the manner of a top, will balance the color scheme. The bag and shoes should be chosen, depending on your preference, but remember: no red, blue, and pink.
Посмотреть эту публикацию в Instagram
How to combine a green sweater
The combination of blue and green in one look is natural and harmonious (it's a natural combination). So feel free to mix a green sweater with jeans, skirts and blue pants – the look will turn out to be calm and cozy. Pick accessories to match, but shoes, on the contrary, should be of contrasting color. The option with a midi skirt looks feminine and delicate, despite the loose-fitting sweater – this is all you need this spring.
Посмотреть эту публикацию в Instagram
How to combine a green skirt
Stylists invite to combine a green midi skirt with an oversized jumper or, on the contrary, a fitting blouse. The color scheme is varied: from calm milky shades to black and brown. However, fashion experiments haven't been canceled, so even a strict look without extra details is easy to diversify with unusual footwear, such as boots with animalistic print.
Посмотреть эту публикацию в Instagram