A turtleneck as a wardrobe item was considered to be too banal and utilitarian. It was only in the 1960-1970's when designers and celebrities, including actresses Audrey Hepburn and Grace Kelly, started to pay attention to it, and turtleneck was finally put into the fashion vocabulary. In the 1980's, it generally gets a second life and becomes a symbol of freedom and independence, business ladies paired them with jackets.
Today, views on the turtleneck have changed dramatically. Everyone, from street style stars to office workers, wear this universal item, clearly proving its relevance both at work and at the party. Let's find out how to wear a turtleneck in 2020, so as not to look boring.
Idea # 1. Turtleneck + Mini Skirt
This season, designers draw inspiration from retro looks of Twiggy and Sharon Tate. The best option for tall girls is to wear a turtleneck with a mini skirt. Jackboots will emphasize the length of legs, and a leather coat will be the final touch.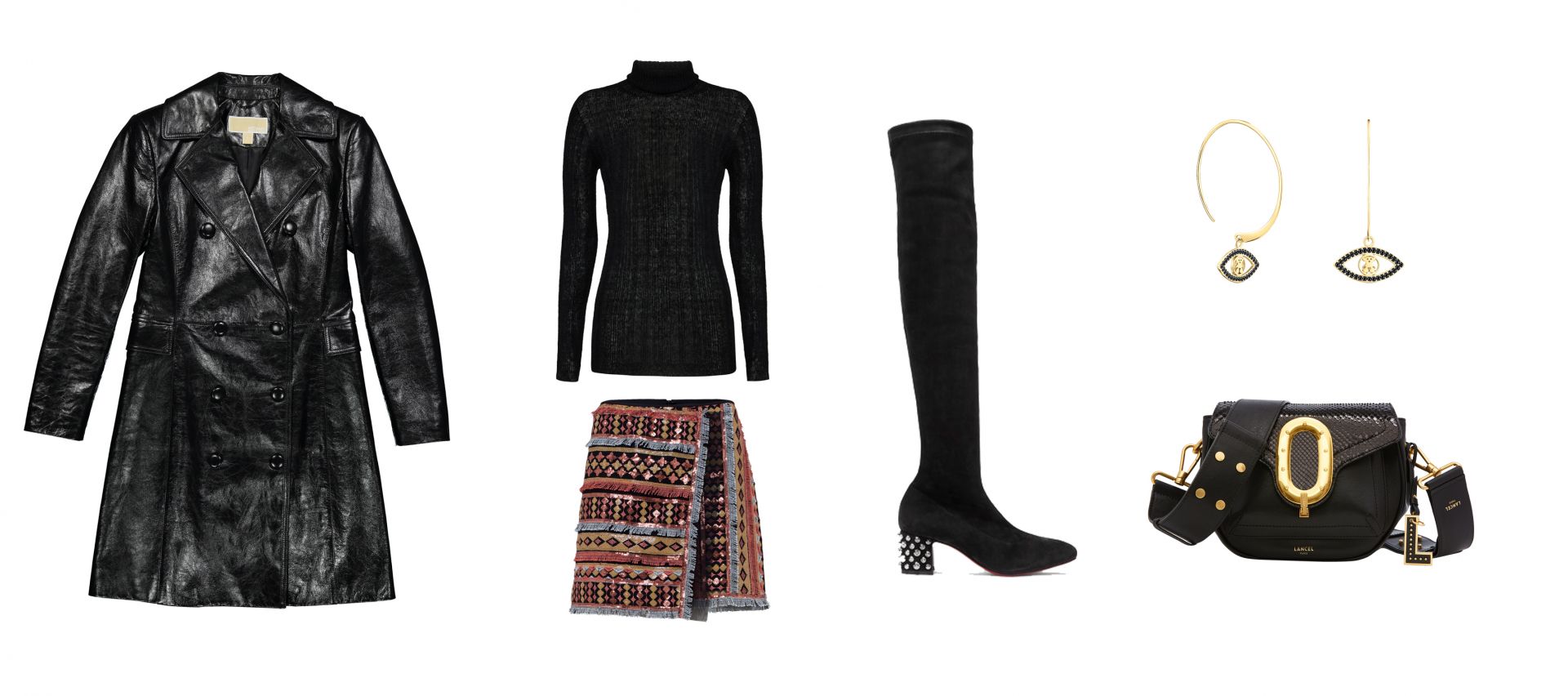 Michael Michael Kors coat, Woolrich turtleneck, Dorothee Schumacher skirt, Christian Louboutin boots, Tous earrings, Lancel bag
Idea # 2. Turtleneck + Loose Pants
The stylish ensemble can easily be made up of a turtleneck and loose leather pants (this is the main trend of spring 2020). We recommend paying attention to the beige color scheme – the most win-win option of this season - and the Safari style. Experiment with the length of your trousers and try on different shoes. You can alternate shoes, stiletto heels or Cossacks. As a result, you'll get a new look every time.
Marni jacket, Uniqlo sleeveless turtleneck, Mango pants, Tous chain, Longchamp sneakers, Trussardi bag, Ray-Ban sunglasses
Idea # 3. Monochrome
To dress up in clothes of the same shade from head to toe is a trendy technique of this season. Here is a nice bonus – it will help to visually pull the figure. The most fashionable color of the season is white and all its shades. By the way, white monochrome outfits always look classy.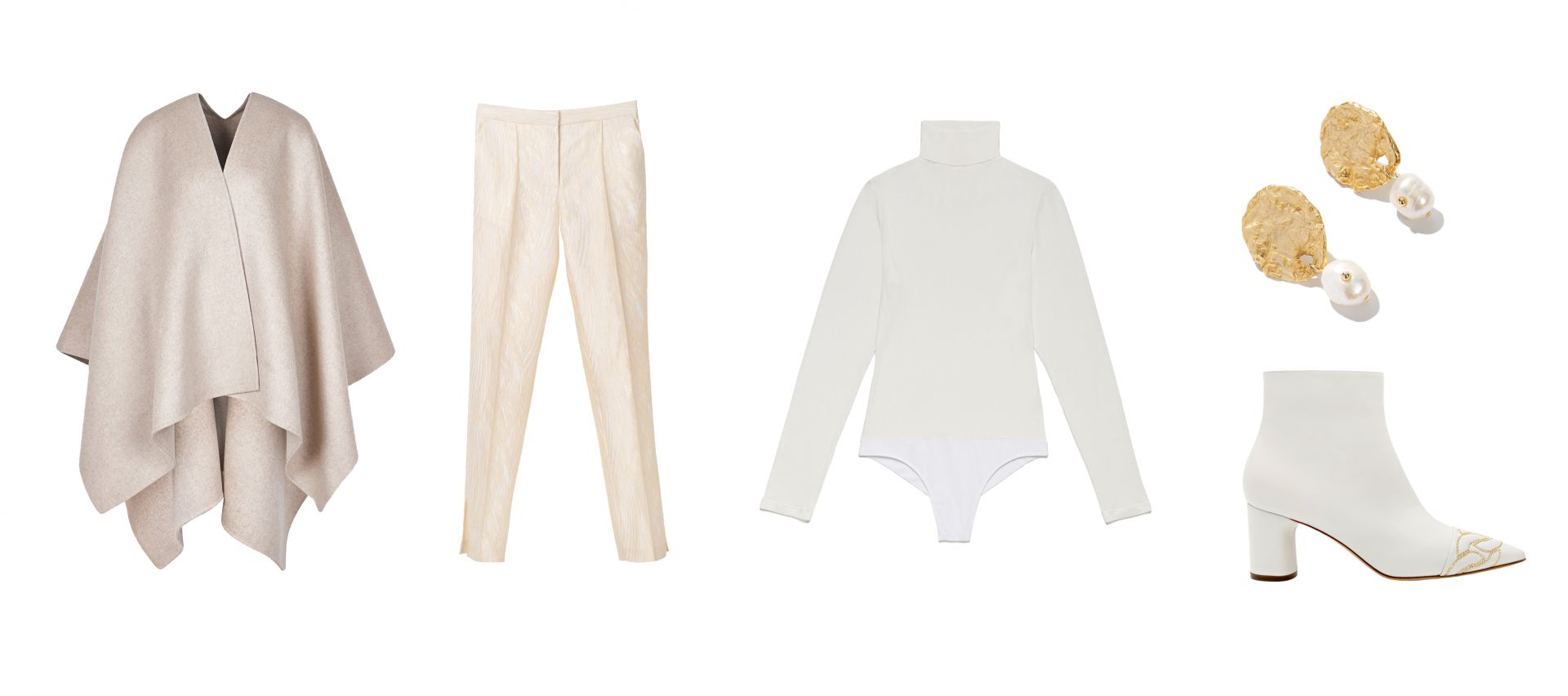 12Storeez cape, United Colors of Benetton bodysuit, By Malene Birger pants, Casadei boots, Exclaim earrings, Coccinelle bag
Idea # 4. Turtleneck + A-line Dress
In 1959, designer Pierre Cardin invited wearing turtlenecks with short sleeveless A-line dresses. At that time, the society was not ready to minimalism: the idea was criticized, and Cardin was excluded from the Syndicate of high fashion. However, later the look was appreciated and became a real cult.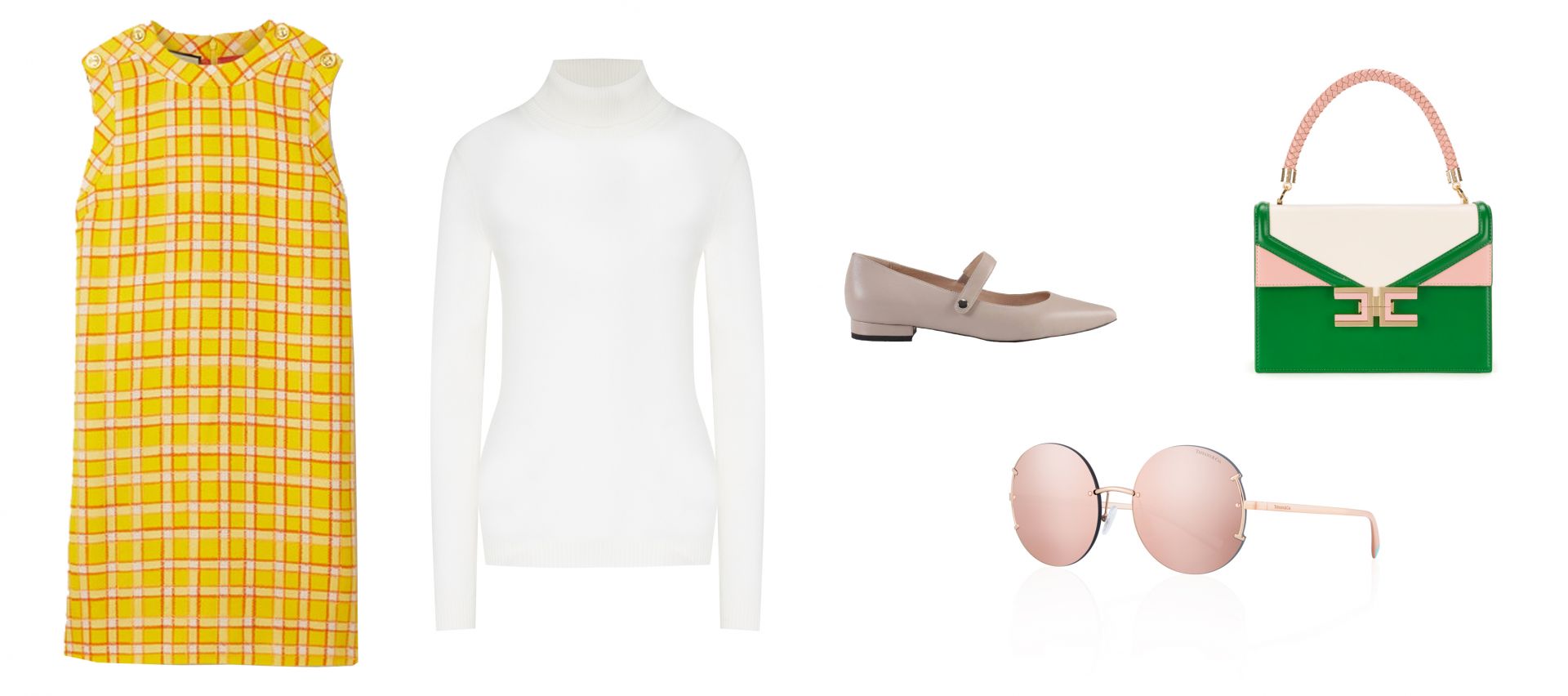 Gucci dress, Alena Akhmadullina turtleneck, Tom Ford sunglasses, Elisabetta Franchi bag, Ekonika shoes
Idea # 5. Turtleneck with a Pantsuit
If you don't have your outfit to look boring or old-fashioned, choose a turtleneck with a fashionable print. An important nuance: the color of the print on the turtleneck should match the color of the suit, contrasts are inappropriate. The interpretation of this ensemble in an evening outfit will look interesting - just opt for a less formal jacket or pin a massive brooch to the lapel.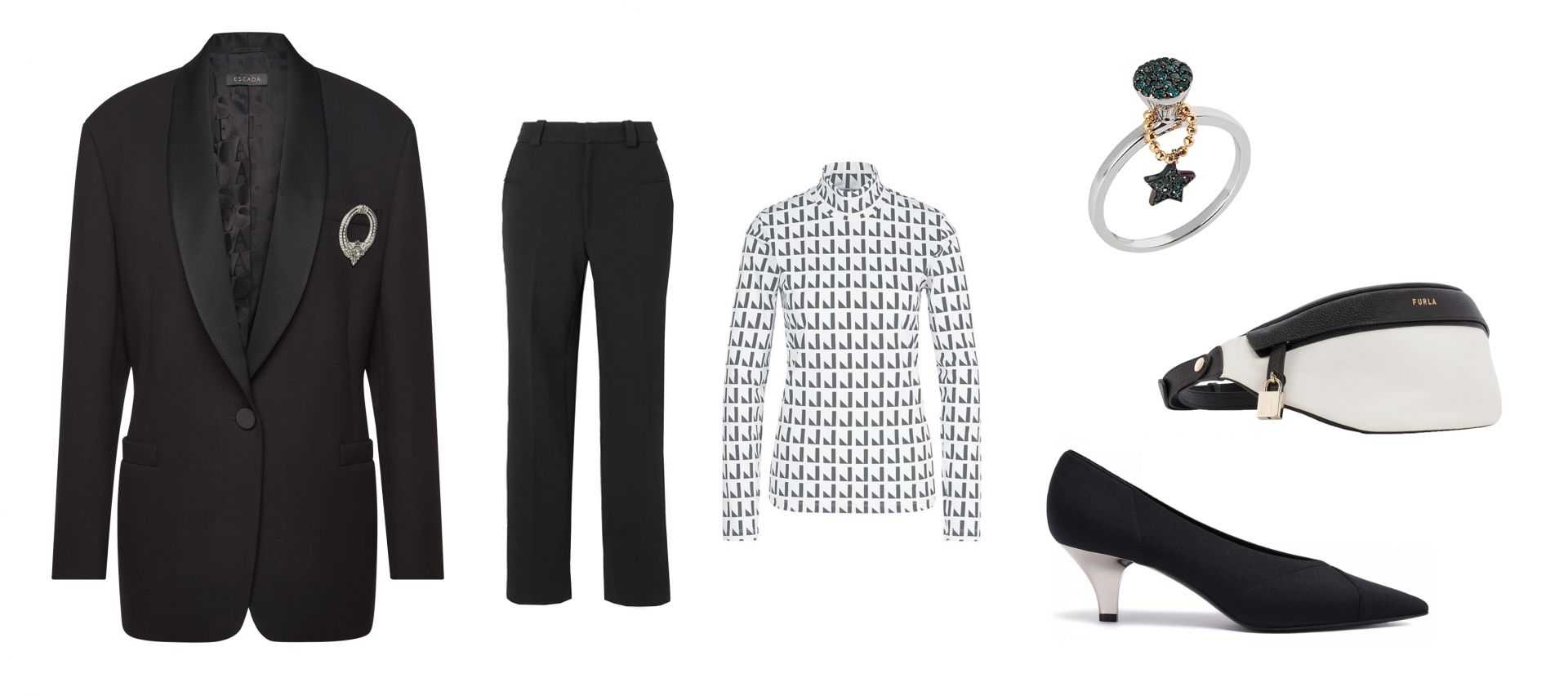 Escada jacket, Roland Mouret pants, Marc Cain turtleneck, Casadei shoes, Furla bag, Roberto Bravo ring
Idea No. 6. Turtleneck + Shirt + Jeans
The idea of ​​using multi-layering is as old as the world, but it doesn't lose its relevance. For example, Victoria Beckham is fond of this technique. She presented a few interesting ideas at her SS collection. However, this option looks great not only in business outfits, but also in more casual ones, with jeans and sneakers.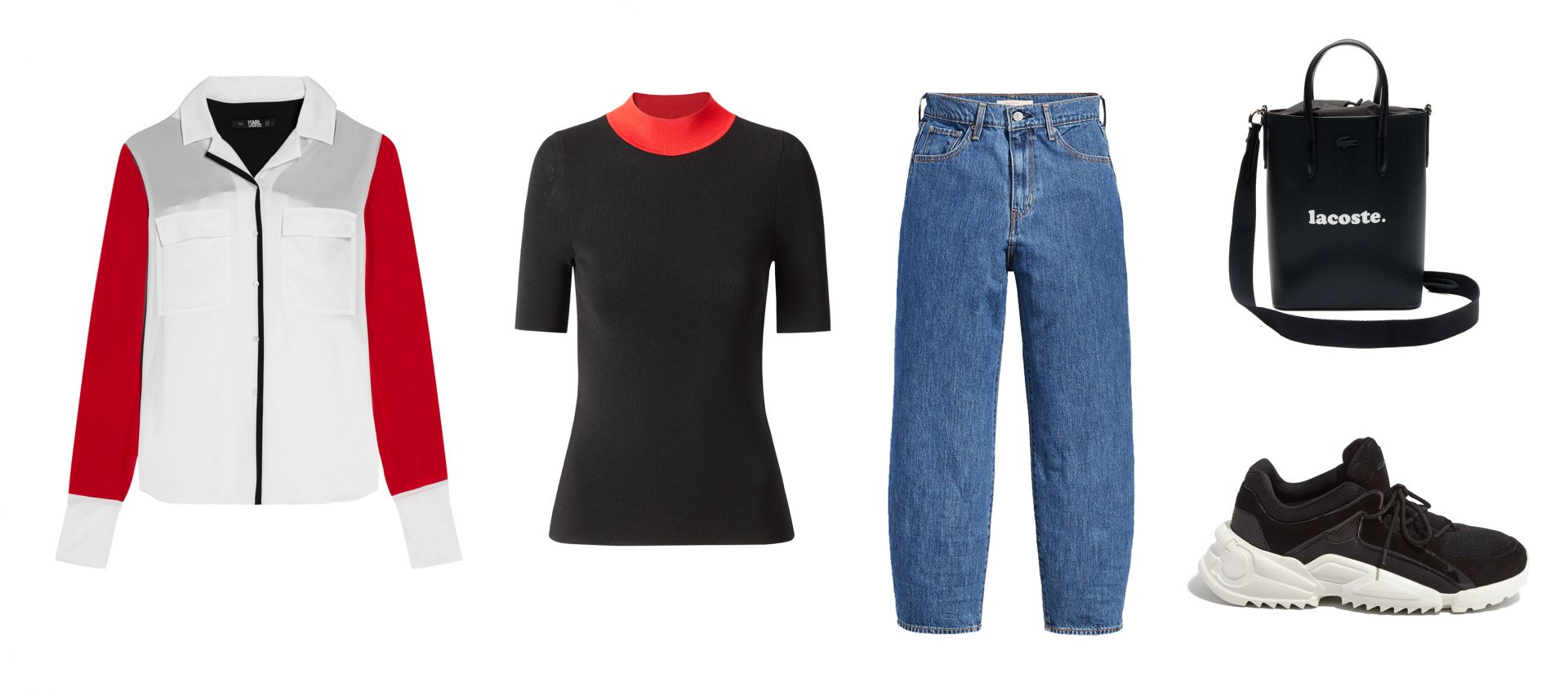 Karl Lagerfeld shirt, Mango turtleneck with short sleeves, Levi's jeans, Lacoste bag, Salvatore Ferragamo sneakers
Under the shirt, you should wear a contrasting turtleneck, this will help to accent the effect of several layers. Accessories of unusual shapes will look interesting - large and multifaceted sunglasses, a bag-box and others.