To create a stylish look, you have to be attentive choosing not only clothes, but also jewelry. We're going to tell you what the jewelry etiquette it, its basic rules and how strictly they should be followed in the XXI century.
The combination of silver and gold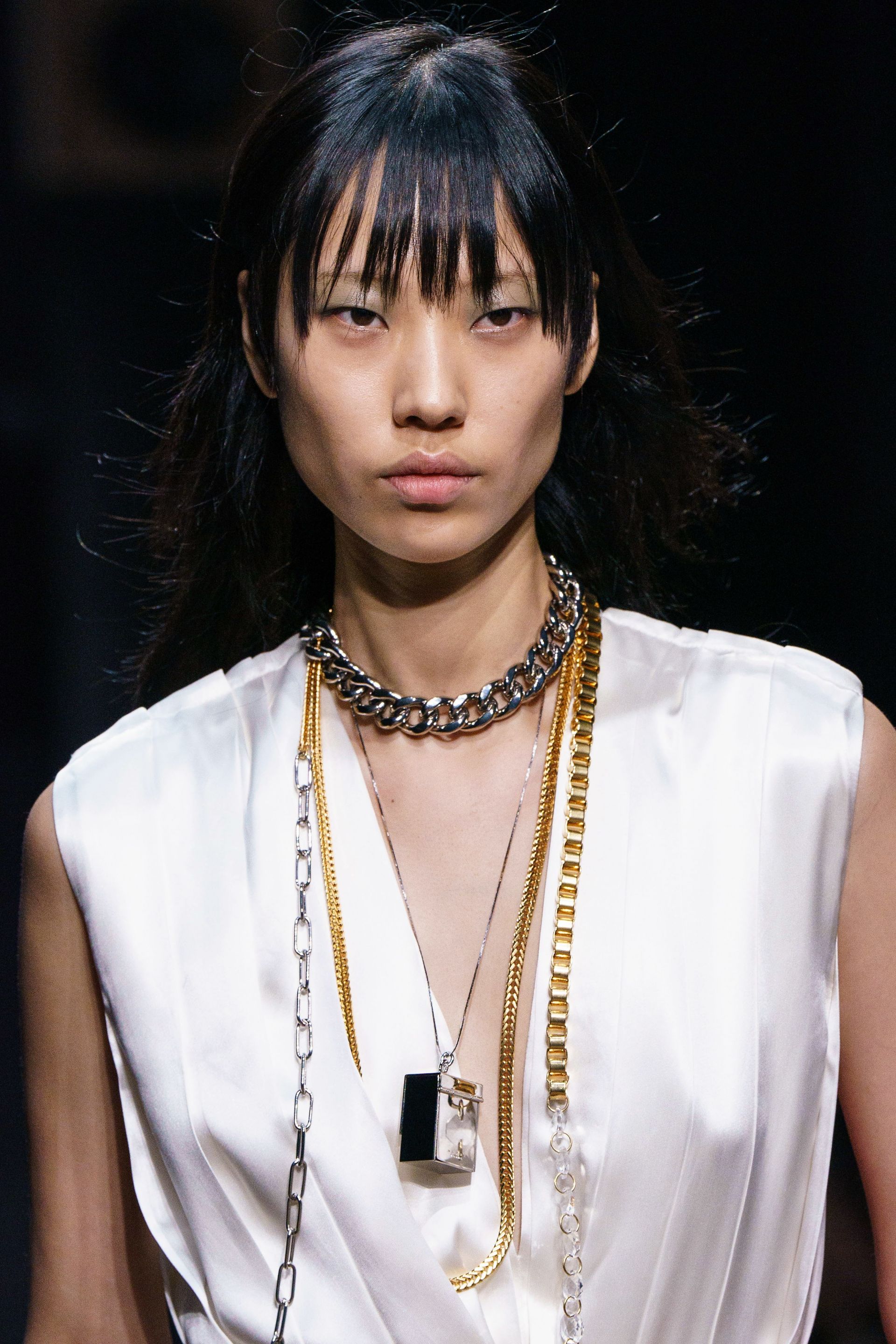 Marni, autumn/winter 2019
For a long time, it was believed that the combination of gold and silver jewelry is a sign of poor taste. Now the situation has changed dramatically: a successful mix of precious metals of different colors looks stylish and modern. But there are some rules here, too.
You can feel free, combining gold and silver, if you do it with the one type jewelry – this means that you can wear several rings, bracelets or chains at the same time. In this case, the contrast between cold and warm shades of metal will become an interesting detail of the look and give it a bit of rebellion. But stylists don't recommend mixing, for example, gold earrings and a silver pendant: it is better to use different metals only as a little creative technique. Although Rosie Huntington-Whiteley did her best and looks very stylish.
Посмотреть эту публикацию в Instagram
To make all the decorations in one outfit look like a single whole, they must have a connecting element. For example, the geometric features, which is expressed in clear, pointed forms, or the elegance with gemstones of pastel shades. In this case, none of the decorations would get out of the outfit and look extra.
Earrings and hairstyles
Посмотреть эту публикацию в Instagram
When choosing earrings, it is better to focus on hair and face shape. For example, model Kaia Gerber recently made a bob haircut, which was matched with miniature hoop earrings. The most universal option will be piercing rings or stud earrings - you can put them on, going to a business meeting or a party, adding a massive pendant or bright makeup to the look.
Посмотреть эту публикацию в Instagram
If you want to put the hair in a bun or high ponytail, choose a larger model, for example, "drops" with large stones, wide hoop rings or multi-tiered "chandeliers", like Beyoncé does.
Are diamonds best friends?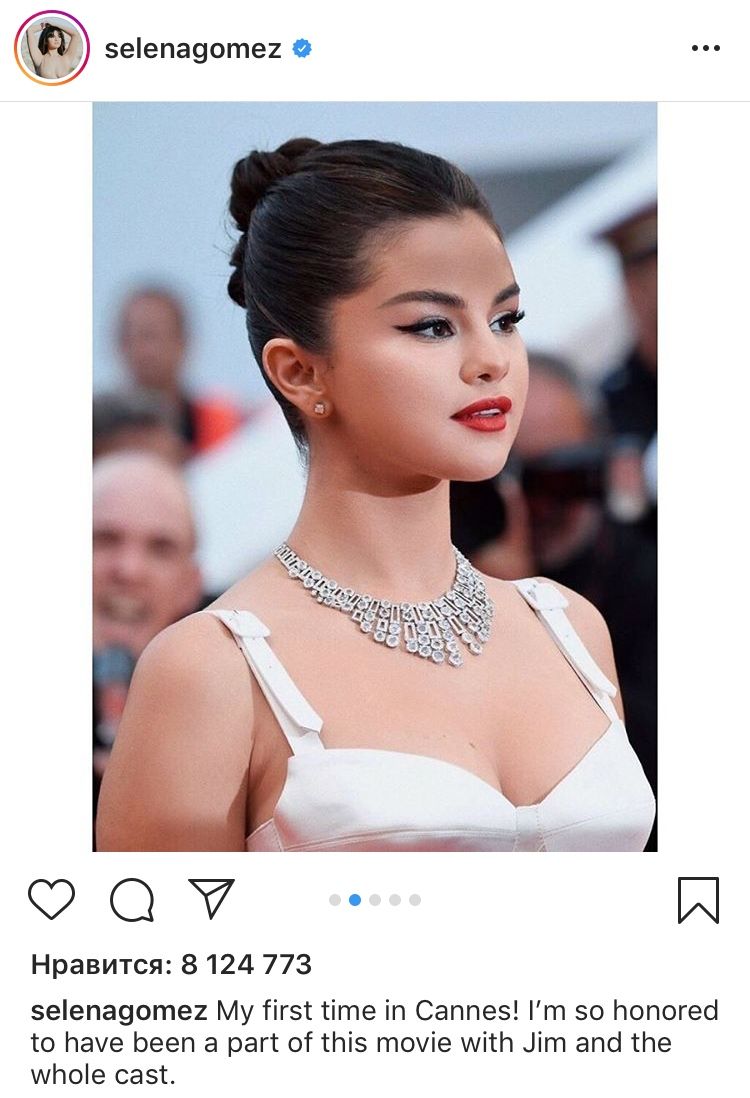 Diamonds are still girls' best friends – they can be worn regardless of age and time of day, but keeping a sense of proportion. Neat earrings and rings with small stones will suit both business style and casual style, while a necklace, like Rose from the Titanic had, is better to keep for the evenings.
Do we need minimalism?
Посмотреть эту публикацию в Instagram
Stylists used to think that there are three zones for jewelry – hands, neck and face, and you can fill only two of them at the same time. This myth is high time to forget – it's not about the amount of jewelry, but the way they are combined with each other and with clothes. Even the most stylish total-look can be ruined by a single unsuccessful ring.
Посмотреть эту публикацию в Instagram
Massive bracelets are better to combine with a narrow plain rings without stones, while a layered necklace will look perfect with simple earrings. Don't put on all the brightest and biggest in one look. Massive jewelry looks stylish only if nothing distracts attention from it. Less is more.
Посмотреть эту публикацию в Instagram
For example, Jennifer Lopez for the premiere of the film "Hustler" opted for a dress of rich yellow color with a spectacular drape. She did not overload the cleavage with massive accessories and complemented the look with long earrings and a pair of rings.
Office style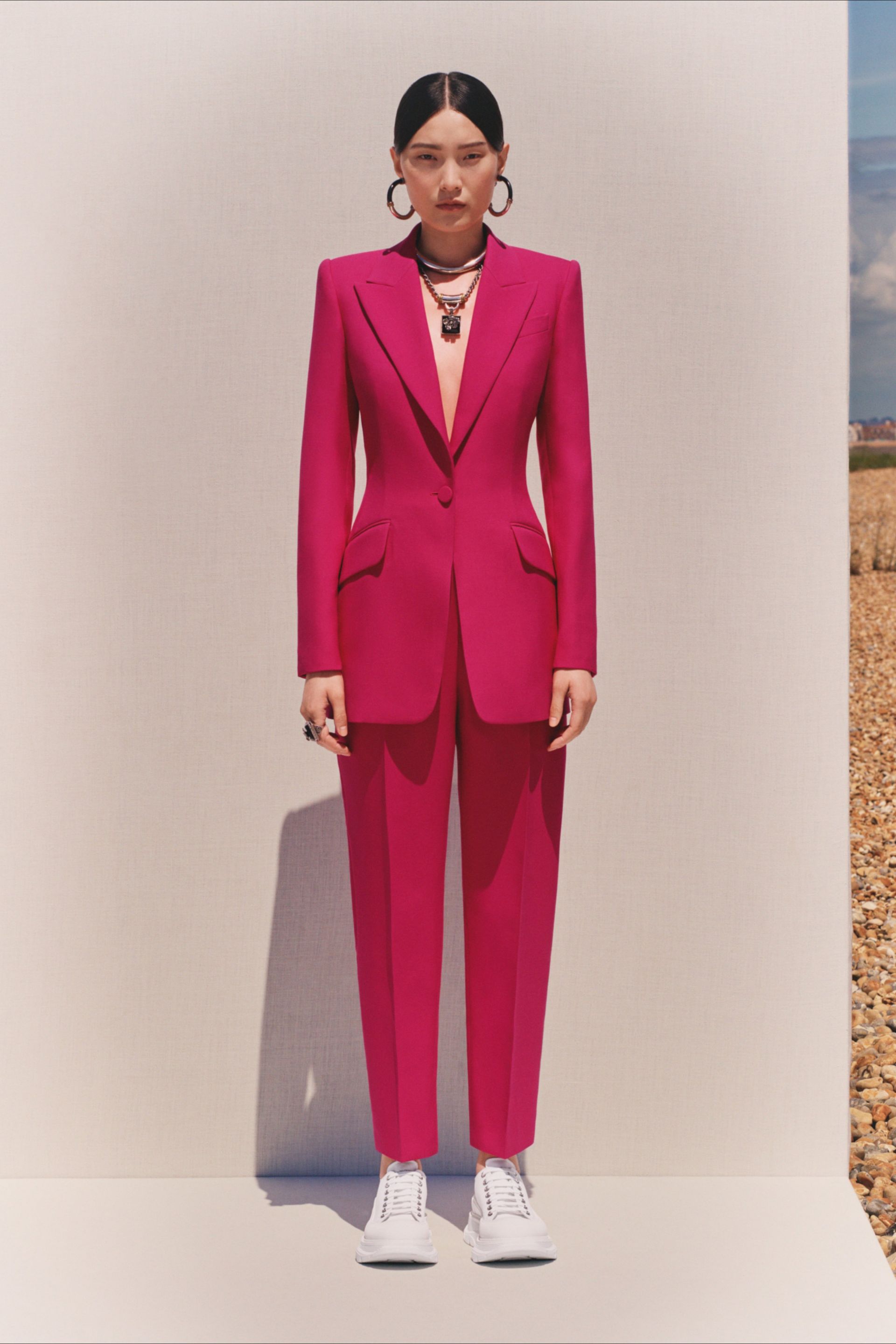 Alexander McQueen, spring/summer 2020
Business style clothing include monochrome looks and strict silhouettes – it has some restrictions in the choice of accessories. However, office outfits don't have to be boring. It is better not to overload them with a massive jewelry, but that does not mean that all accessories are banned. At the meeting or interview, concise earrings, rings and pendants will look rather appropriate, but you can focus on one bright accessory and choose a wide bracelet or a massive ring.
Basic set
Посмотреть эту публикацию в Instagram
In addition to the basic wardrobe, you can collect a capsule collection of jewelry, which will include simple rings, earrings, bracelets, and chains. It is better to buy the accessories of similar design, you can mix them in different combinations, based on the style of clothing and its color, as Gigi Hadid does.
Minimalistic jewelry looks stylish in any situation: in the gym, in the office or at the cafe. But for special occasions, you will need a more serious arsenal.
Jewelry for an evening look
Посмотреть эту публикацию в Instagram
For special occasions, it is better to choose jewelry made of precious stones and metals, and for parties with a more relaxed atmosphere, high-quality bijouterie is also suitable. Elegant gowns do not need to be overloaded with accessories – one or two accessories will be enough. Blake lively and Lady Gaga's looks turned out to be very successful, their jewelry perfectly complemented the elegant black outfits.
Посмотреть эту публикацию в Instagram
Hollywood celebrities follow the rule – a massive necklace should be worn only with a deep-V – so, that it lays flat on the skin, while thin and elegant pendants can be applied to the fabric.
Bijouterie
Versace, spring/summer 2020
It is believed that bijouterie was invented by Coco Chanel in the early 1930's. She explained her idea by the fact that she did not like people's attention if she went out in the daytime wearing jewelry. In fact, in the postwar period, many women could not afford expensive jewelry, but they still wanted to accessorize their outfits.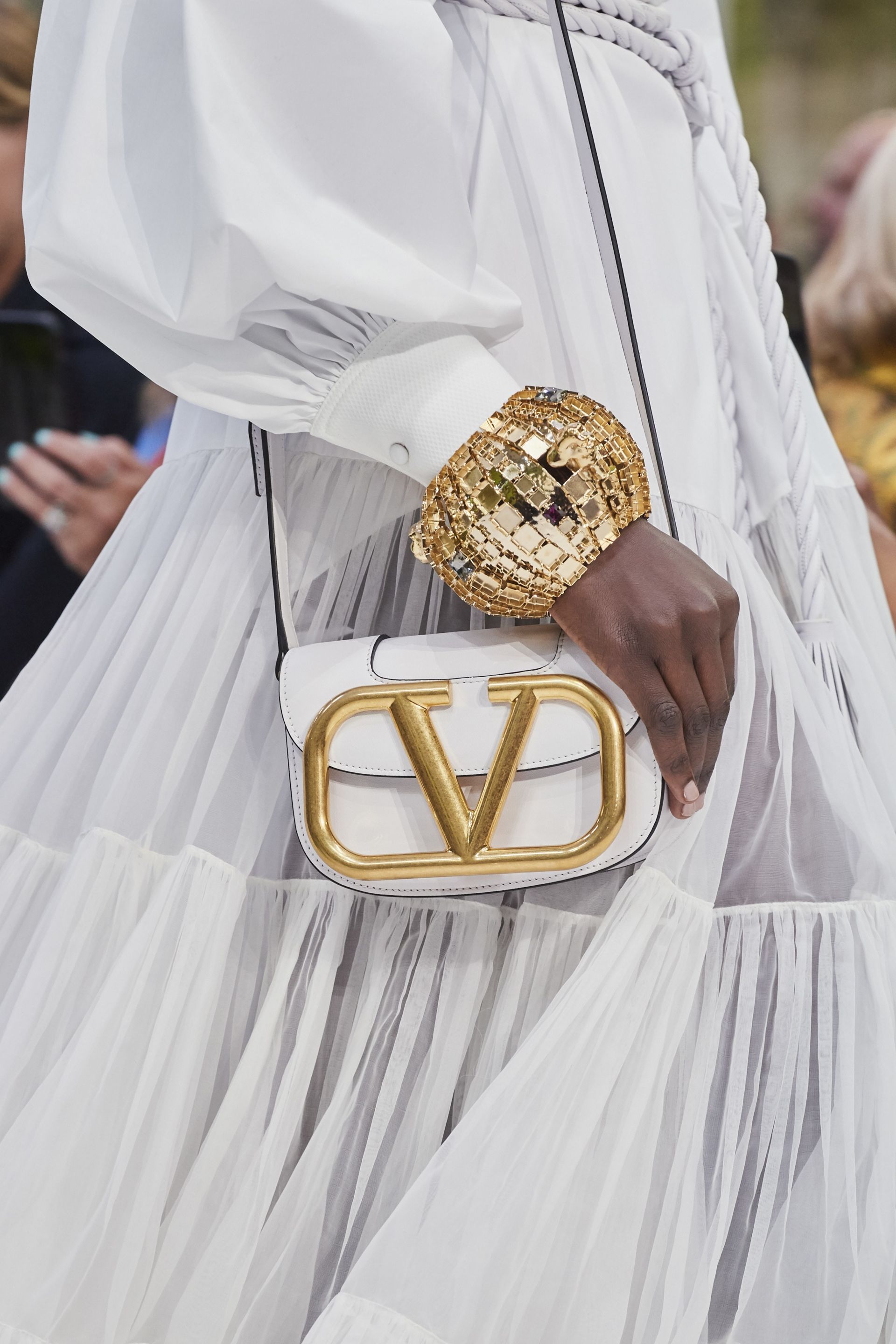 Valentino, spring/summer 2020
Qualitative bijouterie has long ceased to be considered tasteless - Hollywood stars wear it on red carpets, and designers show it on the catwalks. Large-diameter hoop earrings, bizarre jewelry, massive chains, plastic bracelets, accessories with pearls and inlays with multi-colored enamel will be trendy next season.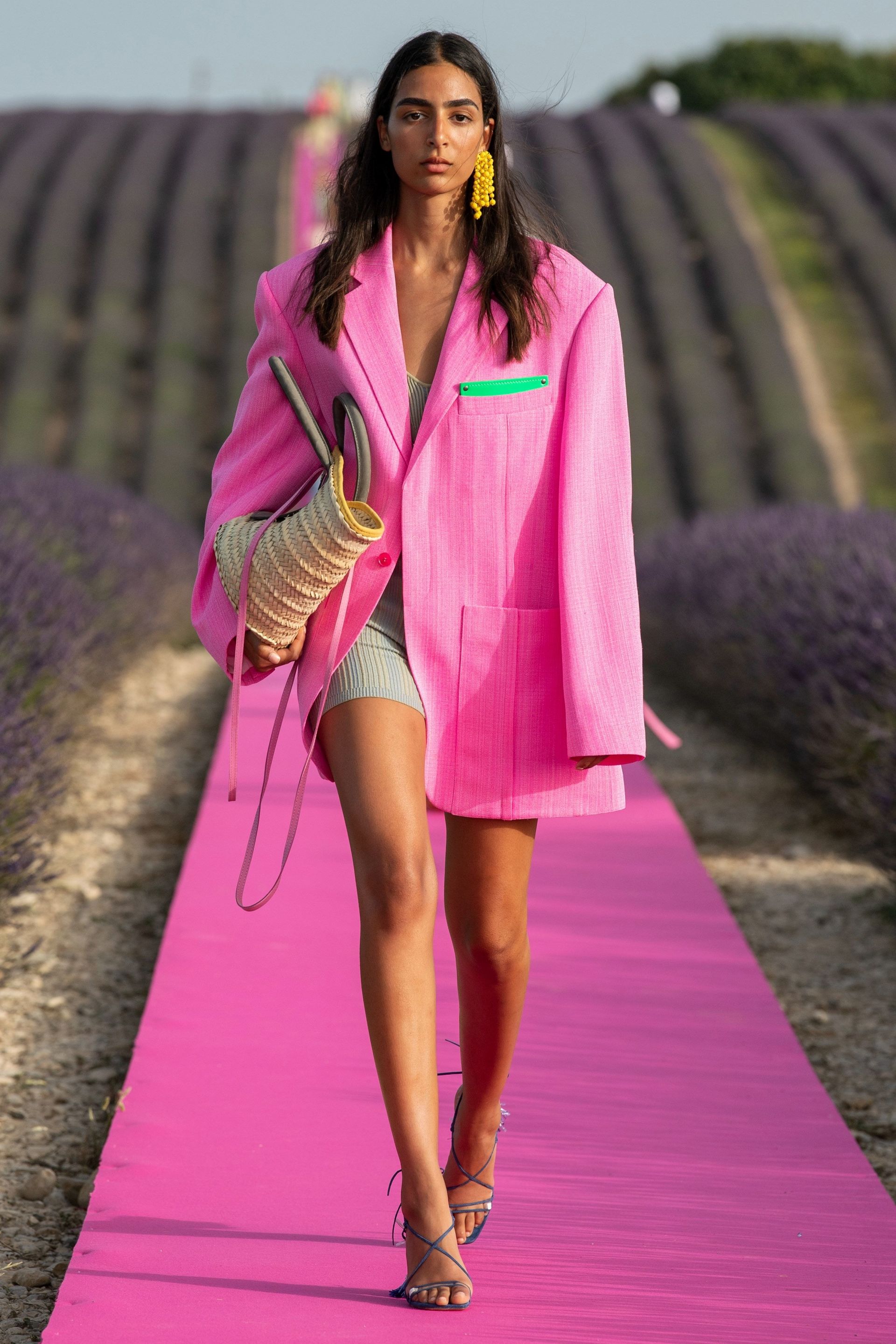 Jacquemus, spring/summer 2020