After studying spring-summer 2020 fashion shows, only the inattentive wouldn't notice that leather stuff will be extremely trendy. But you won't be able to surprise anybody with a leather pencil skirt or a black leather biker jacket. So if you want to look stylish, you will have to go to quite bold experiments. Short leather dresses, shorts, bustier tops and other items of clothing of the most relevant shades of spring 2020 – we're going to tell you how to use them in your everyday looks.
Leather coat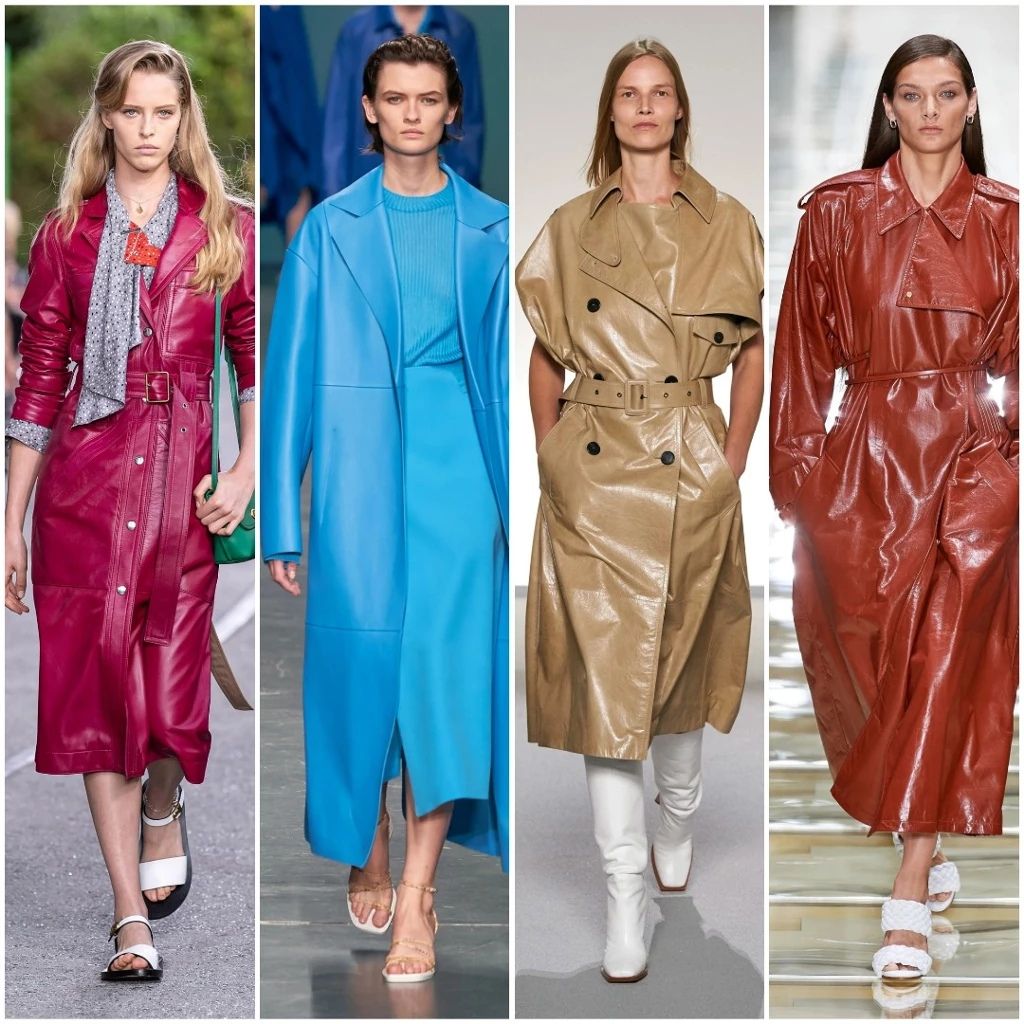 Coach, Boss, Givenchy, Bottega Veneta
Color, nothing but color! This season, outerwear must be colored. Classic trench coats, oversized coats or laconic straight cut coats, vests – whatever model you choose, it must meet two criteria: they should be plain and has trendy shade. And don't be afraid that such a coat will go out of fashion next season – typically, these trends are long-running and live for several seasons. And if you're sick of your purchase, you can always alter it. After all, conscious consumption dictates a rational approach to fashion.
Leather jackets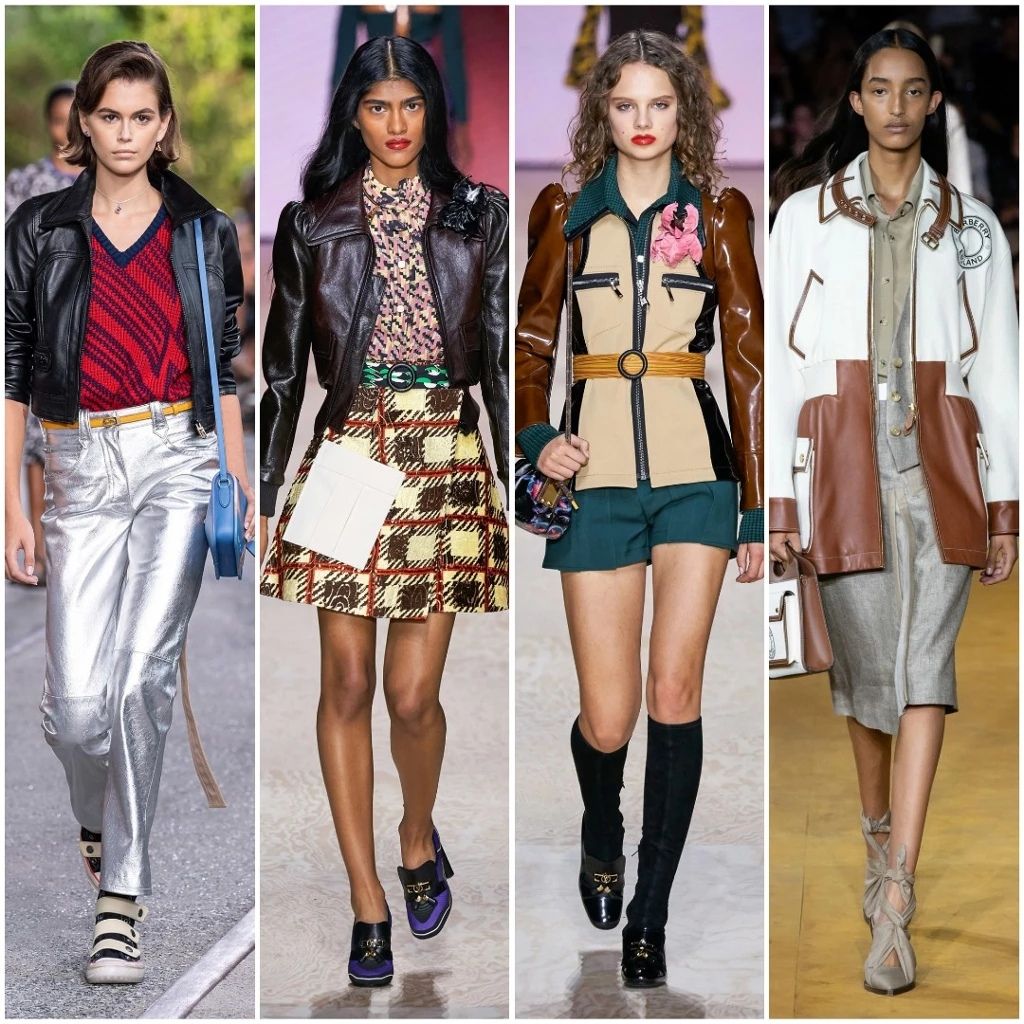 Coach, Louis Vuitton, Louis Vuitton, Burberry
A leather jacket has long been a basic piece of wardrobe. But even this item might have a few interesting interpretations: it can be a leather biker jacket, a fitted model, a bomber, or an oversized model – all this is extremely this season. So, it's up to you to decide what to choose – classic black or color in the style of color blocking.
Leather skirts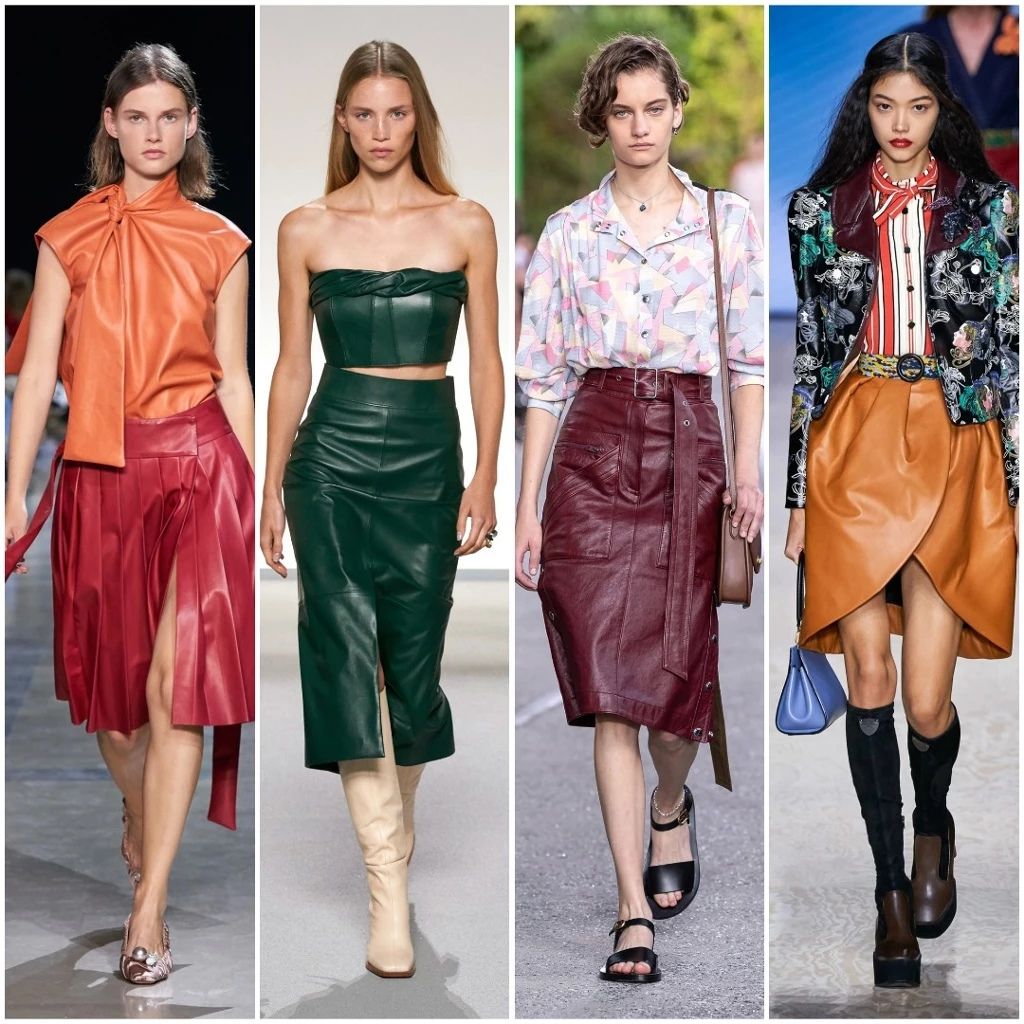 Rocha, Coach, Givenchy, Louis Vuitton
A leather skirt claims to be the main purchase of the season. The most compromise option is a classic leather pencil skirt, but if such a model already exists in your wardrobe, then pay attention to trapezoidal, pleated, high-waisted ones. The optimal length is the knee-length or a little lower. Such brands as Rochas, Coach, Givenchy and Louis Vuitton offer to experiment not only with the length and color of skirt, but also with bold cuts. And don't forget to choose the right shoes.
Leather dresses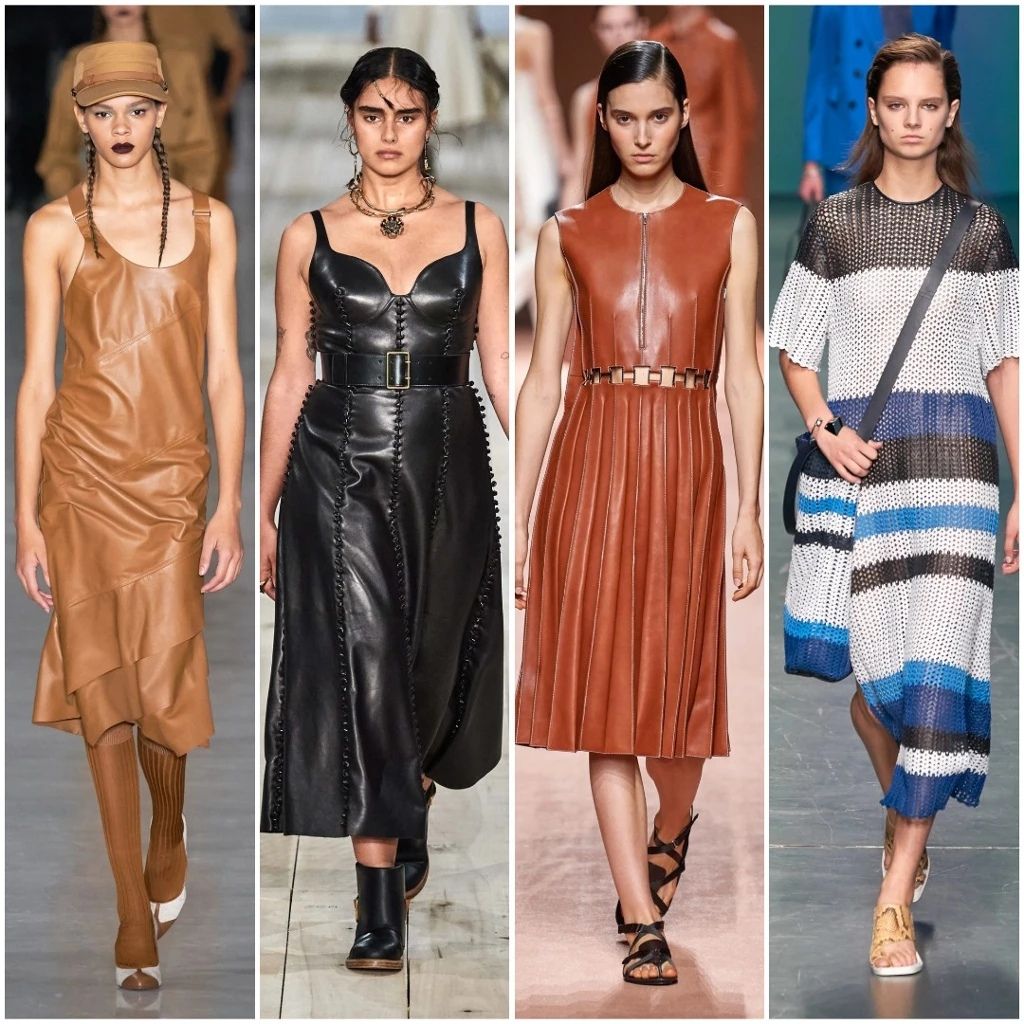 Max Mara, Alexander McQueen, Hermes, Boss
A leather dress is a kind of interpretation of a little black dress. It's the same self-sufficient and basic. Black dress decorated with rivets from the Alexander McQueen's collection may look rather extravagant, but it is easy to subdue this outfit – just put a turtleneck or a jacket underneath the dress. The main must-have of this season is dresses of all shades of brown: from dark beige to cinnamon. For example, Hermes and Max Mara's collections. For the most daring, there are options with perforated leather. Thanks to this design solution, the fabric looks lighter, while the dress gets a translucent effect. Ermanno Scervino offers more cocktail options – short dresses that are perfect for a company party, while dresses from Hermes and Boss should be worn for the meetings with friends at the cafe.
Ermanno Scervino, Ermanno Scervino, Boss, Hermes
Leather pants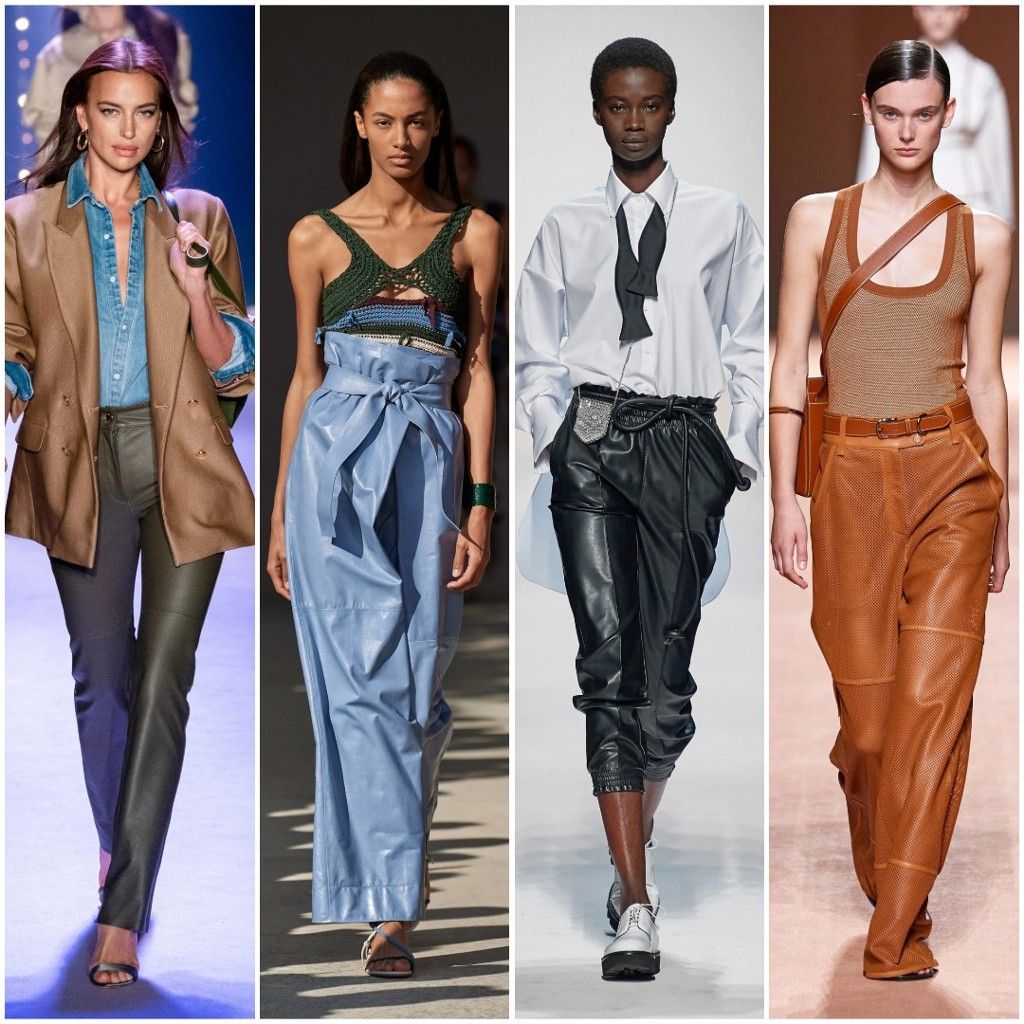 Brandon Maxwell, Salvatore Ferragamo, Ermanno Scervino, Hermes
Leather pants have already become a classic of women's wardrobe. You can wear them with a denim jacket and a classic white shirt, or with an oversized sweater and a sheer blouse. This season, designers experiment with style of pants: Ermanno Scervino's offers to pay attention to Capri pants, Salvatore Ferragamo - to paper-back, Hermes – to loose ones.
Leather shorts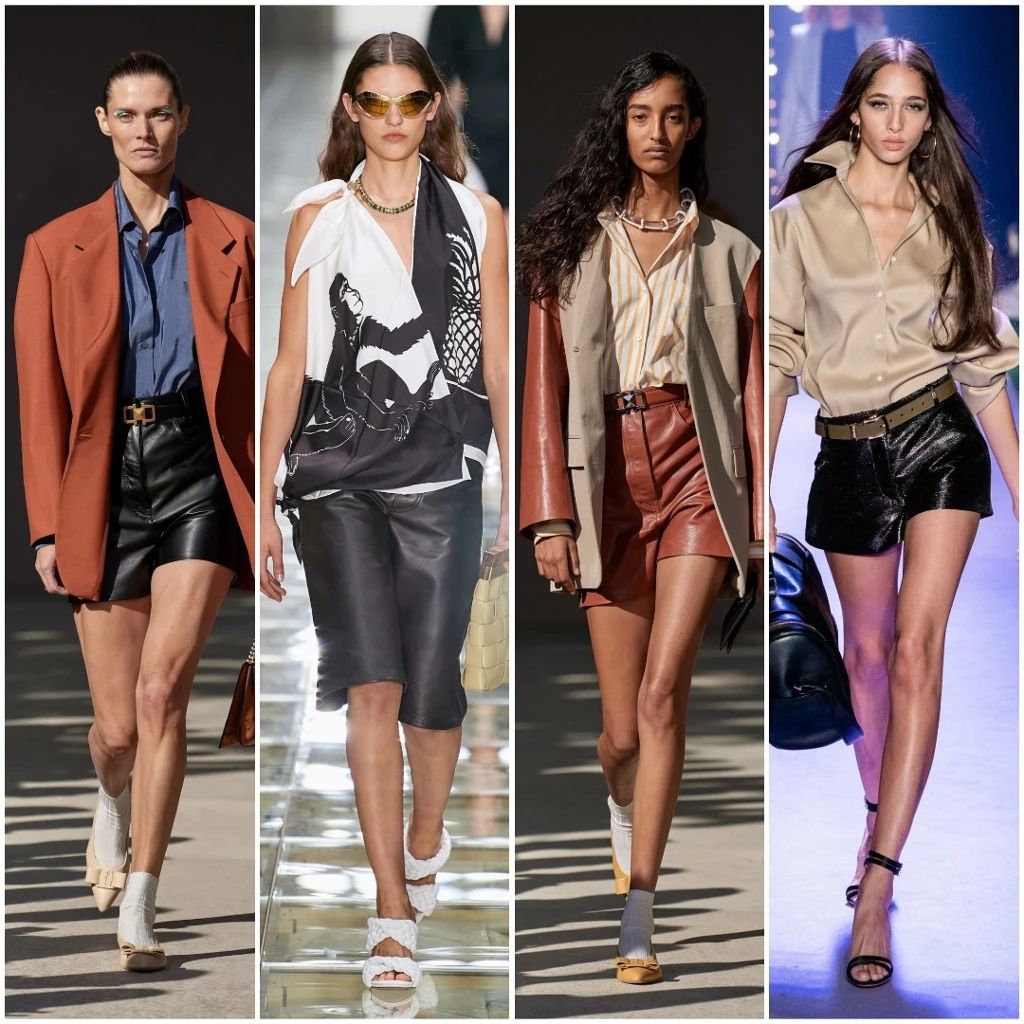 Salvatore Ferragamo, Ermanno Scervino, Salvatore Ferragamo, Brandon Maxwell
Leather shorts are associated with daring sexual looks, but this season, designers took the risk to break this stereotype and offered an unexpected reading. With their submission, leather shorts fit perfectly into a summer business look: it is enough to match it with an elongated blazer. Interesting examples of this trend can be found in Salvatore Ferragamo's collection. Ermanno Scervino showed how organically leather Bermuda shorts fit into the casual look.
Colored leather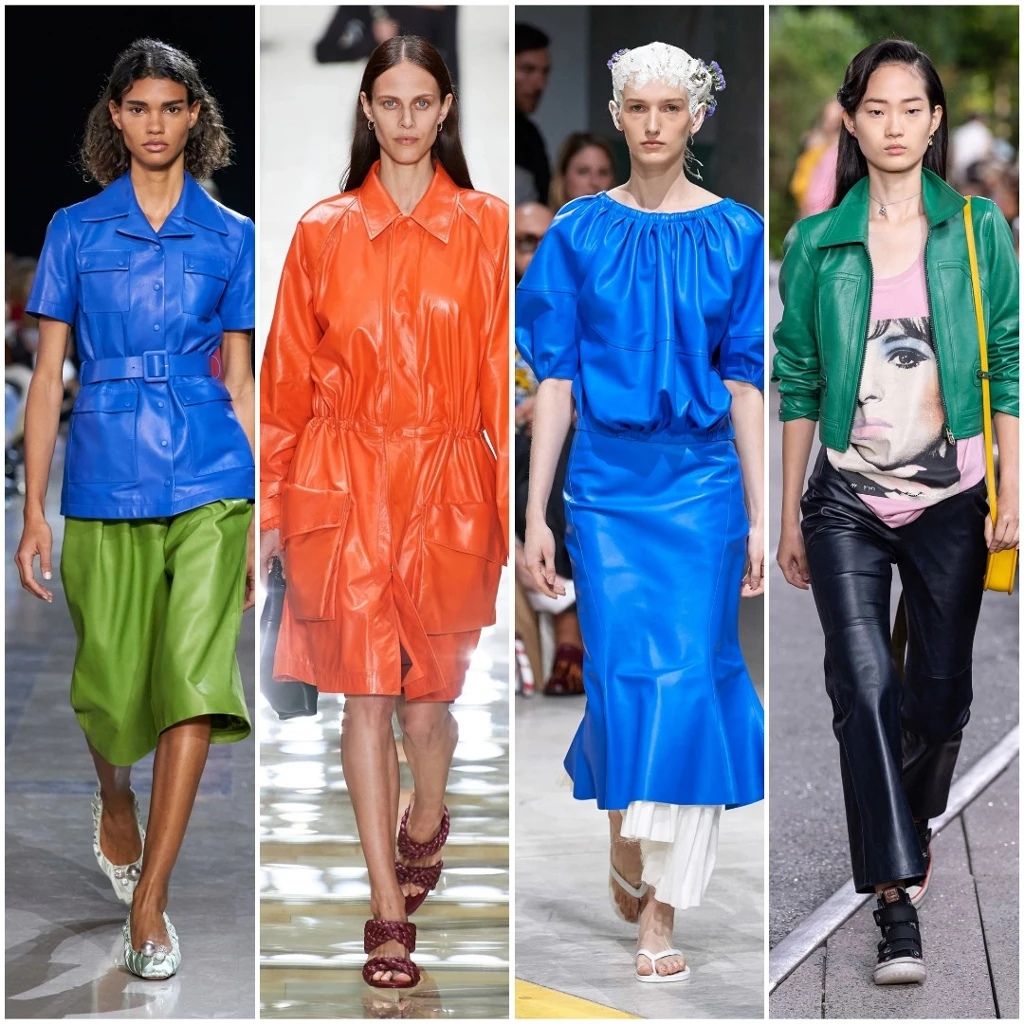 Rocha, Bottega Veneta, Marni, Coach
Designers openly urge us to abandon black and brown leather, and pay attention to bright spring hues. For inspiration, pay attention to Rochas, Bottega Veneta and Marni's fashion shows.
Unusual combinations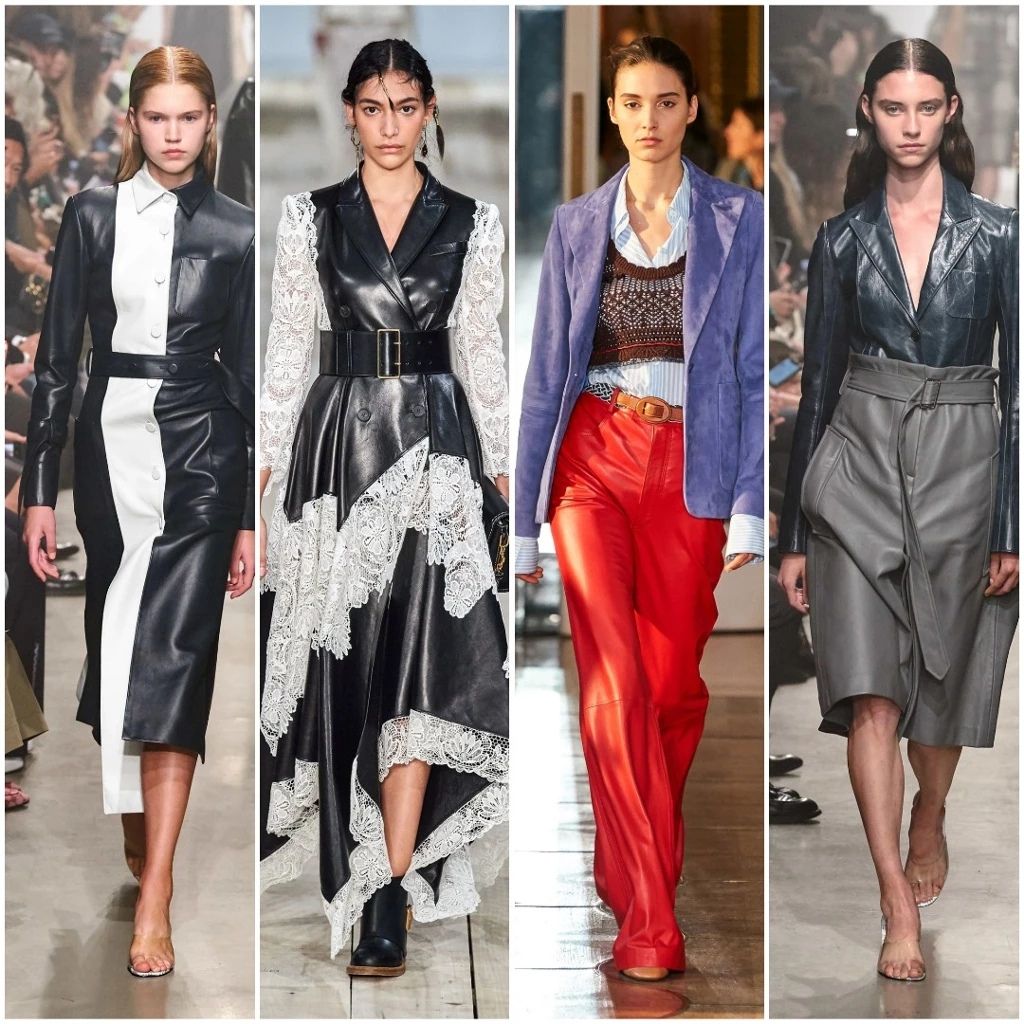 Rokh, Alexander McQueen, Altuzarra, Rokh
The main principle which should followed when creating a spring look, – do not be afraid to go for bold experiments. Alexander McQueen insists on the rough leather with delicate lace in one look. Rokh and Altuzarra draws our attention to combination of different leather textures and color games.