When it comes to controversial trends, neon shades usually top the list. They are too bold to wear every day, and too bright to pass unnoticed. In 2020, neon in all its diversity again became a fashion trend. We decided to find out where the fluorescent colors came from and how to use acid shades that almost glows in the dark in everyday life.
How was neon worn before?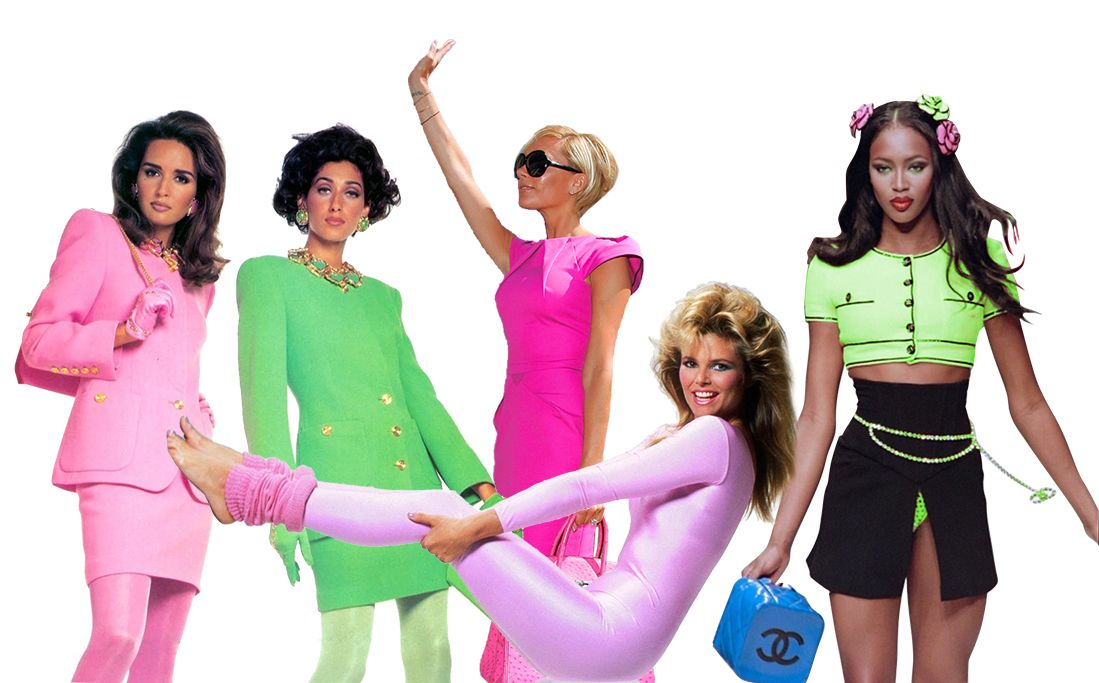 Pictured (from left to right): models from the Escada ads in 1990's, Victoria Beckham in 2007, Christie Brinkley on the set in 1980's, Naomi Cambell at the Chanel spring-summer 1994 fashion show
Neon first came into fashion in 1980's along with the development of technologies in dyeing fabrics: the latest developments in that era allowed to experiment with the most unusual hues, including glowing neon. In the 1980's, fluorescent colors were especially popular in sportswear, and the typical aerobics instructor felt obliged to put something acid yellow or bright pink. In this era, neon clothes hardly went beyond the sports style, although the true provocateurs, such as Madonna, already used fluorescent shades to attract attention. In the next decade, the neon had a real success, when even Chanel started making their signature strict tweed suits in neon colors. In the 1990's, casual jackets, skirts, shoes and even jewelry became fluorescent and almost glowing in the dark. Fashion magazines and stylists fell in love with neon, because the bright color on the cover or on the celebrity is the best way to be remembered by the audience. In the 2000's, the army of neon fans just grows, acid shades from sports and teenage turn into glamorous, since even incredibly expensive Hermès Birkin handbags are in neon fuchsia.
How to wear neon this spring
In the last spring-summer collections, the designers persistently focused on two neon shades of green and yellow. At the same time, Kim Kardashian and Kendall Jenner demonstrated us how to wear acid neon and look sexy. In 2020, the neon palette has become much more diverse and includes almost all of the existing fluorescent not to stuck in grey and black-and-white monochrome in summer. Surprisingly, even such serious and pompous fashion houses like Valentino are in business. So, perhaps we will still see neon silk floor-length dresses on the red carpet, for example, at the Cannes film festival.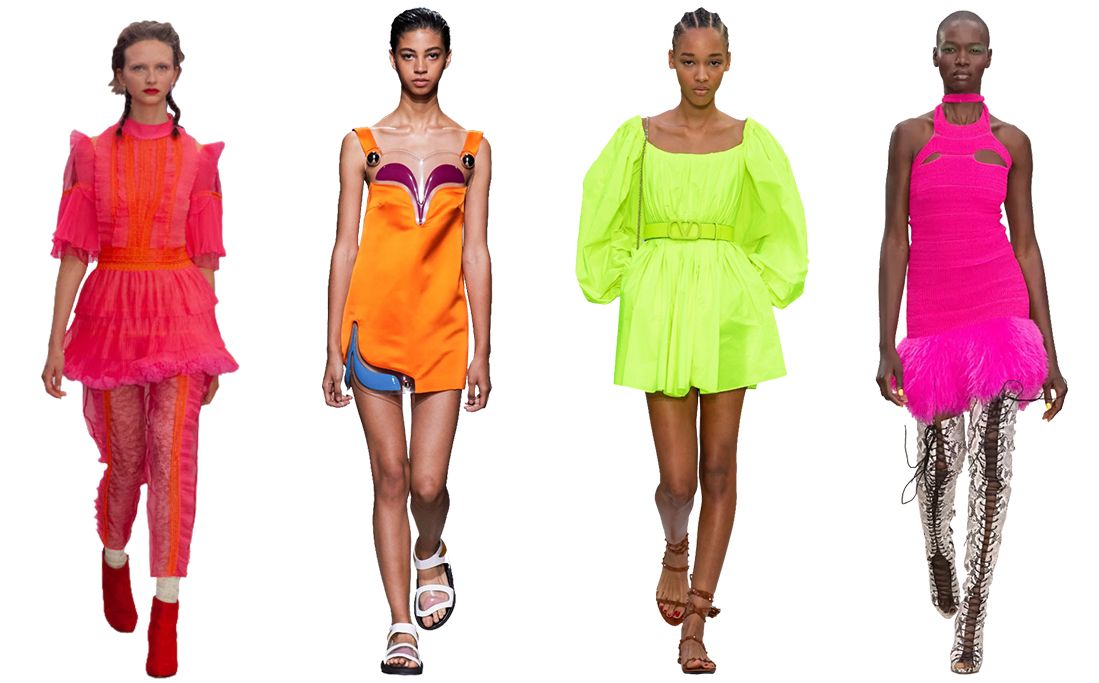 From left to right: Bora Aksu spring-summer 2020, Christopher Kane spring-summer 2020, Valentino spring-summer 2020, Mark Fast spring-summer 2020
But not only chiffon or satin can be acid – in the spring/summer 2020 season, neon is absolutely open to experiments with different textures and color combinations. Neon looks lovely and very seductive in real or fake leather with a slight "oily" effect and isharmoniously combined with other bright colors, if they belong to the same color scheme: deep yellow with eggshell and pastel yellow, fluorescent red – with softer strawberry and orange in the accessories.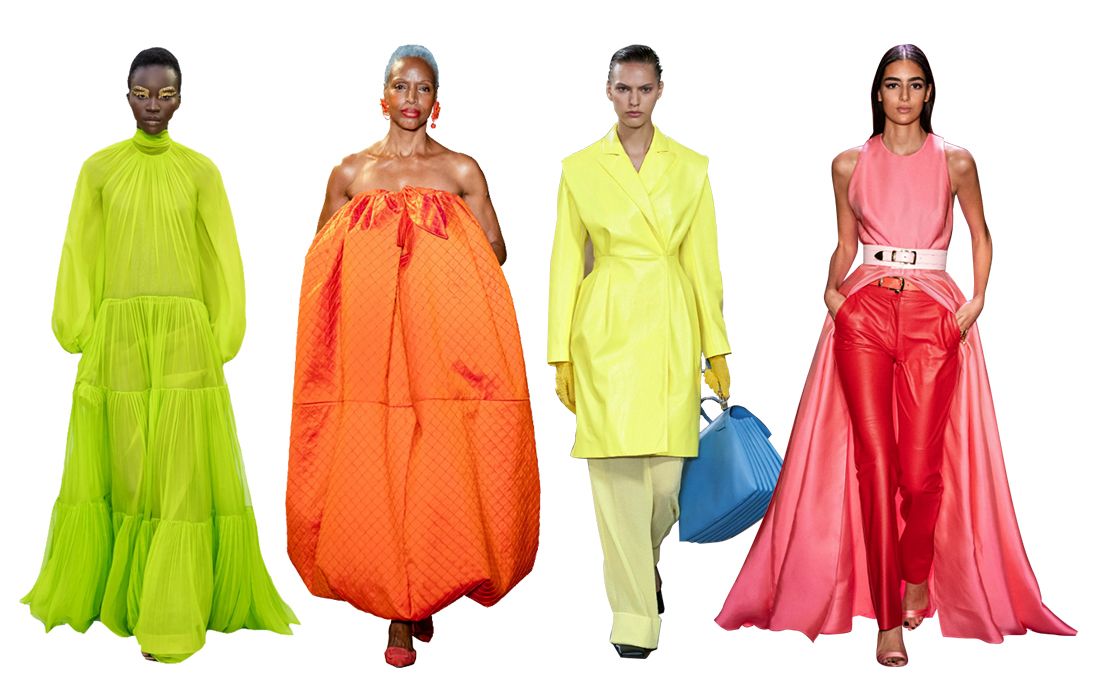 From left to right: Valentino spring-summer 2020, Christopher John Rogers spring-summer 2020, Emilia Wickstead spring-summer 2020, Brandon Maxwell spring-summer 2020
If you feel like a beginner when it comes to acid shades, then start with the most traditional of the "dangerous" scale – rich fuchsia, which Elsa Schiaparelli elevated to the status of classics. Fuchsia will give you the space for creative solutions, and even if they run out, you can always combine this strong color with pure white or black clothing in everyday format. And if the coming spring makes you bolder, add neon orange color to the fuchsia, as Jacquemus and Marni do, coming up with delicious and juicy looks for a hot summer and a sultry mood.
In spring, we offer to pay attention to simple column coat in the style of the 60's, but in bold neon shades. For example, Courrèges bet on thick fluorescent fabrics that hold their shape like neoprene. In this way, the neon looks stylish and very modern. Those who are searching for a new sportswear should definitely pay attention to neon clothes: the range of bright clothes for active lifestyle is huge. By the way, you can put on light green top or a fluorescent orange sweatshirt with a zipper under a simple jacket, creating an individual version of your personal uniforms, if the dress code allows.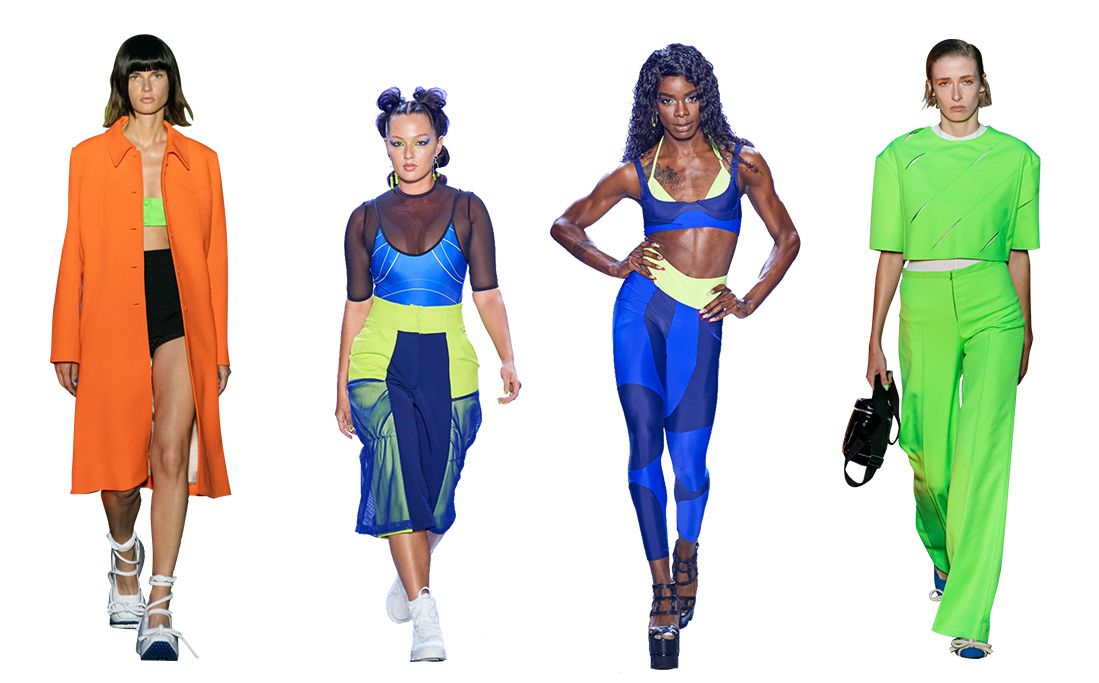 From left to right: Courrèges spring-summer 2020, Chromat spring-summer 2020, Chromat spring-summer 2020, Courrèges spring-summer 2020
With the onset of summer, neon is guaranteed to remain at the peak of popularity, because hot, sunny days and bright shades are just created for each other. In the summer, we will put away the fluorescent coat and sweatshirt and move on to the long-awaited format of mini dresses. A serious reason for go shopping is found - in search of your style and acid shade, which doesn't annoy, but invigorates and energizes. Focus on futuristic Christopher Kane mini dresses with inserts made of soft plastic and incredibly feminine short sundresses with buff sleeves from Valentino - it turns out that neon can please everyone!