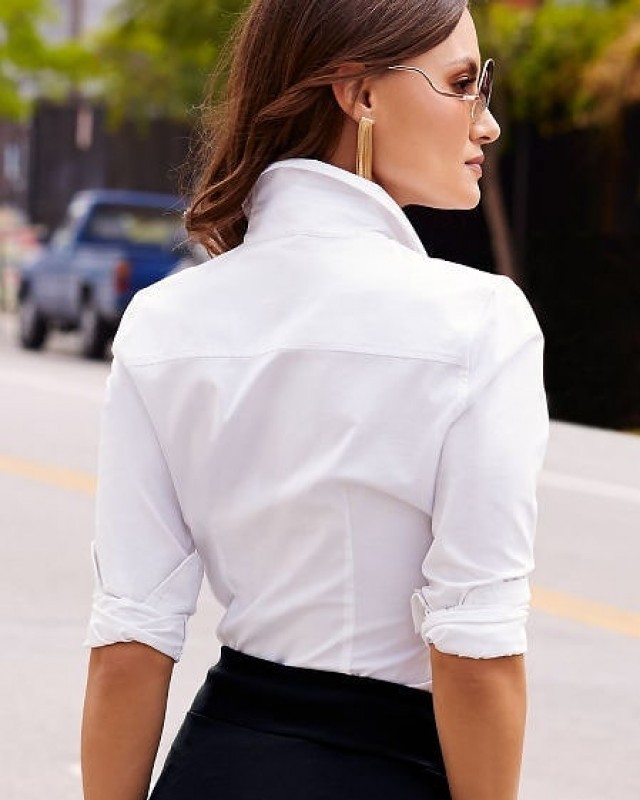 Once, business and office clothing were considered to be boring, but these days have passed. Fortunately, today, well-known fashion brands offer bright and interesting images for office. In this article we will consider the basics of business style and reveal the secret of perfect business outfit.
Basic rules
Fashionable business and office clothes should not be too bright and defiant. Frank cutouts, as well as dresses and mini-length skirts, are not suitable for office style. Flashy neon colors, daring prints and contrasting patterns are good for weekends and holidays, but not for office. The business casual style allows having some bright accents, but it should not be evident. A floral scarf, a bright belt or shoes will help to refresh strict office bows, but will not attract too much attention.
Office style for this autumn
During Fashion Weeks in New York, London, Milan and Paris last winter designers outlined the main trends for office and business style. These are minimalistic, stylish outfits, complemented by one or two bright accents. Some fashion houses offer their capsule collections, in which things are combined and mixed to create different looks. In the designers' point of view, business bows should be combined with outerwear, so think ahead what you plan to wear this fall or winter.
Trends of autumn office style 2019-2020
Fashionable trench coat is one of the main trends not only for autumn, but also for spring. Solid trench coats of muted shades will complement the office image, but will also go well with everyday outfits. A beige color for a trench coat is the most advantageous option, but for rainy weather you can buy a trench coat in a more practical and dark color. It is good if it is supplemented with a belt or large buttons. An office coat is another option for outerwear, which, unlike a trench coat, is more suitable for early autumn or mid spring.
A jacket is the basis of a business set of clothes, especially in winter and autumn, because it looks stylish, but at the same time helps not to freeze. This fall and winter, oversize models will be in fashion. If the dress code allows, buy a jacket in bright colors, such as red. A jacket with large metal buttons will look very stylish, but then it is better to abandon other bright elements in the image. Elongated or shortened jackets will allow you to experiment with images without breaking office rules.
A skirt is an indispensable element of the wardrobe for creating a fashionable business image, and a pencil skirt is an immortal classic of office style. This year fashion houses presented a variety of options for a pencil skirt. An elongated pencil skirt is suitable for women of different shapes. Leather skirts will also be relevant, but instead of the standard black version, designers advise choosing more interesting ones: powdery, beige, blue. Complete them with a strict blouse and a monochrome jacket.
A pantsuit is a good choice for any business woman. It is universal and suitable for everyday life, as well as for formal meetings and events. A pantsuit is an ideal solution for cold autumn weather. This year, fashion designers advise to choose wide models: flared pants and oversize jackets. It is also worth abandoning boring black and white suits, complementing your wardrobe with pastel shades, brown shades or a camel color suit.
As already mentioned, flared pants are in fashion, but some fashion houses also offer cropped trousers. Of course, they are more suitable for a warm spring, but if you choose the right autumn shoes, then this wardrobe item can also be used as part of the autumn-winter business style.
Business style allows multi-colored turtlenecks and sweaters. A turtleneck is generally one of the most versatile things in a wardrobe. If you find a suitable model, then take it in several colors at once to alternate with other sets of clothes. Do not be afraid to purchase sweaters or a turtleneck in bright colors: fuchsia, lemon, wine, and other deep shades.
Business dresses are not the most irreplaceable wardrobe item, but they are perfect for those who want a little variety. The length of the business dress should be slightly lower or slightly above the knee and without frank cuts. Sheath dresses are perhaps the best for creating a fashionable business look. They emphasize feminine forms, but at the same time look cautiously and strictly. Choose minimalistic models without quilling, bows and additional decorations. Complete the image with a belt. A-line dresses can also be adapted to fall-winter business style.
Wardrobe for women after 50 years
Office style is good because its rules are universal for all ages. Women after 50 years old can use all of the above elements without being afraid to experiment with colors and styles. An elongated pencil skirt or sheath dress, complemented by jacket with a bright belt is just one of the options for an office image for women.