Christmas is coming, which means it's high time to create a festive mood. To begin with, we recommend turning on Jingle Bells louder and choosing a bright sweater with snowflakes, reindeer or snowmen. We have compiled a selection of the most stylish options that you can wear to a festive dinner or present to your best friends.
Sweater with Christmas prints
If the Christmas mood doesn't want to appear in any way - it's time to buy a sweater with a festive print. The most popular of them are deer, snowmen, gingerbread men, penguins and Christmas trees
Sweaters with strange, absurd and colorful patterns are now considered to be the most trendy ones - they are also called ugly sweaters on the Internet. There is even a whole photo flash mobs, organized in their honor. Designers who were the first to create such clothes wanted to express their protest against the same type of prints and bring something new to the Christmas fashion - a kind of festive post-irony was obtained.
1 - Boohoo, 2 - Next, 3 - H&M, 4 - Deerz, 5 - Oysho, 6 - Forever 21, 7 - Dolce&Gabbana, 8 - Print Bar
The more ornaments on the sweater, which are not combined with each other, the better. The United States even dedicated a holiday to this trend - the Ugly Christmas Sweater Day, which has been celebrated on December 15 for more than ten years in a row. Many companies organize special events this day. For example, people in awkward outfits can skip check-in at some airports or get a free drink in coffee shops that support a flash mob.
Посмотреть эту публикацию в Instagram
It is not necessary to follow this trend at all - before the holidays sweaters with quite traditional Christmas prints appear in the collections of many leading brands. Their main color combinations are red, blue, green and white. In these, you can come to work and to a party with friends.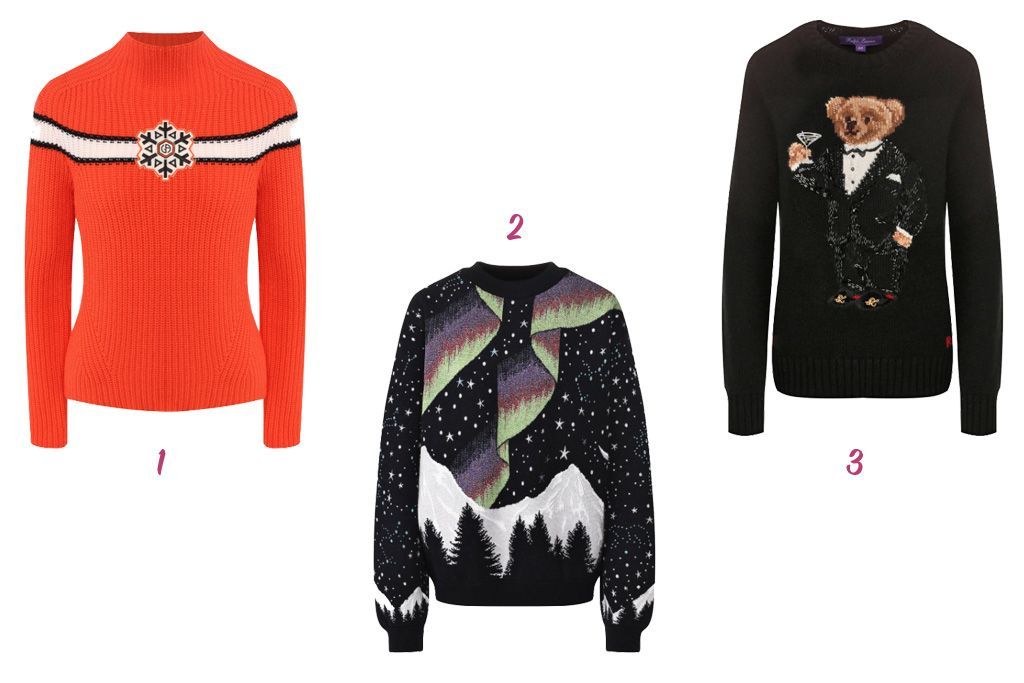 1 - Giorgio Armani, 2 - Alaia, 3 - Ralph Lauren
The recent invention of the fashion world is impressive - a sweater with built-in light bulbs that can be turned on with the help of a special button, and you are immediately become the star of any holiday. You can find these, for example, at the Forever 21 brand.
Sweater with Norwegian pattern
Jacquard or Norwegian pattern is a traditional element of winter clothing. Initially, this print was characteristic exclusively for men's wardrobe, but gradually moved to the unisex category. Patterns with snowflakes and deer evoke thoughts of snow-covered ski resorts, which are created not only for active sports, but also for leisurely apres-ski holidays with a cup of hot cocoa.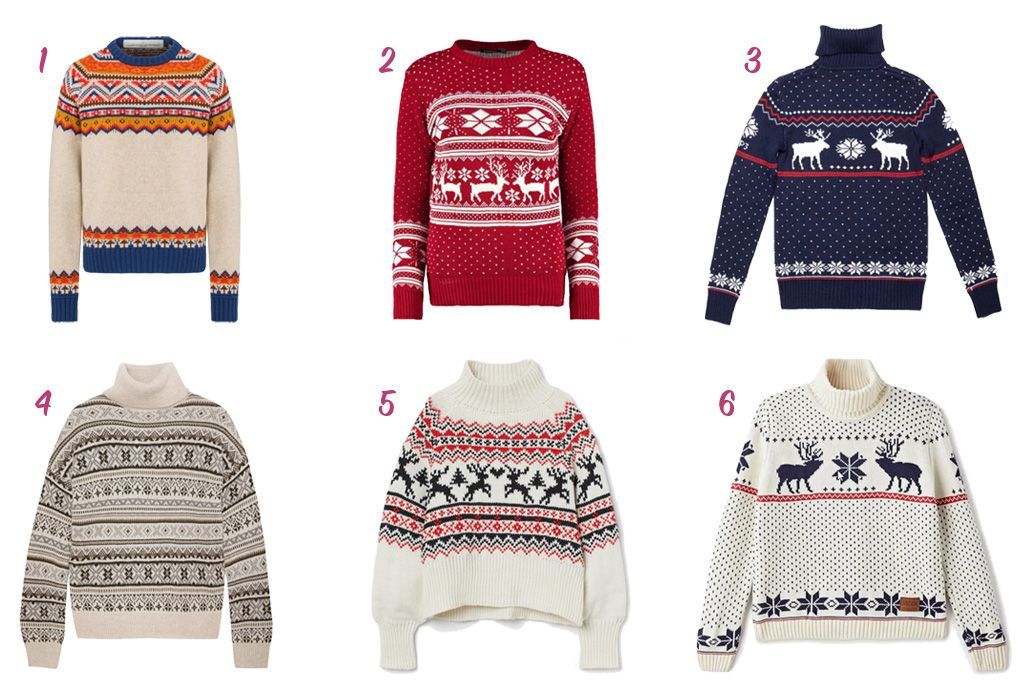 1 - Golden Goose, 2 - Boohoo, 3 - Deerz, 4 - Oysho, 5 - H&M, 6 - Siberia
Such prints were invented by Norwegian craftsmen centuries ago by accident. As it was impossible to widely replicate knitting patterns at that time, each girl invented her own. All items of clothing were an original piece of art - now you can only dream of such exclusivity. Sweaters with Norwegian patterns began to gain wide popularity in the 1940s, after the release of the film Sun Valley Serenade, in which the John Payne's character wears such a sweater almost without taking it off.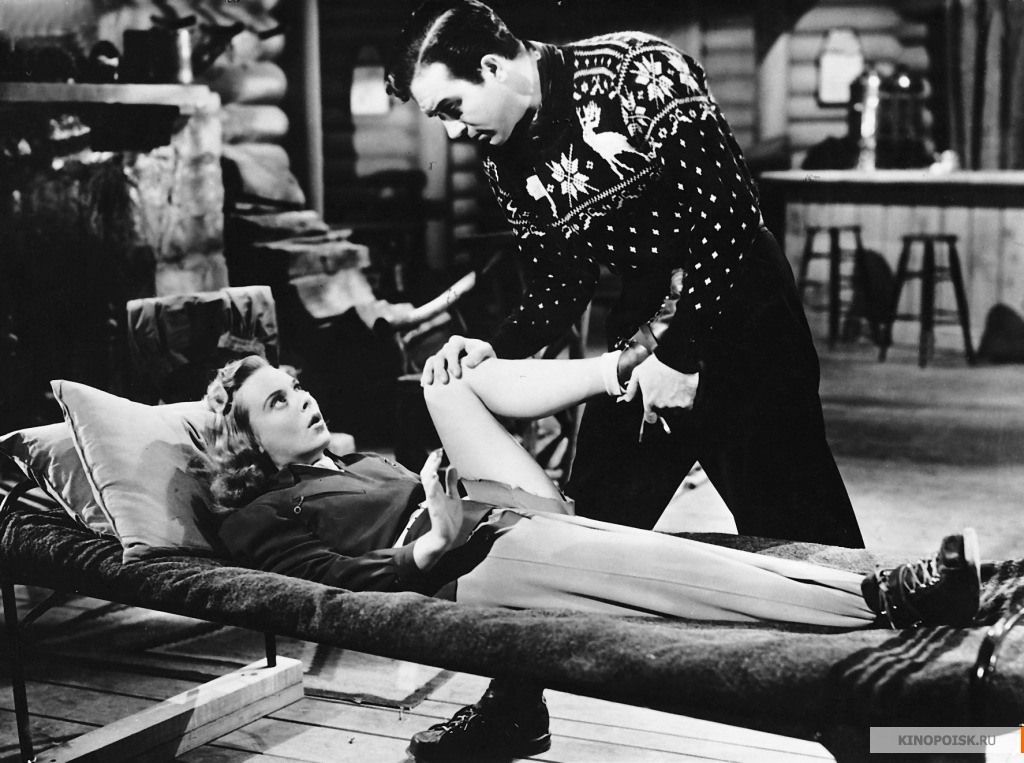 kinopoisk.ru
Today, clothes and accessories with jacquard embroidery can be found in the collections of any brand from the mass market to luxury. Scandinavian motifs haven't gone out of fashion for many seasons, but wearing clothing with a Norwegian print is most appropriate in late autumn and winter. Due to the established associations with Christmas and New Year, they can cause slight bewilderment in summer, but closer to the holiday they will cheer you up and those around you. In everyday life, it is better to combine such a colorful sweater with plain clothes, for example, with leather midi skirts or dark classic trousers.