The color of liquid gold, tangerine peel and scarlet sunset – we invite you to dress from head to toe in the most trendy shades of this spring and let them completely take over our wardrobe.
Fiery red
Sacai, Boss, Balenciaga, A.W.A.K.E MODE
Spring is the time to forget about dullness and remember about the win-win red, which will become one of the most important colors of this season. A shade of hot pepper, sweet grenadine or scarlet sunset – choose the one that suits you and don't be afraid to experiment.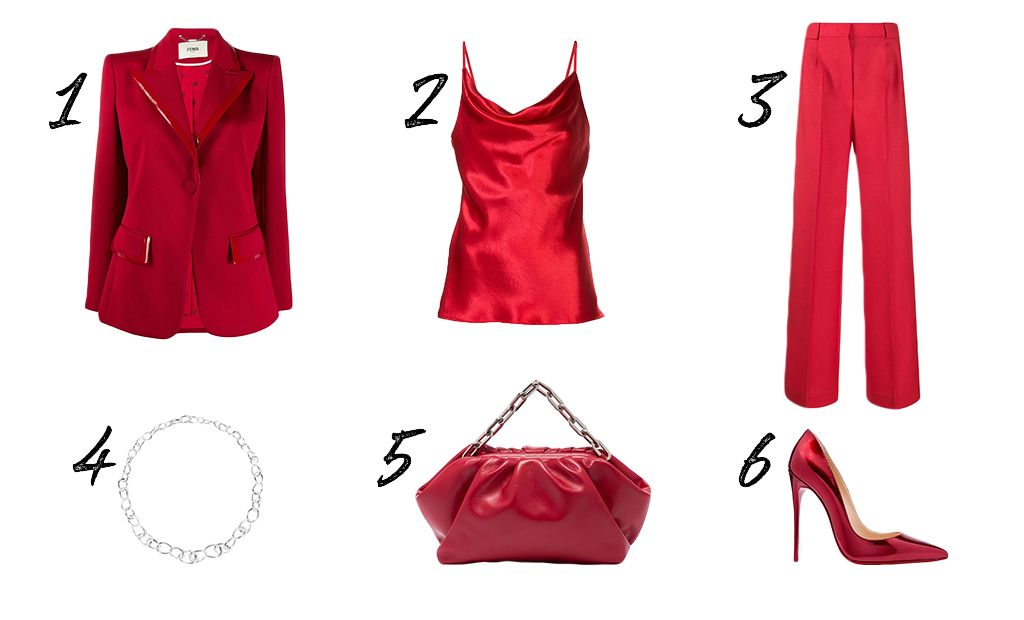 1 – jacket Fendi, 2 – top Sies Marjan, 3 – pants Fendi, 4 - chain Georg Jensen, 5 – bag Marques'Almeida, 6 – shoes Christian Louboutin
This season, designers and fashion bloggers give up half measures and demonstrate that if you choose bright colors, then they must be clothed from head to toe. Red in all its diversity will not only set you apart from the crowd, but will also give confidence during an important meeting, and in combination with massive accessories and high-heeled shoes will make you the Queen of any party.
Tangerine peel
Bottega Veneta, Marc Jacobs, Prada, Chanel
The color of tangerine peel may be associated not only with the new year holidays. In the spring/summer 2020, it will capture the wardrobes of all fashionistas and will stay there for a long time, lifting your mood and charging with endless energy. It can be combined with both pastel and neon shades such as bright pink, turquoise or green.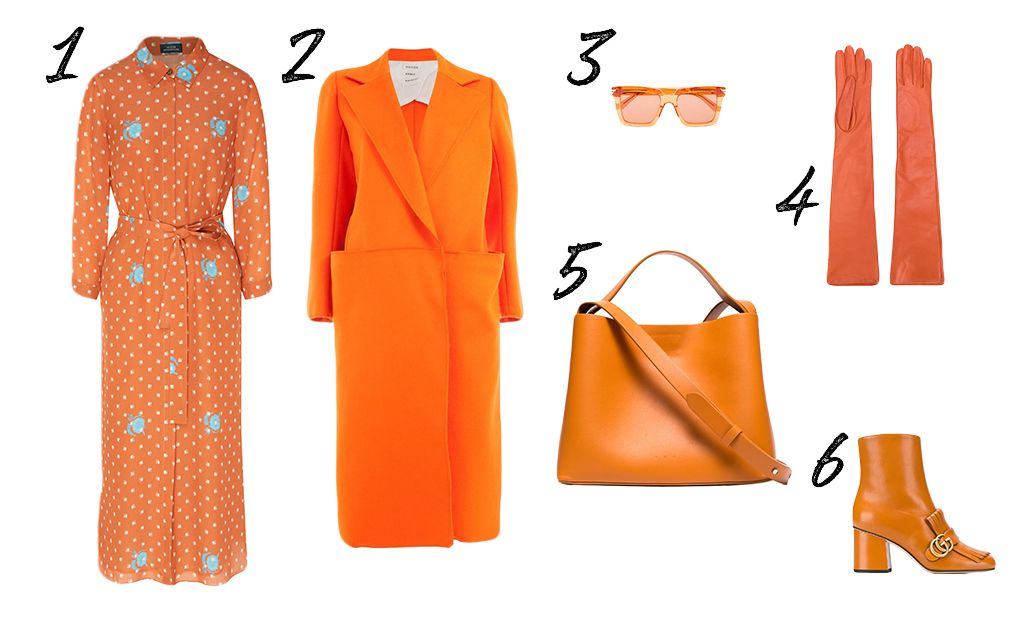 1 – dress Alena Akhmadullina, 2 – coat, Maison Rabih Kayrouz, 3 - sunglasses Bottega Veneta, 4 – Manokhi gloves, 5 – bag Aesther Ekme, 6 – ankle boots Gucci
Total-look in tangerine color is a great option not only for parties, but for an everyday look. A polka-dot dress, a long coat and steady-heeled boots can be complemented with high gloves made of fine leather – they will become one of the main trends of this season.
If experiments with such striking monochrome looks seem too bold to you, then pay attention to the "citrus" accessories – bags, sunglasses, satin cravats and berets. They are perfect for black suits, coats and jackets and give your wardrobe a drop of fashionable vitamin C.
Liquid gold
Marc Jacobs, Bottega Veneta, Prada, Celine
In autumn/winter 2020, the fight for the title of the most relevant color will unfold between different shades of metallic-silver, copper and others. While this spring, the gold color will be extremely trendy. Despite the fact that this color attracts a lot of attention even in small quantities, it's a perfect option for total-looks. It can create luxurious and glamourous outfit.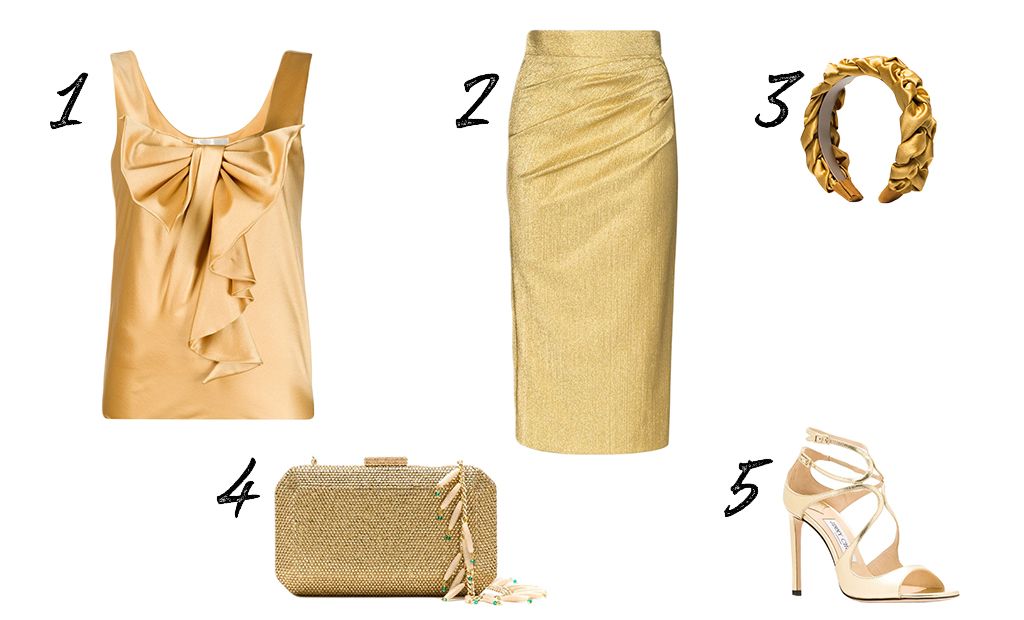 1 – Alberta Ferretti top, 2 - Dolce & Gabbana skirt, 3 – headband Jennifer Behr, 4 – sandals Jimmy Choo, 5 – clutch Serpui
The look, consisting of an elongated pencil skirt, a top with a bow and sandals with thin straps, is a good option for the night club. All you need is to complete your look with a massive headband and a small clutch bag with rhinestones. Despite the pomp, this color is suitable not only for evening, but also for everyday wardrobe. Golden is good not only for dresses, but for loose pants, long oversized jackets and even for coats with jacquard prints. Designers keep on presenting gold as a symbol of something inaccessible and luxurious, but still invite to treat it carefully and not to overdo with details, multiple layers and extra volume.
Life in pink
Alexander McQueen, Oscar de la Renta, Marni, Chanel
The pink color and all its shades – from delicate quartz to acid fuchsia – hasn't ceased to be one of the main trends of spring for several years in a row, gradually moving in the fall and winter wardrobe. Color, which has long been associated with Barbie's outfits, finally freed from the stereotype and becomes a symbol of a new femininity – both gentle and energetic.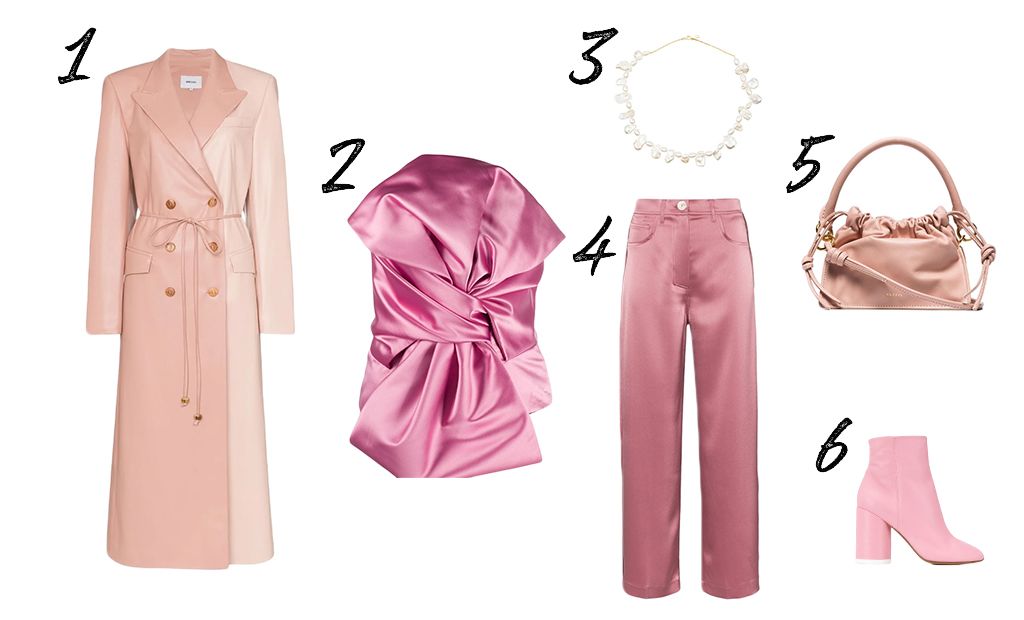 1 – leather trench coat Nanushka, 2 – blouse Giuseppe di Morabito, 3 – necklace Anissa Kermiche, 4 – pants Nanushka, 5 – bag Yuzefi's, 6 – ankle boots Mm6 Maison Margiela
Shades of pink are not only suitable for light blouses with bows or dresses with ruffles - in the new season, we advise you to pay attention to leather trench coats, culottes and A-line skirt, that can be combined with tops made of organza, satin shirts or loose t-shirts, creating the effect of light negligence.
Total-look in pink will create a mood of romance and reverie, which can be strengthened to the maximum by adding massive accessories similar to marshmallows, or, conversely, slightly muted by choosing rough shoes or bags with thick chains instead of handles.
Dusty green
Sacai, Oscar de la Renta, Stella McCartney, Maison Margiela
In contrast to the bright red, rich tangerine and luxurious gold, the most everyday shade of this spring will be dusty green, which will look cool not only in military style, but also in romantic outfits. Most often, designers turn to it in trench coats, parkas and light jackets, but recently, they pay attention to velvet dresses, organza blouses and A-line skirts.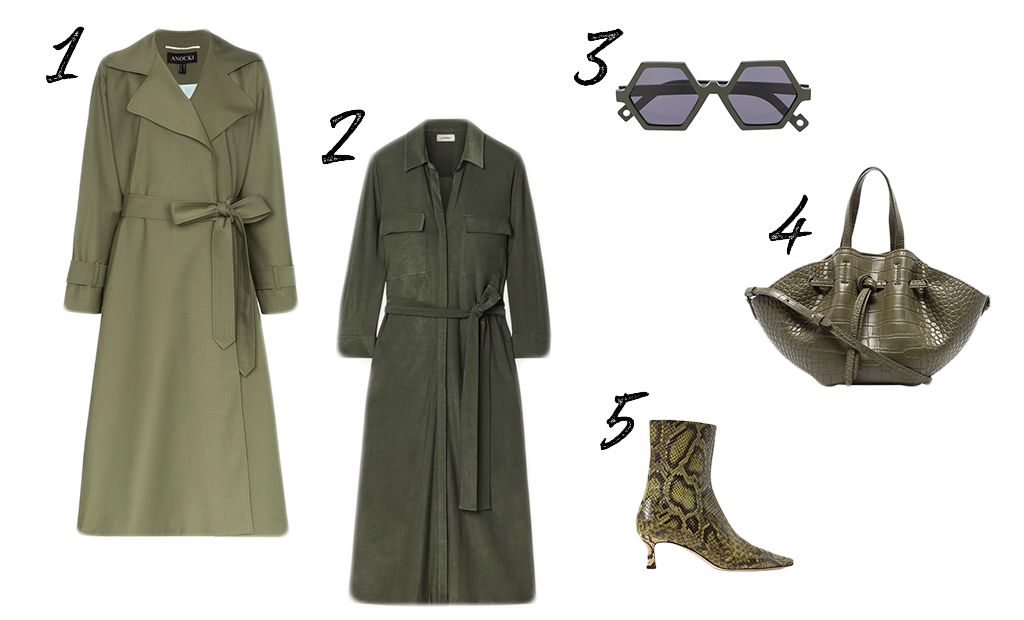 1 - trench coat Anouki, 2 - dress L'agence, 3 - sunglasses Pawaka, 4 - bag Nanushka, 5 - ankle boots Wandler
The color, which is located at the intersection of olive and swamp, is perfect for office dress code, and accessories – massive earrings, wide contrasting belts, bags and crocodile leather shoes - will help to bring more variety to the look.