The familiar windbreaker has long ceased to be considered only sportswear: we'll tell you how to implement it into your everyday wardrobe.
"Wind of change" starts blowing: this season, a great alternative to raincoats and light jackets is a bright windbreaker. This practical and stylish piece of wardrobe will stay forever in your spring wardrobe: by the way, now it can be combined not only with sportswear, but also with full skirts and lace dresses.
The Background
A bright windbreaker – an interpreted model of a raincoat – was first used by sailors and was moisture-proof. Now, almost all weightless jackets are called the windbreaker: in the offseason, they save from rain and endless temperature changes. Those windbreakers, which we have known since childhood, appeared thanks to the founder of the French company K-Way, Leon-Claude Duhamel. The idea of a light jacket came to him while he was looking at the drenched visitors, who found a temporary shelter in a cozy cafe with a cup of coffee. The result of these observations was a light jacket - if you wish, it can be fit in a small pouch. The legendary windbreaker became a real revolution and gained its popularity far beyond the borders of France.
Another windbreaker, that left a mark in the fashion history, is a jacket, that was invented by Nike brand: at first, it was worn by athletes at major competitions, and ten years later this jacket was worn by almost the entire world.
Посмотреть эту публикацию в Instagram
How windbreakers came back in fashion
The cult of the body and the pursuit of the ghostly ideal of beauty – the 80's have left a legacy of sports uniforms, including bright, colorful windbreakers, which we can see at the shows of Balenciaga, Moncler, Kenzo. Celebrities and fashion bloggers have picked up this trend – Kim Kardashian, Lady Gaga, Rihanna, Kendall Jenner, Gigi Hadid, Kaia Gerber are happy to include windbreakers in their basic wardrobes and wear them instead of bombers, leather jackets and trenches.
Посмотреть эту публикацию в Instagram
Gigi Hadid prefers concise and comfortable combination and uses windbreakers almost for its intended purpose: she wears it in a duet with sport pants or leggings.
Посмотреть эту публикацию в Instagram
How to combine a windbreaker
A year ago, in their spring-summer collections, designers relied on a new color scheme, unusual styling and interesting details. So, Louis Vuitton has offered a painted model of windbreaker with puffed sleeves, while Each & Other showed a bright pink cropped jacket with an unusual detail – a long train. Not everyone will dare to wear such a windbreaker, but in combination with bicycles shorts, such a duet looks stylish and bold - a real urban chic! Clothing with floral print itself attracts attention, but if you think that the look lacks bright colors, feel free to put on a neon-colored windbreaker (take the inspiration from the Paul & Joe spring collections).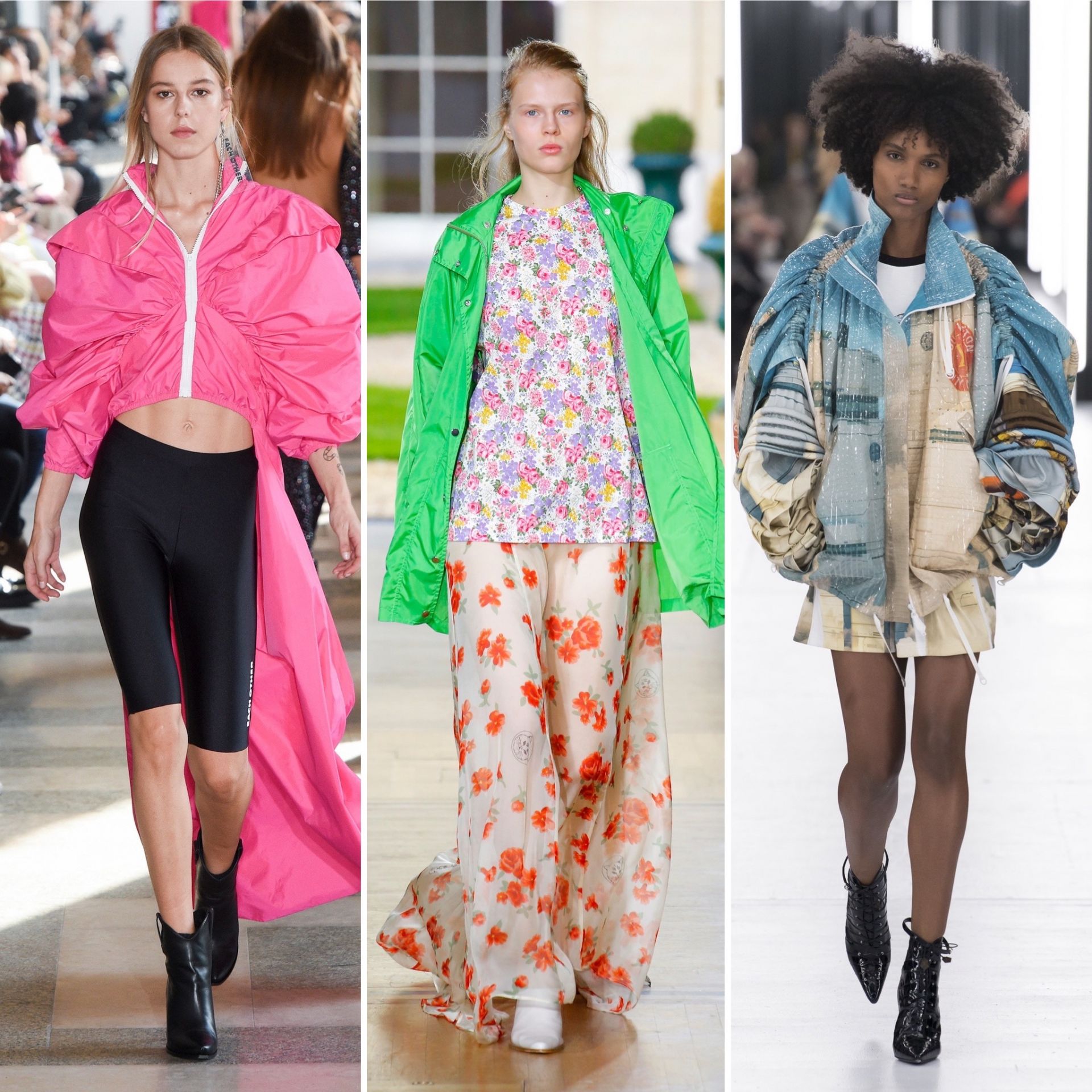 Each & Other, Paul & Joe, Louis Vuitton spring/summer 2019
This year, designers preferred simplicity, classic models and a calm color scheme. The modern windbreaker is an optimal combination of sports, retro and modernity - a kind of persistent nostalgia for the past 80's. Therefore, the classic windbreaker is ideally combined with both sportswear and lace dresses. This spring, Burberry invites to wear a windbreaker with an evening outfit - spring nights are cool, and a light jacket will be a great alternative to a coat or cloak. Phillip Lim believes that a voluminous windbreaker is the perfect companion for a snow-white suit with a crop top. And if you want to complete your everyday look, add a few accessories: in this case, a silk scarf will be a wonderful accent.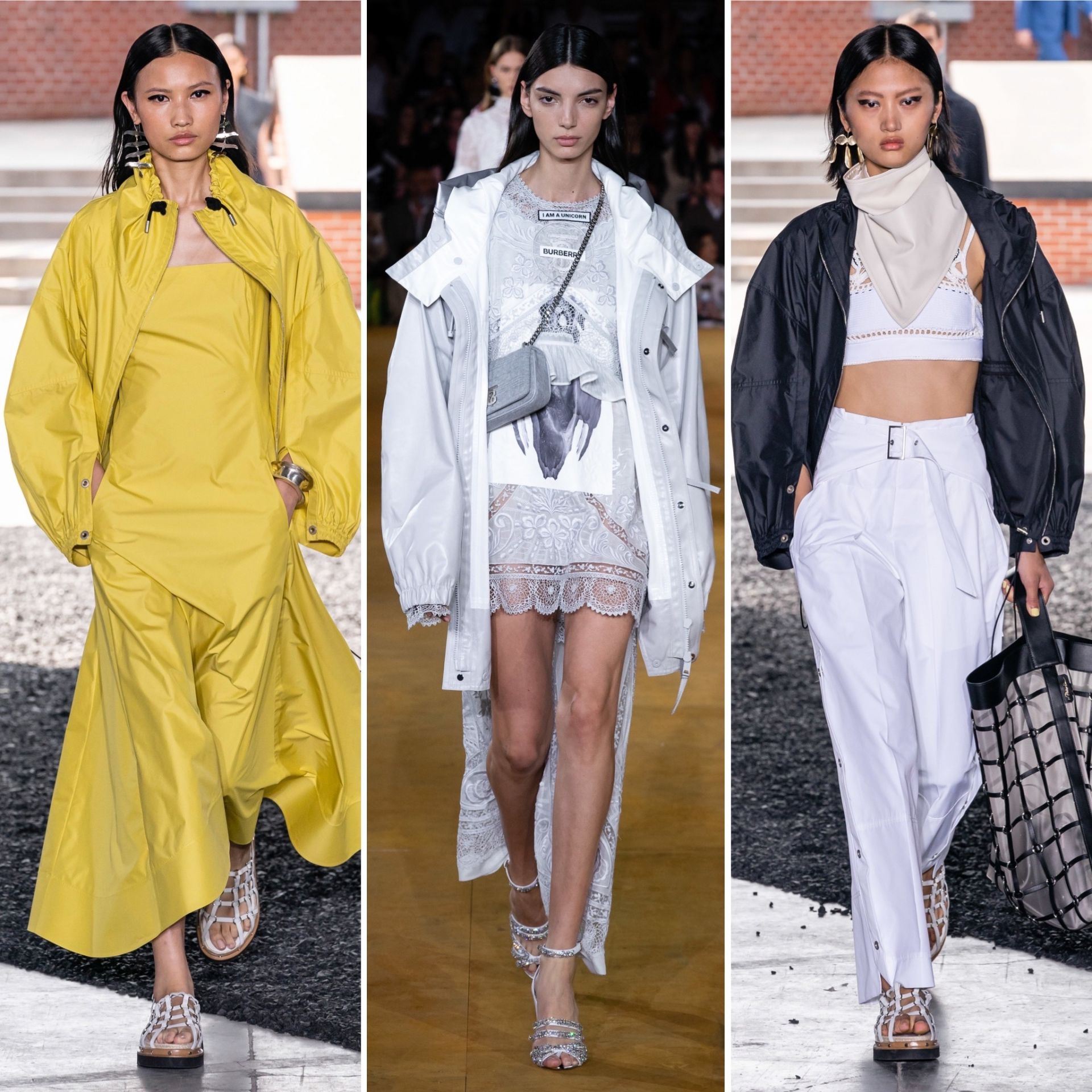 Phillip Lim, Burberry, Phillip Lim spring/summer 2020
We've compiled a selection of the most stylish windbreakers this spring: combine them with both sportswear and romantic skirts.
| | | |
| --- | --- | --- |
| | | |
| Dsquared2 | Gucci | Kenzo |
| | | |
| Givenchy | Rick Owens DRKSHDW | Colville |
| | | |
| Guess | Woolrich | Pinko |