We're going to ask ourselves and the fashion world quite honest questions about fur coats and ethics.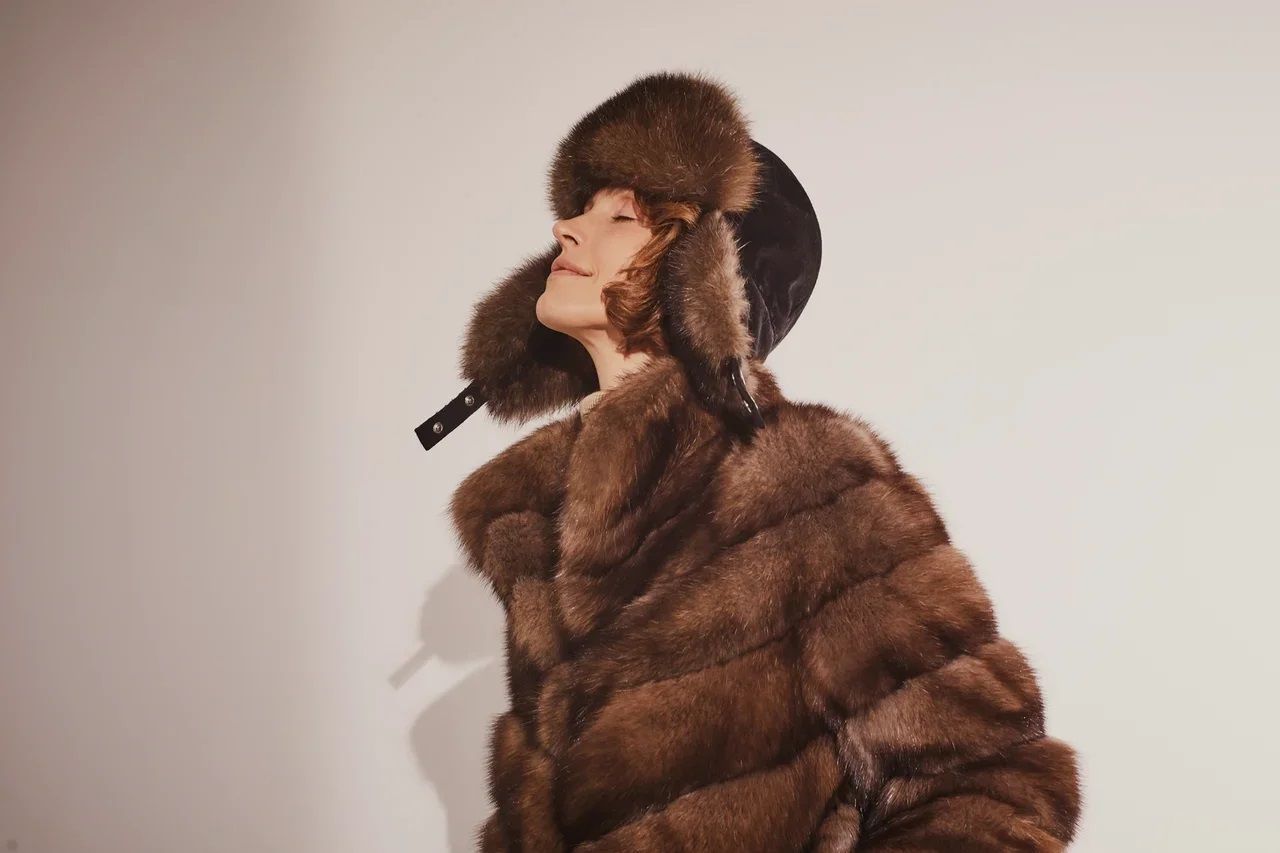 Dreamfur
Over the past two or three decades, the attitude to natural fur in the fashion world has changed dramatically. From all the adored expensive material and synonymous with the concept of "luxury" natural fur has passed into the status of an unwanted player in the market. One by one, fashion houses began to completely abandon the use of fur in their collections, large multi-brand boutiques no longer put mink coats in the windows, and glossy magazines carefully bypass the "hot" winter topic, flirting with artificial fur and other eco-alternatives. Gucci, Versace, Burberry, Armani, Ralph Lauren, Michael Kors, Vivienne Westwood and one of the last – Prada has already imposed a ban on the use of natural fur, so it's now possible to find a fluffy fox fur coat from Gucci or a short sheepskin jacket from Michael Kors except in second-hand stores, vintage stores or so popular recently online stores of secondary designer things.
In connection with the very real climate crisis on our planet, which is just a shame to ignore, such a negative attitude to natural fur and the search for more harmless alternatives is understandable, but we still have a couple of very personal questions on the subject of fur. Is artificial fur so environmentally friendly? What to do if you want a product made of natural fur? And is it worth it to go to extremes when it comes to this kind of winter clothing?
Is it so terrible to want a fur coat made of natural fur in the 2019/2020 season?
There're many girls in Russia, who defiantly hold on to their mink coats, fox hats and sable vests, arguing that there are no more wearable, resistant and durable material, mankind has invented yet. They, the inhabitants of the Northern country with prolonged cold weather, certainly shouldn't get involved in discussions on the "pros" and "cons" of natural fur. In opposition to them, there always will be a couple of girlfriends who will recommend down jackets, like climbers, in response to the most severe frosts and judge the first for cruelty to the environment. But is there so much hatred for the planet in our desire to have one fur coat instead of two coats and one down jacket from the mass market?
The adherents of natural fur have their own arguments, which are worth listening to, even if you are a desperate vegan. For example, the owner of the fashion house Fendi Silvia Venturini Fendi is not going to give up natural fur because of its durability: fur products serve you for years, they don't need to be washed or cleaned as often as conventional coats. By the way, disposing of fur with natural lining, it completely decomposes in nature.
Is it worth it to be ashamed to wear natural fur, if you already have it in your wardrobe?
No matter how ardent activists protest, the presence of natural fur on sale helps to give people more freedom of choice when buying. Someone every season wants to buy a new coat or down jacket with a print, quilted stitching or in a fashionable shade, which will be enough for a warm Mediterranean winter. And someone needs only one black fur coat with a light shining and with a cozy hood many for many years to come, while all these seasonal inventions with drawings and cuts a doesn't care this customer too much.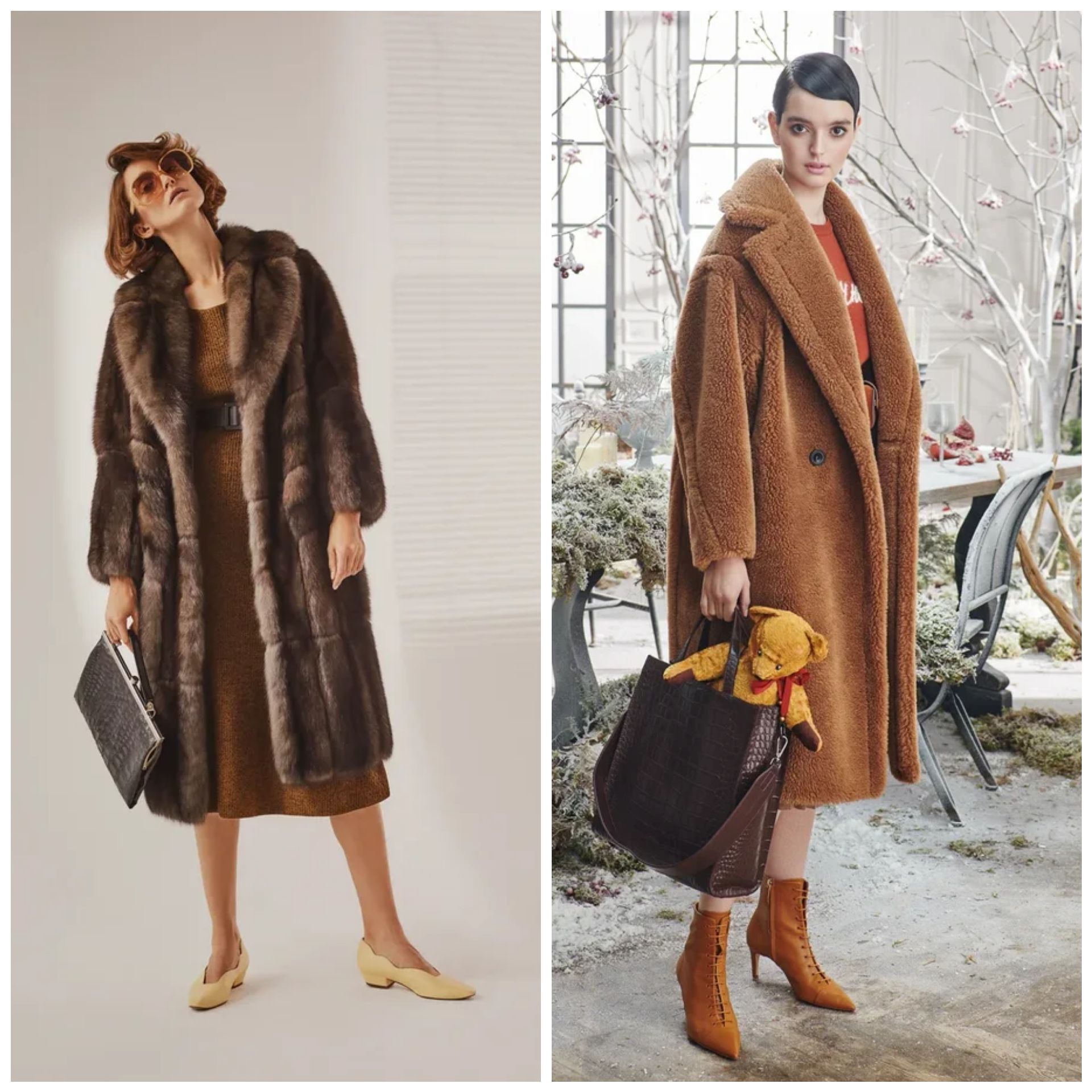 Dreamfur, Alena Akhmadullina x Snow Queen
Still, the ability to choose is extremely important, since we all have different lifestyles and different needs that fashion magazines sometimes mistakenly and inhumanly try to unify. It should be understood that the debate around natural fur is part of an extensive and important discussion on the topic of ecology, where so far the most important evil is the consumption of plastic. In this context, those who every year buy a new artificial fur coat made of polyester from the range of democratic brands, that literally flooded the planet with their products, should be ashamed. This, among other things, was discussed at "The Best Luxury Stores" forum of buyers. In Europe and America, people buy fur for the sake of going out, as an element of luxury. While in Russia, when the temperature in some parts of the country can fall to minus forty degrees, it's just an opportunity not to freeze.
Is it time to run for a fur coat from eco fur for reasons of ethics?
It's only up to you deside, but before we rush into things labeled eco-friendly and sustainable, let's think about what exactly drives you. The desire not to use more clothes of animal origin? Then, along with natural fur, it would be nice to abandon the use of natural leather, because it's produced in an equally cruel way.
Or maybe you decided for yourself that you will start buying wisely and care about the future of the planet? The idea itself is beautiful, and the fashion industry is moving in the same direction with regard to fur: for example, this year, for the first time artificial fur was created on a bio-basis without the use of polyester, consisting of 100% recycled marine plastic. The only question is how much such a technological innovation. will cost.
At the buyers' forum, which we mentioned above, eco fur was also discussed. Do you know that for the production of artificial fur a large amount of clean water requires? This idea was one of the main. It is expensive and not eco friendly, on the contrary, many brands are trying to reduce water consumption during production.
What to do with an old fur coat or other fur products that no longer fit you?
Definitely don't throw it away. One day, natural fur, like any vintage clothing, will find its exclusivity and even greater value with the passage of time. Every year there is a growing number of brands that use recycling technologies in the production of clothing, which inspires us to be more conscious not only about purchases, but also about the process of recycling clothes. Your tired fur coats, jackets and vests can be given a second life if you sell it or give to those who need them more. It can be done with the help of online stores or applications for the exchange/sale goods. If the quality of fur allows, then you can also take your old fur items to the atelier and make a new one of it to your taste. Even if no design ideas come to mind, fur can be altered as a lining for your existing coat and make it even warmer.
Fashion trends of winter 2020
Faux fur exactly like natural
Technologists and designers are working hard to create the faux fur that can't be differed from the natural one. This trend will be number one trend from season to season, because the demand for such fur is growing, and will please those who flatly refuses to wear dead animals, and those who are still in transition. In our opinion, the most successful models are in the collections of Michael Kors and Moschino — it's impossible to differ faux fur from natural from the photo.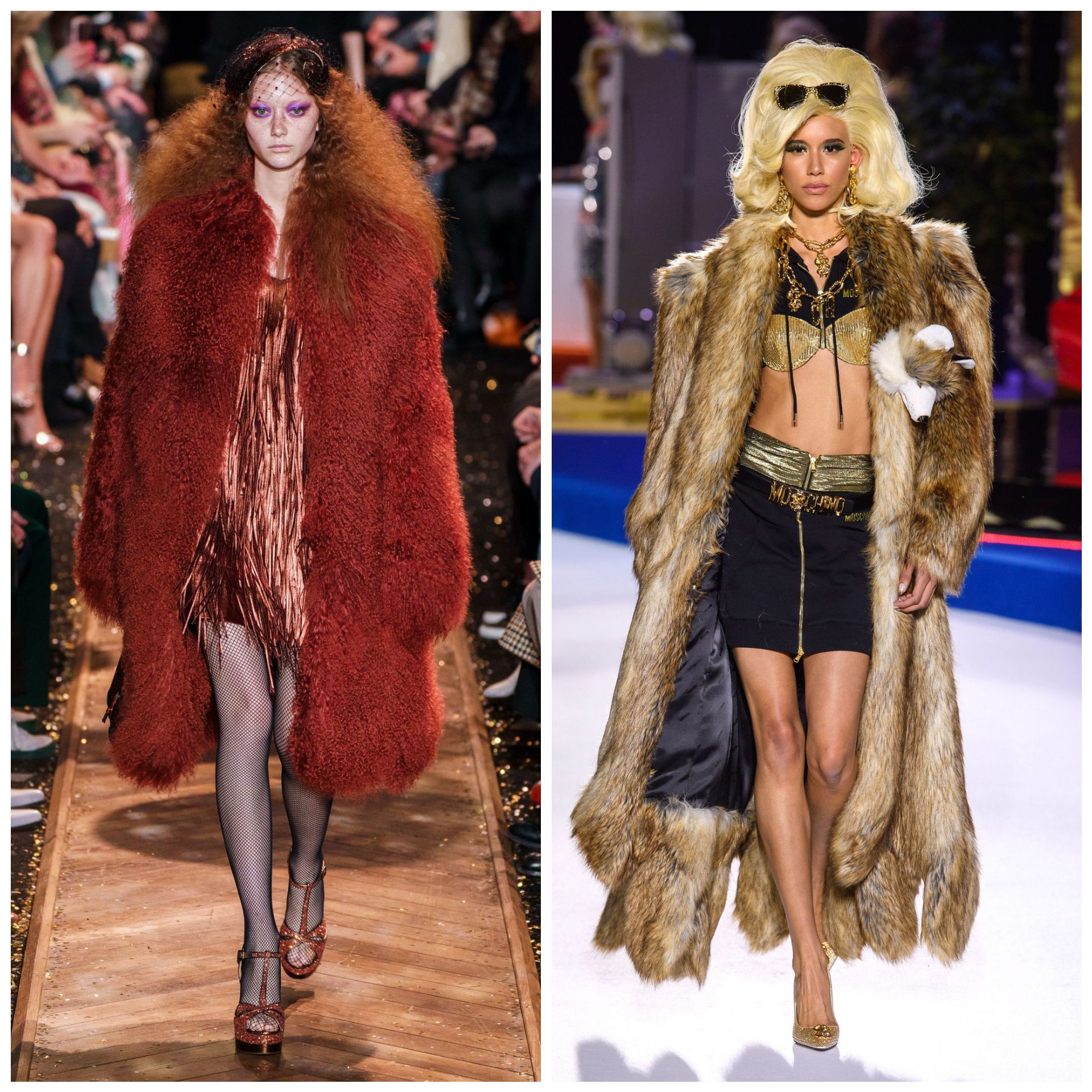 Michael Kors Collection, Moschino
Sheepskin in the style of the 1970s
Coats made of sheepskin in some magical way avoid getting into conflict of adherents and opponents of natural fur. Probably the thing is that sheepskin products are created by both more humane and less humane methods, so that the verdict will have to be made on each thing separately. On the catwalks of the autumn-winter 2019 collections, the sheepskin clearly refers to the era of the 1970s in both length and cut.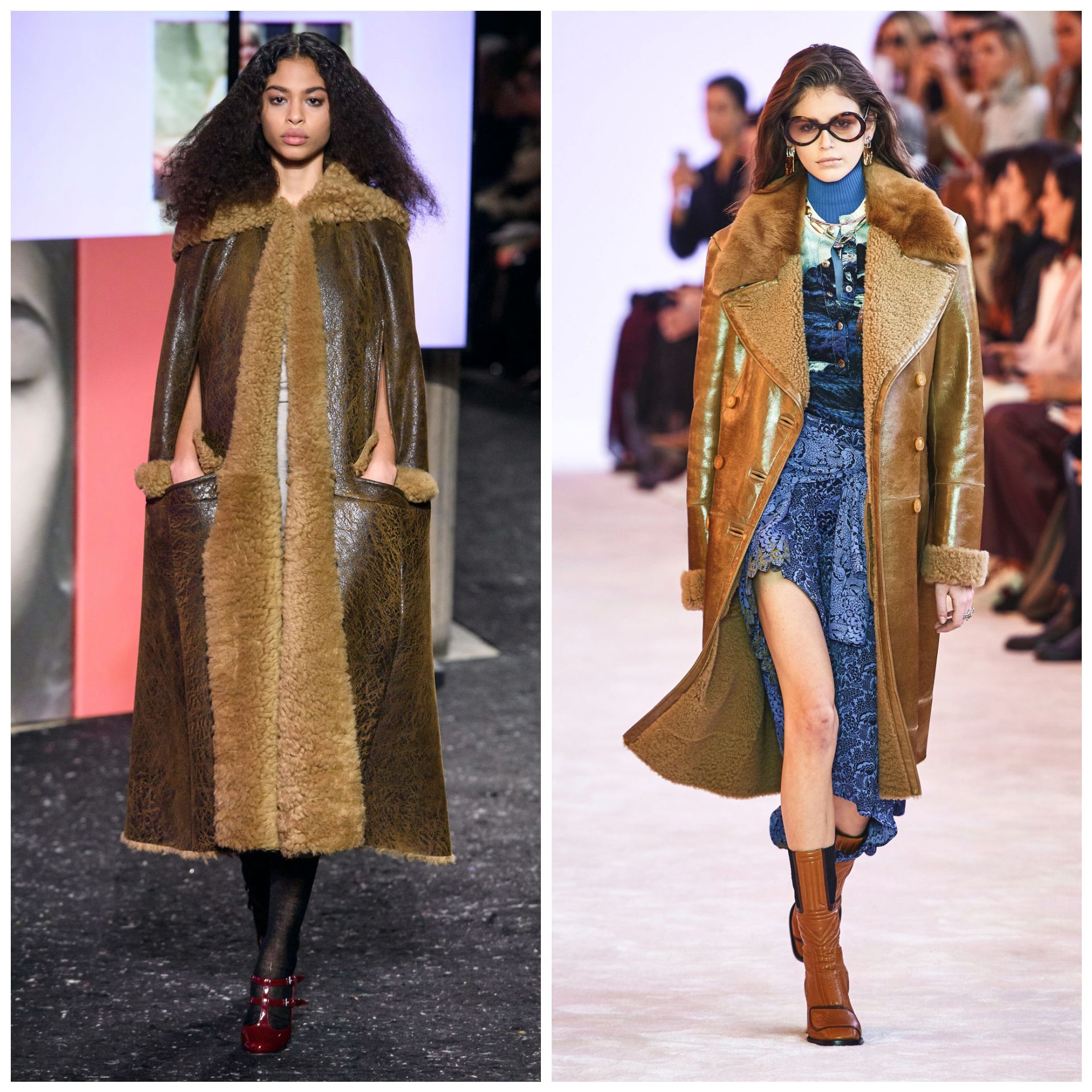 Miu Miu, Chloe
Fur coats made of feathers
The feathers sewn onto the fabric resemble weightless fluffy fur, although the method of their extraction would certainly be questioned by animal advocates. However, Saint Laurentand Valentino haven't yet abandoned the use of natural fur, but, obviously, are already beginning to look for it no less aesthetically attractive alternatives.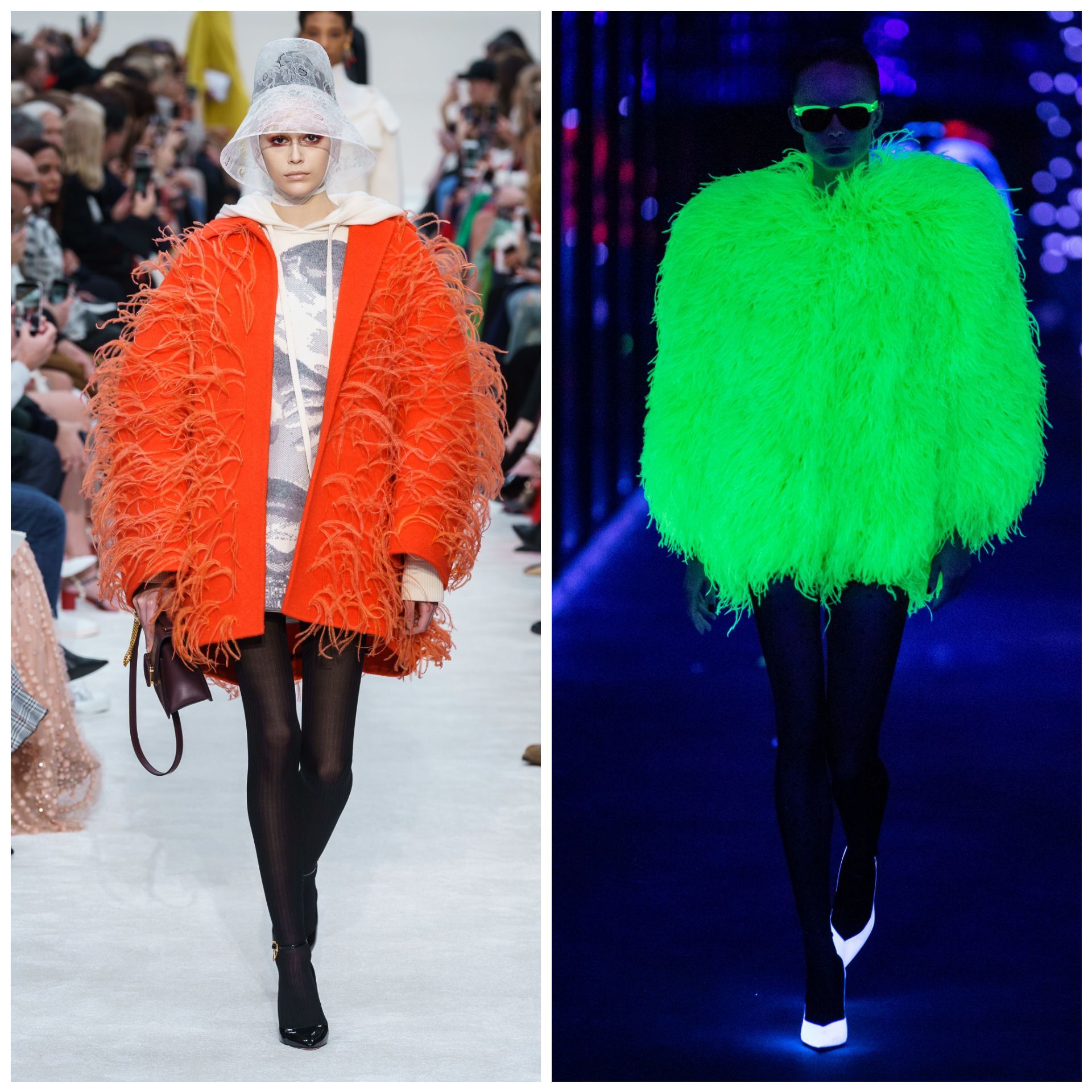 Valentino, Saint Laurent
Natural fur in a new format
What to make up with real fur, when everything seems to be remade? This question is certainly asked by designers who still continue to work with animal fur. How about putting this luxurious material on clothes that aren't usually made of fur? For example, a double-breasted suit jacket, like Yves Salomon, or an elongated shirt, like Fendi.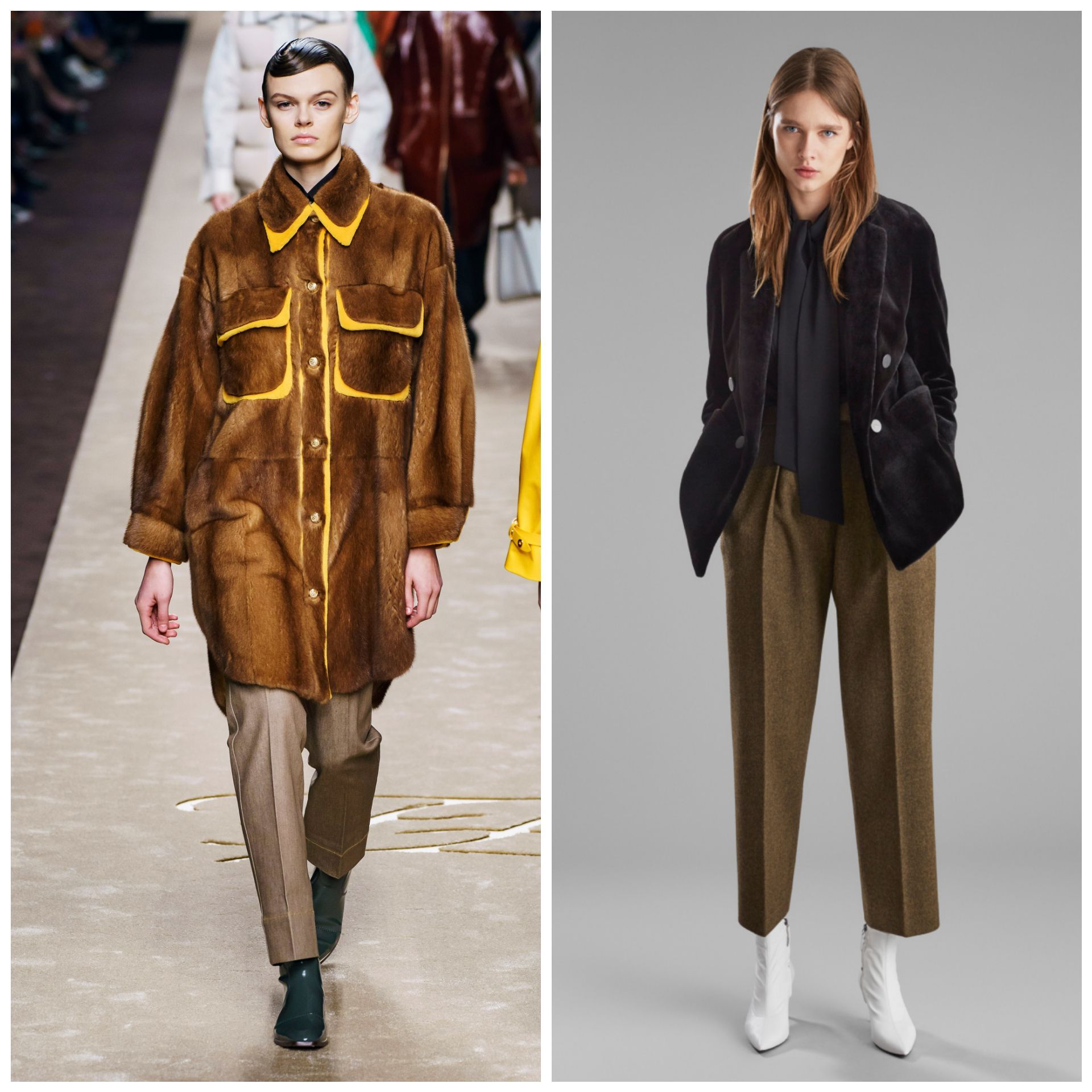 Fendi, Yves Salomon