The weather forecast ceases to please us, which means it's high time to look for the perfect pair of winter shoes. We've compiled a guide to trends, from which you will find out what shoes will be relevant this season.
Hiking Boots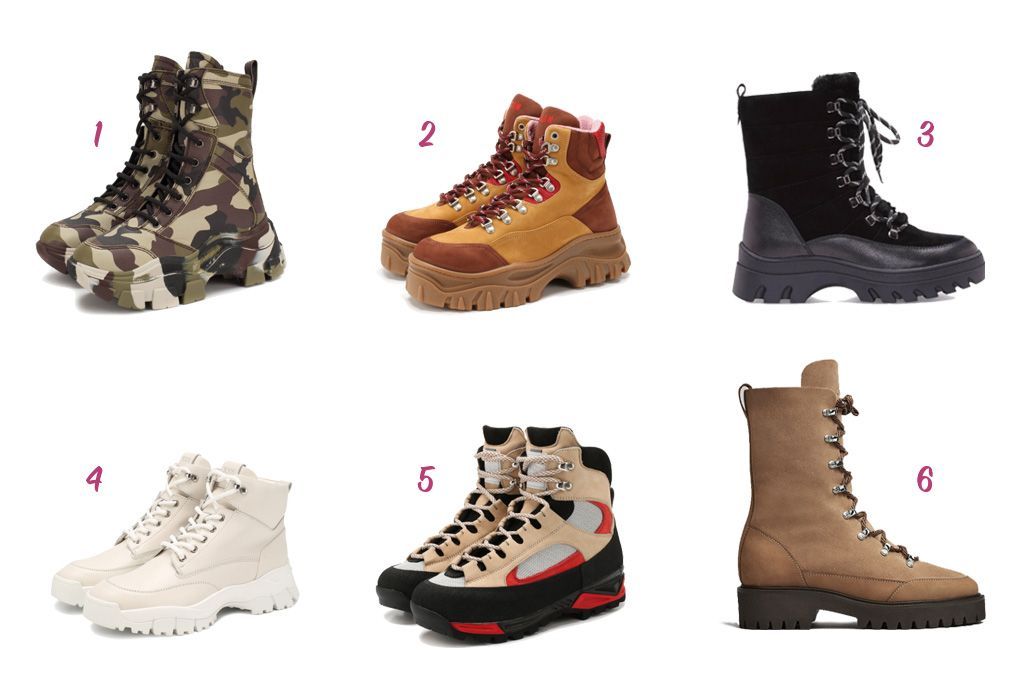 1-Prada, 2-MSGM, 3-Econika, 4-TOD's, 5-Diemme, 6-Massimo Dutti
Initially, hiking boots were created for lovers of tourism and outdoor activities-now such sports models can be found in the collections of famous designers. With the development of the trend for practicality and convenience, hiking boots become one of the most stylish and necessary items of winter wardrobe. Designers offer to wear them not only with down jackets, but also with business suits. And the most daring fashionistas combine such shoes even with evening dresses, complementing the look with deliberately glamorous accessories. It turns out that hiking boots are very versatile thing – you can go for a walk and a party in them. They are especially suitable for those who love sneakers, but can't find suitable for winter weather.
Moon Boots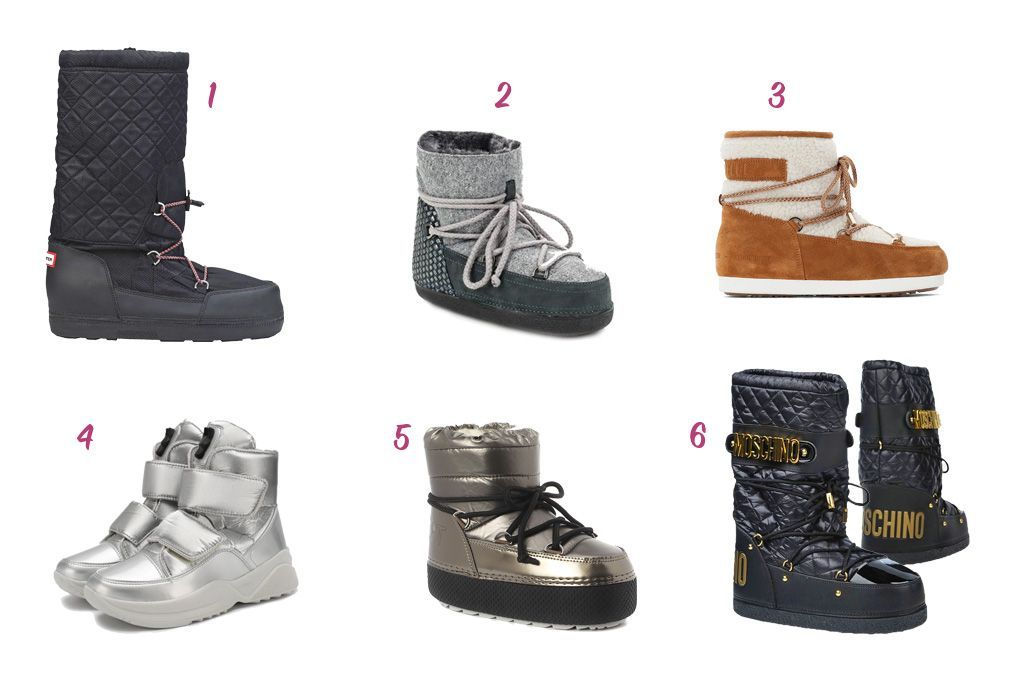 1-Hunter, 2-Tervolina, 3-Moon Boot, 4-Jog Dog, 5-Rendez-Vous, 6-Moschino
This season, boots-moonwalkers can be found far beyond the ski resorts. Urban conditions are no less suitable for them, and stylish design will definitely find its fans. Fashion experts predict that one of the trends next year will be the space theme – such boots will fit into it as well as possible.
Shoes, resembling part of the spacesuit, appeared a long time ago, but became popular only now. The idea of this unusual design belongs to the Italian Giancarlo Zanatta, who was inspired by Neil Armstrong's photos for Life magazine. Fashionistas paid attention to such shoes after the release of the movie Star Wars in the early 80's, and here they are again on-trend. Moon boots are worn by many celebrities, such as Sarah Jessica Parker, Paris Hilton, Kate Moss, Jessica Simpson and Victoria Beckham.
For winter, such shoes are perfect – moonwalkers are made of light and durable materials that retain warmth very well and don't allow moisture pass through. It may seem that it is difficult to find the right clothes for them, but this is not so. Moonwalkers can be worn with bright voluminous down jackets, parkas, straight cut jeans or leggings. These shoes will be a great option to create a look in the style of sports chic. By the way, as usual, moon boots don't have a division into right and left legs, and the size range consists of only three positions: S, M and L.
Colored Boots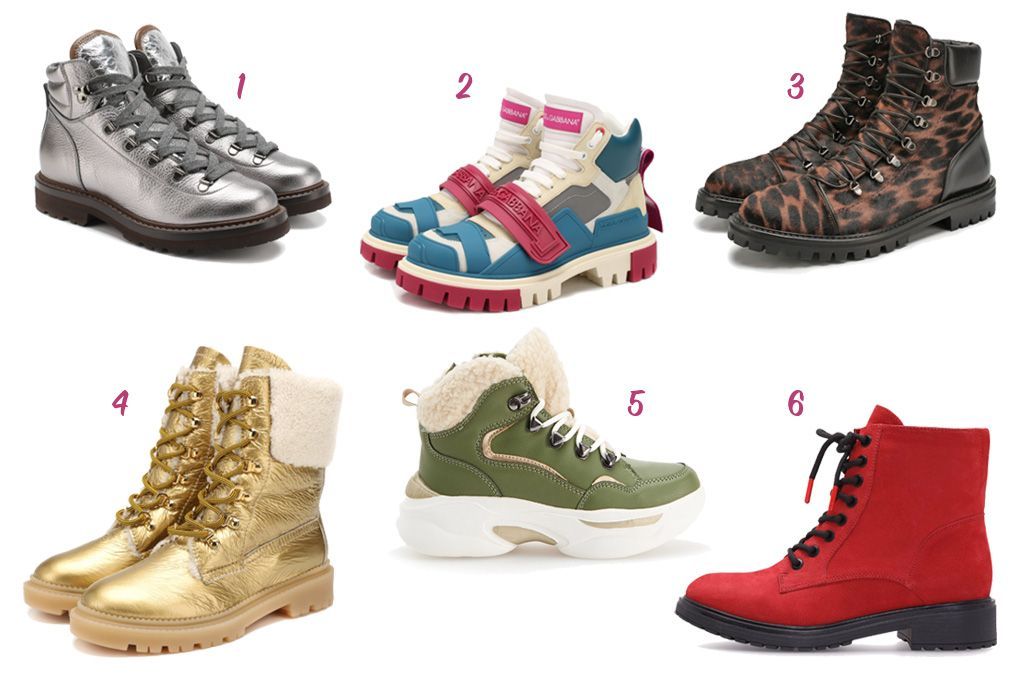 1-Brunello Cucinelli, 2 – Dolce&Gabbana, 3-Alaia, 4-Casadei, 5-Reserved, 6 – Econika
This season, designers oppose dark shades and offer to wear everything bright and unusual – this trend is worth paying attention to when choosing winter boots. If you don't want to make a strong emphasis on shoes, you can choose something more calmly-gold and silver options will also be very relevant. Colored nubuck boots look best of all.
Animal print boots
Recently, photographers caught actress Katie Holmes during her walk along on of the New York streets. The young woman was wearing a long white dress and boots with a zebra print. If we have long been accustomed to such colors in clothes and accessories, then shoes with an animalistic print look not so familiar.
This winter, options made of leopard, zebra and snake skin will be relevant. Designers predict that the trend for "wild" prints will move to the next seasons, so you shouldn't think about the practicality of this investment. For sure, this purchase is not only for one season.
Brutal Boots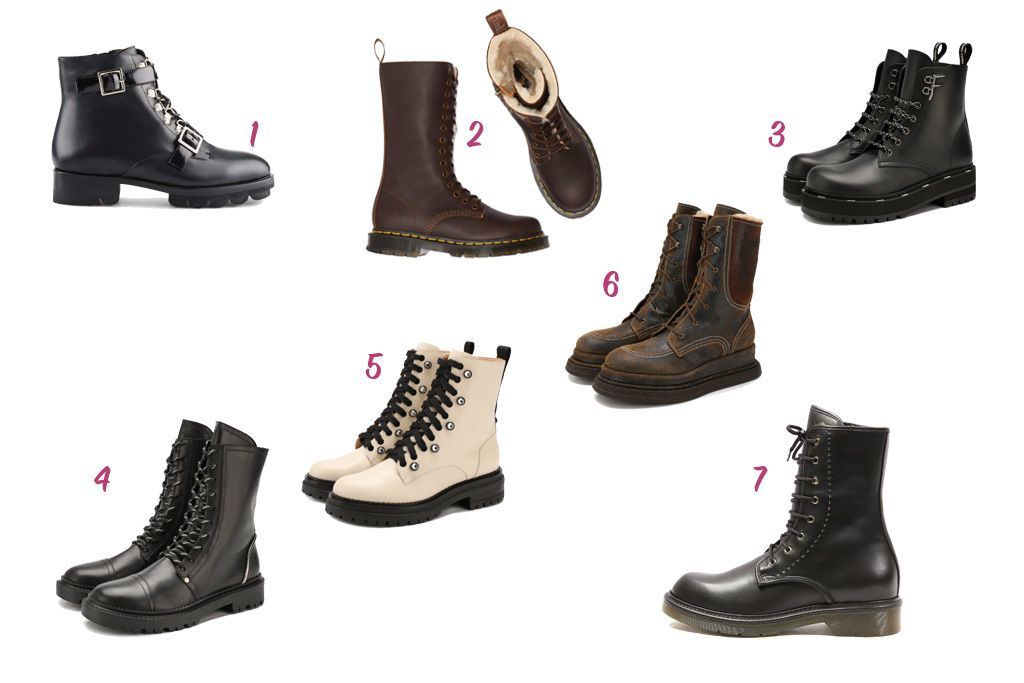 1 – Econika, 2 – Dr. Martens, 3-Fendi, 4-Casadei, 5-Sergio Rossi, 6-Premiata, 7-Max Mara
There was a time when Dr. Martens boots considered to be ideal rough shoes. Now similar shoes are offered by many brands, including Yves Saint Laurent, Celine, Prada and Bottega Veneta. High models without lacing will be relevant this season– they can be worn with feminine dresses (not mini) to create a contrasting look. The jeans are well suited with cropped models with a massive sole – they can be decorated with silver rivets or chains. If you have chosen a non-insulated model, it's better to take half a size more so that you can insert a fur insole or wear wool socks. As an outerwear to such boots, you can choose an oversized military styled down jacket, an overcoat or a fur coat.
The "roughness" of such boots may be different. With their help, you can slightly dilute a romantic dress or create a grunge image in the Nirvana style-it all depends on your mood.
Boots with fur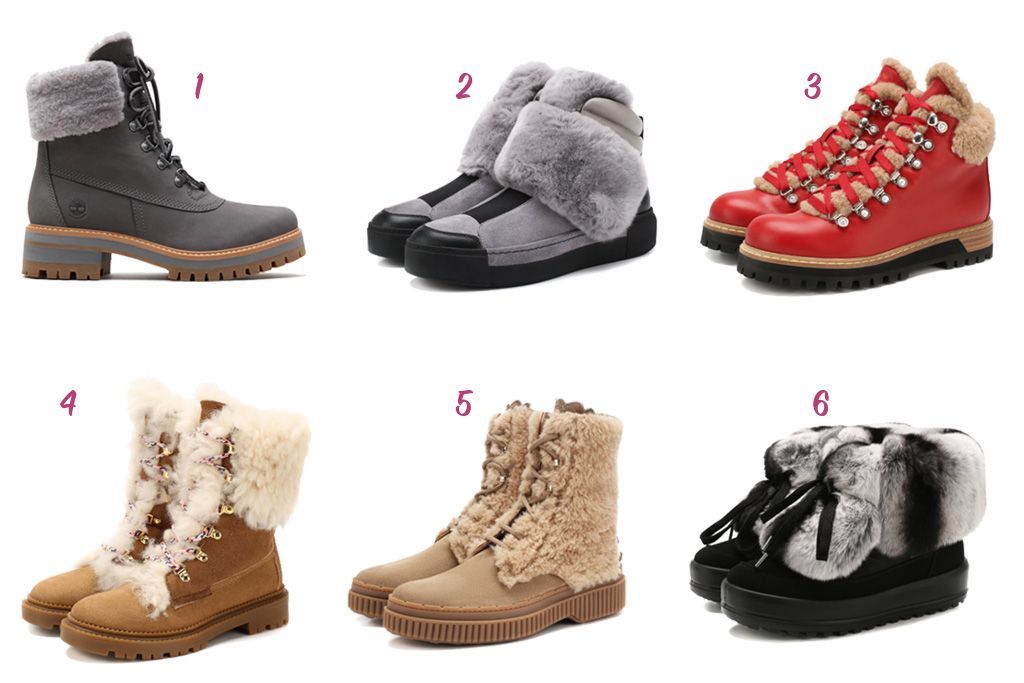 1-Timberland, 2-Vic Matie, 3-Le Silla, 4-Casadei, 5-TOD's, 6-Jog Dog
Boots with outside fur will be the most practical option for winter. They can be not only warm, but also stylish. Now you can find many options made of high-quality faux eco fur.
These shoes are better to combine with clothing made of knitwear or denim. But remember: if there are a lot of fur on the boots, it is better that the rest of clothes are without it