Not vulgar, while not boring - this is your task.
A company party differs from any other party in the fact, that you hang out with your colleagues, with whom you will still have to work in future. And this means that your outfit for a company party shouldn't be too provocative or too sexy. We're going to tell you what to look for.
What is better not to put on a company party
Taking into account common sense and a dress code for company events, let's figure out with which outfits you are to be more careful at a party with colleagues, even if the December mood requires dancing.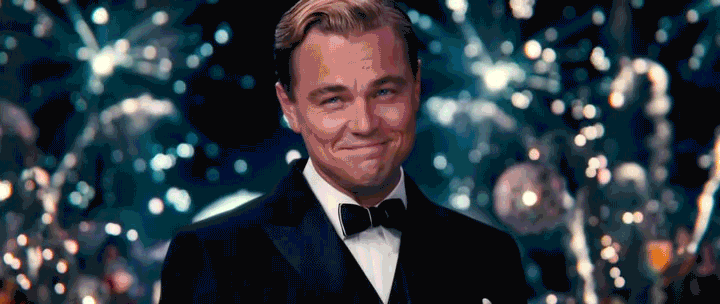 Leather clothes
Dressing in leather from head to toe is a daring decision, especially when it comes to work. Still, there are too many stereotypes associated with leather clothes to take risks and put it on at a company party. Even if this is your favorite material in the world, one leather skirt in the base color will be enough.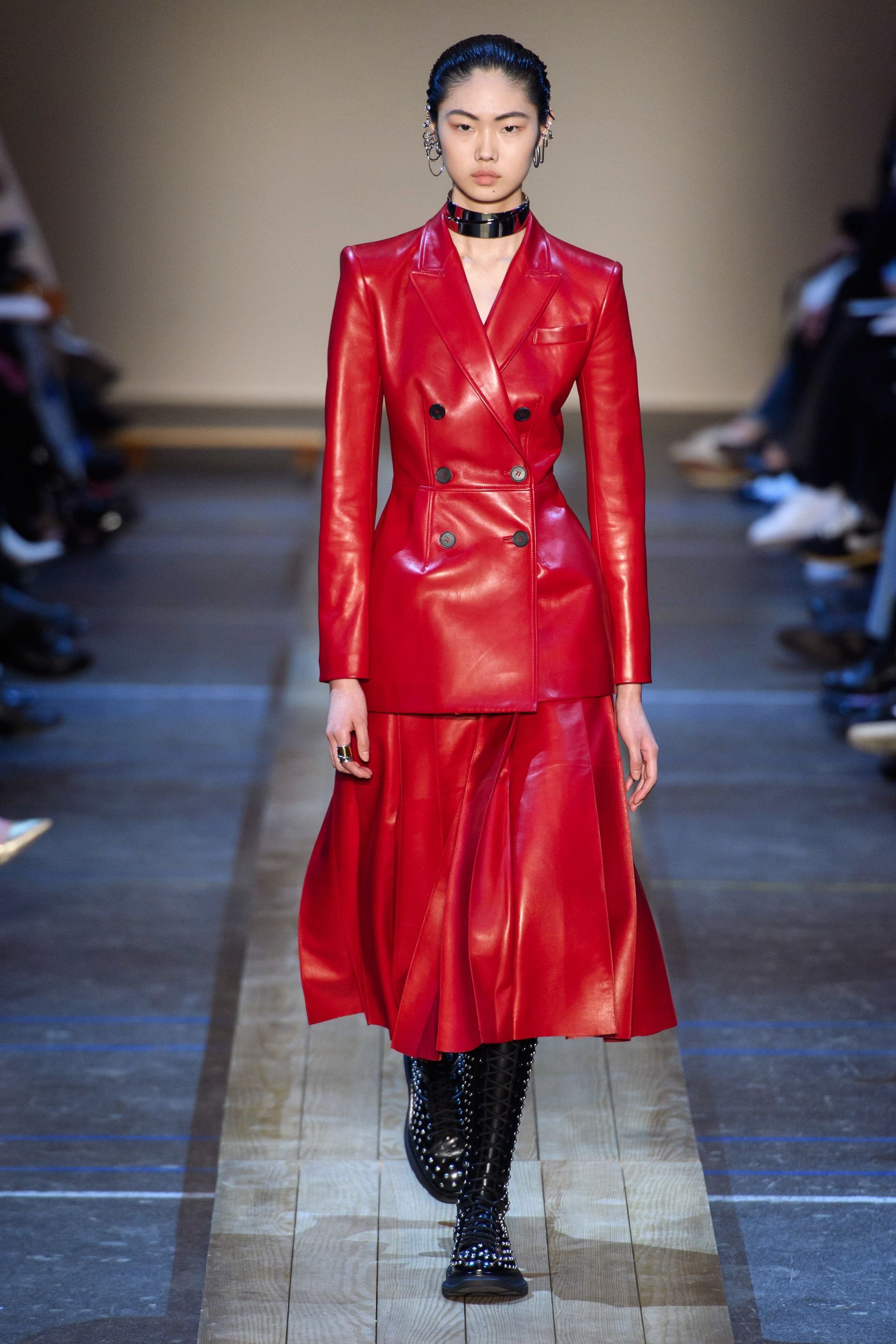 Alexander McQueen fall-winter 2019/2020
Colored velvet
This gorgeous fabric is not so easy to wear. In voluminous things, velvet looks too pompous, and with large ornaments it creates the feeling of a dress from a distant past. We don't advise you to get involved with such a moody texture on such an important occasion.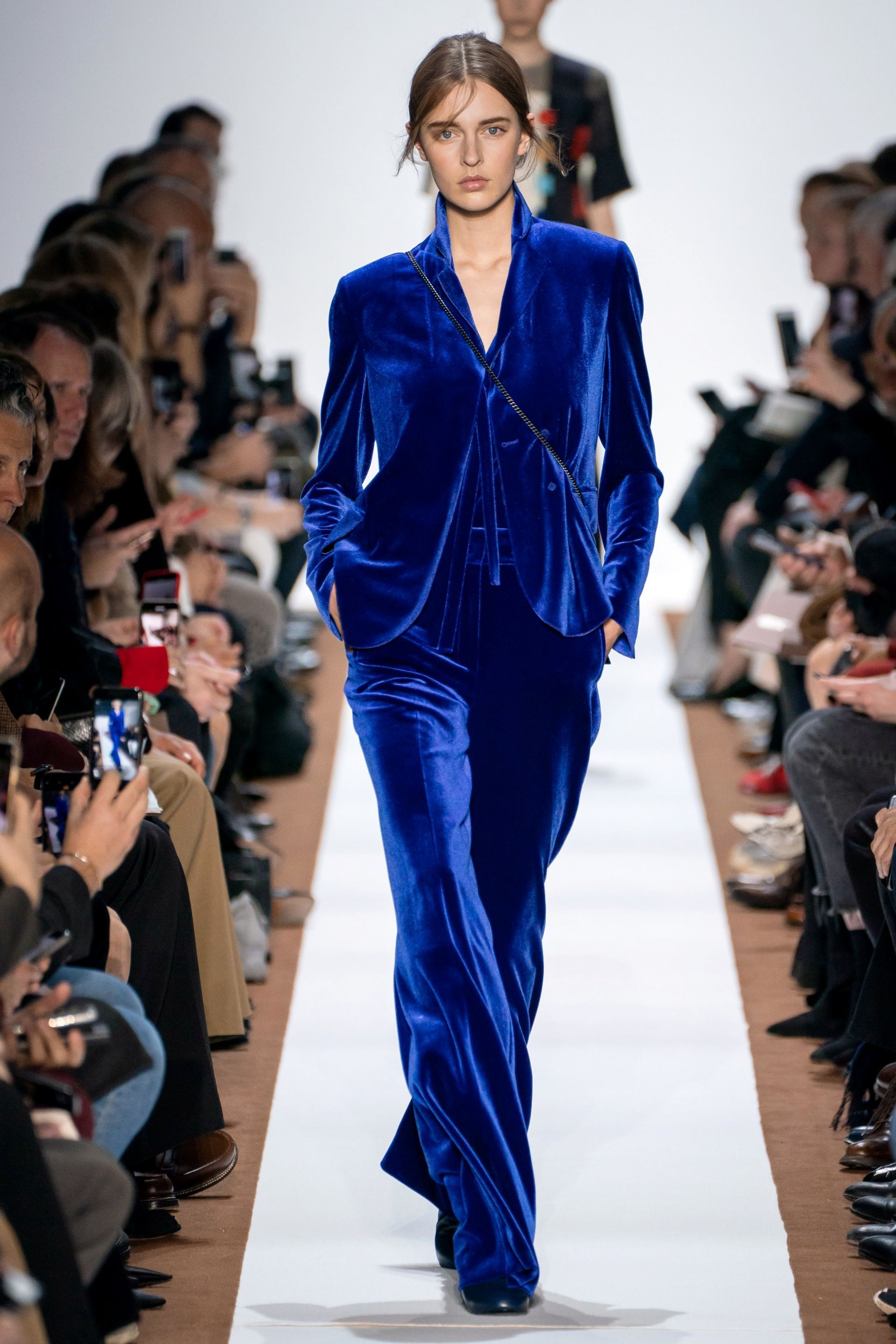 Akris Fall-Winter 2019/2020
Completely transparent things
Still, a blouse, from under which everyone can see you underwear, is almost the same thing as coming to a party directly in underwear. Protect your reputation and be more careful with translucent outfits at a company party.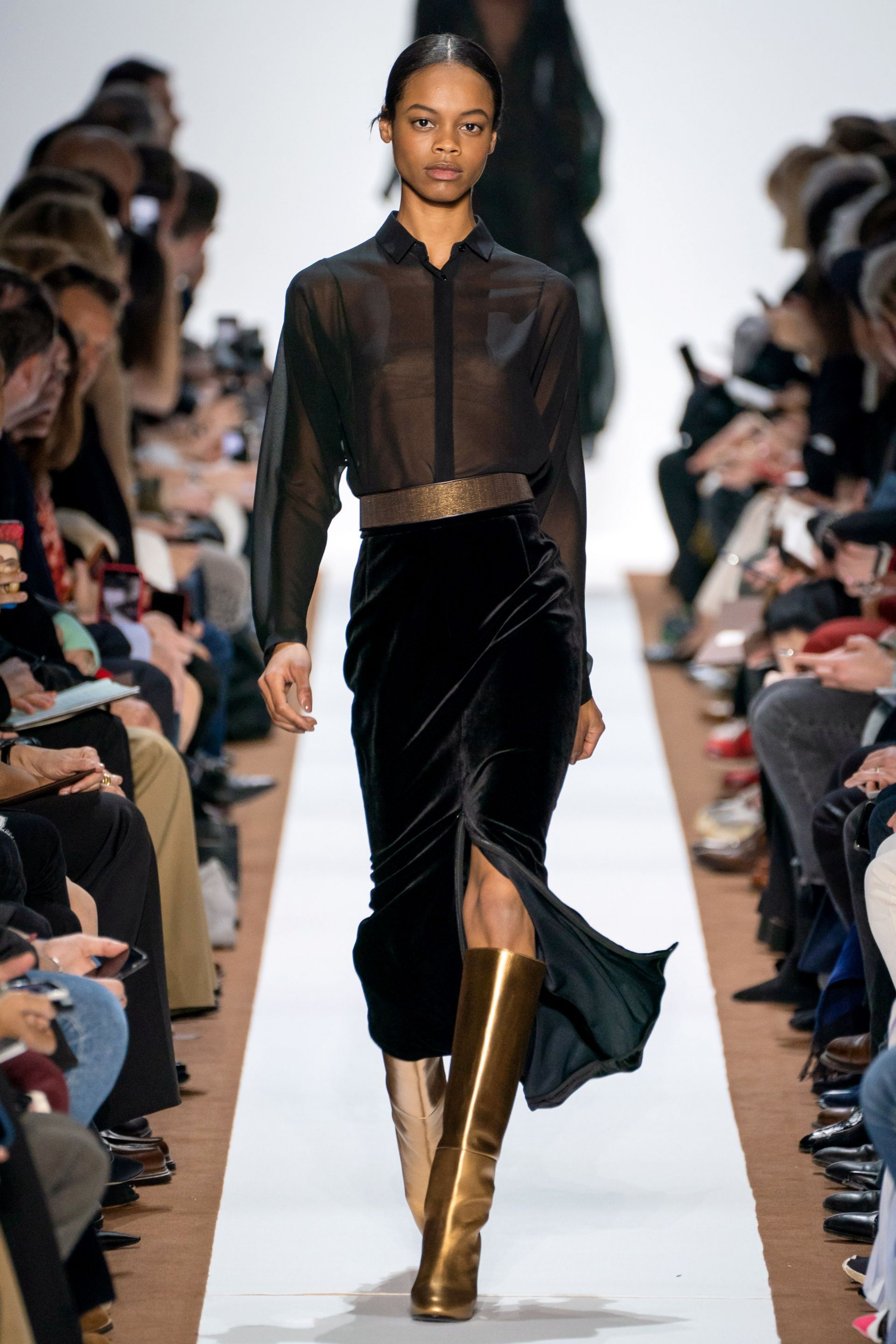 Akris Fall-Winter 2019/2020
Pajamas
Be sure, you will still have time to have fun in lace and satin nighties, but at the working event a frivolous aesthetics in the spirit of the 1920s is still not too appropriate. Unless it will exist in the form of a "secret" top under your jacket.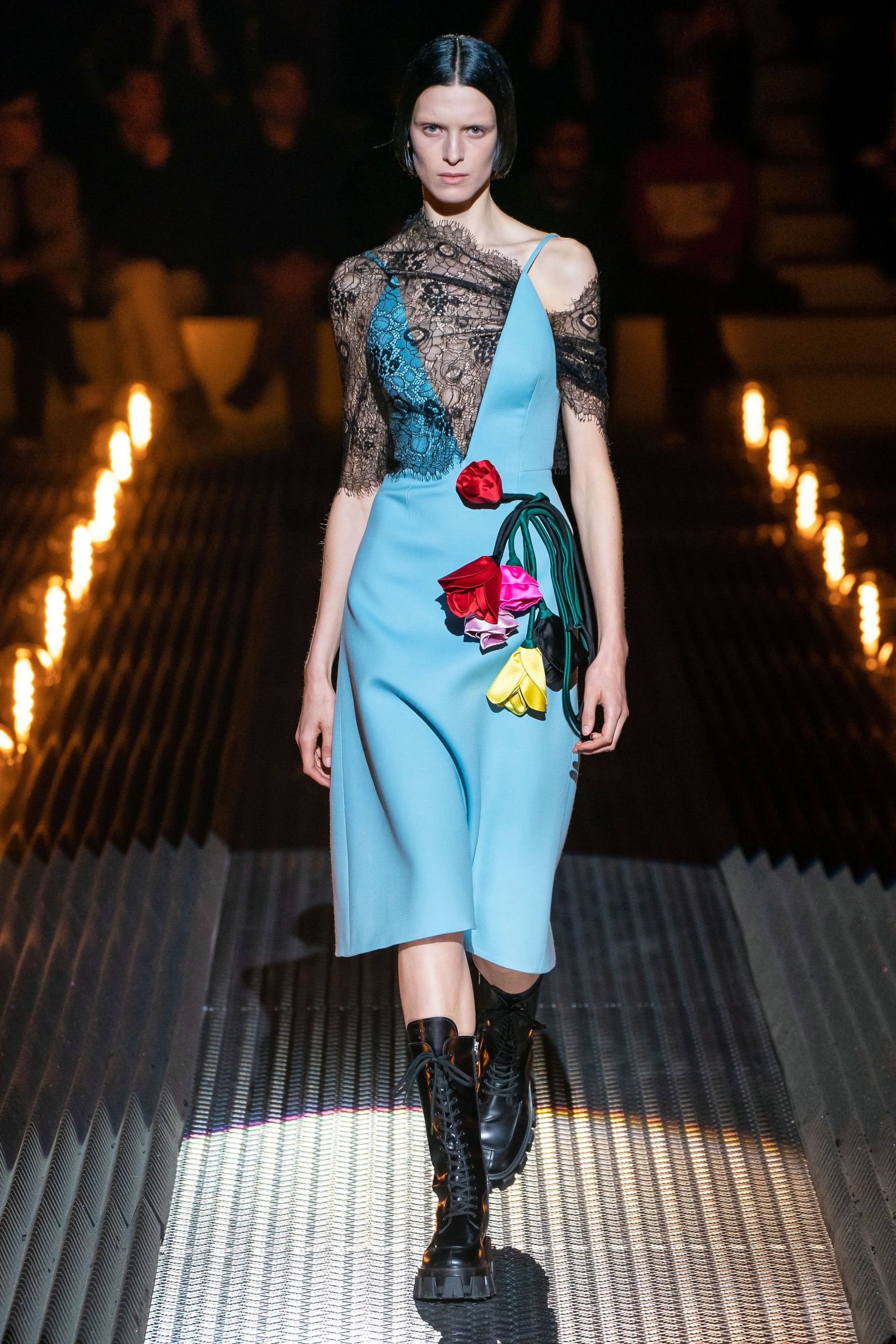 Prada fall-winter 2019/2020
How to dress for a company party
When it comes to a company party, you should immediately wake up with a sense of proportion and control, because even one little mistake can cost a reputation. Try to find harmony with your inner desire to shine. As an inspiration, we've collected several looks that are suitable for a festive event in a working atmosphere.
Look No. 1: for a cocktail party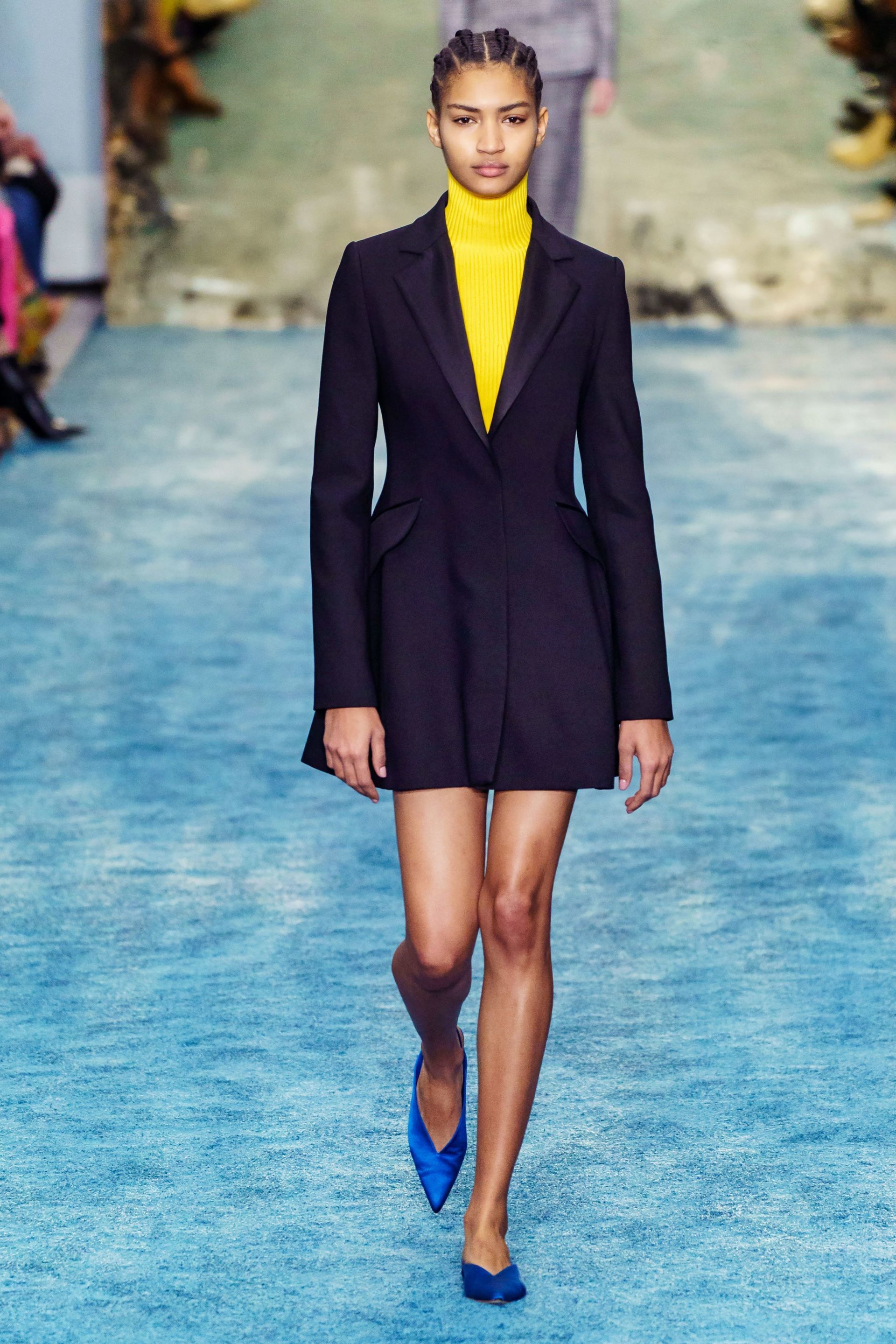 Carolina Herrera Fall-Winter 2019/2020
A tuxedo dress as a holiday gown is a tricky hint of an office style that colleagues will certainly appreciate. Pay attention to the length so as not to shock your colleagues with an extreme mini, and add attractive accessories to the dress - for example, brooches on the collar or heels in bright colors.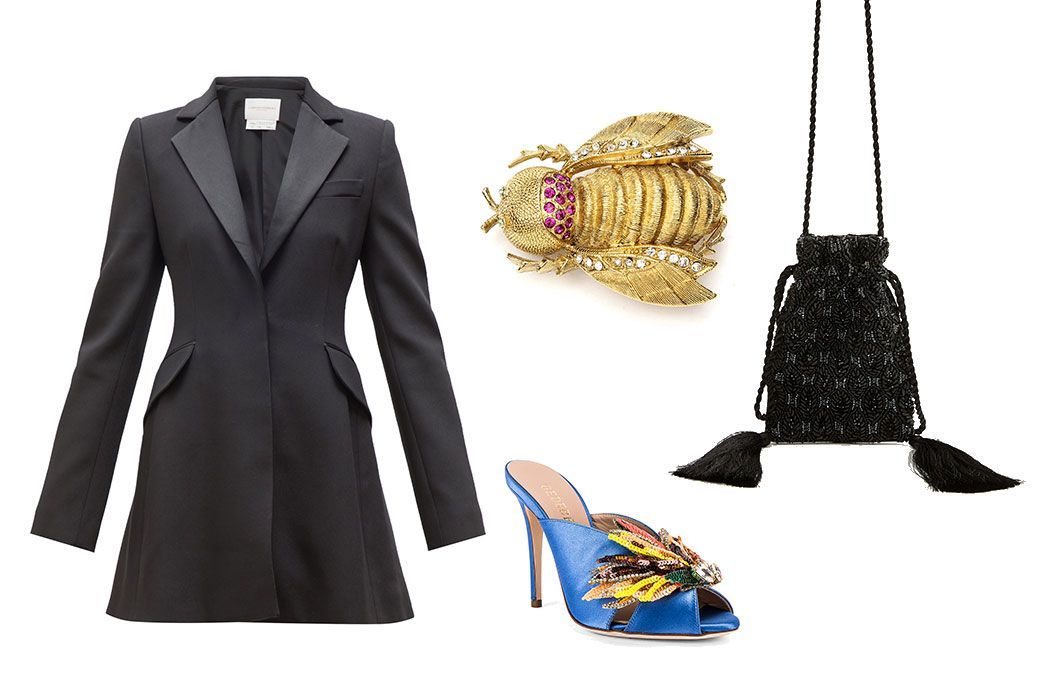 Carolina Herrera Blazer Dress, Ben-Amun Brooch, Mulie Gedebe, Mango Evening Bag
Look No. 2: for an informal evening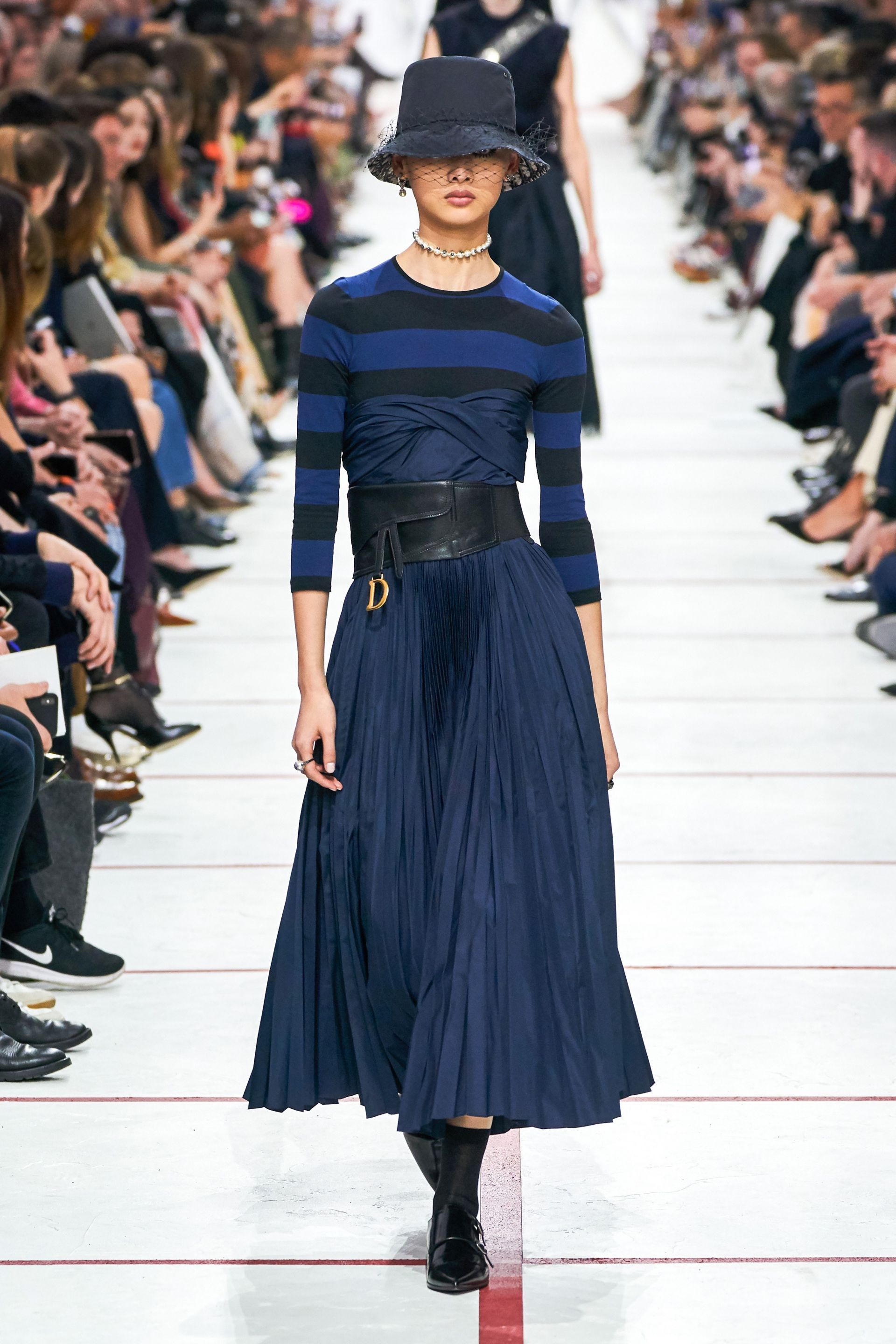 Christian Dior fall-winter 2019/2020
Take advantage of the fact that now the wide belts are back in fashion, and use this accessory to combine two things that you definitely already have in your closet: a basic knitted top (our choice is longsleeve) and a midi skirt. It is worth adding a strip, like Dior, and a black bottom, so you get a look in the French style.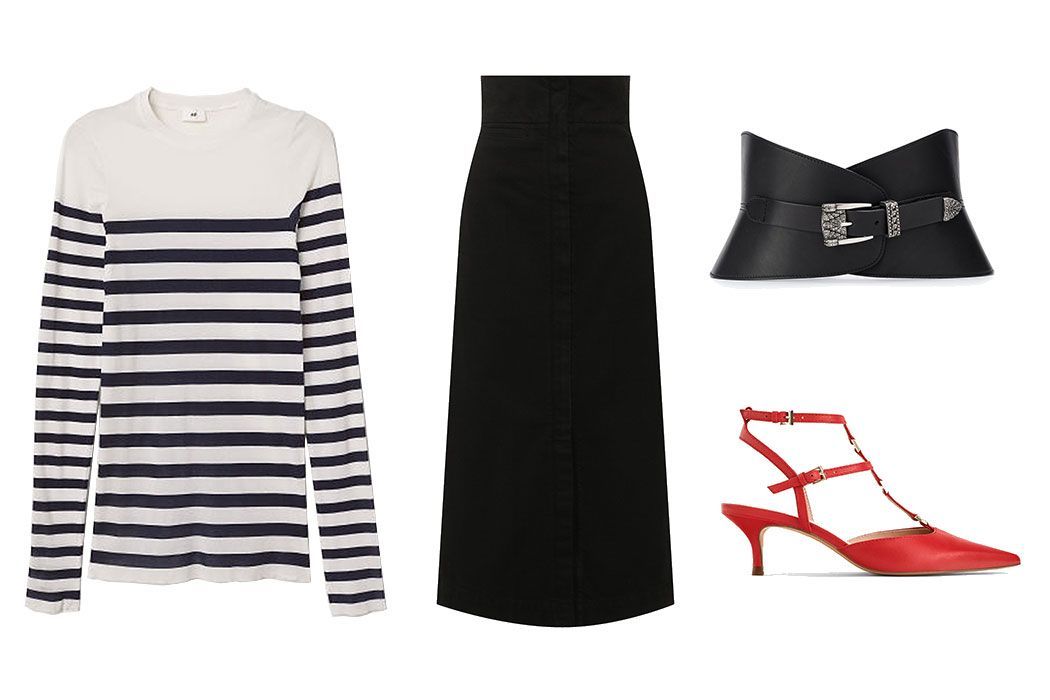 H&M top, Lemaire skirt, Etro belt, Uterque shoes
Look No. 3: for a formal evening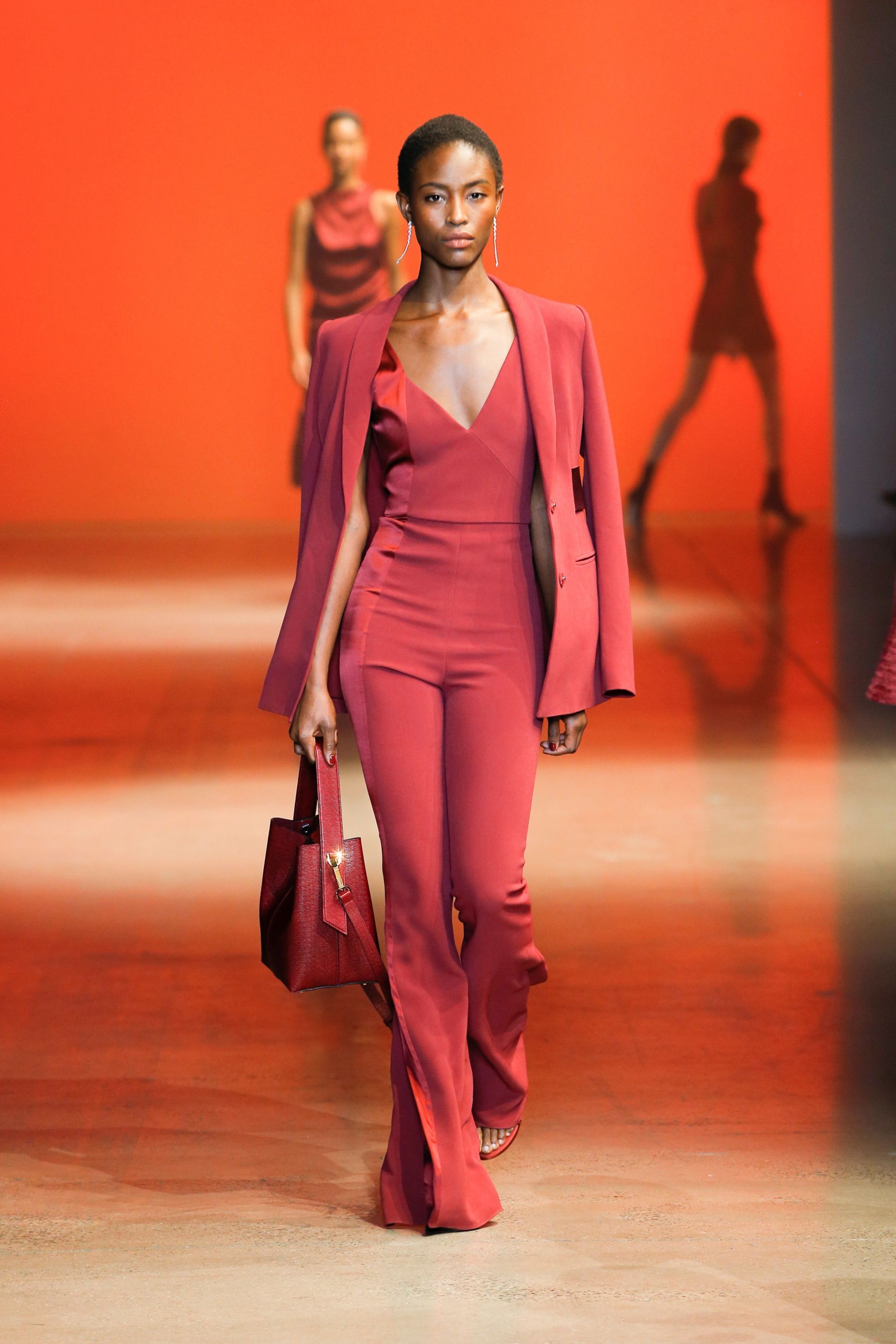 Cushinie Fall-Winter 2019/2020
Queen Letizia puts on overalls for ceremonial receptions, Melania Trump wears them during official visits, and Hollywood stars skillfully adapt once work clothes in an ideal outfit for red carpet. We take overalls for a note for a company party, especially if it is planned in some beautiful place and with an evening dress code. You can always add impressive earrings and an openwork necklace if the outfit seems too calm.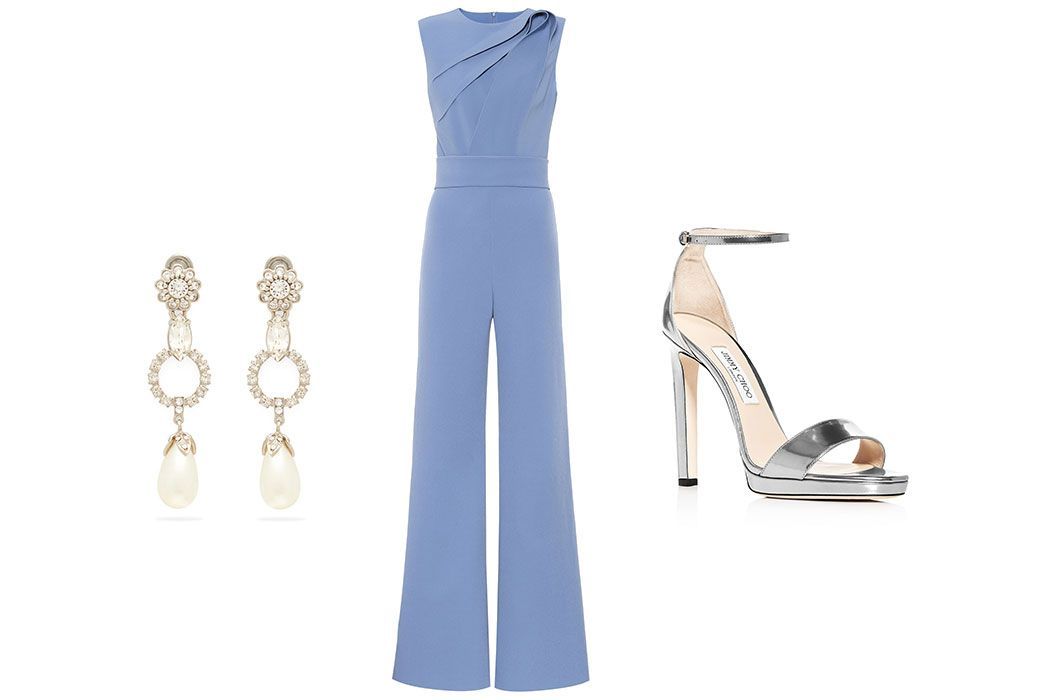 Jumpsuit Safiyaa, Miu Miu earrings, Jimmy Choo sandals
Look No. 4: a universal look with a dress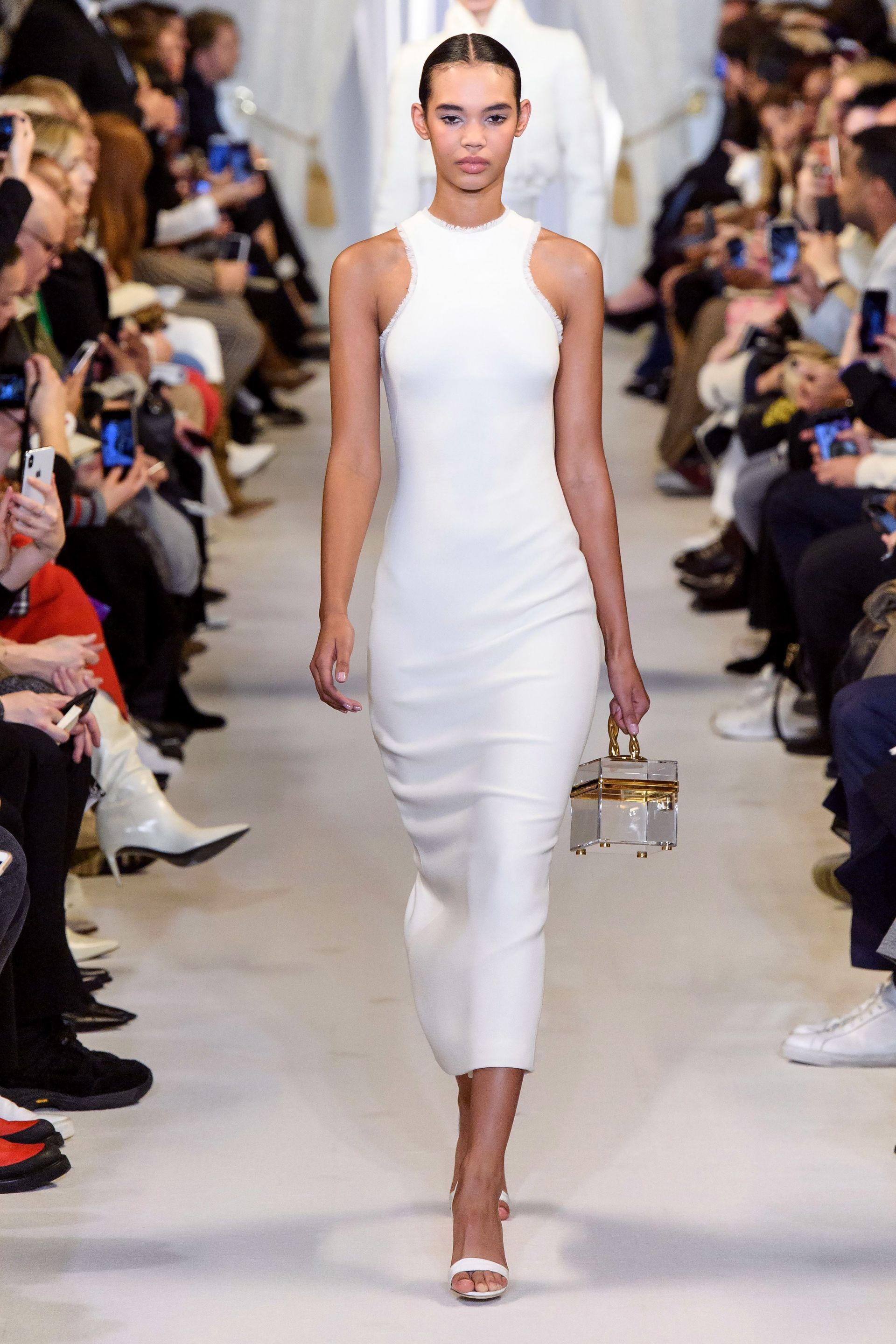 Brandon Maxwell Fall-Winter 2019/2020
In an ideal world, each of us has such a dress - like a magic wand for any solemn occasion: it sits on the figure as if it were sewn for you, and allows you to deftly play with accessories and jewelry. Since we are talking about a company party, pay attention to whether your underwear doesn't shine through the dress (usually, knitwear does it). Midi length - the most relevant this season - will give you more options for choosing shoes: high boots for an event with a terrace or open shoes for an indoor party.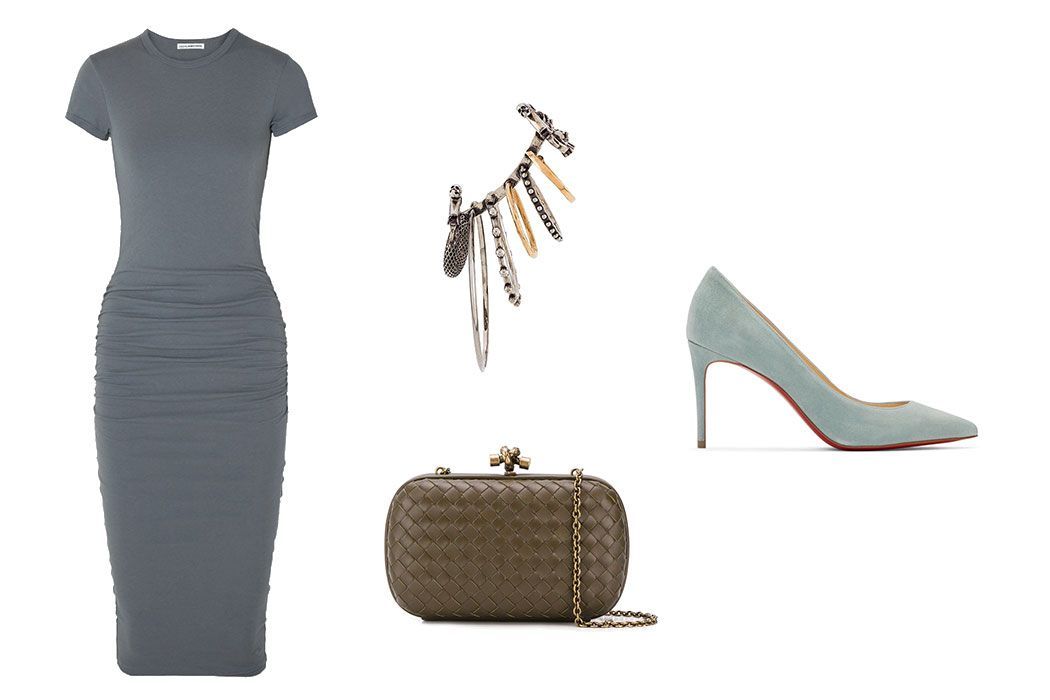 James Perse dress, Christian Louboutin shoes, Alexander McQueen cuff, Bottega Veneta clutch
Look No. 5: a universal look with a suit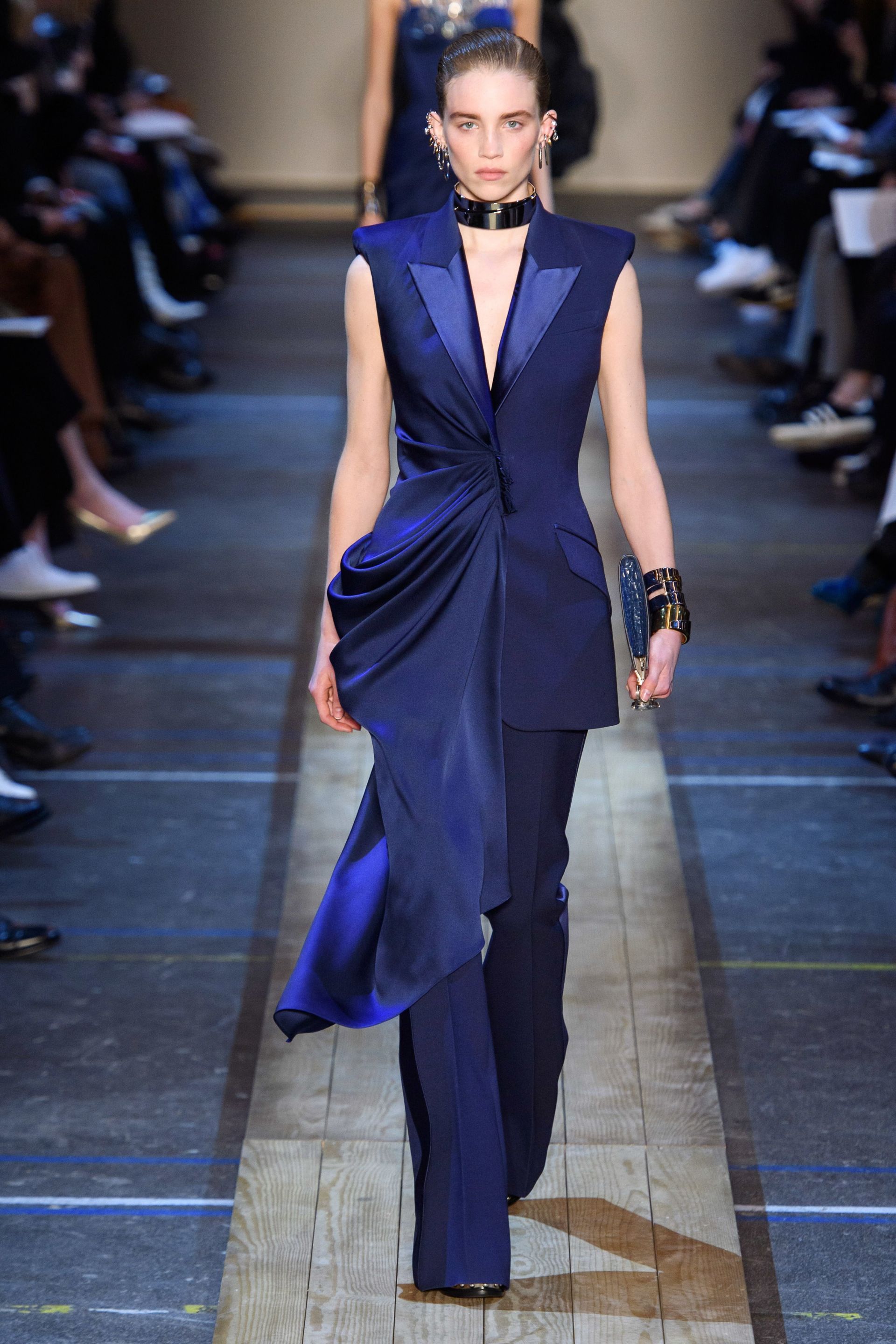 Alexander McQueen fall-winter 2019/2020
Glossy magazines recommend going to New Year's events in pantsuits, as in "new evening dresses". A turtleneck can be worn underneath so as not to freeze. And after the holidays are in the past, you can still use this outfit in your everyday wardrobe.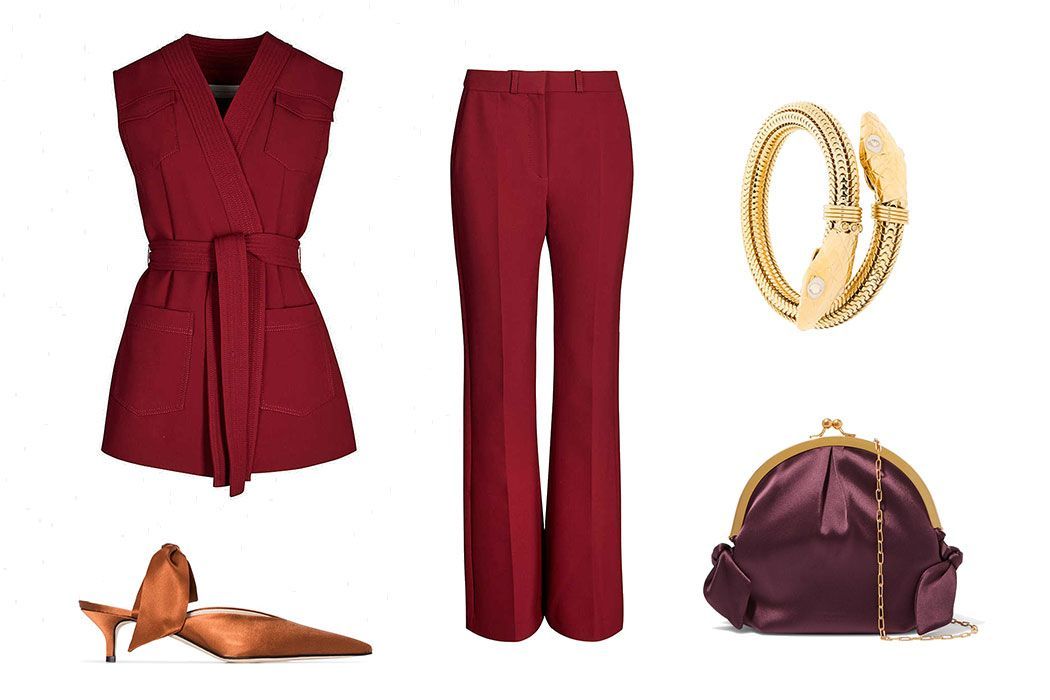 Victoria Victoria Beckham vest and pants, Gia Couture mule, Nanushka bag, Gas Bijoux bracelet