Suede or leather, with a stable heel or flat running, black or some fashionable shade of the season – jackboots are still in fashionistas' wishlists this autumn. We asked stylist Maria Kotkova, who works with many Russian celebrities and influencers, to tell us how to choose the right jackboots and what to wear them with.
How to choose jackboots
Before you make stylish looks with high boots, you should find the "right" one. What to pay attention to? You may know that jackboots were originally designed for French officers: those shoes were made of such a hard material that they almost didn't allow the officer to bend his knee, sitting on a horse. Fortunately, you don't need boots for battles, so you should be comfortable in boots. The material doesn't fit too tightly to the leg and doesn't squeeze the skin. Sit down during the trying on: the leg shouldn't "dangle" in a loose shaft, but at the same time it shouldn't be squeezed. This rule applies to both the situation when you stand and sit.
The second important point is the length. Boots visually lengthen the legs, so they are well suited to young ladies with miniature growth. In this case, it is better to stay on jackboots that cover the knee or even higher versions. Boots are suitable for girls with any figure, but if your thigh is much wider than the shin, it is better to choose jackboots that cover the middle of the kneecap or its entire, but no more. Too high boots, reaching to the middle of the thigh, will emphasize the features of your legs, so it's everyone's business-to emphasize the legs or vice versa not to focus on them. In any case, such models are better left for filming or some other special events, but the experiment with the length for everyday wear is not a good idea.
I prefer dense material. Jackboots made of suede or fabric aren't as easy to care for as leather ones. Leather jackboots are easy to clean and don't stretch in the shaft part, while fabric start to "slide" after a while.
What to wear with jackboots?
High boots + skirts and dresses
Many believe that there must be a distance between the boots and the skirt. But it isn't. In fact, jackboots look good with both mini and maxi skirts. It all depends on your legs and the desire to show them to the world. Too long skirts below the knee and without cuts can visually reduce your height, so be careful.
It's also worth paying attention to the waist line: emphasizing the high waist, you "lengthen your legs", and boots just complete this successful trick.
Посмотреть эту публикацию в Instagram
Boots + shorts
There are the same rules as with skirts. It is also worth noting that Bermuda shorts made of thick fabric with a wide belt at the waist in addition to boots just above the knee will hide the most unloved parts of women's hips and give long and slender legs.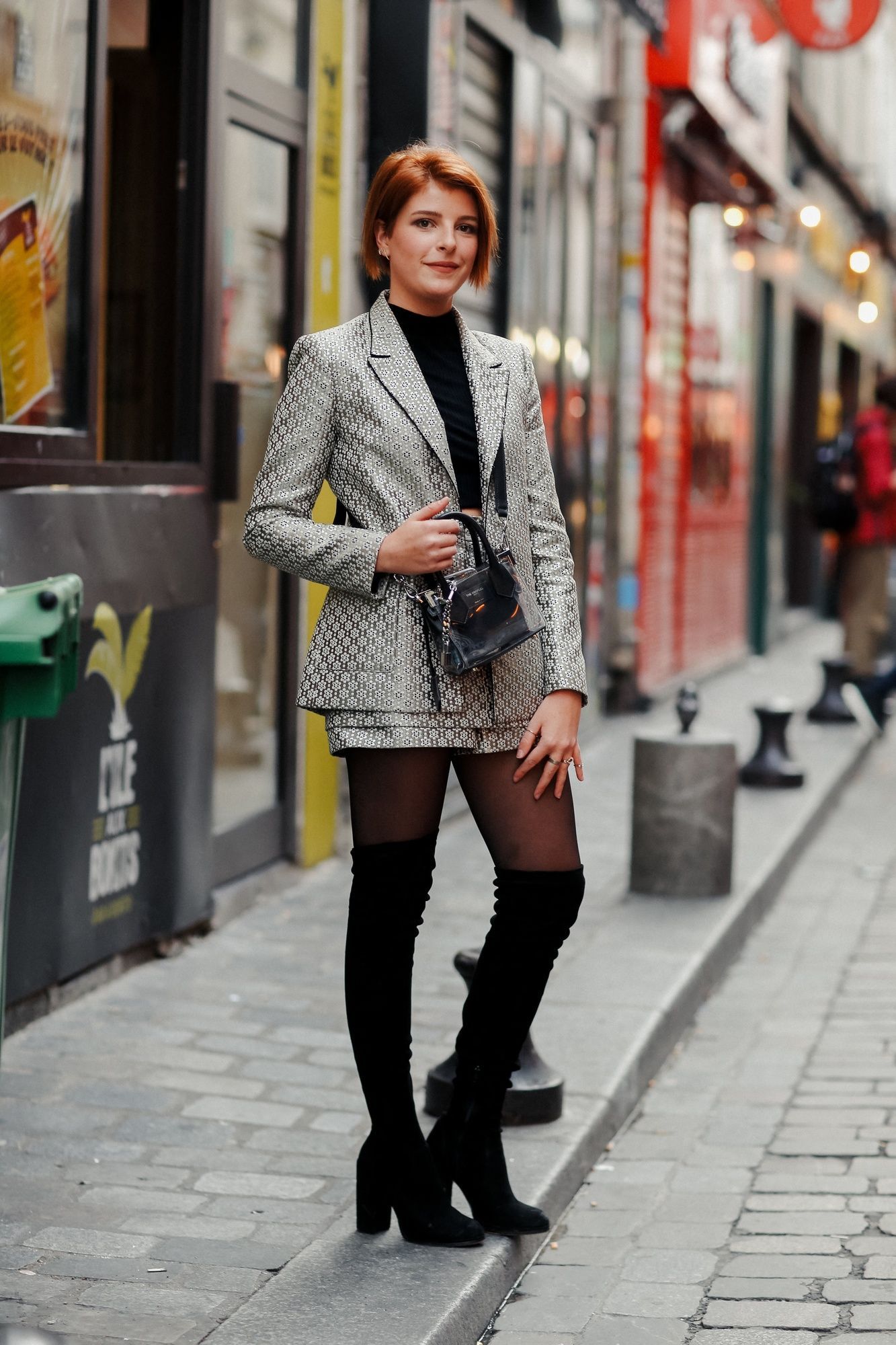 East News
Boots + pants
Don't be afraid to wear boots with trousers. For example, the combination of slacks peeking out from under the boots is one of the key trends of this season.
If you want to tuck pants into jackboots, then choose such pants or jeans that will be wider than the tops. Note that in this combination, boots themselves shouldn't fit too close to the body, there should be a distance to tuck the pants without any discomfort.
Ideally, pants and boots should be the same colour. Different shades are allowed, for example, ivory jeans and beige boots. Cowboy boots with a loose shaft to the middle of the knee are perfect.
Boots + tights
If you chose a mini, it is better to abandon tights with patterns or bright colours. Of course, there are exceptions to any rule, so if you wear white leather heeled boots and a white tweed dress, you can focus on tights, for example, wear yellow. The impression of such an image depends not only on your courage, but also on a number of other details, so if you are not sure, it is better to choose tights in the colour of boots or beige nylon tights without shine, as close as possible to the colour of your skin.

The combination of the colour of the jackboots
Choosing the colour of boots, study your wardrobe and choose the colour with which you can make at least 5 images. I advise you to buy boots in basic colours: black, brown (camel shade), white. Perhaps, white colour high boots are the most popular on this moment. Looks with white boots are especially stylish if they are made of leather or eco-leather.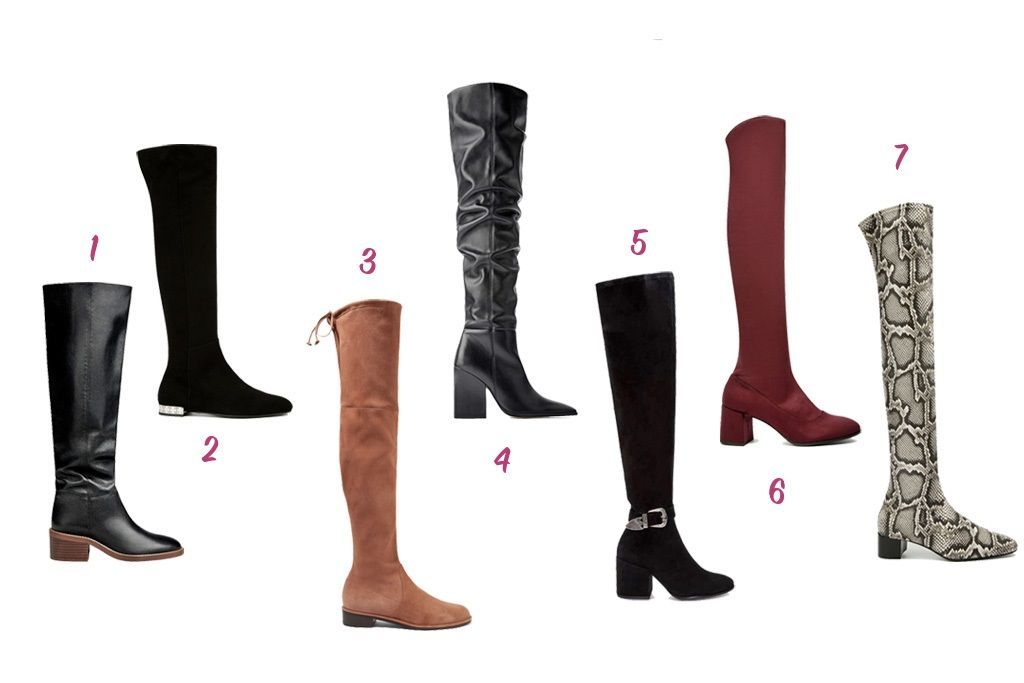 1-Massimo Dutti, 2-Ballin, 3-Stuart Weitzman, 4 - Zara, 5-Ekonika, 6-Fabi, 7-Giuseppe Zanotti
Jackboots with or without heels
Boots can be both with a heel and without. The most stylish model today is boots on a stable heel of medium length with an elongated, but not sharp nose. You can find such models in well-known brands of luxury segment, and in the mass market. But it's better to refuse from boots with too high heels-you risk looking vulgar.
What to wear boots is not recommended
In addition to tights with a pattern and a high heel, you should also avoid too bright combinations and provocative clothes with jackboots. Short blue shorts and red patent boots are better not to combine. Remember that jackboots shouldn't make your look too sexy, so it's also better to refuse from deep V. Everything should be in moderation!