There are clothes for only one season, for decades or even for all times. And if you believe the stylists, then a sand coat and a beige trench coat are more likely to belong to the latter. What is the magic of these two irreplaceable items of wardrobe? We have the answer: in a noble light brown shade which is surprisingly able to look expensive and elegant under any circumstances. In the 2000s, beige was called "the new black". As a perfect base color, it gives clothes more presentable look, even if you buy it from a sale or in a store with affordable brands. The color of coffee with milk is discreet, simple and rather neutral. It's easy to fit into a colorful palette as a safe and base one or will become the main color for a casual look. It makes the usual combination of pants and a jacket or a skirt and a sweater much more "expensive". If your goal is to look presentable and expensive, then you should definitely resort to beige color. We're going to tell you what looks with beige color to create this spring.
Beige color in the business style
Unlike other pastel shades, the beige color has already established itself as a classic for formal and business dress code. Especially, if we are talking about the spring/summer season. If you plan to update your work wardrobe, then you can safely rely on beige in any business matters. The Victoria Beckham's spring-summer collection is a model example, where light brown color is divided into tones and re-connected three-piece suits into one whole for a modern business lady. Victoria Beckham knows for sure how we want to look and feel from Monday to Friday - focused and clear, but not boring.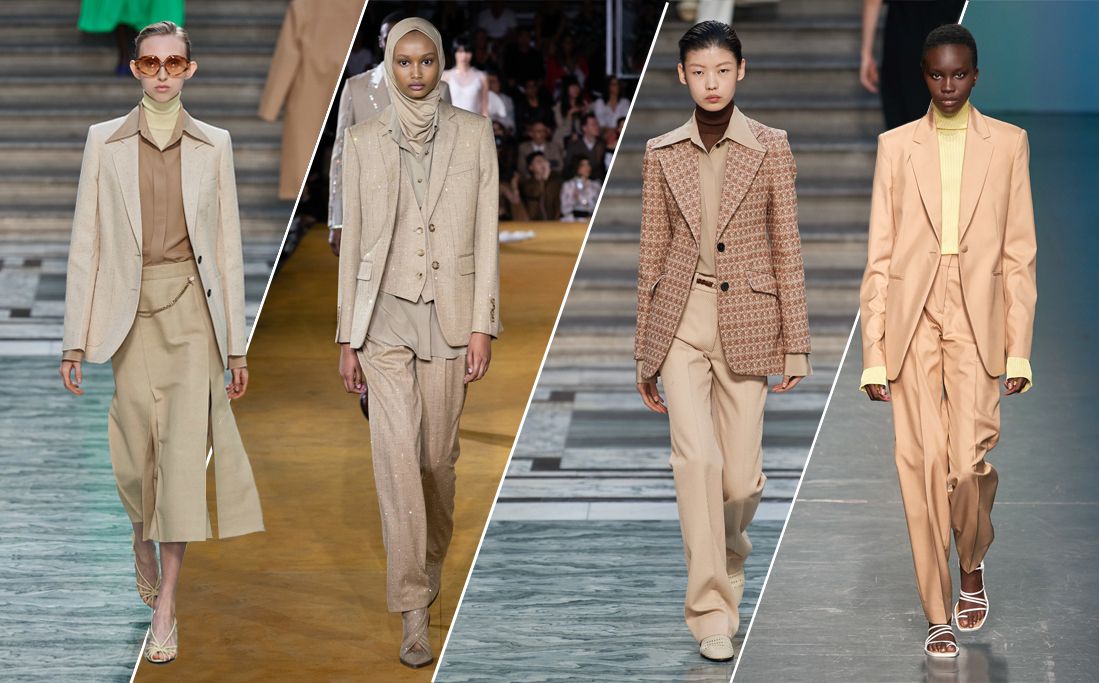 From left to right: Victoria Beckham, Burberry, Victoria Beckham, Boss
Beige as the perfect base color for everyday style
The term of individual uniforms came from the concept of "basic wardrobe". It's a mix of your personal items, which creates a functional and modern look. The concept of uniform is synonymous with normcore, but doesn't go as far as asceticism in black and grey. Compare with the school uniform: for sure, it often doesn't feature creative cut or neon colors, but embodies the principles of everyday versatility and comfort. If opting for clothes, you base on this ideology, include more clothes of beige color in your wardrobe – they are stylish, independent, and the best rescue in a situation of "I don't know how to combine that weird vest/dress/skirt".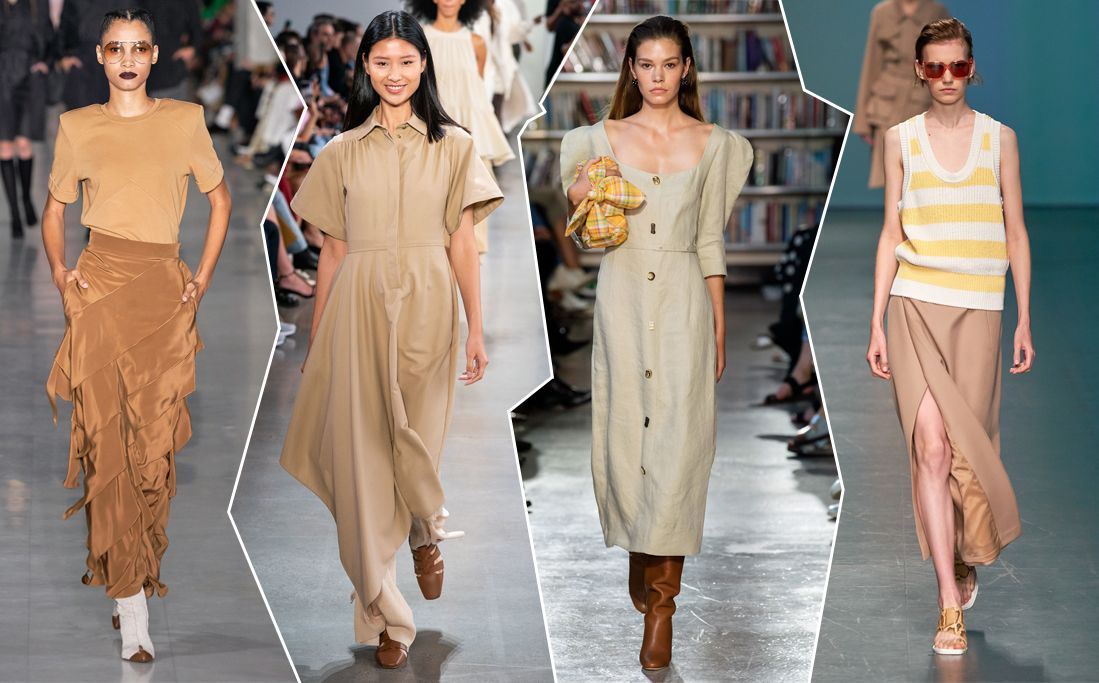 From left to right: Max Mara, Deveaux, Rejina Pyo, Boss
Beige color in evening dresses
The charming power of beige color also covers evening wear. Forget about the fact that you will merge with the outfit - the beige color looks more harmonious and softer when it turns into long ball dresses with ruffles and puffed sleeves. Summer is coming, and soon you'll experience the ease and sensuality of this shade. Search for your style of a sundress fluttering in the wind or a floor-length dress in a shade of creme brulee and take note of one design trick that we noticed on the runway: beige dresses are always completed with contrasting colors and bright shoes.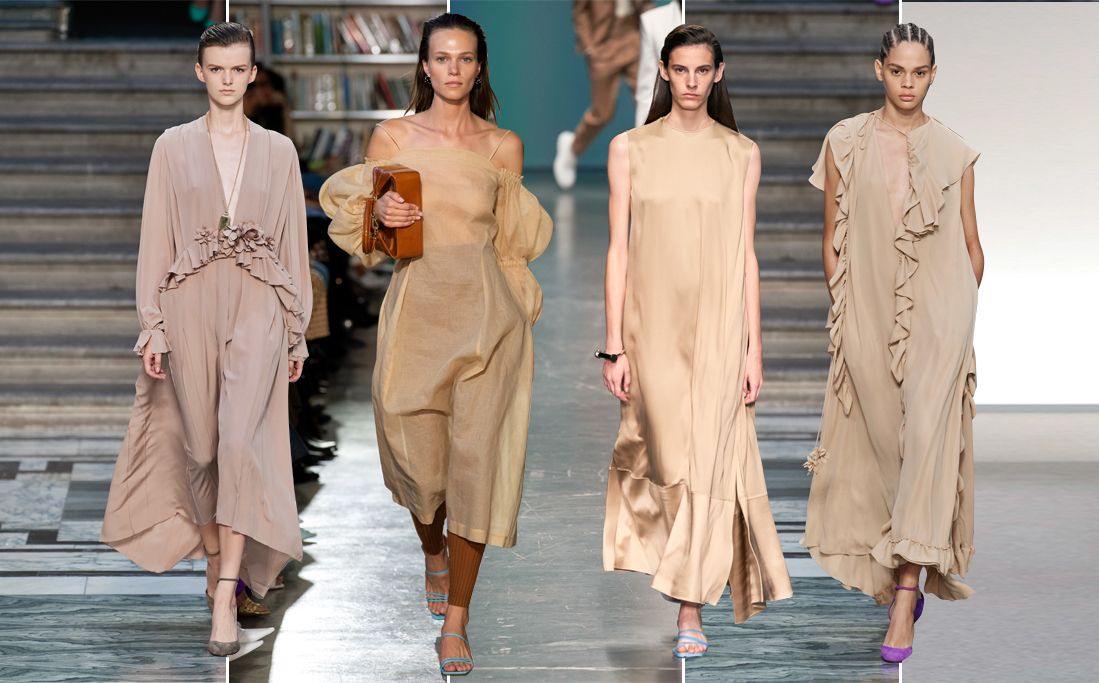 From left to right: Victoria Beckham, Rejina Pyo, Boss, Victoria Beckham
Beige color in shoes and accessories
In the 2000s, nude high heels were a kind of fetish. In 2020, Romy and Pigalle pumps from Christian Louboutin and Jimmy Choo are still bestsellers, but fashionistas are always on the hunt for something more original. For example, comfortable ballet flats from Bottega Veneta with unusual square toe or a pair of sneakers from Chloé, that look even more comfortable in a soft beige color. As for accessories, we would recommend you to use the amazing property of beige to stay invisible on the skin: this effect will work, for example, with beige-rimmed sunglasses or nude underwear.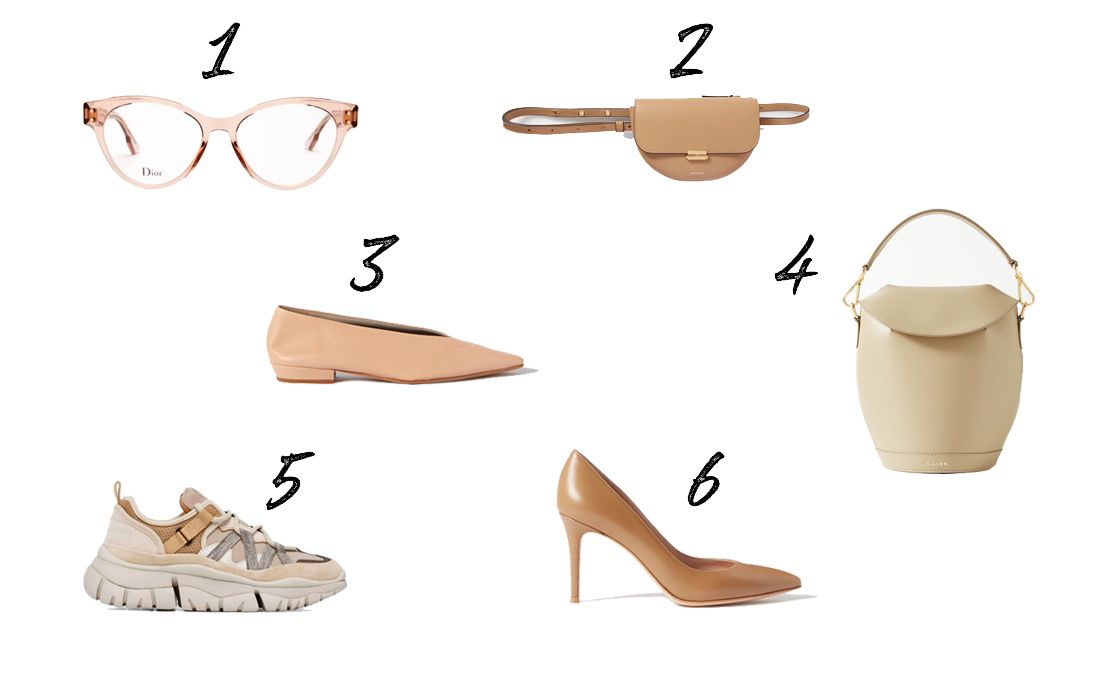 1 – sunglasses Dior Eyewear, 2 – waist-bag Wandler, 3 – shoes Bottega Veneta, 4 – bag S. Joon, 5 – sneakers Chloe, 6 - pumps Gianvito Rossi
Beige color in the male wardrobe
Luxurious light brown color is very aristocratic. In the spring/summer 2020, men should pay attention not only to typical seasonal sand-colored raincoats, but also to stylish, quilted bombers, like Neil Barrett's, or formats closer to the body – including shirts made of crinkled cotton from Hermès and tops made of thinnest fabrics with the effect of "second skin" from Alyx. The last are exactly suitable for men who often wore turtlenecks this winter.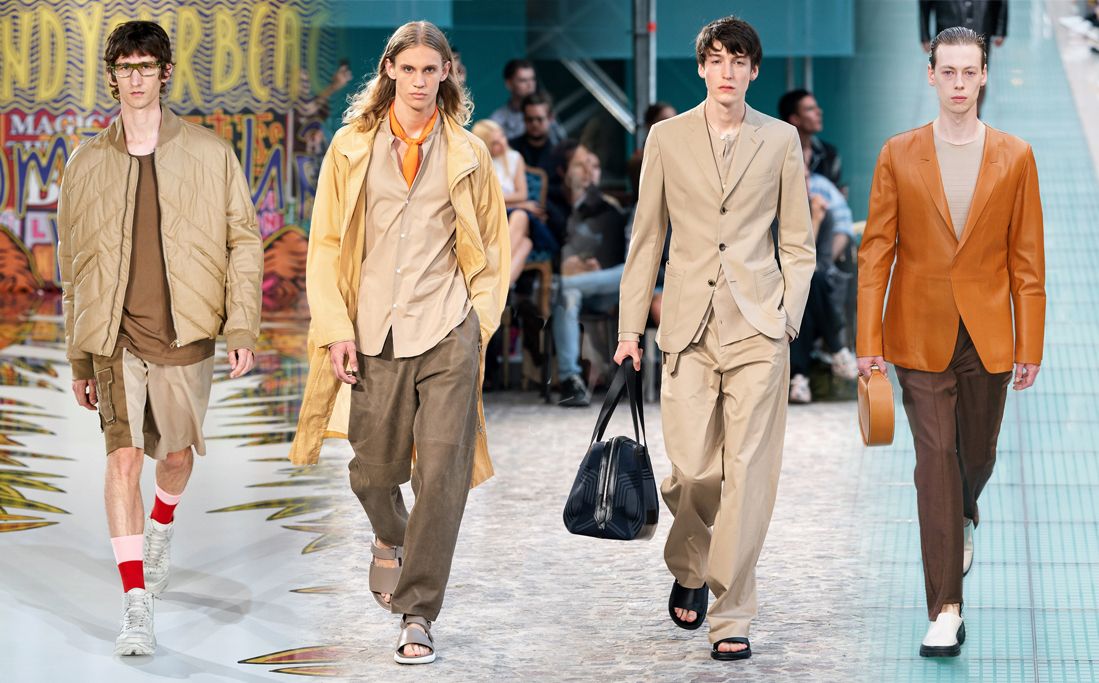 From left to right: Neil Barrett, Hermès, Hermès, Alyx