We're going through hard times, when everyone is scared by the news reports telling about the increasing speed by which the ill-fated virus is spreading around the world and about how much suffering it brings to people. Our usual rhythm of life has become a pleasant nostalgia, while the self-isolation is a sad fact of reality separating people from each other like pieces of a big puzzle. Now it is more necessary than ever to hope and believe that we are together no matter what.
For this reason, the Belgian photographer Willy Vanderperre together with Alastair McKimm created the Safe + Sound project especially for i-D magazine. Captured at home via video call, 19 famous models from around the world were talking about how they live and what they do during the isolation period. That's how Willy Vanderperre explains the main idea of the project:
"I wanted it to be a real conversation, hearing how they are coping with the situation. These girls normally live a hectic life, so I was intrigued to hear what they do to keep sane. In this fast-changing world we live in, a conversation and keeping contact is important.

We also wanted to reach out to the fashion community. Sharing, interacting. The techniques I used were also direct: a screengrab, a picture of the screen to record a video over the phone. It was such a great project to work on, seeing the girls, my friends, even if it was for only a short amount of time."
Посмотреть эту публикацию в Instagram
The project was attended by Gigi Hadid, Adut Akech, Binx Walton, Selena Forrest, Fran Summers and other biggest supermodels from Nigeria to Ibiza. All girls got in front of the camera wearing simple home wear and no make-up, which has become a symbol of honesty and transparency.
"I also liked the fact they were in their home, a place where we normally do not see them, all-natural, no make-up, just really who they are, simple and honest," the photographer says.
The models were featured with the iconic i-D wink and the universally known Kevin McCallister's grimace from Home Alone. In this way, the photographer wanted to give the whole pandemic situation the light notes of humor and to remind us that we are not alone.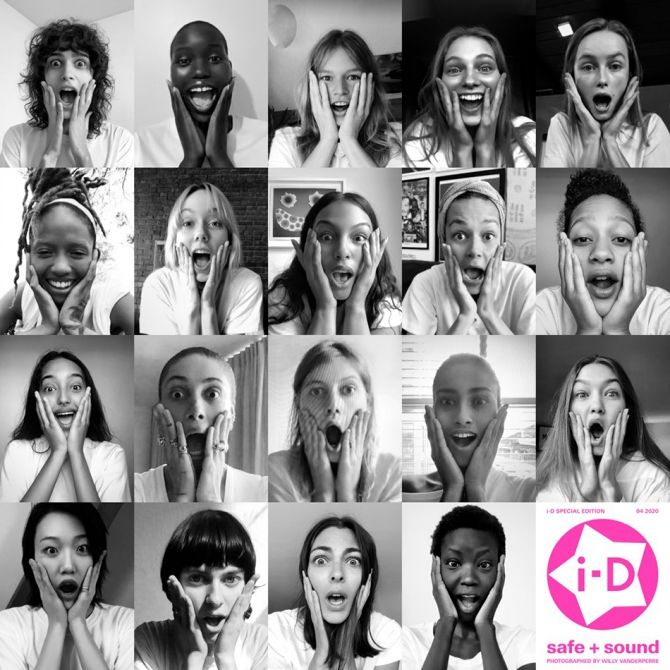 Photo: i-d.vice.com/en_uk
All photos and interviews with models are available on the official website of i-D magazine.