In the summer of 2020, all fans of 1970s fashion included monochrome outfits in their wardrobes: such a total-look not only visually makes you taller, but also lengthens the silhouette. For inspiration, rewatch the Max Mara, Celine, and Hermès shows - the designers experimented not only with basic colors but with more complicated shades as well. Multilayer sets like those consisting of Bermuda shorts, vest, and jacket, look much more fresh and vivid than the usual combinations. Being inspired by the fashion shows, we offer you to transfer some stylish monochrome outfits to your wardrobe.
Beige shades
If you are not yet ready to dress from head to toe in bright fuchsia clothes, we recommend you starting with more basic, calm shades. A light beige ethnic-style blouse with a print and a cute collar is a perfect match with trendy this season loose shorts.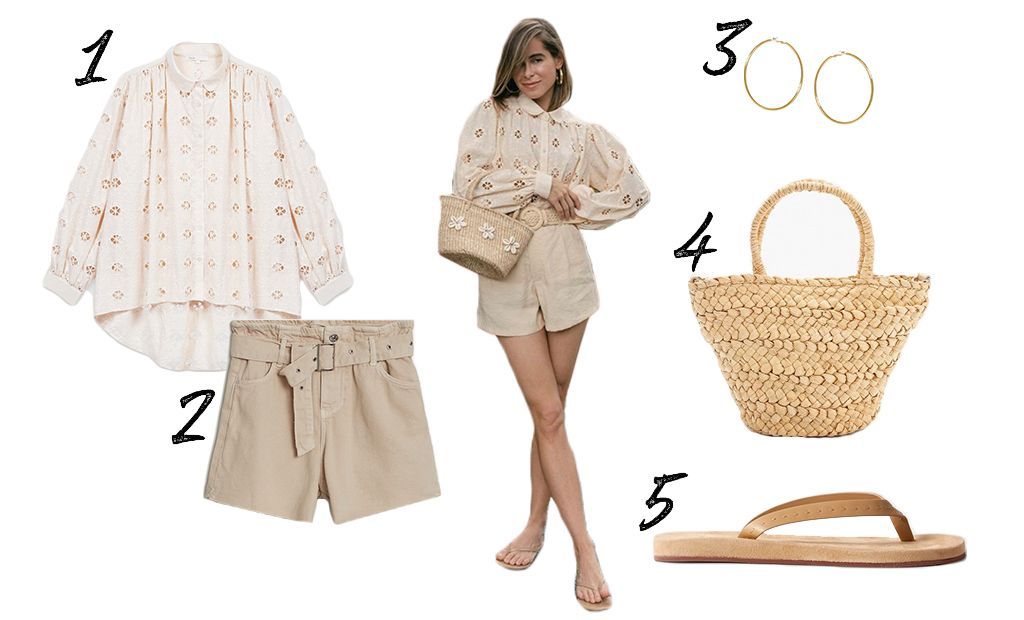 Photo: www.instagram.com/thestylebungalow
1 – Maje Paris blouse; 2 – Mango shorts; 3 – Lisa Smith earings; 4 – TopShop straw bag; 5 – Loro Piana flip flops
Talking about accessories, you can choose a straw bag or hat, beige woven shoes, and gold-tone jewelry that will fit perfectly into this monochrome look. In the summer of 2020, flip flops came into fashion - stylists and fashion influencers suggest wearing them not only on the beach but also in the city. So, feel free to wear such an outfit going on a date, to a cafe, or walk in your favorite park.
Olive
For those, who hardly know where to begin, stylists advise to seek help from ready-made suits- these can be sets with wide trousers, Bermuda shorts, or stylish overalls. Pay your attention to the suits in olive shades – this color is summer 2020 must-have. Complement your monochrome outfit with a light green tote bag, dark green sneakers, and the curly dragon earrings – this is a good option for an office with a lax dress code as well as for an evening meeting with friends in a restaurant.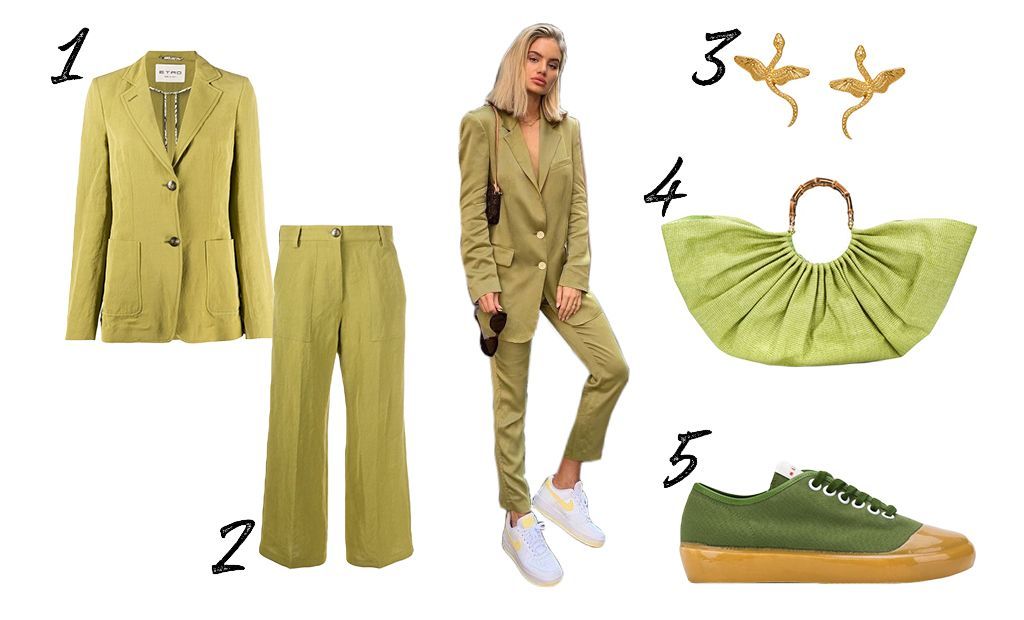 Photo: www.instagram.com/viktoriahutter
1 – Etro jacket; 2 – Etro trouser; 3 – Natia & Lako earrings; 4 – Gult Gaia tote bag; 5 – Marni trainers
Lavender
Keep in mind the lavender color, all shades of which are super trendy this summer as well as olive. A suit with Bermuda shorts and jacket is perfect for a cool summer day, and since the weather is often changeable, do not forget about the unusual top, which will come in handy as soon as the sun comes out. Such a multi-layered monochrome look is ideal for a busy day: in the morning you can safely go to a business meeting, while devote time to shopping in the afternoon (after changing your heeled shoes for stylish loafers), and in the evening you can meet with friends in a cafe.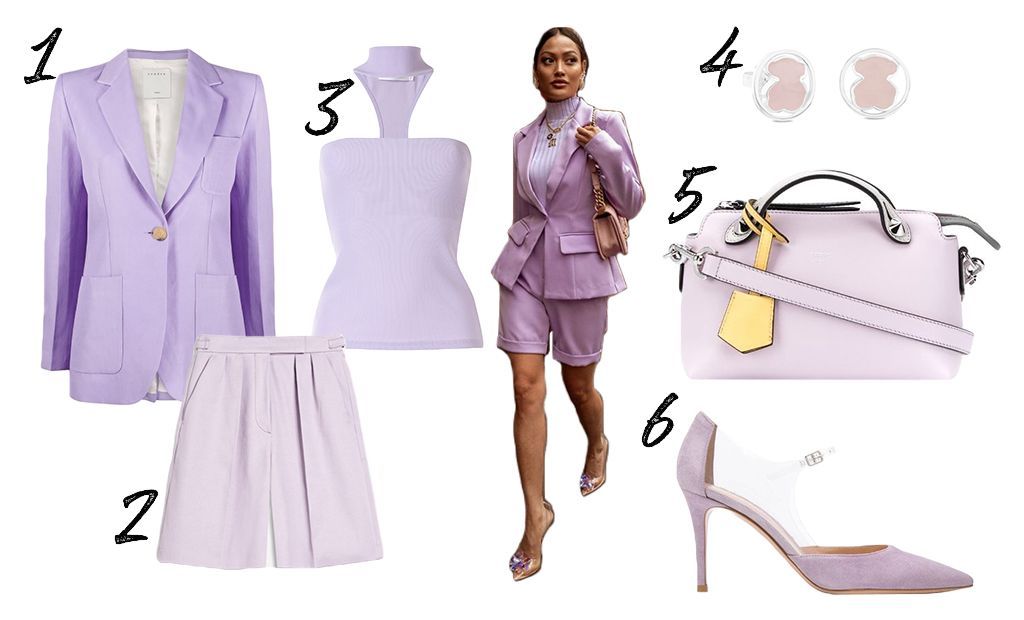 Photo: www.instagram.com/micahgianneli
1 – Sandro Paris blazer; 2 – Max Mara Bermuda shorts; 3 – Christopher Esber top; 4 – Tous earrings; 5 – Fendi bag; 6 – Gianvito Rossi shoes
Total-black
Who said that black color is not suitable for summer? We are going to argue with that! Especially for fans of classic black, we have compiled the perfect summer monochrome look - loose leather shorts in combination with a dark crop top and an elongated blazer. You can also add some elegant accessories to your one-color outfit - a roomy bag, anklet, and a pair of shoes depending on your plans for the day. We recommend the iconic flip flops with neat heels that triumphantly returned from the 1990s - discreet yet eye-catching shoes add accent to the monochrome look.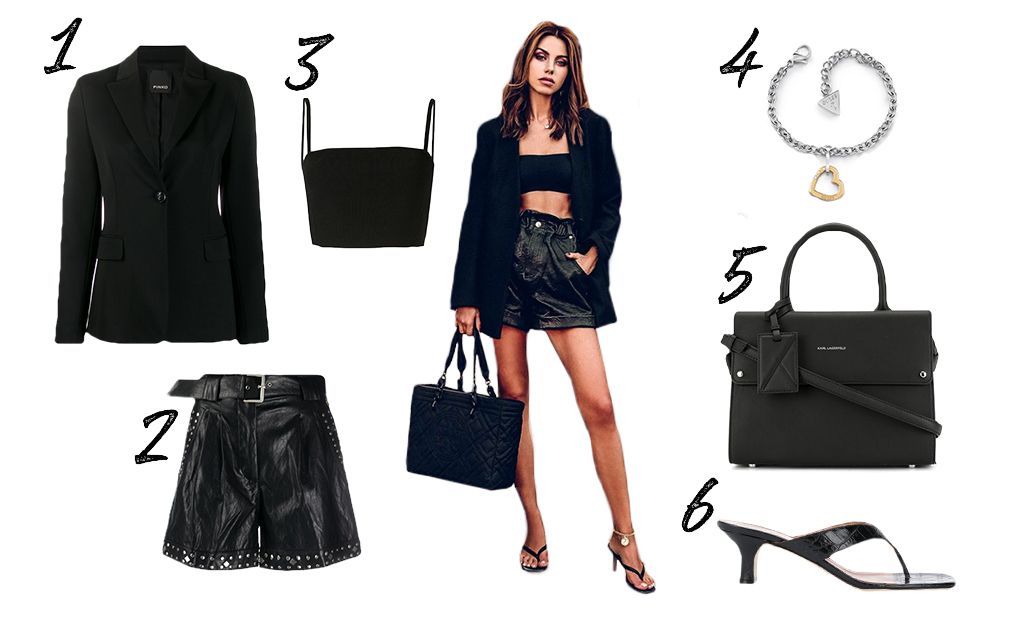 Photo: www.instagram.com/annabellefleur
1 – Pinko blazer; 2 – Twin-Set shorts; 3 – Sir. top; 4 – Guess anklet; 5 – Karl Lagerfeld bag; 6 – Paris Texas shoes
Read also:
Shirtdress: learn how to wear this item following Olivia Culpo's example