Cosmetics with acids in its composition can work wonders. Such products are used to improve the skin condition - they exfoliate, moisturize, heal, eliminate imperfections and help accelerate all processes of renewal.
How to properly add acid to your beauty routine
You need to start using cosmetics with acids gradually, and the autumn-winter period is the best time for this. But it is always important to remember basic skin care. It should include cleansing, toning with a tonic or essence, applying serum, eye cream and a basic nourishing or moisturizing agent.
This is the scheme that must always be followed. And at the slightest discomfort, during the use of funds with acids, always return to this stage.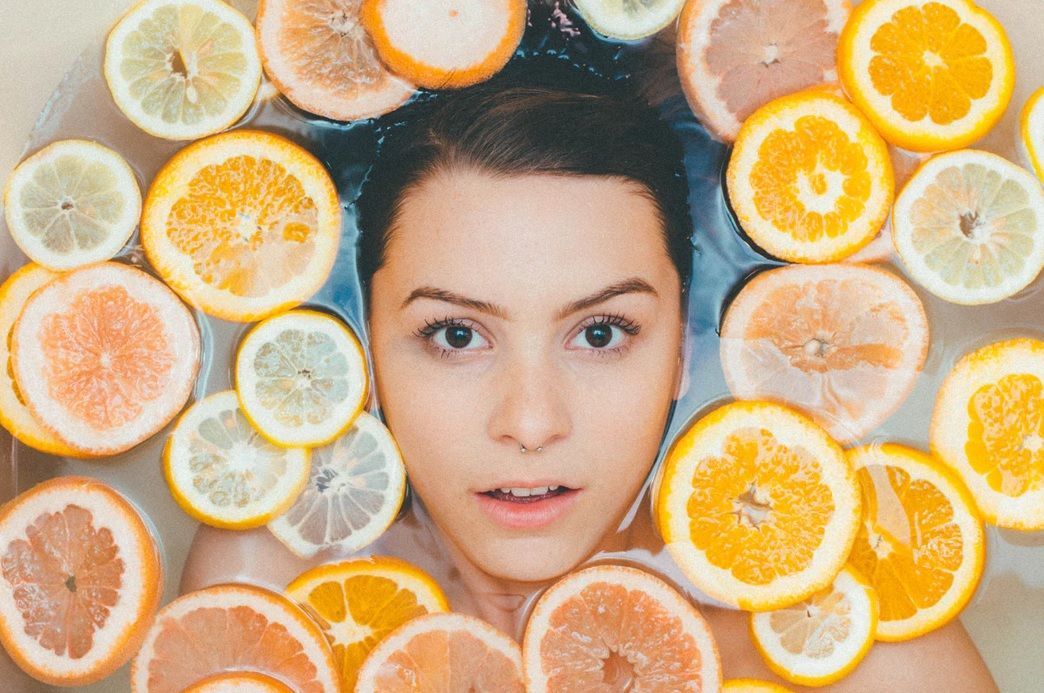 unsplash.com
It is better to start using cosmetics with acids in the evening. Before this, it is important to cleanse the skin qualitatively - hydrophilic oil or dense balm will be good for that.
To cope with unhealthy skin tone and heterogeneous complexion, enlarged pores, first signs of aging or age spots, agents with alpha hydro acids or, in other words, fruit acids (ANA) will help. They have anti-inflammatory and antioxidant effects, and also effectively fight wrinkles, whiten and improve the micro relief. Hydroxy acids are suitable for any skin type. The renewing or exfoliating effect in them is the most attractive - they remove an exceptionally thin layer of dead cells, without harming healthy ones. In addition, ANA acids enhance the effect of other whitening components, therefore, partially solve the problem of hyperpigmentation.
The effectiveness of products with fruit acids usually depends on its concentration - for home use, choose a treatment with 5-10% acid in the composition. Always start with the smallest value, but if in a week or two you can't see the result, you should be patient. A month or two of regular care - and the face will be totally transformed.
To make the skin accustomed to the effects of acids, first add your evening care with a special tonic. After washing, gently pat your face with a towel and apply an acidic composition to the skin, excluding the area around the eyes. Try a tonic with glycolic or mandelic acids - they affect the skin more gently and delicately. Finish the procedure with a nourishing cream.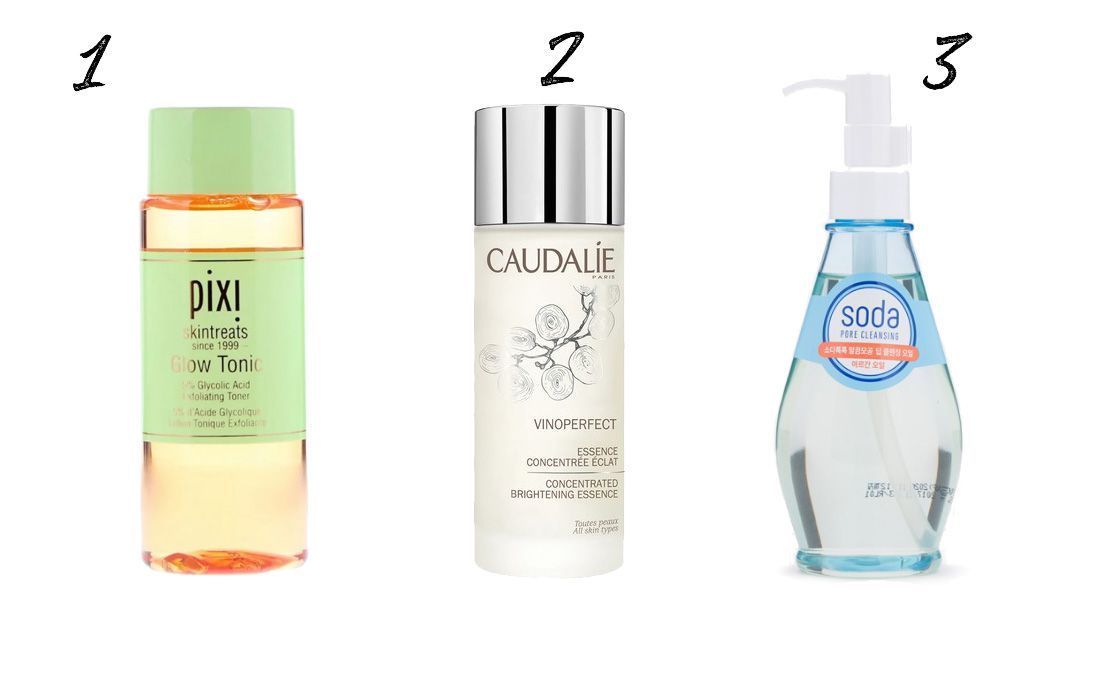 1 - exfoliating toner that gives shine, Pixi Beauty, Skintreats, 2 - essence-concentrate for radiance skin Vinoperfect, Caudalie, 3 - hydrophilic oil for the face Holika Holika
Morning is the recovery time after acid treatments. Acidic care can dry your skin, so use a mild pH neutral cleanser and moisturizing toner in the morning. Cosmetics, based on aloe juice or with a small amount of salicylic acid in the composition, will help soothe problem skin and relieve irritation. By the way, don't forget about the means with the SPF factor - they will help protect your skin from age spots. You need to apply them even in the cold season.
Skin Care with Acids: What to Choose
In a week or two after the start of the application of a special tonic, the skin will get used to acids, which means that you can safely supplement evening skin care routine by applying peeling, serum or cream with acids in its composition.
An approximate evening care scheme with acids looks like this: cleansing, applying an acid tonic, applying acidic care, the main nutrient or moisturizer. Apply a nourishing or moisturizing cream half an hour after acid treatment to avoid overdrying the skin.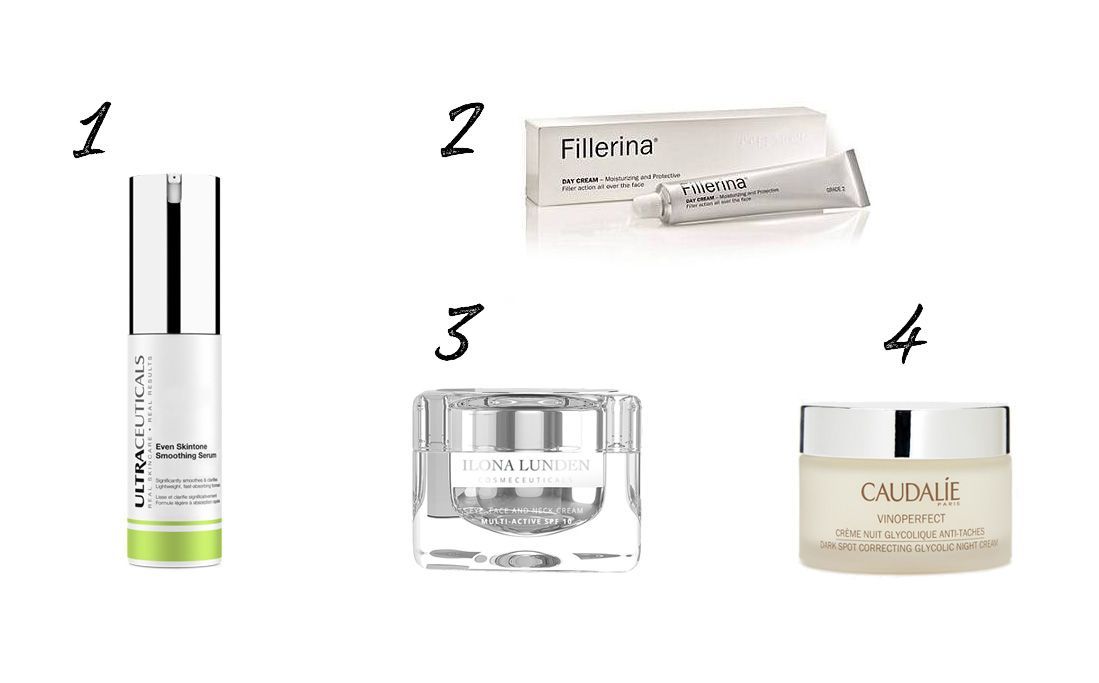 1 - face serum with AHA and BHA acids Even Skintone Smoothing Serum, UltraCeuticals, 2 - day cream Fillerina for intensive moisturizing with hyaluronic acid, Labo, 3 - moisturizing face cream with hyaluronic acid Multi-Active, Ilona Lunden, 4 - night cream for radiance of the skin with glycolic acid Vinoperfect, Caudalie
You can use additional evening acid care two or three times a week. During the remaining days, it is enough to wipe the skin with a special tonic and apply your general moisturizing or nourishing cream.
Having accustomed the skin to acids, you can proceed to the next step - applying funds with vitamin C in morning or evening. Vitamin C is also ANA-acid, but more gentle, which can be used even in the warm season. If your skin requires additional hydration and nutrition, try supplementing your skin care with serum with vitamin C or cream based on it.
Acids effectively exfoliate the skin, so it is important not to forget to remove dead cells from its surface. Enzyme peels and masks are suitable for this - they don't injure the skin, but gently dissolve the impurities on its surface. Use these products about twice a week.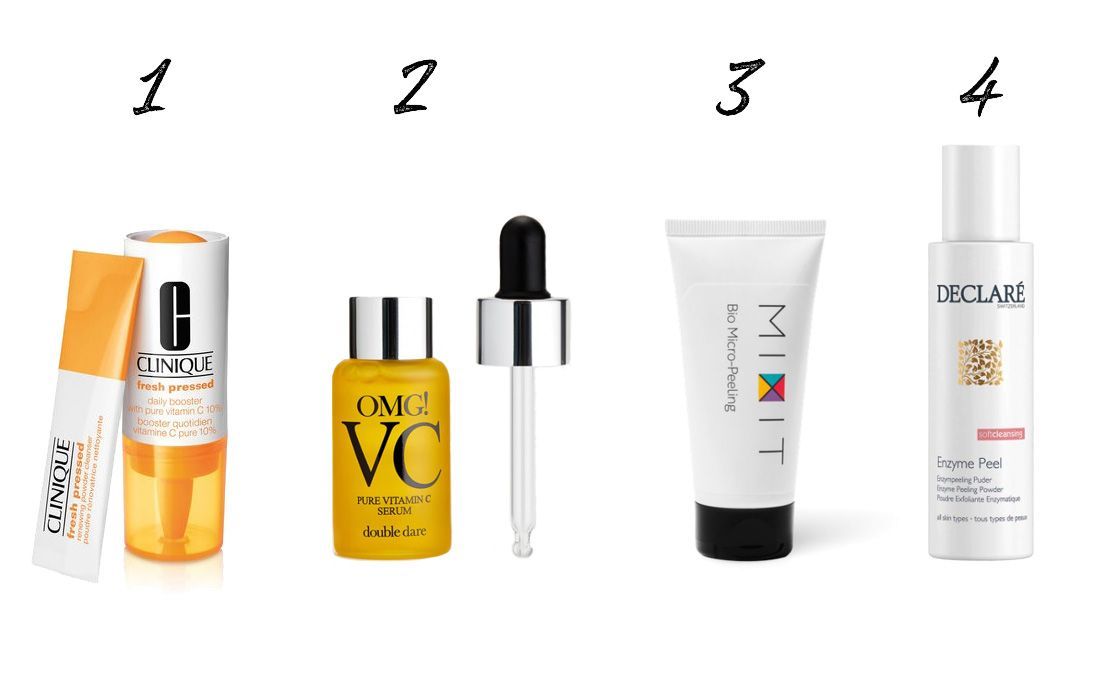 1 - weekly Fresh Pressed skin care system containing Vitamin C, Clinique, 2 - serum with Vitamin C, Double dare OMG, 3 - enzyme peeling for all skin types, Mixit, 4 - mild enzyme peeling Enzyme Peel, Declare
Acids stimulate cell regeneration, the production of collagen and elastin. But acidic care is also micro damage to the skin, so it is important to introduce such care gradually.
Between the use of acids, it is necessary to restore the skin with moisturizing and nourishing masks. Special facial oils face also have a beneficial effect on the skin.
When choosing cosmetics, always carefully monitor the reaction of the skin - at the slightest discomfort and irritation, it is better to abandon acid care. The use of stuff with acids is not advised for women during pregnancy and lactation.