When waves and curls get their natural shape, their surface starts to reflect the light – hair looks more shiny, and the trims - healthy. Therefore, it is important to properly care for curly hair. In this article, we're going to share the general tips.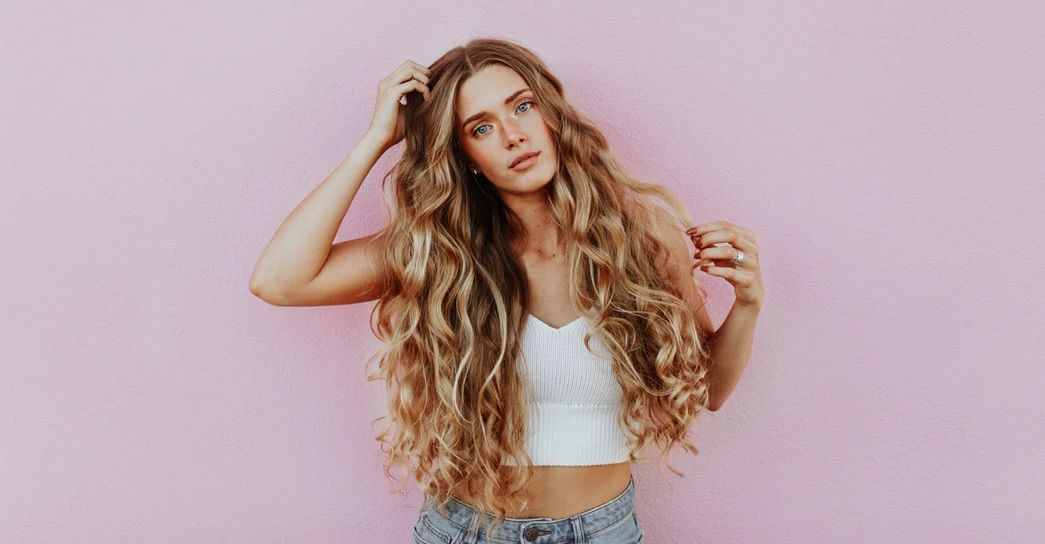 unsplash.com
Basic care
Natural curls are gentle and require careful handling. The first thing you need to pay attention to is cleansing. Hard shampoos with sulfates and other aggressive cleaning components disturb the curls over time, causing frizz and breakage. For curly hair you need to pick up cream-like products or special shampoos for curly hair. If a scalp is problematic, and you need to use a more intensive cleanser, the length can be protected with a conditioning – apply it before shampooing. The amount of shampoo should be minimal: the size of a small coin is enough to thoroughly clean the hair, but its excess can cause dryness and breakage. Don't use too hot water - it can damage the structure of the strands and deprive them of luster. In the end, you can rinse the strands with cold water – this procedure will close the hair scales and give shine.
You should remember that shampoos with silicones transform the hair only at the beginning – even after one use, the curls will be smooth and shiny. But after a while, these products form a barrier that prevents moisture from entering the hair – strands start looking dull and dry. The same rule applies to masks and leave-in care.

1 - hair comb evo, 2 - comb with epoxy balls The Knot Dr Pro Swim, 3 - shampoo to enhance the curl davines, 4 - nourishing mask for curly and frizzy hair Wella Professionals, 5 - shampoo to hydrate the hair Redken, 6 - shampoo for unruly frizzy hair with Matrix Biolage
Hydrating & smoothing
The biggest reason that prevents curly hair from always looking perfect is the lack of moisture. To avoid this, it is important to keep it in the hair as much as possible. After cleansing, you can use a conditioner or mask without silicones – you need to apply the product copiously, combing the strands with your fingers or a comb. Then you can mash the hair with your palms, adding more water – this technique will help keep the curls moisturized and give the curl a beautiful shape during subsequent drying and styling.
A terry towel pulls out moisture from the locks, so to keep the curls perfect and healthy after washing them, it is better to blot hair with cotton fabric, microfiber or silk.
Special moisturizing sprays and care products will help you to forget about dryness, fragility and split ends. Products on the basis of keratin and oils are a perfect option. They can smooth scales and simplify the styling – as a consequence, the curls will be less fluffy.
The optimal leave-in treatment for curly hair is the special oil. It allows you to maintain the lipid balance and protect strands from the negative influence of the environment. You can apply the oil as often as you wash your head. The key point is to monitor the condition of the tresses and use this product in reasonable quantities to remove frizz and to give smoothness.

1 - moisturizing spray conditioner with hyaluronic acid Price, 2 - gel spray for elasticity and protection against moisture from a long line of Curvaceous, Redken, 3 - smoothing hair oil Matrix, 4 - spray for curls' sculpting Tony&Guy, 5 - recovery spray with a smoothing and moisturizing effect DEMI Professional, 6 – hair cream gloss Leonor Greyl, 7 - lotion-hair cream Professional DEMI, 8 - air conditioning to give a smooth and discipline to thin hair John Frieda, 9 – spray-care for easy combing Ilona Lunden
If the hair is fluffy at the ends and looks untidy along the length, most likely, trims are damaged or severely dehydrated – this sign also indicates the lack of lipids. In this case, proper care is extremely important. After washing, make sure to do moisturizing mask and apply special product for styling, for example, nourishing cream with heat taming. It can be used to style your hair without fear of overheating.
For frizzy trims, oil and light cream, which will smooth out the scales, is perfect option. Choosing products for styling curly hair, you need to avoid alcohols in the composition – they dry curls and provoke frizziness. Bu the way, it's better to apply products on very wet hair, crushing it with hands – in this way, curls will take a perfect shape. This task is well handled by the styling gel.
It is important: don't comb your hair after washing, even if it doesn't look perfect. A comb turns the curls into a cloud of fluff – dry your curls naturally or with a hairdryer with a diffuser. Completely dried curls can be revived by sprinkling them with a moisturizing spray and a little whipping with your fingers.