Shining eyes always attract attention. Lack of sleep, bags under the eyes and swelling distort our natural beauty. And because of the fact, that eyelids have no sebaceous glands, first wrinkles in this very area – the skin thins, becomes dry and flabby. Therefore, we need to start caring for the skin around the eyes as early as possible.
What we shouldn't do
If we want to have a clear look, it's necessary to give up unhealthy habits such as smoking, sleep with mascara, too much drinking, sweet and salty food at nights. All this can cause irritation, dark circles under the eyes and swelling, which will eventually stretch the skin. It is also very important to get enough sleep so that the skin remains fresh and supple. Cosmetologists advice to sleep on the back and to air the room before going to bed.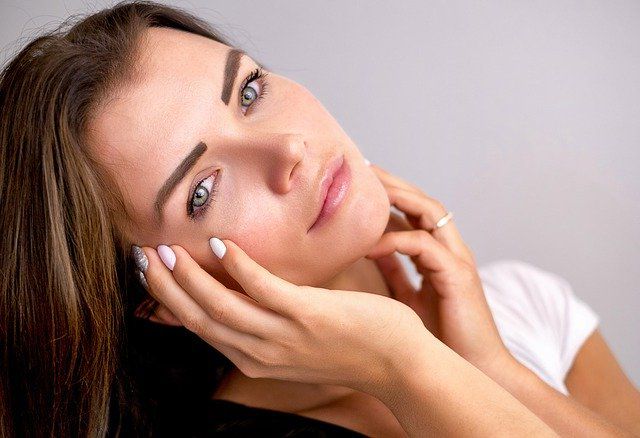 unsplash.com
It is also important not to remove makeup from eyes with aggressive products, for example, soap, or to rub eyes. To remove mascara, soak a cotton pad with micellar solution and apply it to the lashes. After one or two minutes, it will dissolve the ink, and you can easily remove the cosmetics.
Don't use eye products with expired shelf life, even if they look and smell good. It goes without saying, that you shouldn't use face, hands and body cream for this delicate area.
Everyday care
We should use the eye cream, even if you don't have any wrinkles yet. The key point is to choose the right product for you. Eyelid skin 10 (!) times thinner than the skin from other areas of the face, so the sooner you start to care for it, the longer it will stay smooth and young.
When shopping for eyelid skin care, it is important to pay attention to the composition – often, creams for the eye area includes peptide complexes of plant or cellular origin, as well as hyaluronic acid, acting as a natural filler.
If you have the tendency to swelling, creams with caffeine, green tea extract and rutin will definitely help you. Caffeine improves blood circulation and outflow of a liquid, helping to solve the problem of puffiness and dark circles under the eyes. Green tea contains tannins. Tannins have antioxidant and anti-inflammatory properties that reduce swelling and fights free radicals, due to which wrinkles appear. And rutin or vitamin P, which is not produced by the body independently, has a positive effect on the capillaries, enhancing their elasticity and stimulates blood circulation.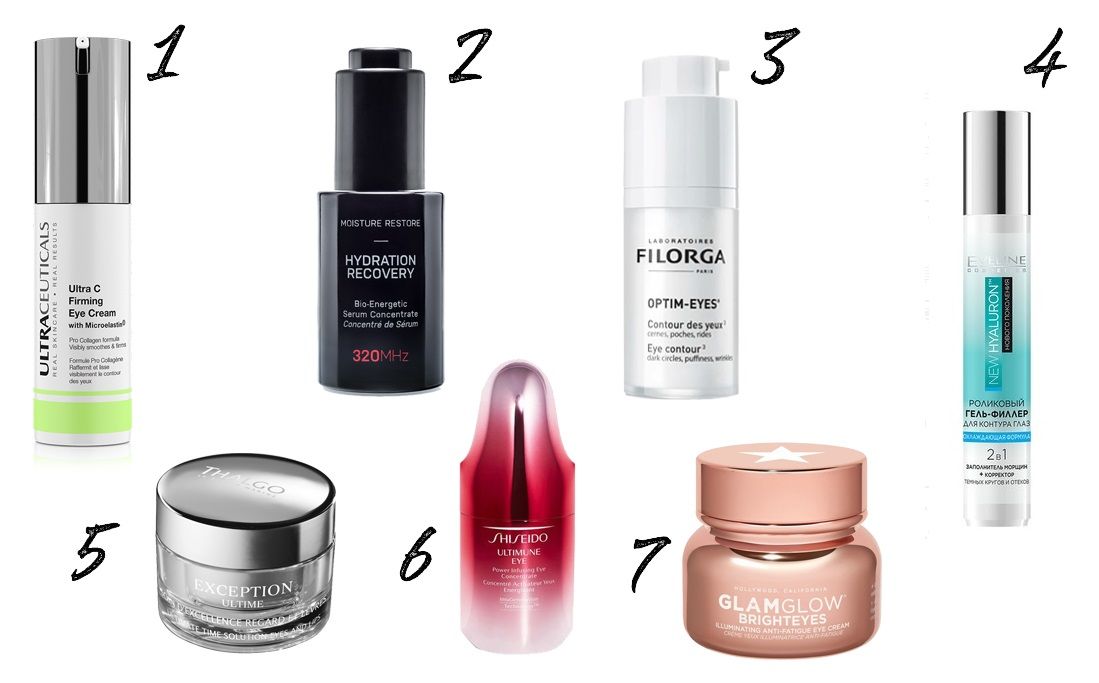 1 - restorative eye cream with vitamin from C Ultraceuticals, 2 - moisturizing serum Hydration Recovery from 320 MHz, 3 - cream against wrinkles and dark circles in the area of the eye contour Optim-Eyes from Filorga, 4 - roller gel-filler for eye contour from Eveline, 5 - intensive anti-aging lifting cream for the skin around the eyes with marine complex Thalgo, 6 - a revitalizing concentrate for eye skin Ultimune Power from Shiseido, 7 - eye cream with linoleic acid from GlamGlow
Eyelids cream is needed to apply with light tapping motions. You can do a little lymphatic drainage massage from the outer eye corner to the inner until the product is completely absorbed. When applying the cream, you should feel comfortable. Burning, itching and other unpleasant symptoms calls that the cream is not suitable.
In the evening, apply the cream for the eye area at least an hour before bedtime, away from the ciliary edge not to cause swelling. Don't store the eye cream in the fridge if it is not spelled out in the instructions. Changes in temperature can harm the properties of the cream, and the skin.
Patches and masks for the eye area will give eyes rested and radiant look. But you should pay attention to the fact that such stuffs and creams with a lightening effect will fit only those women who have dark circles only because of lack of sleep or stress. If dark circles are caused by some other reasons, go to the beautician with this problem. Be careful, using the patches from swelling – if this is not a problem, the product with a draining effect will only pull moisture away from sensitive skin around the eyes.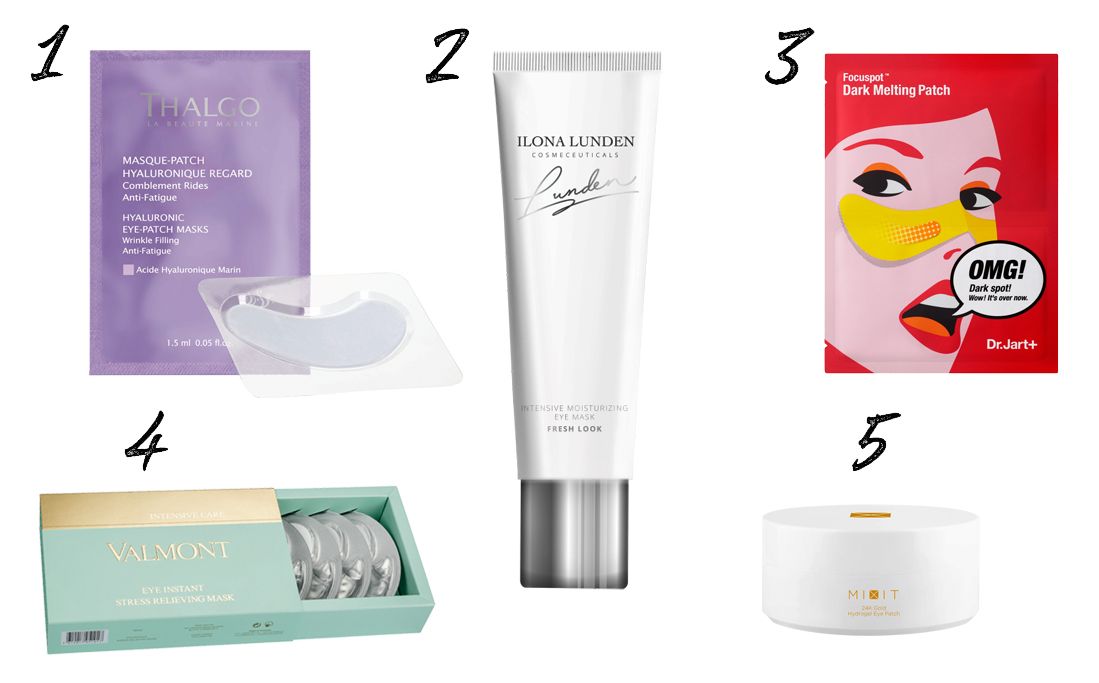 1 - mask - patch with hyaluronic acid from Thalgo, 2 - mask for the skin around the eyes from Ilona Lunden, 3 - bleaching fading patches against dark circles under eyes from Dr.Jart, 4 - patches anti- stress apply for the skin around the eyes, 5 - hydrogel patches with snail mucin and colloidal gold from Mixit
It's long been known that natural oils help to strengthen and nourish the skin around the eyes. Most importantly, you need to pick up the right oil for you. One of the most popular oils for skin care is almond. It almost doesn't cause allergic reactions, thus nourishes and improves skin tone. Oil should be applied with massaging movements on a clean skin before bed and use a course (two or three weeks).