The lower the thermometer falls outside the window, the more carefully you need to treat skin care. Gusty winds and temperature changes have a negative impact on skin condition - they damage skin cells and can even cause premature aging.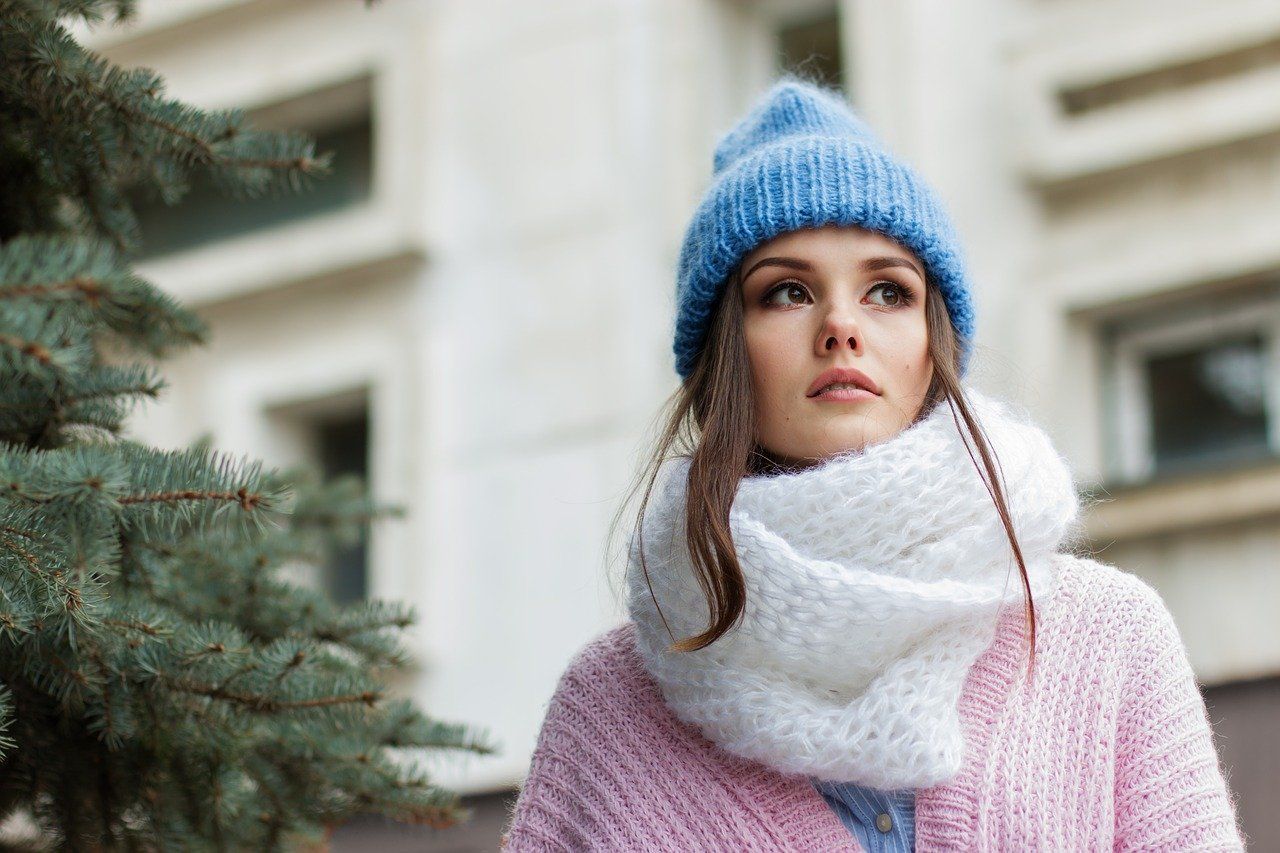 pixabay.com
Cleansing
The first thing you should pay attention to with the onset of cold weather is proper cleansing. Often, during the off-season, the skin becomes drier and more irritated, so you need to abandon aggressive cleaning products in winter. Replace foaming gels and soap for delicate products with creamy textures and a neutral PH level - they won't cause any feeling of tightness and dryness.
If you still encounter this problem, supplement the care with a moisturizing spray, mist or thermal water - spray the product on the skin every time you feel uncomfortable, but not less than half an hour before going outside.
Toning
The next step, which shouldn't be ignored in autumn and winter, is toning. Face toners and lotions restore the PH level after washing and cleansing, soften the skin and prepare it for subsequent care - the active components of the care products will penetrate deeper and work better. If you are concerned about skin rashes, pay attention to tonics with salicylic acid. You can apply such funds with the help of a cotton pad or with patting hand movements.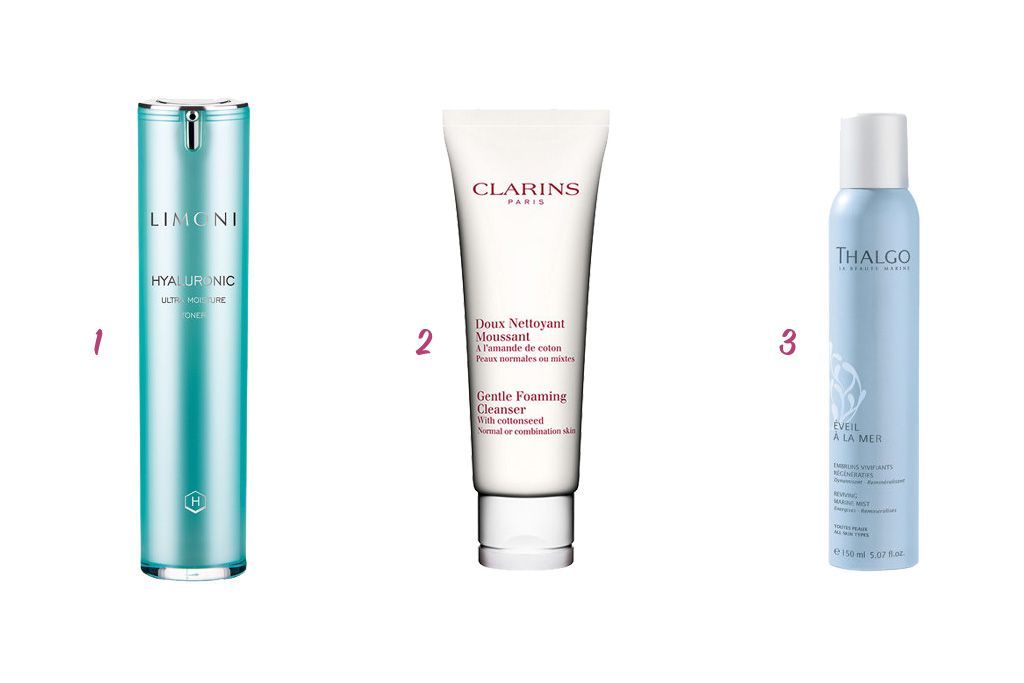 1 - moisturizing face toner with hyaluronic acid Hyaluronic Ultra Moisture Toner, Limoni; 2 - cleansing foaming cream with cotton extract for normal skin, Gentle Foaming Cleanser, Clarins; 3 - facial spray Reviving Marine Mist, Thalgo
Nutrition and Protection
As we all know, hydration is the key point of skin care. But in the cold season, the skin needs to be protected and nourished. Unlike light moisturizing creams that fill the cells with moisture, nutrients contain more healthy fats and vegetable oils - they protect the skin from wind, frost and temperature changes. Change light summer care to a cream with a denser texture. Apply it 10-15 minutes before make-up so that it has time to absorb and begin to work.
Extra care
In the cold season, active serum or essence can be added to basic care. For example, if the skin is prone to dryness or rashes. A universal option is a moisturizing serum, which will go well with any care product.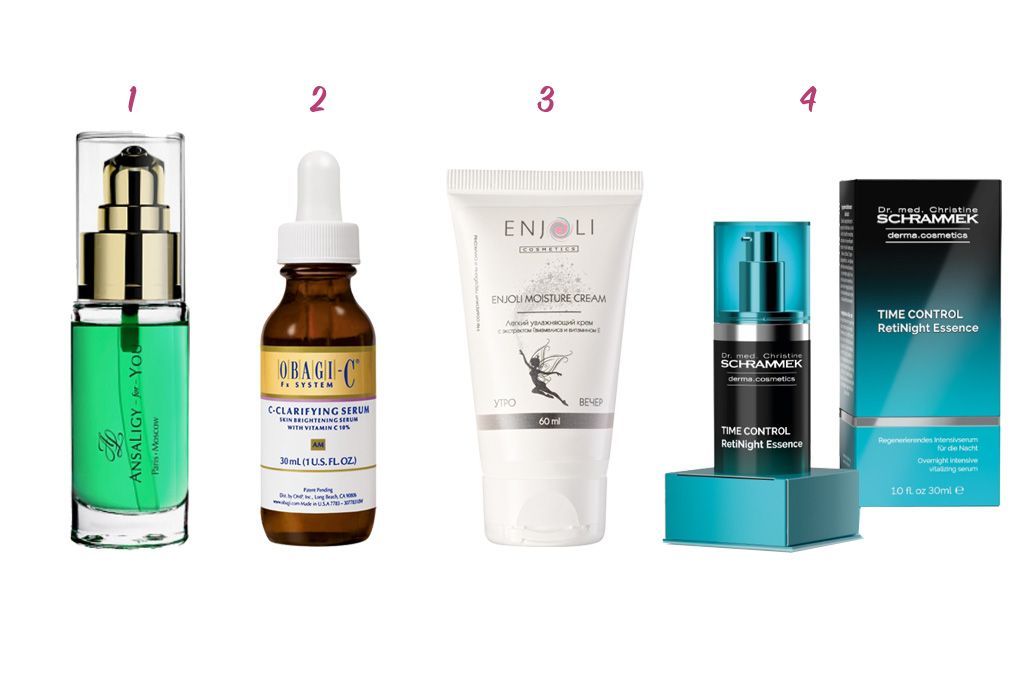 1 - restoring silk serum, Ansaligy; 2 - serum C-Clarifying Serum to even out skin tone with vitamin C, Obagi-C; 3 - a light moisturizer with Hamamelis extract and vitamin E, Enjoly; 4 - Time Control RetiNight Essence night serum with a plant-based analogue of retinol, Dr.Med.Schrammek
Salicylic acid or vitamin C will help to cope with redness and inflammation. This mean will soothe irritated skin and prevent the appearance of new rashes. Also, products with vitamin C in the composition lighten, smooth the skin and remove traces of post-acne.
Don't forget about face masks. Beauticians recommend applying them once or twice a week. Such care will help replenish the moisture level in the skin, prevent inflammation and cleanse the pores. The main thing is to choose the right remedy: cream-based masks are suitable for dry skin, gel-based masks - for combination, clay masks will help cleanse oily skin. Keep the mask on your face for at least ten minutes, then gently rinse with warm water using a soft sponge.
Updating and Exfoliating
In winter, cosmetologists advise starting to use funds with acids or undergoing a course of salon peels - such procedures will help cleanse the skin of dead cells and start the process of renewal and regeneration.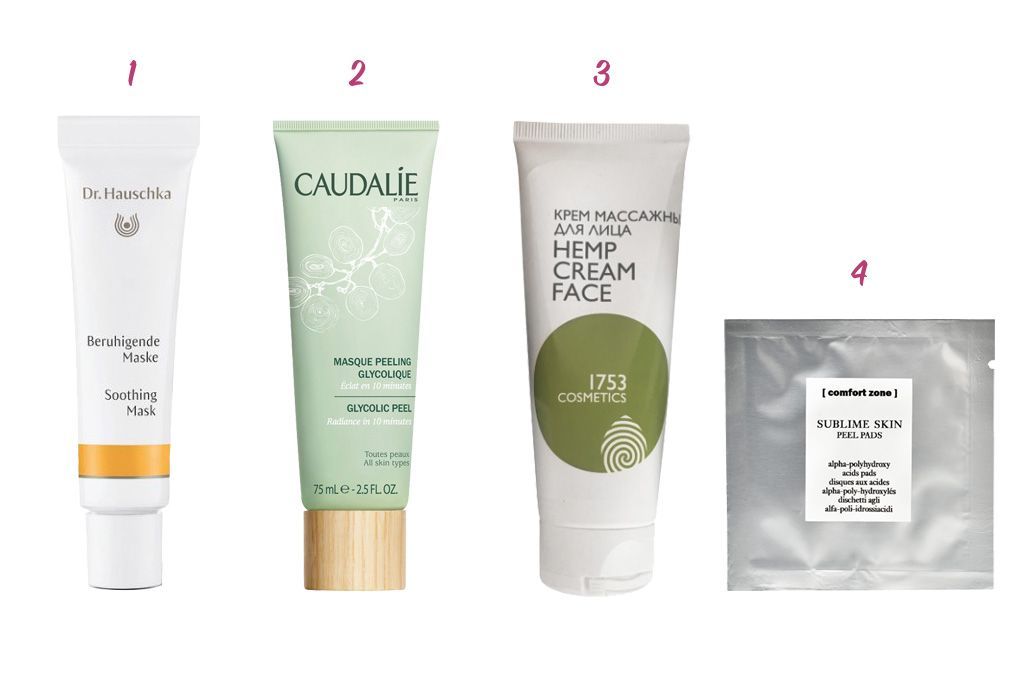 1 - Soothing mask, Dr. Hauschka; 2 - glycol peeling mask, Caudalie; 3 - massage cream for the face Hemp Cream Face, 1753 cosmetics; 4 - regenerating peeling disks SUBLIME SKIN, comfort zone
Almond peeling is one of the varieties of chemical surface peeling, which is carried out using phenoxyglycolic acid (extracted from bitter almond), will help smooth and cleanse the skin, get rid of traces of post-acne and signs of photo aging, as well as erase fine facial wrinkles.
This procedure is considered to be one of the most delicate for updating the skin and cleansing it of dead cells. Almond peeling is suitable even for people with sensitive skin, as it almost doesn't cause allergic reactions.