Neon eyeshadow, braids and brown lipstick – we're back in the 90's, aren't we?
The era of the Pepsi and Nirvana generation, the emergence of rock culture and rave parties left a huge legacy in the form of cool trends that still inspire designers, stylists and makeup artists. In 2020, many beauty trends of the 90's in the modern interpretation again hit the fashion Olympus and become relevant not only on the runways, but also in everyday life.
Hair Accessories
The return of a variety of hair accessories turned out to be unexpected – barrettes, scarves and headbands. However, hairpins are now used not for their intended purpose, but in the name of art: they are worn on loose hair as a ornament or to decorate elegant braids and ponytails. Barrettes, made of rhinestones, are a real must-have of 2020: they seem to run down your hair, adding the effect of a festive party. Metal hair jewelry in the form of various chains refer and are actively used by stylists, and wide belts help to create an elegant vintage look.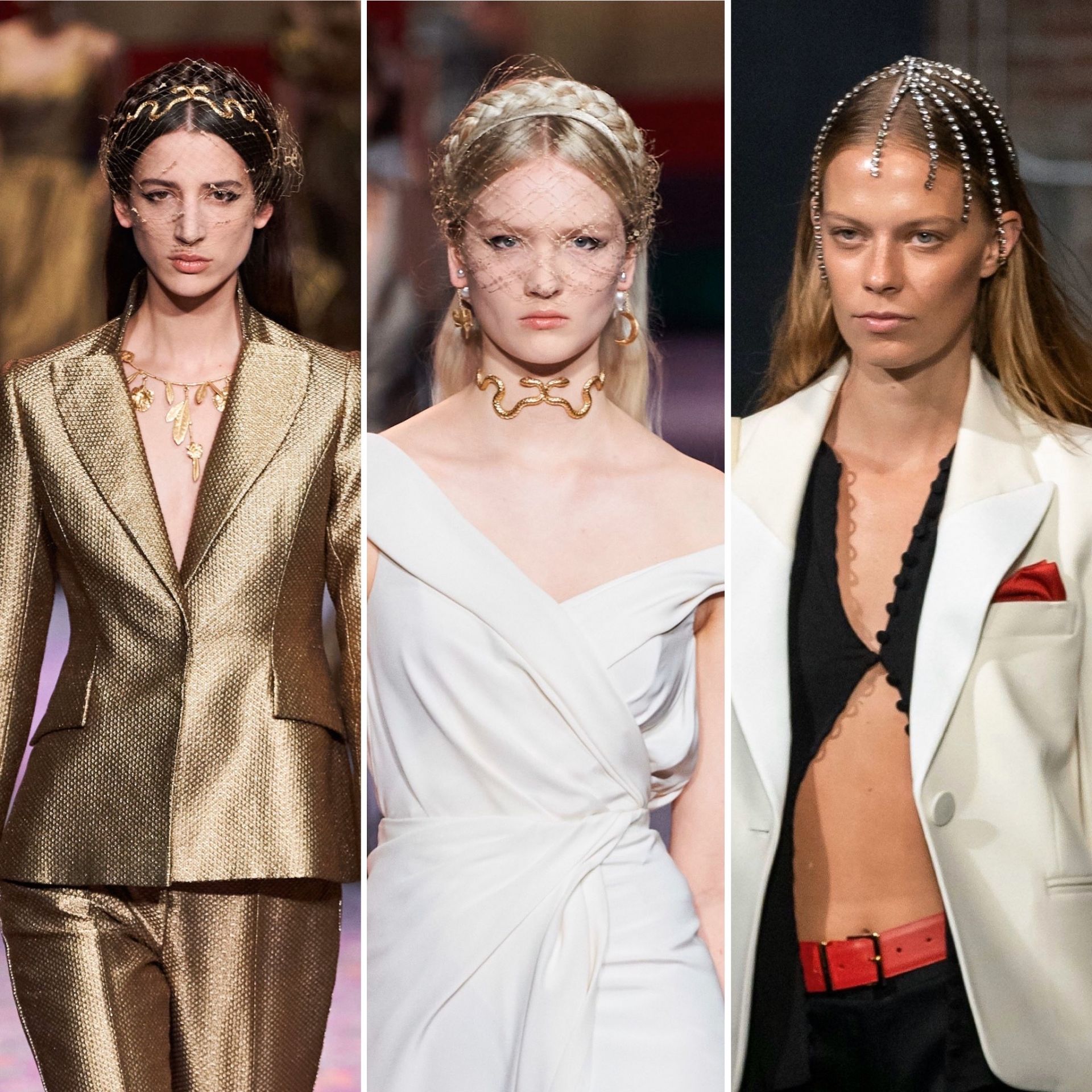 Khaite, Christian Dior, Khaite spring/summer 2020
Brown Lipstick
An unexpected favorite is a brown lipstick, a real beauty catch from the 90's. In 2020, it is again at the peak of popularity. You should focus on both matte and shiny textures. While talking about the color, it's quite simple: you won't go wrong if you choose brick hues. In the 90's, brown lipstick got along with blue eyeshadows, but don't worry: in the spring of 2020, makeup artists offer to give it a lead role in makeup. So no more rivals! Real fans of nude lipstick shades among the stars are Kylie Jenner, Rihanna, Kim Kardashian.
Посмотреть эту публикацию в Instagram
Pigtails
With another trend that came from the 90's, you can easily feel like a school girl - little pigtails hit the podium. Such brands as Max Mara, Bora Aksu, Dior clearly demonstrated this fashionable way of styling hair at the shows. In contrast to previous years, when catwalks were full of fancy braiding, this year the trend is standard twin braids. In order to easily recreate this beauty look, there are several techniques: use a comb with a sharp tip to get perfectly even parting, and don't forget about styling products.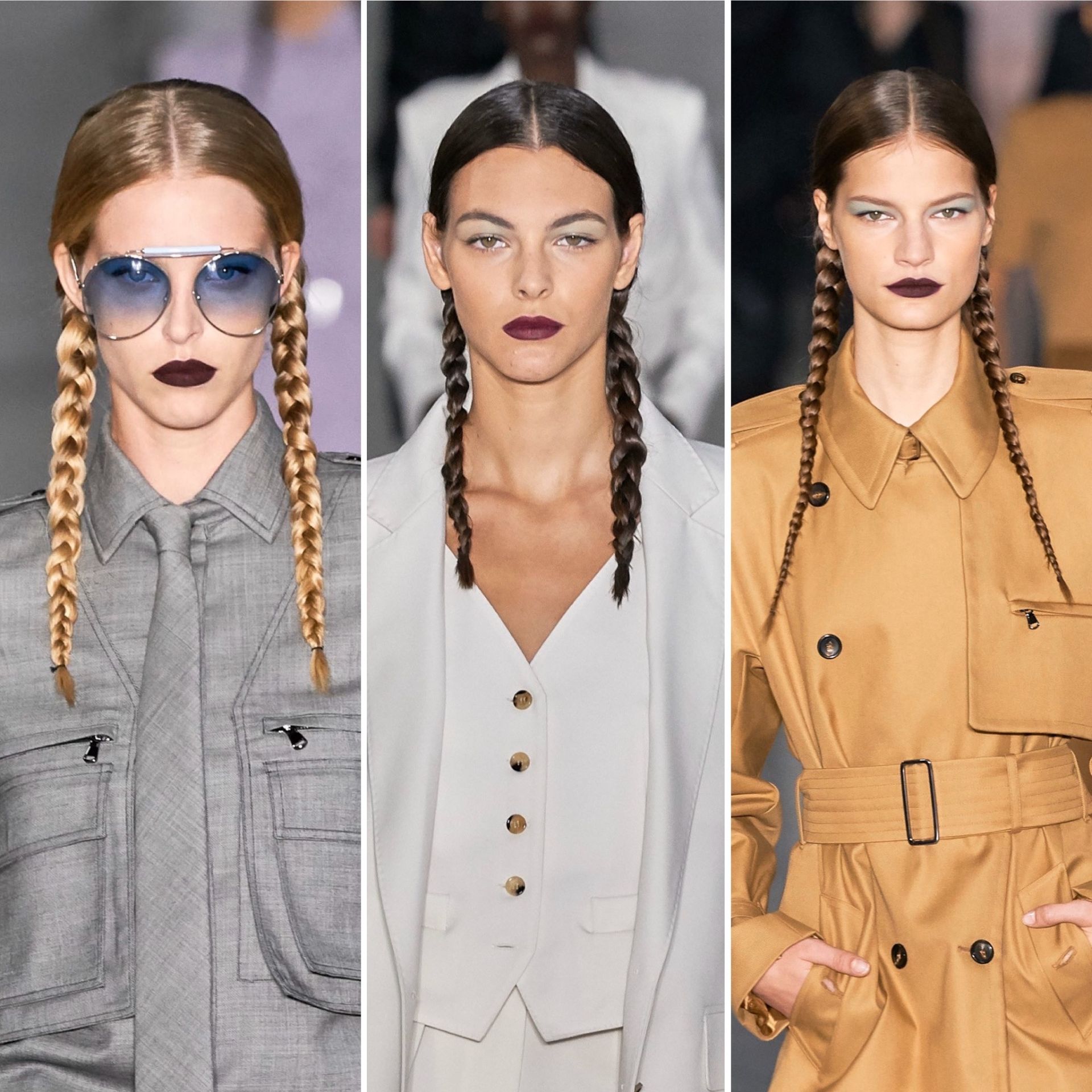 Max Mara spring/summer 2020
Lip Gloss
When people come across with the phrase "lip gloss", they think about a sticky substance of a bright pink hue with a pungent smell of strawberry. However, the beauty trends of past years don't give strict instructions, but serve only as inspiration, so in 2020, the texture of the lip gloss has become lighter, and shades are very diverse (when it's windy, you won't have to pull out the stuck hair from sticky lips with tears in your eyes). Therefore, modern gloss asks to give another chance and free up some space in your purse.
Посмотреть эту публикацию в Instagram
Neon Eye shadows
You can interpret trendy beauty-looks of the 90's in different ways, however, Versace and Helmut Lang decided not to change anything and just leave a bright accent on the eyelids. Orange, yellow, blue and pink – the key point here is color: creativity and imagination have no limits: you can draw eyelines and patterns with neon eyeliners to your taste and no loner be afraid if condemnation. The blue smokey-eyes is a perfect option for those who are most nostalgic about 90's.
Hair gel
The wet hair effect was trendy in the 90's, but this season it made a triumphant return to both catwalks and in everyday life. At the Versace spring-summer 2020 show, models' hair was styled using gel. It adds some shine and helps to cope with the most unruly curls.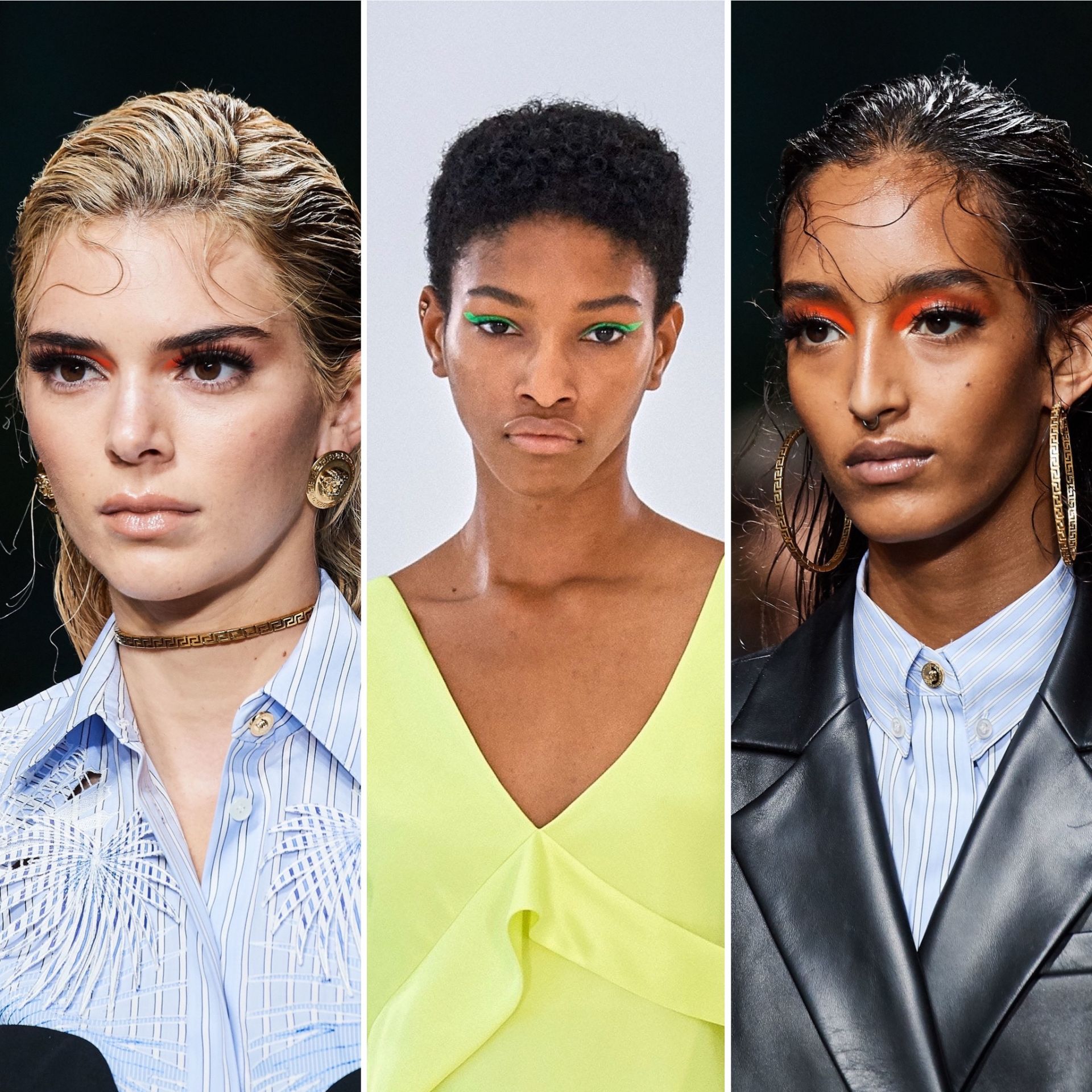 Versace, Helmut Lang, Versace весна-летоspring/summer 2020
Square
Bouffant and perm are the two major hairstyles of the 90's, however, at that time they had opponents - elegant hairstyles, such as square and Bob. Girls and women all around the world were inspired by Princess Diana and Hillary Clinton. In 2020, a lot of models, actresses and other celebrities have decided to part with long luxurious hair in favor of trendy haircuts. To radically change your appearance by using a square after your favorite star is not a bad idea.
Посмотреть эту публикацию в Instagram
Matte complexion
The main beauty trend in 2020 is a "no makeup makeup": among the riot of colors, there is a place for a nude, versatile tones. And along with this trend, heavyweight matte skin tone is back into fashion. In the 90's, this effect was achieved using foundation and multiple layers of powder. That all changed in the middle of the 2000, when the matte foundation was replaced by a shimmery highlighter. However, this season the trend for matte is back in fashion, so many beauty brands have added foundations, focused on the new trend, to their lines.
Посмотреть эту публикацию в Instagram