Thinking over the holiday look, we don't always pay enough attention to makeup. Many just adhere to some traditional techniques such as smoky eyes. But make-up artists advise not to limit yourselves only to familiar and proven options, especially since inspiration and references for creating a vivid and memorable make-up can be found among the catwalk looks.
Focus on the eyes
We are offered to abandon the perfect graphical eye-lines and try new techniques with which you can focus on the eyes. One option is to use not a classic black eyeliner, but bright and colored. The shape of the eye-lines should also be intricate: as an example, use the makeup of the Moon Young Hee brand's models.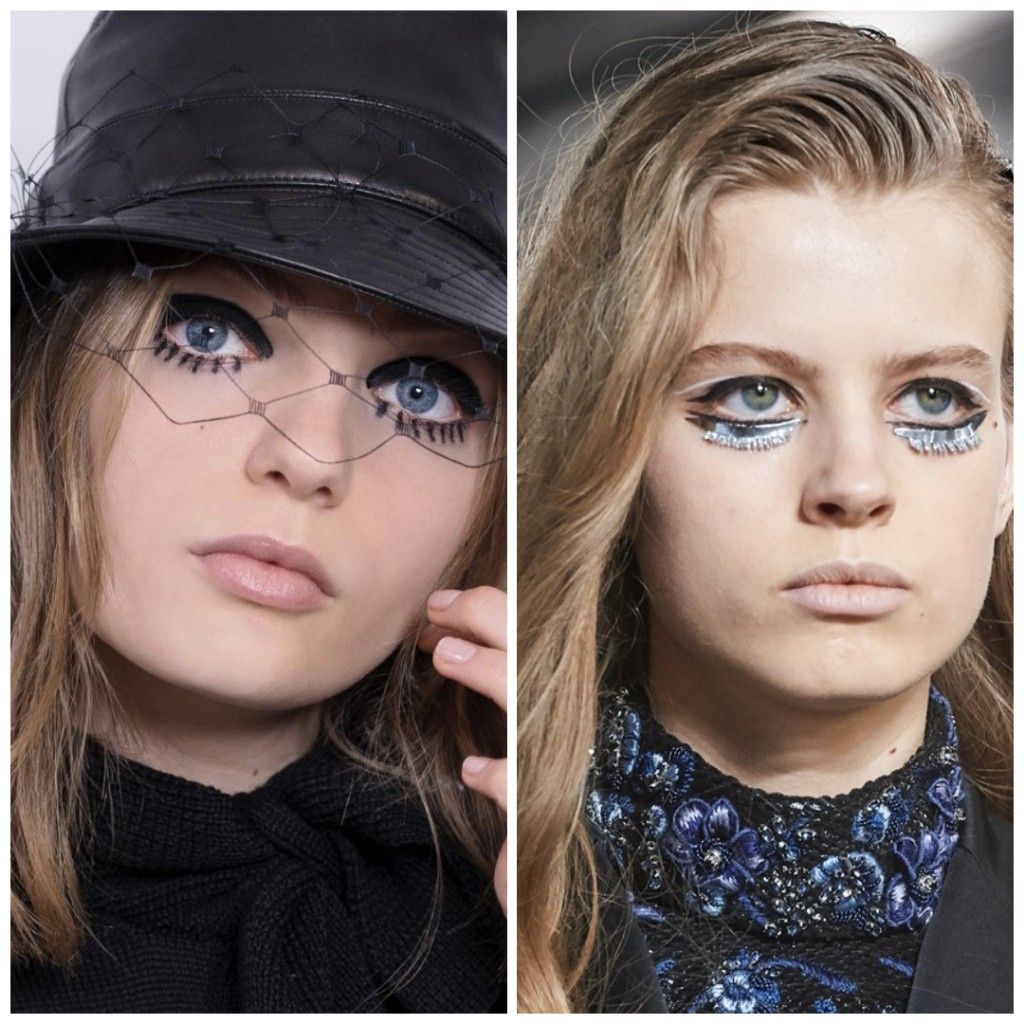 Christian Dior fall winter 2019/2020, Giambattista Valli fall winter 2019/2020
Dior draws our attention to the romantic Twiggy technique, and the Giambattista Valli's makeup artist offer going for more daring experiments: to glue false eyelashes on the lower eyelid. To tell you the truth, this option is more likely for a fashion shows, but no one will blame you if you decide to look playful and extravagant at New Year's party.
Neutral smoky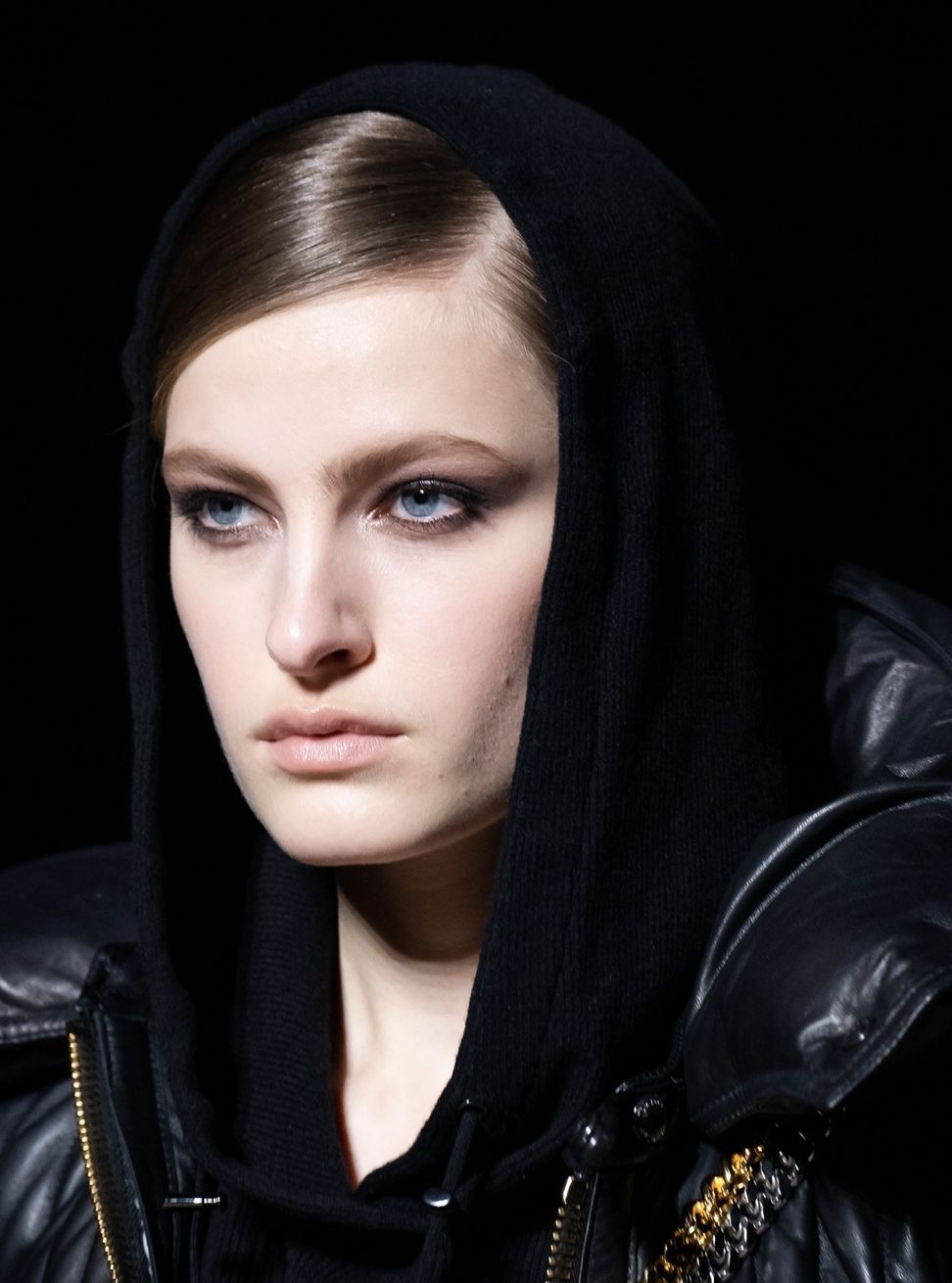 Tom Ford Fall-Winter 2019/2020
Bright and daring smoky eyes, which is one of the favorite makeup techniques for New Year's parties, turned out to bee too familiar and even boring. This year, make-up artists looked for variety and offered a lightweight version of make-up. Neutral smoky is suitable not only for evening, but also for daytime makeup and will be a great addition to your holiday look. This makeup technique is created using smoky and powdery shades. The effect of lightness and ephemerality is achieved by carefully blending cream or dry eye shadows with a large soft brush and mixing one or two colors, while the classical technique involves the use of three to four shades.
Flashes of neon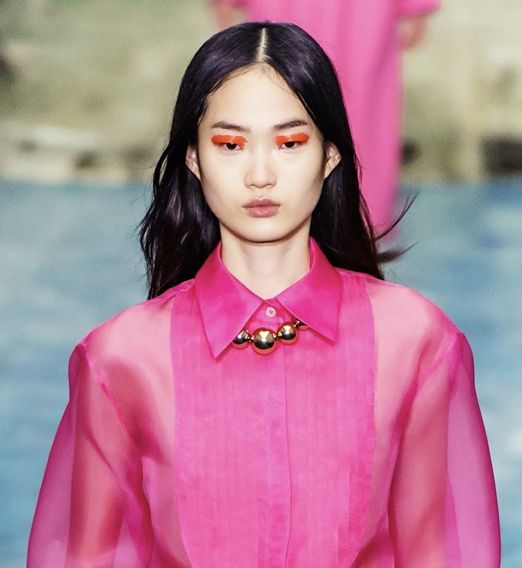 Carolina Herrera Fall-Winter 2019/2020
Skeptics predicted that the fashion for neon will pass quickly, but for several seasons, fluorescent colors still have attracted our attention. Makeup artists decided not to limit their imagination and used neon shades to the maximum in the catwalk looks, starting from eye lines and ending with shadows, lipsticks and even blush. As an example, here is a look from the Carolina Herrera show, which can be used as a reference for creating New Year's makeup.
To repeat the very makeup, you will need: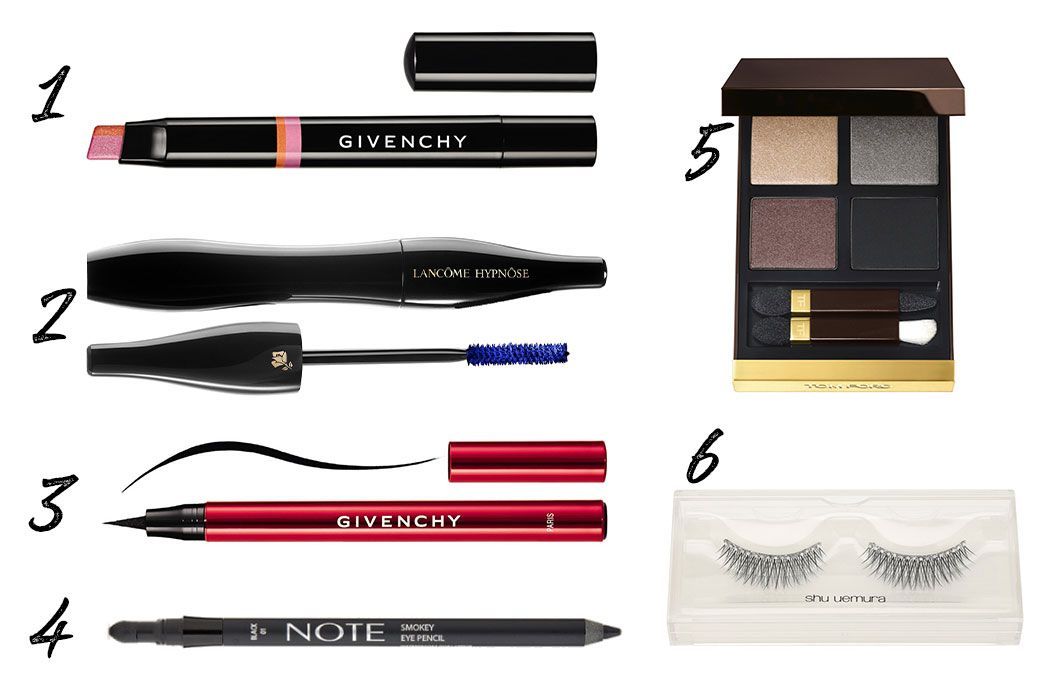 Givenchy Dual Liner eyeliner, 04 Passionate

Lancôme Hypnôse volume effect mascara, 03 Bleu

Givenchy Liner Disturbia eyeliner, shade 01

Note pencil, shade 01

5.Tom Ford Eye Color Quad eye shadow Supernouveau

Shu Uemura Fake Eye Lash Dazz Diaman NP false eyelashes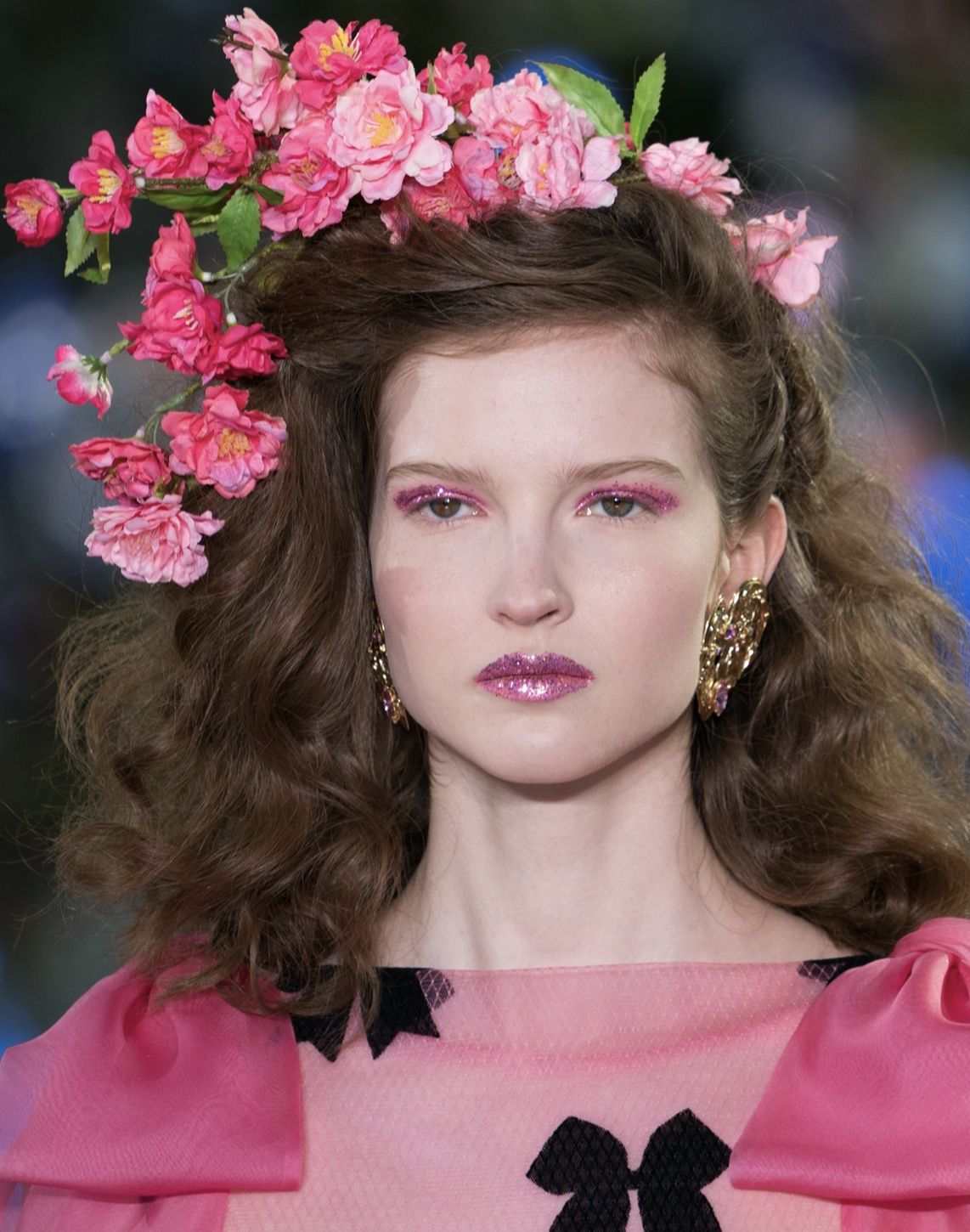 Rodarte Fall-Winter 2019/2020
Glitter is almost never used in daytime makeup, but it is indispensable when it comes to creating holiday looks. This idea will be perfect especially for New Year's parties, where everything is bright and shiny. And if some make-up artists advise restricting themselves to applying glitter on the eyelids, others suggest approaching the issue more thoroughly and applying sparkles to the lips as well, as Rodarte masters did.
To repeat the very makeup, you will need: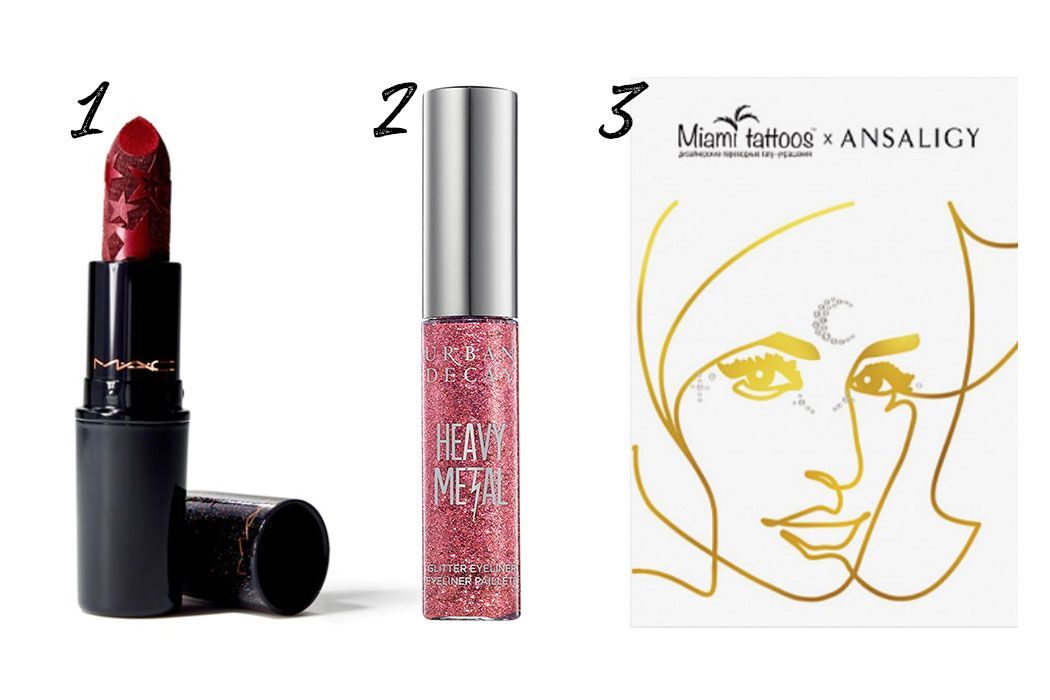 Mac Starring You lipstick

Urban Decay Heavy Metal Glitter eyeliner, Catcall

Ansaligy x Miami tattoos face crystal tattoos
Matte lips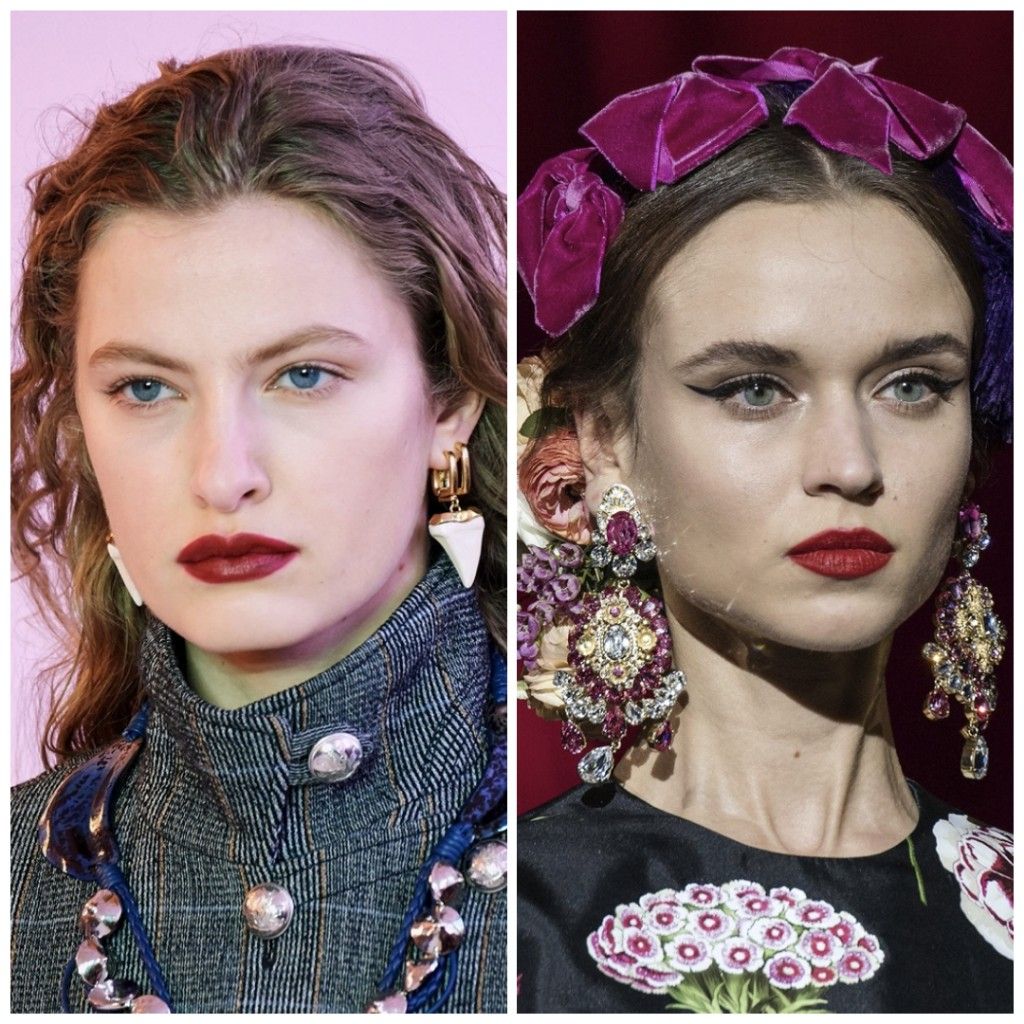 Chloe fall-winter 2019/2020, Dolce & Gabbana fall-winter 2019/2020
At fall-winter fashion shows, velvet-red lips turned out to be a real trend that is easy to adapt for an evening look. Some makeup artists use matte lips as the only bright accent of makeup, others decided not to be shy and combined bright lips with noticeable eye lines and even eye shadows. For the winter make-up, stylists recommend using deep, rich colors of lipstick - cherry, wine, merlot.
To repeat the very makeup, you will need: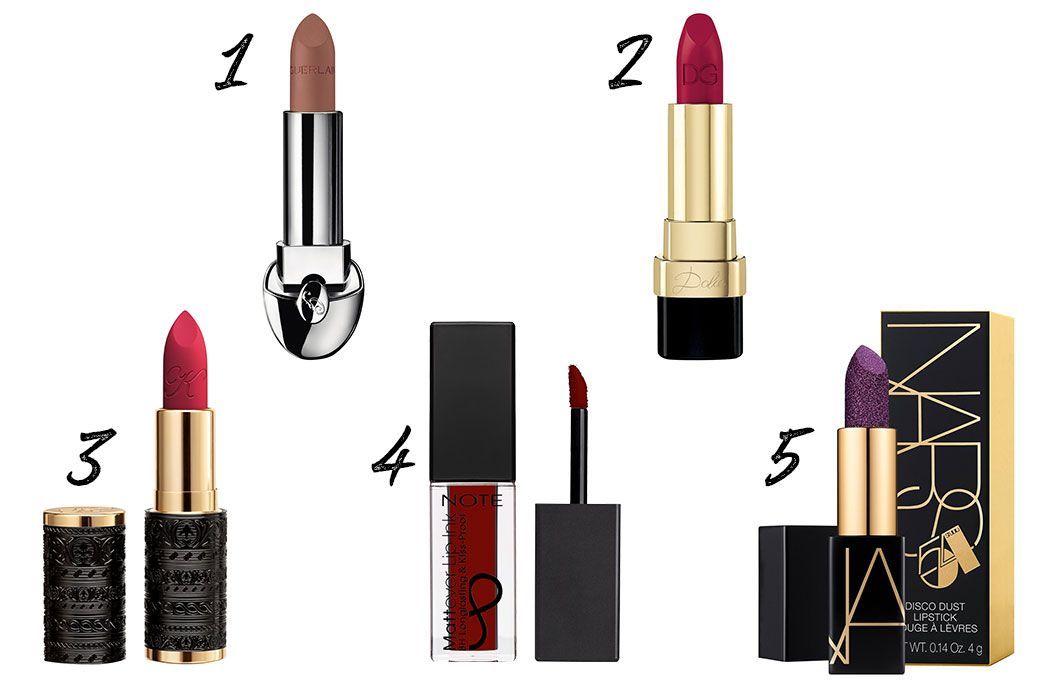 Guerlain Rouge G matte lipstick, 01

Dolce & Gabbana Dolce Matte lipstick, 642 Dolce Ruby

Kilian matte lipstick, Prohibited Rouge

Note Mattever Lip-ink 15

Nars Disco Dust lipstick, Debbie Tint
Monochrome makeup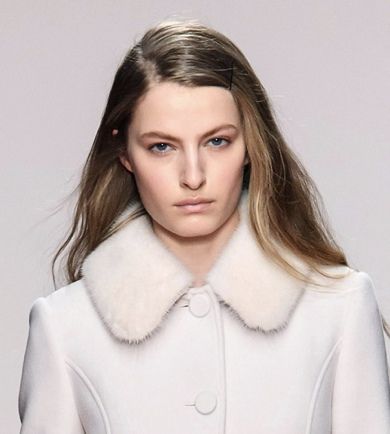 Blumarine fall-winter 2019/2020
Delicate and sensual make-up is created using blush. This year, make-up artists prefer to use mother-of-pearl pink shades: they refresh the face. Blush can be applied not only to the cheekbones, but also to the temporal areas. By the way, the trend towards monochrome makeup will still on: use lipstick, eye shadow and blush in the same color scheme to create a natural and romantic look.
Wet lips effect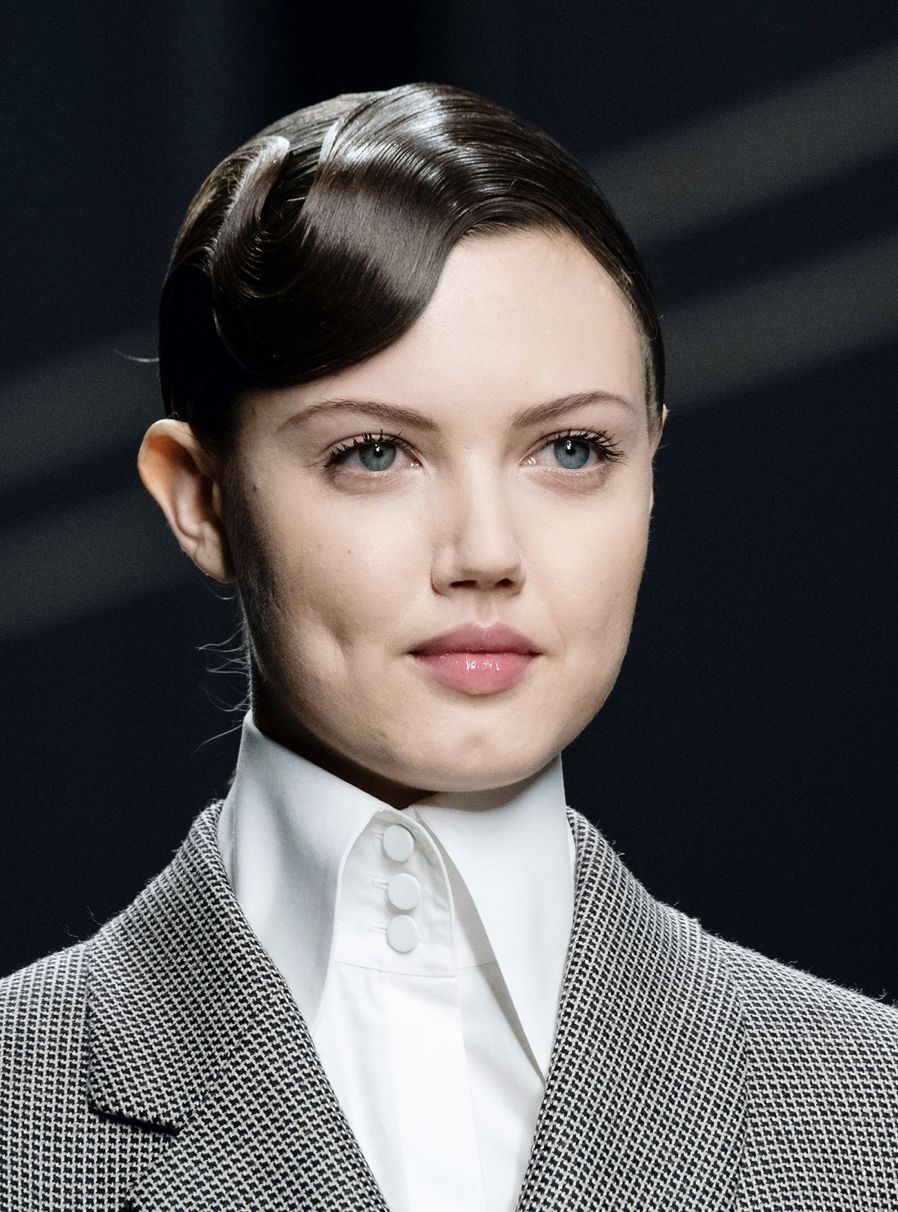 Fendi fall-winter 2019/2020
A sexy and glamorous look can be created using the effect of wet lips. Makeup artists use colorless lip glosses to emphasize the naturalness and sensuality of the forms. Glossy shine will create a bright evening make-up. When looking at such a make-up, it seems that it is not very resistant, but modern developments allow you to create lip gloss without the stickiness effect: and don't be afraid that it will be erased after one sip of champagne.
To repeat the very makeup, you will need: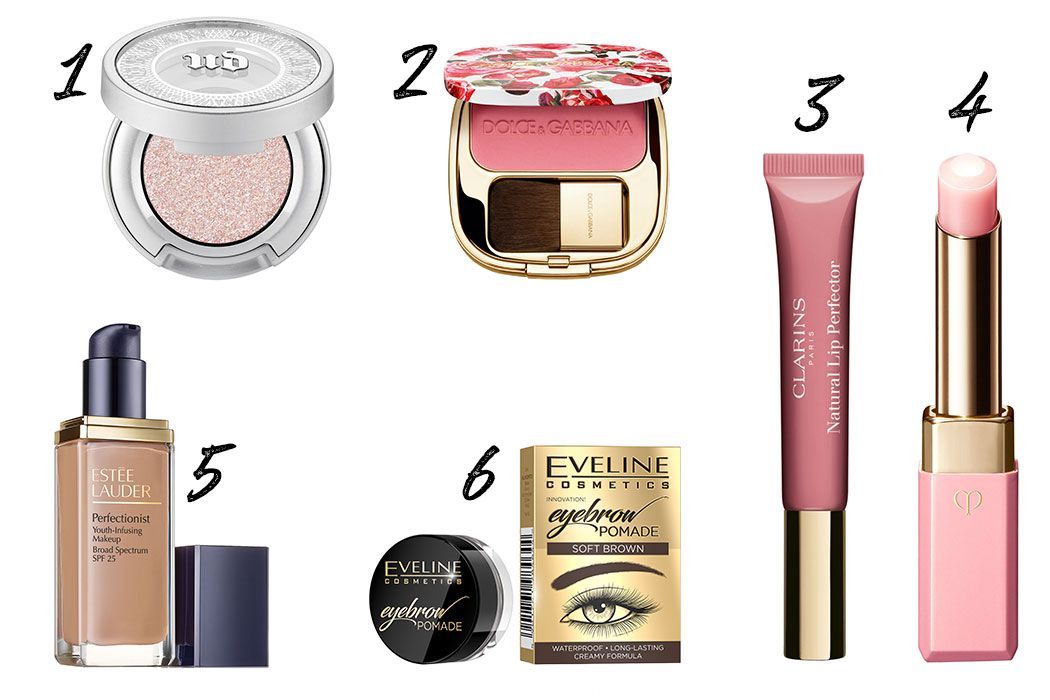 Urban Decay Moondust Cosmic eye shadow

Dolce & Gabbana Blush Of Roses, 200 Provocative Blush

Clarins Natural Lip Perfector lipgloss, 01 Rose Shimmer

CLÉ DE PEAU BEAUTÉ moisturizing lip balm with a radiant effect

Estee Lauder Perfectionist Fresco foundation.

Eveline Cosmetics eyebrow stick