No doubt, New Year's manicure is an important part of the holiday image. The devil is in the details, and it will be very disappointing to spoil the whole impression with an inappropriate manicure. To prevent this from happening, we've selected the most trendy shades and designs of New Year's manicure.
Red manicure will always be classic and elegant. But on New Year's Eve, we all want to diversify the usual shades. This year, many nail masters offer to opt for a winter theme and dilute the classics a bit. Black and white snowflakes look best in neutral shades. In this case, red acts as a bright accent.
Посмотреть эту публикацию в Instagram
Grey doesn't mean boring. Grey manicure shades will look perfect with a silver dress. In order to create a holiday mood, use sparkles. The key point is not to overdo. The alternation of simplicity and luxury has always been a wonderful combination.
Посмотреть эту публикацию в Instagram
Minimalist in manicure has long been a trend. It turns out that even the holiday option can be very minimalistic. Multi-colored shiny strips will easily create a Christmas mood. Simple and tasteful!
Посмотреть эту публикацию в Instagram
For those who are not afraid of bright colors, it's time to pay attention to the monophonic classics. But in order not to get bored, we offer to diversify the manicure with a New Year's design. Only no deer and Santa Claus! A white snowflake will be quite enough.
Посмотреть эту публикацию в Instagram
To help you to make a festive manicure by yourself, we have selected the most effective nail polish and other New Year's accessories for nail design.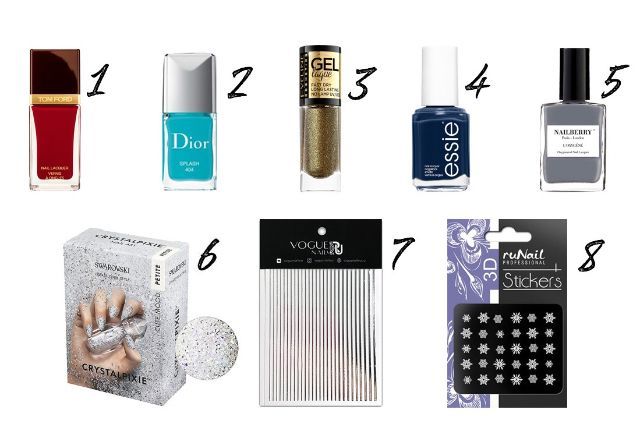 1 - Tom Ford No. T0TP150000, 2 - Dior Rouge Dior Vernis Summer Look 2018, shade 431 Buch, 3 - Eveline Gel Laque, 4 - Essie tone 580, 5 - Nailberry L'Oxygene Nail Lacquer Stone, 6 - Swarovski Elements, Crystal Pixie Petite Cute Mood, 7 - Vogue Nails, Silicone Strips, Silver, 8 - Nail Stickers ruNail
Life hacks from an expert
"This season, all nude shades, oval-shaped nails or a "soft" square are on-trend. In preparation for the New Year's Eve, choose a manicure with bright accents - rhinestones. But long nails with a complex design, various ornaments and stickers are in the distant past.
Plain monotonous color is the most relevant option; it never goes out of style. The grey monochrome coating from the latest fashion shows, combined with a scattering of crystals, will become an accent in your festive look. A pale blue matte shade will help to create the illusion of frost on the nails. Crystals of various shapes on the little finger will give you the feeling of "ice".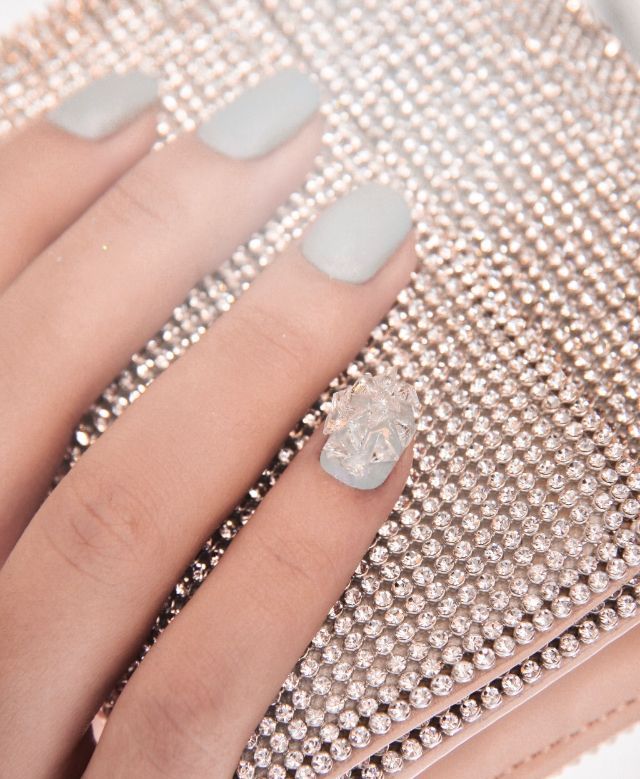 Press office