Day by day, millions of emotions are reflected on our face, and, of course, they are all beautiful in their own way! But over time, smiles, sadness, doubts, joy and other feelings leave traces - facial wrinkles. If at first they are almost invisible, then, with age and under the influence of negative environmental factors, the creases on the skin become larger and deeper.
Today, when the beauty world is developing with a tremendous speed, it's not necessary to apply to radical procedures to restore skin elasticity and smoothness - cosmetics with peptides are ready to seriously compete with many rejuvenation methods.
What are peptides?
Many cosmetologists call peptides miracle molecules. The first of them became known back in the 80's, when substances that interact between cells were discovered.
Peptides are natural or synthetic short protein compounds, consisting of two, three or more amino acid residues. The principle is quite simple. Unlike ordinary proteins, peptides easily penetrate into skin cells through the upper stratum corneum. It happens due to their small size and simple composition. That is why peptide-based cosmetics are considered to be non-injection methods of fighting facial wrinkles and are available in the form of creams, gels, serums and capsules. Such cosmetics reduce muscle mobility, improve blood microcirculation, stimulate collagen synthesis, have an anti-inflammatory effect and increase the elastic properties of the skin. In addition, peptides help other beneficial substances and trace elements, that can't penetrate the skin on their own, to be effectively absorbed.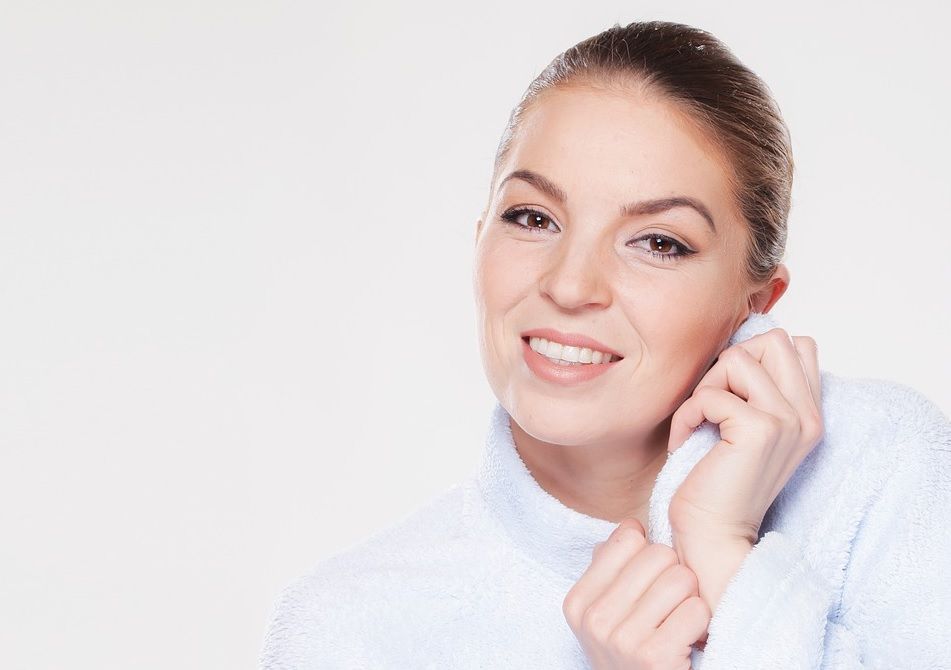 pixabay.com
Peptide cosmetics
As a rule, several types of peptides are added to cosmetics to make them work as efficiently as possible.
Peptides are labeled as follows: palmitoyl-pentapeptide, palmitoyl-tripeptide, palmitoyl oligopeptide, palmitoyl tetrapeptide, acetyl hexapeptide-3, Matrixyl, Decorinyl.
The most popular and effective ones:
Acetyl Hexapeptide-3 - became the first competitor to Botox. Penetrating into the deepest layers of the skin, this peptide blocks the impulses of the facial muscles. As a result, they relax, and expression lines almost disappear. Drugs based on botulinum toxin have approximately the same principle of action.
Matrixyl - stimulates the regeneration of the skin due to its unique structure, helping to combat facial wrinkles. The peptide easily penetrates into the deeper layers of the skin and activates collagen production. Matrixil studies have shown that with regular use of products with this peptide in the composition, the depth of expression wrinkles is reduced by more than 45%.
Decorinyl - an analogue of the decorin protein, which is responsible for the synthesis of skin's high-quality collagen. With an insufficient amount of decorin, instead of normal collagen fibers that help maintain skin elasticity, begin to develop useless deposits of collagen fibers. Decorininyl controls the production of just the right collagen and prevents the formation of scar tissue.
The use of peptide cosmetics
Peptide-containing cosmetics can be used since you're 20 or 25 as a prevention of facial wrinkles. Beauty industry offers instant products, the effect of which is noticeable within 20-30 minutes after application, as well as drugs with cumulative effect.
Cosmetics with peptides have a rather dense and rich consistency, because it is fats that facilitate the penetration of amino acids into skin cells - owners of oily or problem skin should take this fact into account and carefully approach the choice of care with peptides.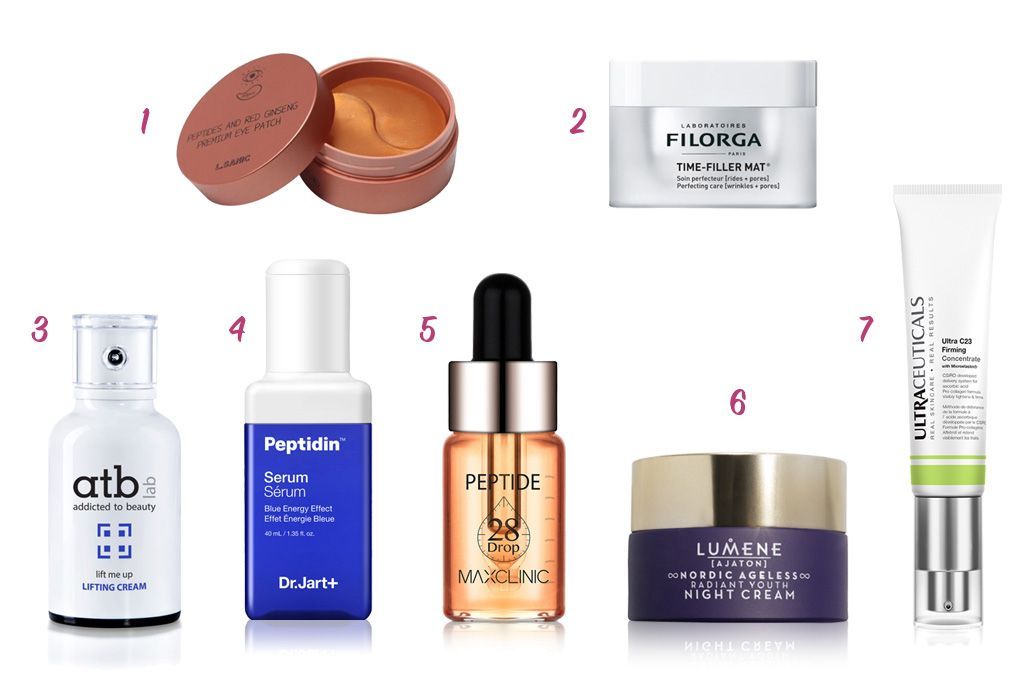 1 - eye patches with peptides and red ginseng extract, L'Sanic; 2 - day cream Time-Filler Mat, Filorga; 3 - face cream Lift Me Up. Lifting Cream, Atb lab; 4 - energy peptide serum Dr.Jart +; 5 - highly concentrated serum for the face with peptides, Maxclinic; 6 - Night intensive face cream Nordic Ageless, Lumene; 7 - Firming Concentrate Ultra C23 Firming Concentrate, Ultraceuticals.
It's important to remember that peptides don't work on the surface of the skin, but in its deep layers and directly in the cells. To facilitate the penetration process and speed up the result, regularly use exfoliating products.
It is better to store cosmetics with peptides in a cool place - active molecules quickly oxidize and break down under the influence of heat and air. This explains the fact that peptide care has a fairly short shelf life - from 2 to 4 months after opening the package.
Beauty injections
Peptides are also included in all injection formulations to maintain youth. Mesotherapy, fillers, and biorevitalization formulations affect the skin condition much stronger than conventional topical products. Therefore, if care using conventional cosmetics doesn't produce the desired effect, ask your cosmetologist about injecting peptide-based rejuvenation methods, such as biorevitalization. You need to prepare for such a procedure in advance: choose a clinic and a cosmetologist, so as not to face serious consequences or worsening skin condition. The cosmetologist will evaluate the degree of the problem, take all the necessary tests, and also talk about the steps of the procedure and skin care after it. The master will also inform you about possible contraindications, for example, injections based on peptides are strictly contraindicated for pregnant and lactating women.