In the cold season, the skin of the body behaves like a naughty child: it dries, flakes, reacts negatively to the usual cosmetics and requires a special care. Therefore, it's so important to help your skin to recover with the onset of spring, to be able to wear open dresses and stylish tops with pride on warm days.
General Tips
If winter skin care was chosen correctly, there should be no special problems. Even so, vitamin deficiency, cold dry air and low temperatures can manifest as peeling and dry skin.
The first thing to point out is the need to consume a sufficient amount of liquid throughout the day. For taste, you can add lemon slices, cucumber, fresh berries and fruit to the glass. Lack of liquid in the body always affects the skin condition – it becomes grayish, thickens and becomes vulnerable to the appearance of stretch marks.
The lack of vitamins, micro - and macronutrients in the diet also negatively affects the skin, so it's important to include more seasonal vegetables, fruits and herbs – they are more useful than those that have been stored for a long time. In the store, you need to pay attention to the condition of the fruit - natural products quickly deteriorate, but fruits and vegetables without flaws are unlikely to be useful.
Skin Care
Spring renewal of body skin should start with cleansing. You can already add a more intensive peeling, scrub or gommage to the care to get rid of dead skin cells and peeling. If the skin is sensitive, it's better to choose products with fine grinding particles or acids.
Massage with a dry brush will also help to restore skin smoothness, elasticity and healthy color. In addition, this treatment stimulates the lymphatic system, helps to remove excess water from the tissues and effectively removes puffiness. As a bonus, the figure will look slimmer.
It's important to brush to have natural bristles. You should perform the massage strictly on dry skin 1-2 times a day with smooth movements, holding the brush from the bottom up in the direction of the lymph flow – from feet to the heart. You can also gently massage your hands and neck. It's better to start with a short three-minute massage, increasing the time of the procedure if desired.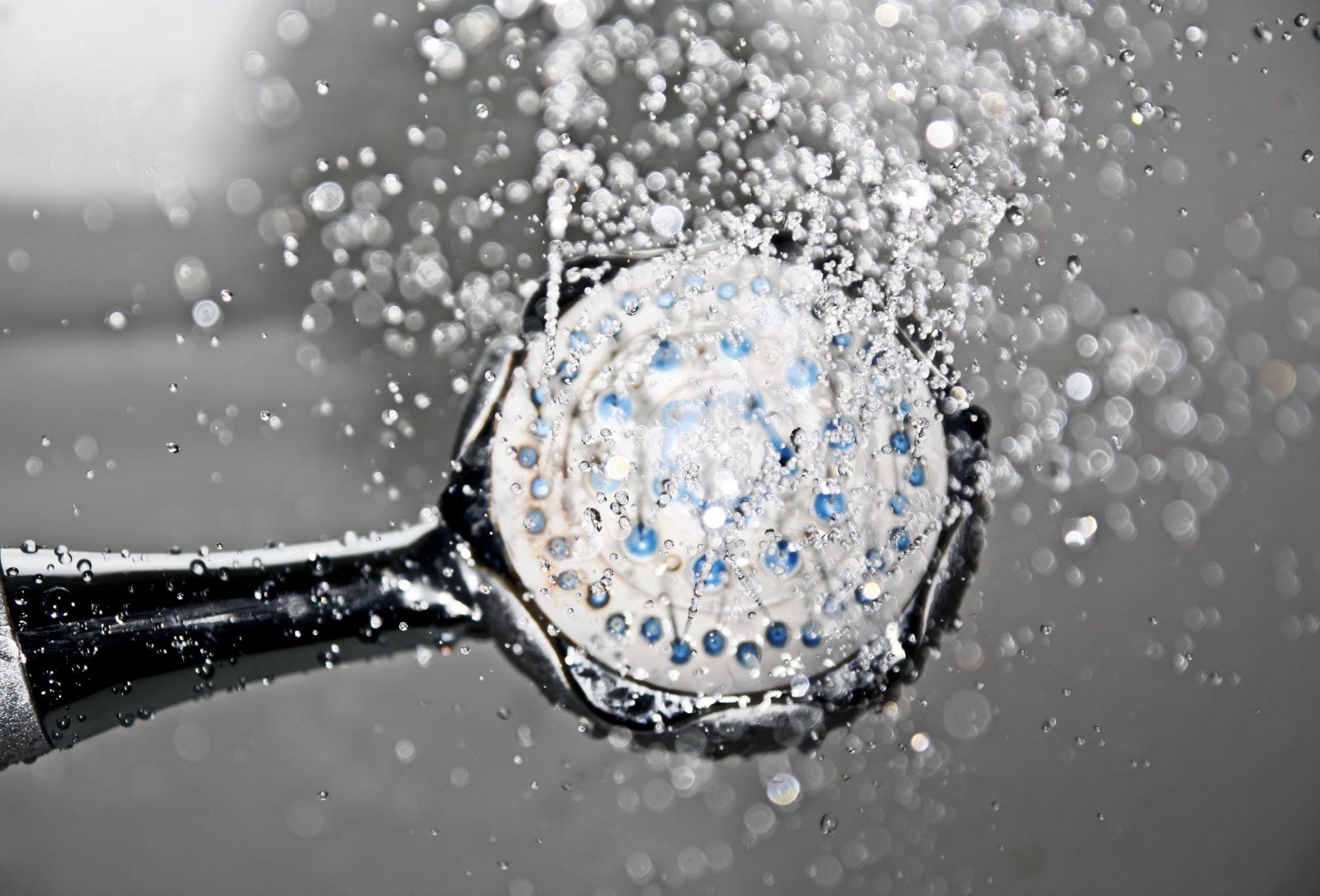 pexels.com
The next step in spring skin body care is a contrast shower. It will not only help to tone the skin, but also strengthen the immune system, as well as charge you with positive energy for the whole day. Alternating exposure to hot and cold water improves blood circulation, restores skin elasticity and glow. In addition, this procedure provides the skin cells with oxygen, which has a positive effect on the process of weight loss.
When taking a contrast shower, it's important to warm up well under warm water first – it should become a little hot. Then you need to count to three and turn on the cold water for five seconds, then return to hot water again. Experts recommend repeating this scheme three times.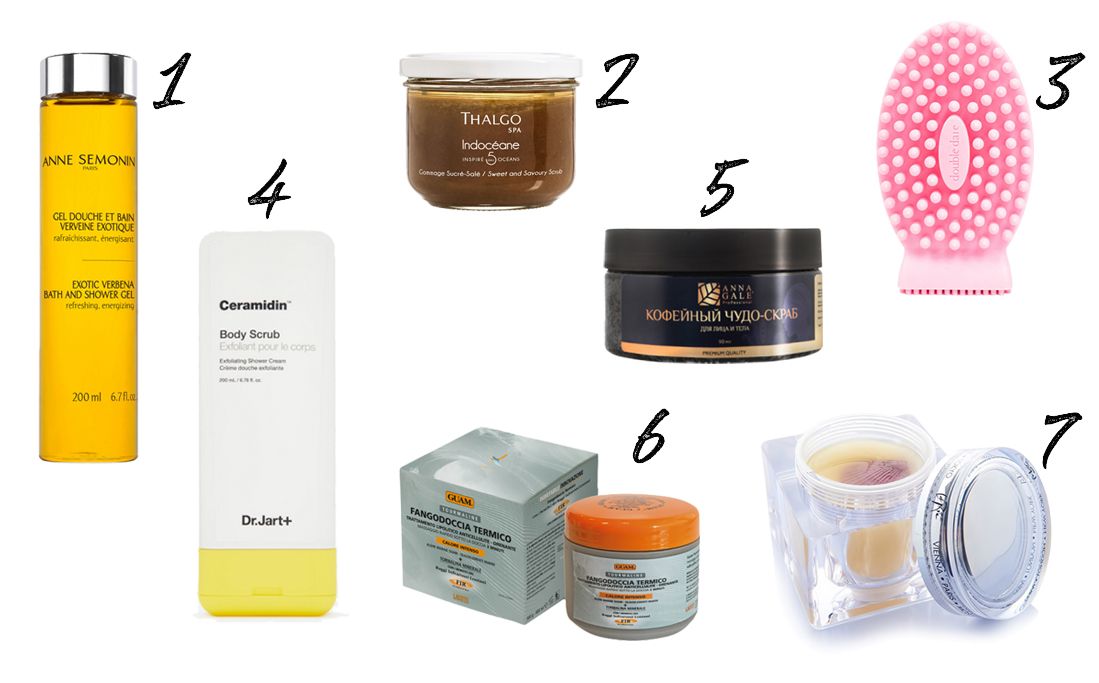 1 - bath and shower gel with oligoelements Anne Semonin, 2 - sweet and salty body scrub Thalgo, 3 - silicone massage brush Double Dare, 4 - body scrub dr.Jart, 5 - coffee body scrub Anna Gale, 6 - massage mask in the shower with a warming effect with tourmaline micro-crystals Guam, 7 - pearl scrub giving the skin radiance La Ric
But if the skin remains rough and flaky after massage and exfoliating procedures, then it's time to change the body cream - it no longer copes with its functions. In spring, it's better to give preference to concentrated funds with a high content of active substances in the composition, for intensive moisturizing and restoring the skin after the cold season. It's good, if the formula of the cream or body lotion is enriched with lipids and hyaluronic acid – these substances help to restore the natural protective barrier of skin, prevent moisture loss, intensively moisturize, stimulate metabolism and collagen production.
Also, in the spring, it is good to make small changes in body care and change the cream or lotion to a special oil-rich in useful fats and vitamins, such as vitamin E, the oils penetrate into the deep layers of the skin and activate all the metabolic processes in the tissues, returning the skin elasticity and firmness. Any oil should be applied immediately after the shower to still wet skin.
With the onset of warm days, it is important not only to restore the skin's beauty and freshness, but also to recharge with positive emotions and a good mood. In this case, you'll be saved by body products with essential oils such as rosemary, geranium, orange or grapefruit – they will fill the skin with moisture, essential vitamins and minerals, and also perfectly cheer up. Apply these funds after a shower on still damp skin using upward movements from the bottom up. In addition, the body products with essential oils are perfect products to quickly relieve stress and fatigue in the afternoon.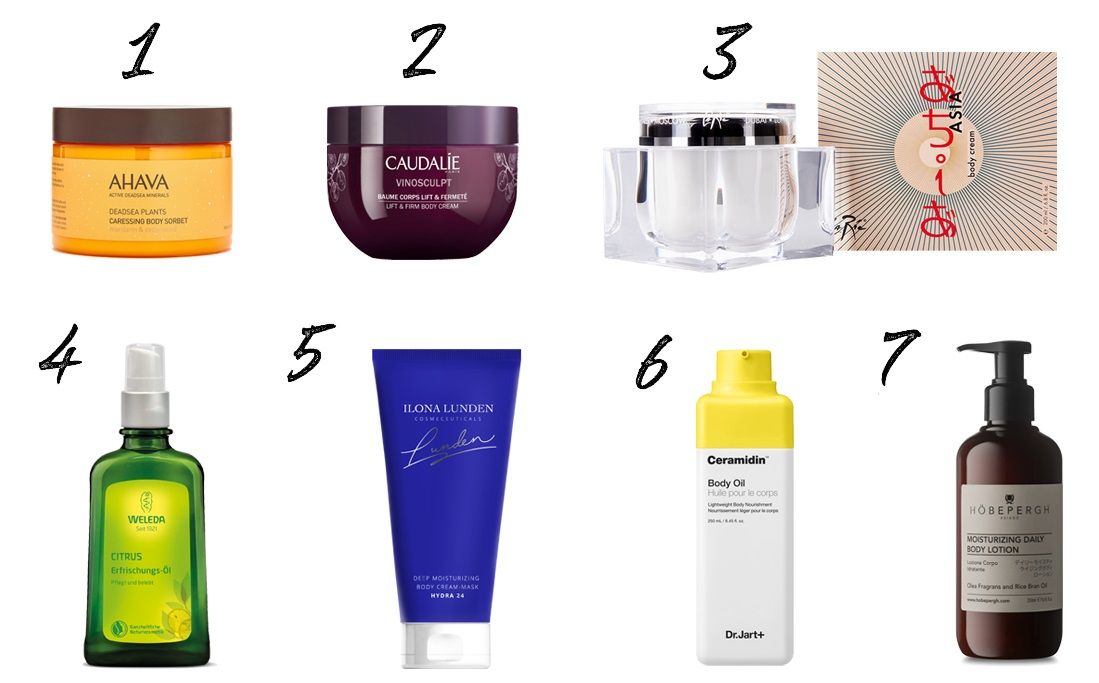 1 - delicate body cream with tangerine and cedar Ahava, 2 - firming body balm Caudalie, 3 - perfumed body lotion with aromatherapy oils of rose, lilac and lemon to enhance skin elasticity La Ric 4 - refreshing citrus body oil Weleda, 5 - body moisturizer Ilona Lunden, 6 - body oil Dr. Jart, 7 - moisturizing body lotion Hobepergh