Modeling, contouring and strobing sidelined. Since last autumn a new trend has appeared in the beauty world, which still doesn't give up its positions! The Yoga Skin Technique is a makeup technique, that was invented and demonstrated by makeup artist Sarah Hill on her Instagram account.
Healthy, clean, natural and glowing from the inside out skin is the main principle and difference of the unique Yoga Skin trend. To achieve this effect, you can add a couple of the right products to your cosmetic bag and learn a few simple techniques.
Key rules for glossy skin
Let sports, proper nutrition and healthy sleep become your best friends- the skin will definitely shine with them! In the meantime, you can use a few Sarah Hill's tips and Photoshop even the most tired skin with the help of Yoga Skin technique.
Посмотреть эту публикацию в Instagram
To begin with, clean and moisturize the face in the usual way – at this stage, it's important to use the most delicate and smoothing products to prevent possible peeling and prepare the skin for applying make-up. Please, note that the skincare products should be properly absorbed, so wait 5-10 minutes after applying the cream or lotion.
Use the base for makeup-choose products without silicones in the composition, so as not to overload your skin.
Mix a drop of your favorite foundation with a radiant base or liquid highlighter - apply the foundation with fingertips or a damp sponge. If you want to get a light glow, try to add a drop of face oil to your foundation or give preference to products with oil in the composition. Using this step, you'll achieve a fresh radiant skin with a healthy moist shine.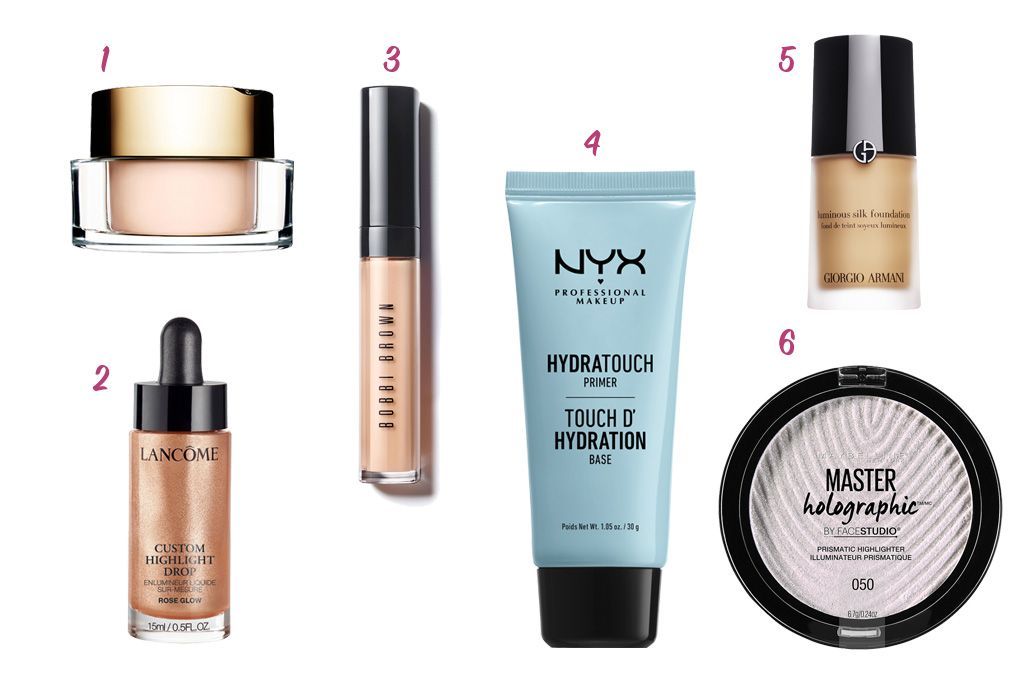 1-Mineral loose powder, Clarins, 2-Liquid highlighter, Lancome, 3-Sustainable eye concealer, Bobbi Brown, 4-Moisturizing face primer, NYX, 5-Foundation, Giorgio Armani, 6-Highlighter, Maybelline
Add some highlighter – apply a little extra glow to the protruding parts of the face: the back of the nose, cheekbones, the middle of the forehead, chin, under the eyebrows and above the upper lip. For this, you can use a product with both dry and creamy texture.
As for the shade, Sarah advises to use highlighters with a warm undertone-gold and pearl. But if you're of the cold type, feel free to experiment with mother of pearl or pinky-blue tones.
Don't be afraid to add a little more gloss – Yoga Skin makeup likes the gloss. Layering one product on another, don't forget to pause for one or two minutes. If everything is absorbed, your make-up turned out to be very natural.
Hide flaws with a concealer - put some corrective products on problem areas: under the eyes, on the wings of the nose and chin. Gently blend the foundation, so that there're no visible and clear borders.
Complete makeup with mineral or loose powder – it'll lie on the skin with weightless and almost invisible layer. Cheekbones can be additionally highlighted with peach blush or golden bronzer. Emphasize your lashes with lengthening mascara and put some lip gloss.
Fix makeup fixing spray - choose thermal water or a spray that doesn't contain alcohol. The main rule of Yoga Skin technique-the skin shouldn't look matte and over-dried.