"For me, restrictions are not always negative. Restrictions can push creativity. I like restrictions."
Dries Van Noten
Посмотреть эту публикацию в Instagram
Sometimes a life path becomes obvious even as early as in childhood. Watching how his grandfather opened a men's clothing boutique, his father became the founder of the first concept store, while his mother was a successful distributor of several fashion brands, Dries Van Noten decided to follow in the footsteps of his family and devote his life to fashion without any hesitation.
After graduation, the young talent entered the Royal Academy of Fine Arts in Antwerp, where his long journey into the world of aesthetics and beauty began. Right there, fate brought him together with Dirk Bikkembergs, Walter Van Beirendonck, Ann Demeulemeester, Dirk Van Saene, and Marina Yee – the members of the future world-famous "The Antwerp Six", of which Dries Van Noten himself became a part. Glory came to the designers during London Fashion Week in the middle of the 80s after they had presented their dairy avant-garde collections, which became a symbol of the future fashion. In one of his interviews, the designer recalled that it was a very interesting time - every year a new group appeared from different countries, and the press was very fond of comparing different national schools.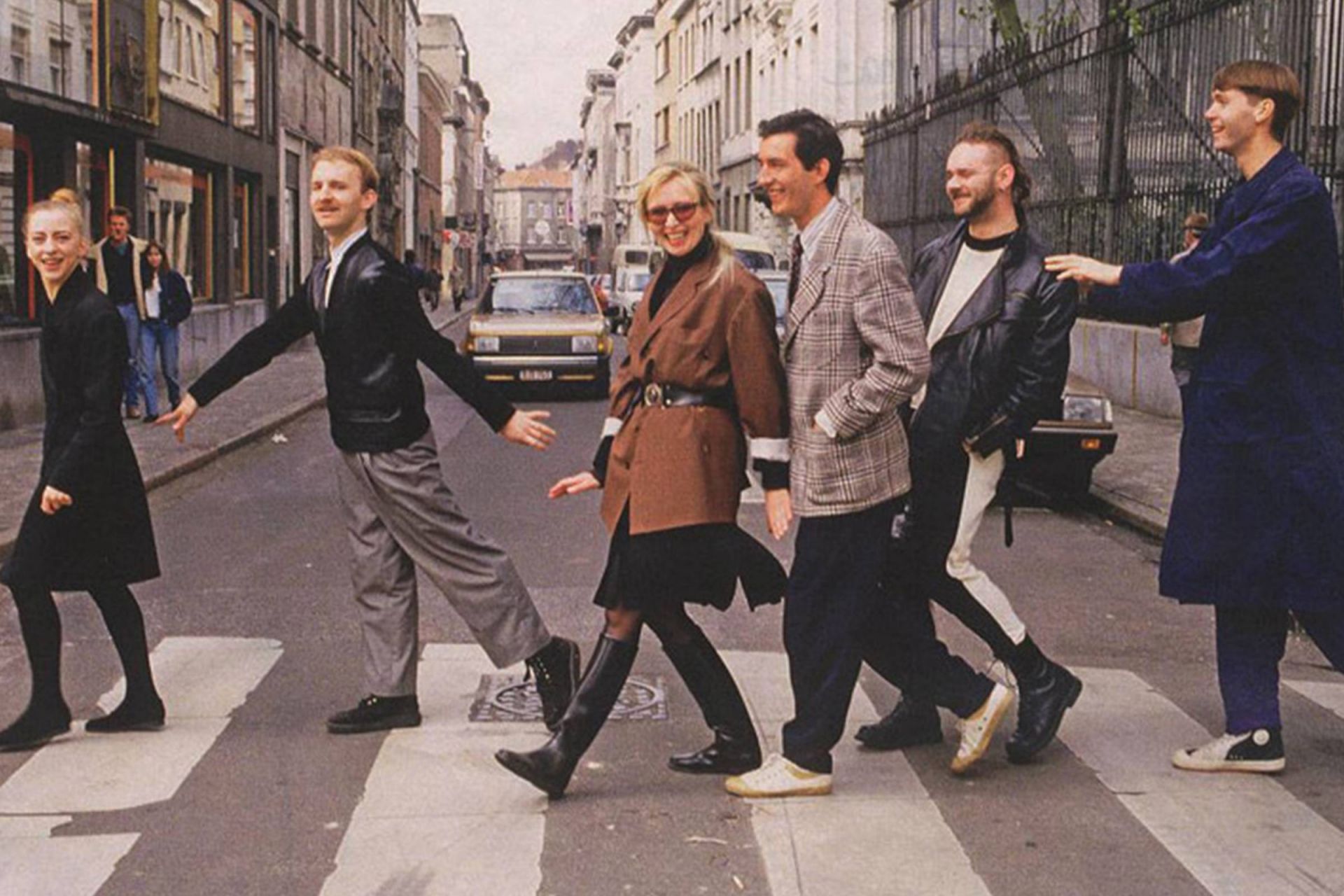 Dries Van Noten - third from the right
It seems that the basis for the inspiration of the aspiring designer was a symbiosis of childhood and youth memories and the lessons that the Royal Academy taught him. "When we were studying at the Royal Antwerp Academy, we were taught to seek inspiration from everyone, everything and everywhere. My parents and grandparents were also a great inspiration for me at a very young age," he said.
Over time, his collections have acquired a distinct, inimitable style - a mixture of eclecticism, magical ethnic motifs, unusual decor, and designer prints with a comfortable loose cut and simple shapes. This combination has caught the eye of the intellectual and creative community including such celebrities as Michelle Obama, Rihanna, and Meryl Streep. However, Dries Van Noten has never sought to promote his brand with the help of big names or Instagram likes, following the humble principle of less is more. Surprisingly, this approach bears fruit - Dries Van Noten's clothes are sold-out immediately after it arrives in stores.
Посмотреть эту публикацию в Instagram
Посмотреть эту публикацию в Instagram
Посмотреть эту публикацию в Instagram
The production of the brand's clothing also follows a different script. Back in the early 90s, when Dries Van Noten just opened his first boutique, the brutal realities of the fashion industry presented the aspiring designer with an unpleasant surprise - all companies supplying Van Noten with materials and producing shoes for his collections were bought out by major brands like Armani, Gucci Group and Prada Group. The designer was forced to look for new resources and, fortunately, found suppliers in India. New contractors began to produce fabrics and accessories for his collections. Even though in-house production strongly affects the quantity - the brand does not create more than four collections per year - this has a very beneficial effect on quality. According to Van Noten, each of his collections starts with the special story that he creates together with the brand's team. They come up with a certain type of character for a new collection and convey its essence through the clothing or show set design.
Посмотреть эту публикацию в Instagram
Despite all the difficulties, the brand managed to maintain its independence and go its own way, not adapting to modern trends. Today the company has more than 400 stores around the world, a stable annual turnover, and, of course, a whole army of loyal fans of the brand. It seems that Dries Van Noten appreciates loyalty most of all - the designer is still working in Antwerp and is not going to leave his hometown.
Посмотреть эту публикацию в Instagram
Посмотреть эту публикацию в Instagram
"For me, being in Antwerp is very important. It makes me the designer who I am, it makes me the person who I am to live in Antwerp, but not in Paris, London, or something like that," Van Noten said once.
So, as you walk the small streets of the fifth fashion capital, be prepared to meet the Belgian genius in line for coffee.
Read also:
Maison Margiela: a conundrum from an invisible designer and the mystery of circled numbers