"I would like to live by the ocean, maybe in LA or Sydney", says Valeria remembering life in faraway Australia whilst sitting in her apartment in Kyiv. In terms of global pandemics, the only thing left to do is missing the past and dreaming of a clear future. In the meantime, the best option is to treat yourself with the banana pancakes, talk with friends via Skype, or to work on developing yourself as Valeria does!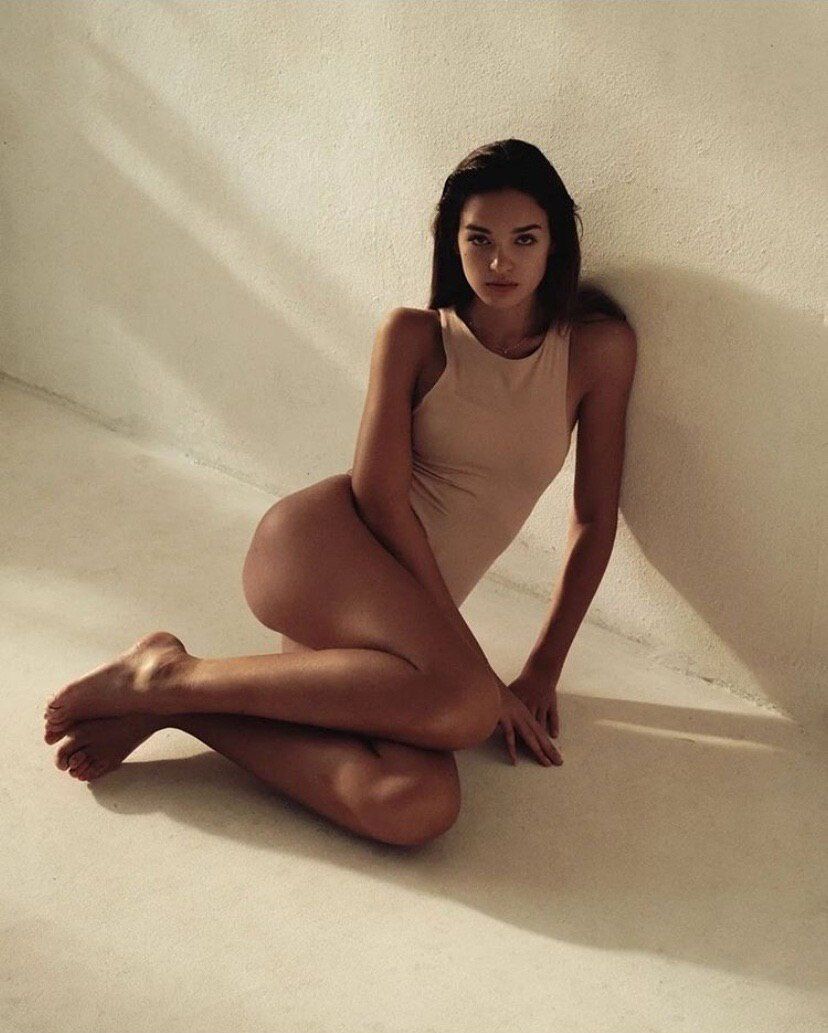 Photo: Instagram.com/valeriarudy
It's nice to see you again! Are you at home right now? How are you doing?
I feel great, thank you! Yes, I'm in Kyiv now. My self-isolation started a month ago and I'm trying to make myself busy every day, but it's not easy. I know that here, at home, I don't have to work and this feeling makes me lazy. So, I'm chilling now but It's a bit weird to stay home for so long.
How do you comply with home quarantine?
I'm trying to combine activities for my mind and my body. I do sports following home workouts on Youtube, read books, watch some fashion lectures, or Netflix. Now I have a lot of time to think about a new idea for my blog and do routine home stuff like cleaning the apartment or cooking something. My favorite one is banana pancakes. You need just banana, eggs and flour, that's it! 5 minutes of cooking and It's so yum.
Посмотреть эту публикацию в Instagram
And I'm also taking my French lessons via Skype. This language is so difficult!
O-la-la! Do you want to move to Paris?
Ah no, Paris is not my thing as well as Europe. As for French, I decided to learn it because this skill can be useful for my job. I would like to live by the ocean, maybe in LA or Sydney. And also, for me it's much easier to make friends, to work and to live in a place where people speak English.
Well, it makes sense. Do you miss Australia?
I do miss Australia so much! There were some special places that I loved. You know, talking about routine stuff most of all I liked to wake up early in the morning and go to my favorite café. There I ordered avocado toasts and smoothie and have been spending some time just watching people – some of them were doing yoga, another was having breakfast. And the most beautiful thing was that all of them were so fit, tan, good-looking and just happy. It amazed me every time and kept me in a good mood. I'm going to go back there next winter if everything goes well.
Посмотреть эту публикацию в Instagram
Are there other things you miss about your daily routines?
Most of all I miss going to the gym, doing yoga, and my group sessions, it motivates me. But when I'm doing the same at home I always think "Oh, Valeria, you need to rest, you do a lot." And I also miss having fun and hanging out with my friends. I'm a more home-loving person but today I miss those times.
It seems like you doing well with the isolation!
I can't say that pandemic brought a lot of changes in my life. The only thing that I want is to see my parents and grandparents who are far away from me now. We see each other by Facetime or Skype but it's not enough. I miss them so much. And I also miss my job and flights for shootings.
By the way, has the pandemic affected your job?
Yes, it has. My agencies don't pay me now because they have a lot of expenses on renting and stuff. I have some online projects like Facetime shoots but it's more about creation not earnings. I think that the prices on photoshoots will be lower soon because all brands are losing a lot of money now, so probably they won't pay you as much as before.
Посмотреть эту публикацию в Instagram
Talking about brands and clothes, what is your usual home outfit? Do you make yourself up every day or just wear a tracksuit and feel great?
Pajamas! I'm doing makeup for the Facetime photoshoots but more often I keep my skin clean and just do some masks every morning, massage with a special tool, and put some cream on my face. By the way, my skin is getting much better!
How do you protect yourself so you don't get sick?
I'm trying to keep myself healthy and make my immune system working better by taking vitamins and doing fresh juices. And, of course, I don't leave my house without wearing a mask!
That's what a serious approach means. What do you do to stay in shape, especially now while being at home?
I stopped eating sugar a month ago. Now if I want to eat something sweet I eat fruits and I feel great! It positively affects my sleep and mood as well. If I want dessert I make pancakes, eat banana, berries or something natural. That's what makes me fit.
Now you're quite successful, but let's go back to the very beginning. When did you start your modeling career?
My mother agency System that I have now discovered me a long time ago on the Internet. They sent me a contract in a social network, but I didn't believe them first and even blocked their messages. After a while, in 2013, when I had a contract with another modeling agency, I heard some impressive and nice feedbacks from some models about System, so I decided to try and soon totally changed my mind about them. As you can see we're still together.
Wow, this is unbelievable! Who'd have thought that it worked like that? What is your favorite project you've done?
World Fashion Calendar, for sure! We filmed this project in Seychelles and it was my dream to go there for so long. I even had the wallpaper with Seychelles on my phone, so when I was booked for this job I was ready to work there for free! Moreover, I was lucky to have the joint photoshoot with my friend Maria Derevyanko by wonderful photographer Alessio Albi with whom we also had worked before. He is one of my favorite photographers because it's so easy to shoot with him. Alessio likes making natural spontaneous pictures and caching the moments, he doesn't want you to pose. I like this approach as fashion posing is not for me.
Посмотреть эту публикацию в Instagram
Посмотреть эту публикацию в Instagram
Посмотреть эту публикацию в Instagram
Посмотреть эту публикацию в Instagram
What a surprise! But, frankly, we hoped you would say it.
Here we go! The location was really beautiful – an island with empty beaches and incredible nature. By the way, there was a huge 130 years old turtle that became one of the biggest highlights in Seychelles. So, I can't wait to see the pictures with her! It's hard to believe but everything was like a puzzle - the picturesque views, amazing atmosphere and super nice team of the World Fashion Channel. I had a lot of fun taking part in this project. It's also cool that the World Fashion Calendar shows what is going on behind the scene of the fashion industry and the reality of model life. People usually see great shots without thinking of how hard it was to make them. In Seychelles it was extremely hot to shoot but you will never understand it looking at the pictures.
It's so nice to hear that you loved it! You know, World Fashion Channel is launching the 3rd season of the New model show project soon. Could you give some tips for novice models?
If I could advise my younger self I would say that you should care about your nutrition because you will not be that skinny forever.
As for a fear of being on camera, I've never had it. Although I think it disappears itself with time and the experience. You can make more selfies, pictures with your friends or in front of the mirror because it's also a practice that helps you to know your body better.
There is no sense to compare yourself with other girls, because clients are always looking for different types of models and you can't book all the jobs. Just be yourself! Also, you should be self-confident, then people around will feel your power and energy.