Collaboration with celebrities is not just a proven way for the brand to draw consumer's attention. This is an opportunity to add a new vision to clothes, cosmetics and even jewelry collections. Especially if we are talking about cooperation with such style icons, as Angelina Jolie, Heidi Klum and Jennifer Lopez. We're presenting a selection of jewelry, the inspiration of which were celebrities.
Angelina Jolie
| | |
| --- | --- |
| | |
| Photo: www.robertprocop.com | Photo: www.robertprocop.com |
Angelina Jolie know famous jeweler Robert Prokop for a long time. Maestro not only created a gorgeous engagement ring that Brad Pitt gave his future wife, but also is the author of a luxurious necklace that Jolie's character wore in the movie The Tourist. Inspired by Procop's works, Jolie wanted to become an author of accessories. They teamed up and launched an exclusive collection of jewelry, which got simple and succinct name: Style of Jolie. The collaboration includes earrings, ring and necklace with emeralds, matching Angelina's eyes color. Angelina Jolie's adopted daughter Zahara took after her mother. In 2019, the girl created a fine-jewelry collection in collaboration with jeweler Robert Procop — and, just like her mom, Zahara chose to put all of the proceeds toward a worthy cause. The collection included drop earrings, a bracelet, and a gorgeous citrine ring. No doubt Angie is one very proud mom.
Jennifer Lopez
| | |
| --- | --- |
| | |
| Photo: instagram.com/endlessjewelry/ | Photo: instagram.com/endlessjewelry/ |
Any collaboration with Jennifer Lopez is bright and sensitive, as the singer and actress. Lopez has already participated in the creation of collections of clothes of well-known brands, and in 2015 Jennifer decided to act as a jewelry designer. The brand Endless Jewelry helped to make her dream come true. Lopez invented the design of a few bracelets made of genuine leather, to which you can select concise gold charms. Also the collection includes elegant pendants in white gold, earrings and rings with precious stones.
Heidi Klum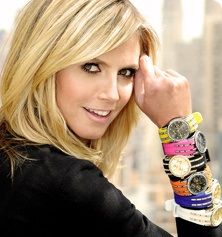 Photo: qvc.com
The German-born supermodel Heidi Klum has teamed up with QVC to launch Wildlife by Heidi Klum which will feature 35 styles including cocktail rings, necklaces, earrings and bracelets. The collection is updated with new products every few years. According to Heidi, she created these decorations, taking into account her own tastes and wishes. Heidi told WWD, "Looking back, I'm quite happy to be doing something new. I can reach more people with costume jewelry, the prices are great and I can make big pieces. It's way more fun."
Kate Moss
| | |
| --- | --- |
| | |
| Photo: instagram.com/katemossagency/ | Photo: vestiairecollective.com |
In 2011, Kate moss became the face of the ad campaign for Parisian jeweller FRED. As a thank you, the brand launched a jewellery collection in collaboration with Kate Moss. inspired by her tattoos. Inspired by her tattoos, the stars, anchors and rings with secret compartments will appeal to a hip, young crowd who want to be like their flaxen-haired idol.
Sofia Vergara
Посмотреть эту публикацию в Instagram
Jewelry created by actress and model Sofia Vergara in collaboration with Kay Jewelers turned out to be very symbolic. The main element of the So Sofia collection was the Colombian emerald - thus Vergara paid tribute to her homeland. Pendants, rings and earrings are made of pink and white gold, decorated with amethyst, blue topaz and other precious stones.
Sarah Jessica Parker
| | |
| --- | --- |
| | |
| Photo: instagram.com/cindychao_theartjewel | Photo: instagram.com/cindychao_theartjewel |
Taiwanese fine jewelry artist Cindy Chao teams up with fashionista, actress and "Sex and the City" star Sarah Jessica Parker to create and reveal the 2014 Black Label Masterpiece "Ballerina Butterfly" brooch. This high jewelery creation turned out to be poetic, sophisticated and unique.
Millie Bobby Brown
Посмотреть эту публикацию в Instagram
Millie Bobby Brown is only 16, but the girl has already managed to become a sought-after actress, release her own line of cosmetics and take part in creating a new collection of jewelry from the Pandora brand. Me is a collection of elegant bracelets and brooches for girls. With their help, everyone can tell their own unique story.