They say love lives for three years, but we respectfully disagree. On Valentine's Day, we're going to tell you about bright celebrity couples, that'll make you believe in love again.
Victoria and David Beckham
Посмотреть эту публикацию в Instagram
When David Beckham just started his sports career, Victoria was already quite a popular singer. The player saw his future wife in one of the clips and immediately fell in love. Later, David confessed that time after time he met Victoria at parties, but didn't dare to come up. In the end, they were introduced by a mutual friend, the singer came to one of David's games and left him her phone number right on the entrance ticket – the man cherishes it till now.
Their first date was at a Chinese restaurant - talking, David and Victoria found out that in childhood they lived fifteen minutes from each other, but never met. The couple is raising four children, travels a lot and enjoys the time spent with each other.
Anna Kournikova and Enrique Iglesias
Посмотреть эту публикацию в Instagram
Enrique Iglesias and Anna Kournikova met in 2002 at the set of singer's Escape music video. Former Russian professional tennis player shared that she had a very sore lip that day.In "Escape," Kournikova played Iglesias's love interest, and the couple should kiss. He was upset and called the athlete "pimply-faced girl" —and the rest is history.
It's hard for Hollywood couples to maintain their privacy, but they have figured it out. There was no official announcement about the wedding, but in October the girl changed her name to Kournikova-Iglesias on Instagram account. In 2017, the couple had twins, and on February 10, 2020 they became parents of their third child. In an interview, Enrique said that Anna was the love of his life, and thanked the girl for her support and understanding.
Sarah Jessica Parker and Matthew Broderick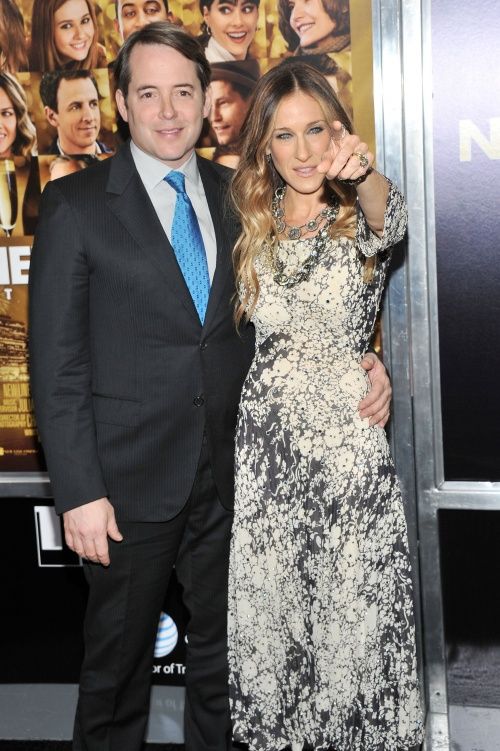 kinopoisk.ru
Sarah Jessica Parker and Matthew Broderick came across in 1991 at one of the Hollywood parties. They talked all night long, and then parted because they were too involved in their careers and getting over their breakups. A little later, Sarah and Matthew met when they played together in the Broadway musical, and before getting married, dated for six years.
On the day of their wedding, none of the invited guests didn't knew for what reason the pair decided to hold a lavish party. Later, Parker said she was afraid to get married and didn't want to attract a lot of attention to the event. That day she donned a lush black dress, and invited her sister to play the role of the priest.
In may 2020, the couple will celebrate the 23rd anniversary of living together. The actress says that the secret of her successful relationship lies in honesty and support, and believes that in case of serious problems you should not be ashamed to ask for help from loved ones.
Catherine Zeta-Jones and Michael Douglas
Посмотреть эту публикацию в Instagram
Catherine Zeta-Jones and Michael Douglas have the same birthday – 25 years apart, but this did not prevent them from building a happy marriage. The actors met in 1998 at the premiere of The Mask of Zorro. It took Douglas almost six months to win Catherine's heart, and a year later he proposed her. The actress said "Yes".
For twenty years of marriage, they had experienced both happy and difficult moments. In 2010, Douglas was diagnosed with laryngeal cancer, but thanks to the family's support he managed to overcome the disease. A little later, because of constant experience, Catherine started suffering severe depression, but the pair managed to overcome all difficulties, maintain a loving relationship and raise two kids.
Blake lively and Ryan Reynolds
Посмотреть эту публикацию в Instagram
Despite the fact that Blake Lively and Ryan Reynolds live in marriage not too long – just for 8 years, their touching relationship causes only a smile. When they met on the set of Green Lantern, Ryan was married to Scarlett Johansson, and Blake was dating Leonardo DiCaprio. The young people immediately realized that they liked each other, but they had no secret affairs. The couple started dating only after Ryan's divorce, but at first many thought their relationship was just a PR campaign.
The pair does not reveal details of their private life, rarely appears together at social events, and only the closest friends knew about their wedding in 2012. Recently, the Gossip Girl star gave birth to her third child and said that the husband's support helps her not to go crazy. Most fans admire Blake and Ryan's tradition to congratulate each other on Instagram, posting cute, but ridiculous photos. They both have amazing sense of humor, and no one is offended.
Cindy Crawford and Randy Gerber
Посмотреть эту публикацию в Instagram
Cindy Crawford met her future husband Randy Gerber at the very beginning of her modeling career – they posed together for a lingerie catalogue, but couldn't build a relationship, because both of them were so passionate about work. However, Randy was always there with his girlfriend and supported her in difficult situations, including during her divorce from actor Richard Gere.
Their romantic relationship began with a strong friendship. The model shared that this fact helped them to survive all the difficult moments. "Passion comes and goes, but if you are comfortable with someone, then everything will be all right," Crawford said.
The girl decided not to wait for first steps from her boyfriend, and she made him to offer. Randy says that it was self-sufficiency and determination that won him and forced to admire his wife for more than twenty years.
Will Smith and Jada Pinkett Smith
Посмотреть эту публикацию в Instagram
Will and Jada met in 1990, but started dating only five years later. The girl admitted that she did not see the point of marriage and didn't want to get tied up in obligations. The next day after the actor proposed to her, Jada found out that she was expecting her first child. Before the wedding, she was very nervous and couldn't overwhelm her emotions.
For sure, for 23 years of marriage, the couple has faced many problems, but Jada believes that any challenge can be overcome, if you completely trust each other. She didn't plan to start a family at such a young age, but now can't stop talking how much she loves her husband and children.
Julia Roberts and Daniel Moder
Посмотреть эту публикацию в Instagram
Early in her career, Julia Roberts has managed to win hearts of many Hollywood actors – Matthew Perry, Liam Neeson and Daniel Day-Lewis. The actress said that she would have remained a "scoundrel", if she hadn't met her future husband, cameraman Daniel Moder.
The pair met in 2002 on the set of The Mexican, and first and foremost, Julia was conquered by the man's "starlessness": he was far from parties and photographers' lenses.
Their wedding was quiet and modest: Julia and Daniel invited friends for a barbecue party and had a surprise: even their family and close friends didn't know that the couple was planning a wedding ceremony that day. Now Julia and Daniel have three children, and they say that the best entertainment for them is to spend time in a cozy house or at the ranch. In the end, quiet evenings, tenderness and understanding – isn't it the real happiness?