Tattoo is one of the ways to emphasize your individuality. Many Hollywood celebrities are addicted to having inks on their bodies. Some of their tattoos are a real works of art with very personal meaning.
Angelina is, famously, no stranger to tattoos, but her arm tattoo is possibly the cutest. It has all the coordinates of her children's birth places, along with Brad Pitt's. Another body art on the left side of her back is a Buddhist spell dedicated to her adopted son Maddox. The tattoo is for protection, translating as: "May your enemies run far away from you. If you acquire riches, may they remain yours always. Your beauty will be that of Aspara. Wherever you may go, many will attend, serve and protect you, surrounding you on all sides."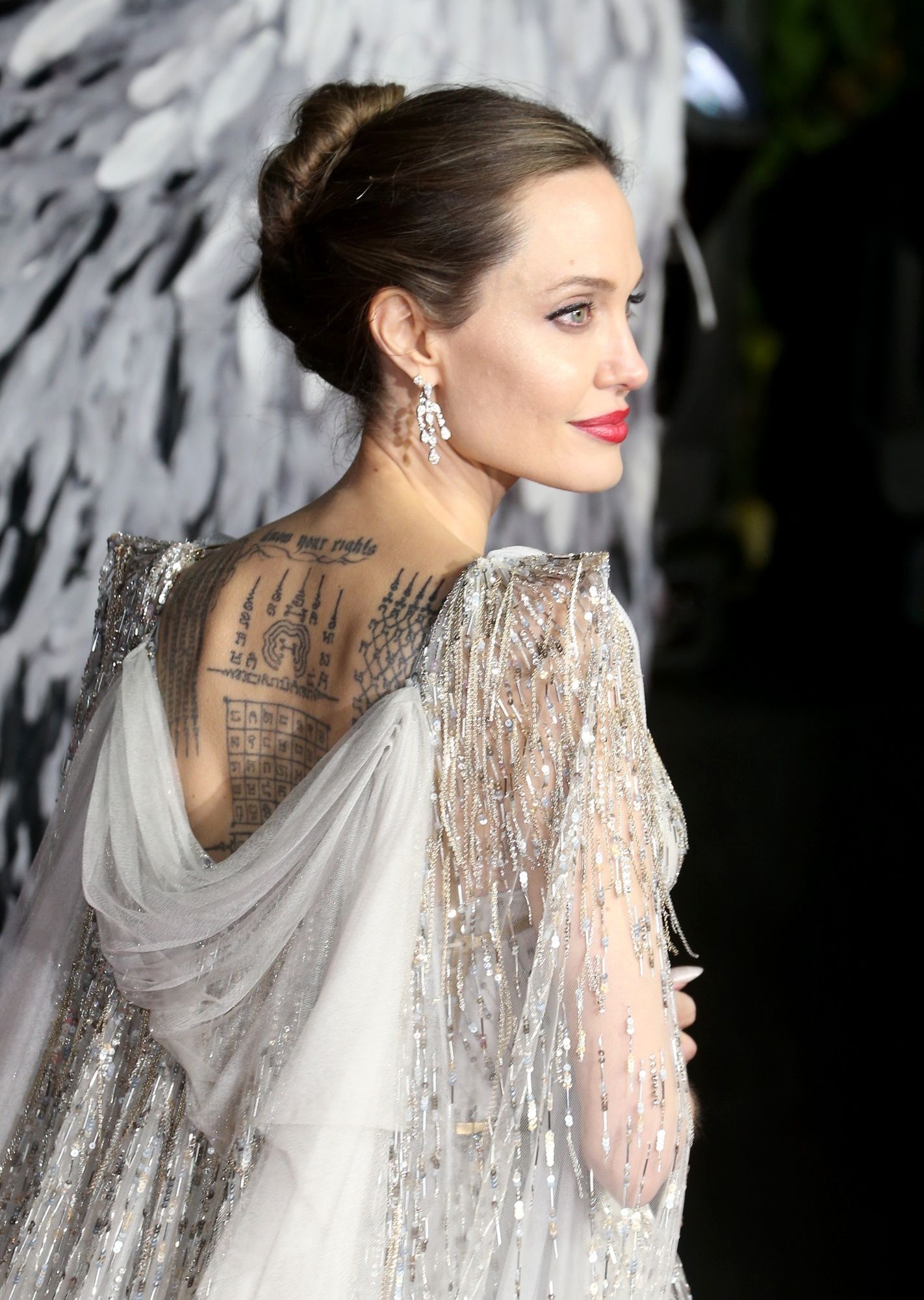 Photo: East News
Emma Stone shares a special bond with her mom–and Paul McCartney. To celebrate her mother being cancer-free, Emma and her mother marked the occasion with tattoos that pay tribute to their favorite song, Beatles' "Blackbird"...which were designed by Paul McCartney himself. Yes, really. The actress wrote a letter to the singer and "Blackbird" lyricist asking for a drawing of birds' feet to tattoo, and he responded by sending over the drawings. "Custom tattoos by Paul McCartney. Isn't that wild?" she told. "He's a good guy."
Посмотреть эту публикацию в Instagram
Demi Lovato got the 'rebirth of spirit' tattoo done over the course of eight hours in late December ahead of the new year and new decade. According to the tattoo artist Alessandro Capozzi, "the dark wings represent the bad times, their fading away is how she moved forward. 'The light from within represents the inner strength necessary for the change and the doves, pulling her up, symbolize the reach of a higher state of consciousness".
Посмотреть эту публикацию в Instagram
Lady Gaga commemorated her epic collaboration with Tony Bennett with a beautiful black-and-white trumpet on the inside of her left bicep (designed by Bennett himself!). One of the singer's most striking pieces is this arm tattoo, which features a German quote from Letters to a Young Poet written by Rainer Maria Rilke, along with the date 12/18/1974, which commemorates her aunt who died before she was born, but who she feels a deep connection to.
Посмотреть эту публикацию в Instagram
Kylie Jenner is paying tribute to her baby girl Stormi Webster with a new tattoo. She got her daughter's name stamped onto her tricep in black block capitals, forever broadcasting her affection for the baby daughter to the world. The tattoo turned out to be so cute and touching. Meanwhile, her sister Kendall Jenner showed off a shocking lip tattoo on The Ellen DeGeneres Show, which simply says the word "meow". When DeGeneres asked why she did it, Jenner replied, "I was drunk! I was not thinking clearly." As for, "Why meow? And why there?" Jenner said, "It was literally the first thing that came into my mind... my drunk thoughts."
Посмотреть эту публикацию в Instagram
"Game of thrones" star Sophie Turner and her husband Joe Jonas made couple's tattoo. The words "To infinity and beyond" on the spouses' wrists are a symbol of their eternal love to each other.
Посмотреть эту публикацию в Instagram
Scarlett Johansson's tattoo, which appears to be roses on a vine, could very well be a tribute to her daughter, Rose. The flowers creep up the center of her back, next to her lamb tattoo that she's had for a while. The first official glimpse we got of the new ink was actually at the American Museum of Natural History's 2017 Museum Gala.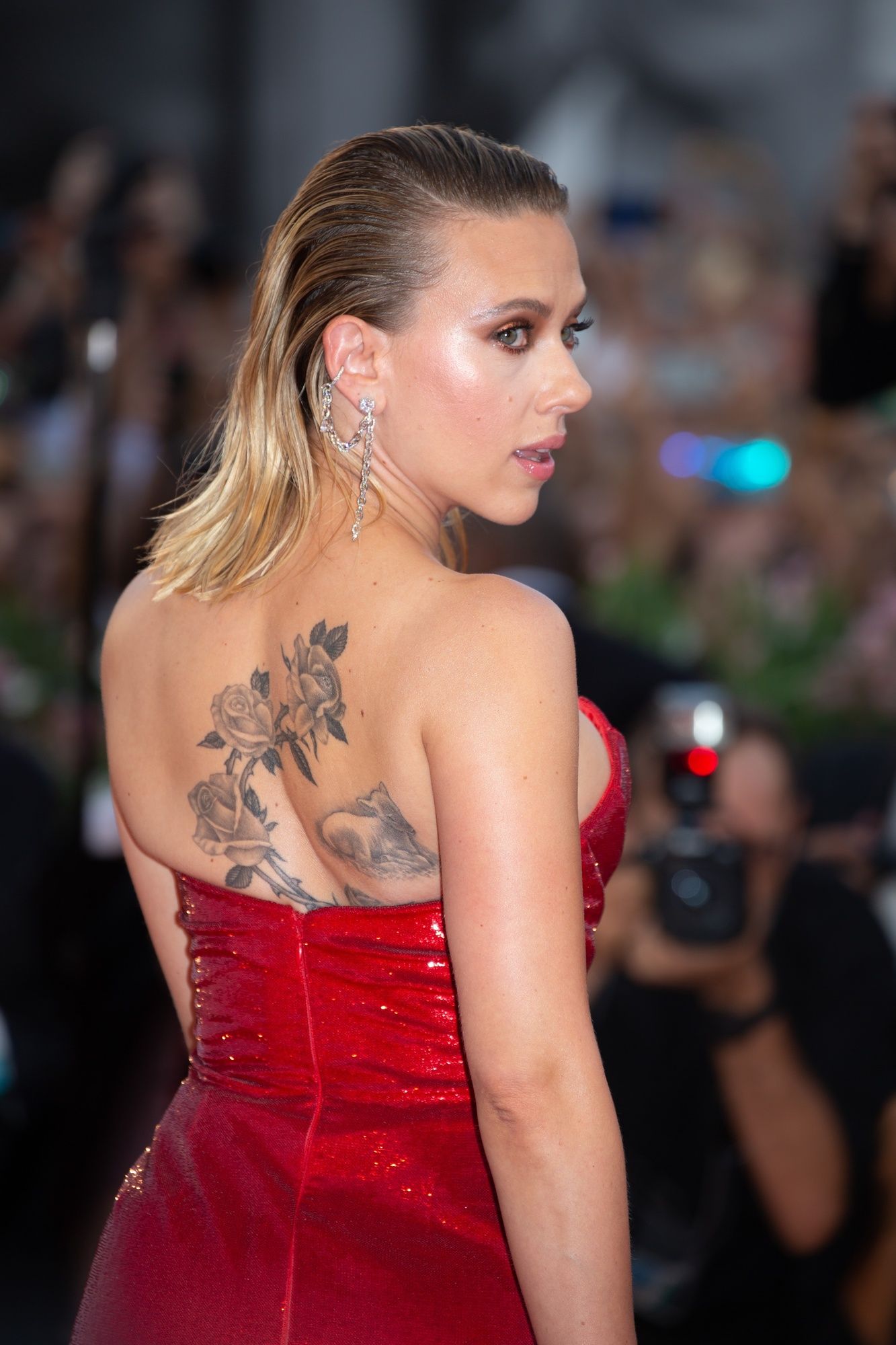 Photo: East News
The model/actress/can-doer loves tattoos—including this one, script of her initials (Cara Jocelyn Delevingne) inked by Bang Bang NYC.
Посмотреть эту публикацию в Instagram
Justin Bieber is a massive fan of tattoos. Ever since he was 16, the 'Boyfriend' star has been adding more and more ink to his body, and it doesn't look like he's going to slow down anytime soon. He has a few tattoos that refers to his Christian faith, the bear chest tat and the huge eagle on his abdomen, inks with philosophical meanings or ink represents his mother's birth year. He has got as many as forty tattoos on his body.
Посмотреть эту публикацию в Instagram
His wife Hailey Bieber is also fond of tattoos, but prefers a more minimalistic design. Fans of the pair suggest that some pieces of ink on the Haley's body are dedicated to Justin.
Посмотреть эту публикацию в Instagram
Посмотреть эту публикацию в Instagram
By the way, many celebrities prefer to do such small tattoos that are almost invisible. For example, colorful, but concise Vanessa Hudgens's tattoo.
Посмотреть эту публикацию в Instagram
Zoe Kravitz preferred feminine and elegant tattoos. In addition to the laconic inscription on the neck, the girl has a few symbolic tattoos: dragonfly and swallow.
Посмотреть эту публикацию в Instagram