Year-to-year, summer heat makes us step onto the journey of searching for the most lightweight and breathing fabrics, to allow the body to stay as fresh as possible. It will be much easier to do in summer 2020 - transparency is one of the top fashion trends this season. We collected for you six transparent outfits from the crystal clear Dolce & Gabbana total-look to moderately ethereal Valentino top, combined with all-white shorts, belt, sandals, and laced-jacket.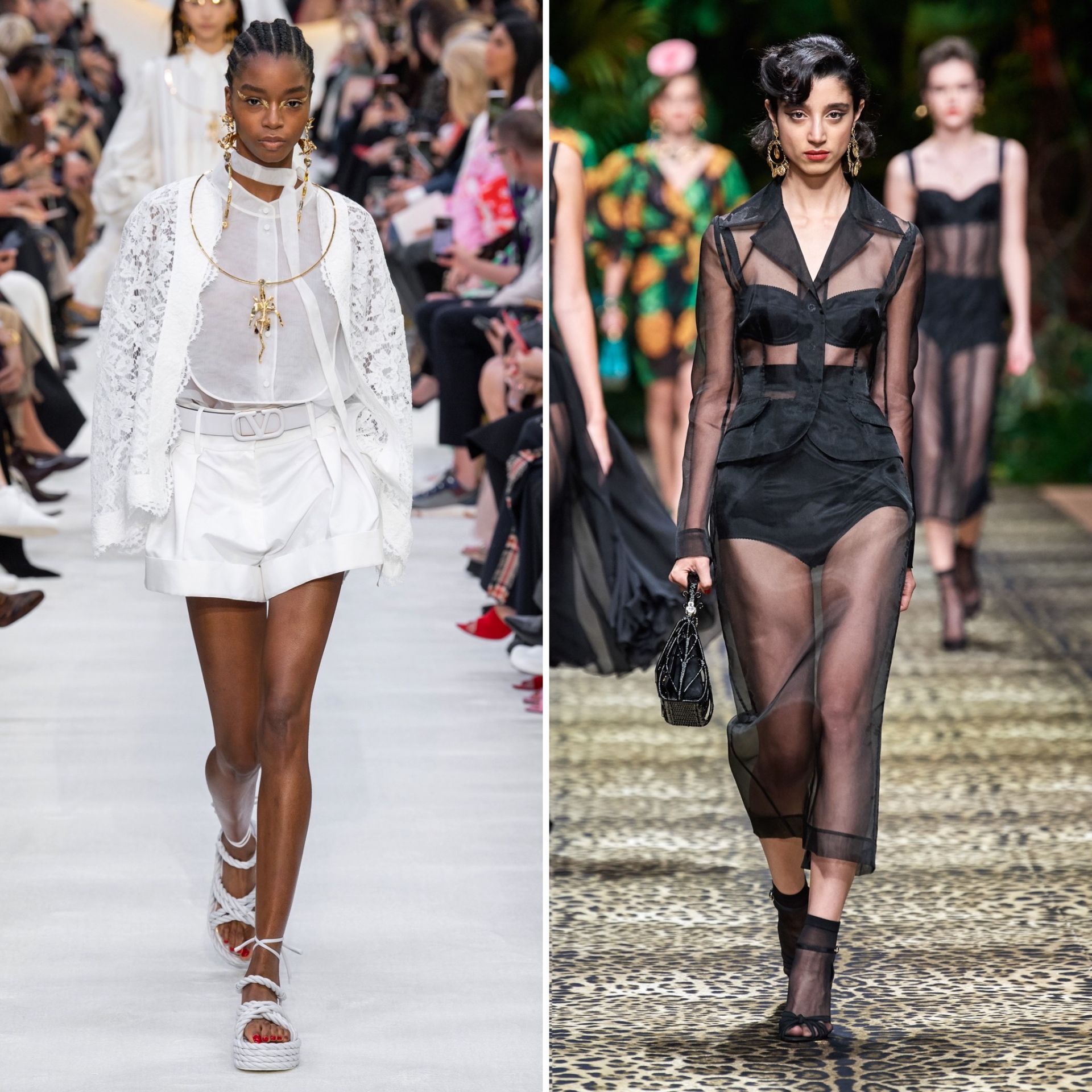 From left to right: 1. Valentino; 2. Dolce & Gabbana
Molly Goddard approached the trend with all the seriousness, incorporating transparency into mostly each of her tulle-dress, famous for their airy and princess-like pleating and smocking. Her azure-blue dress would suit the ones who would like to keep up with the latest fashion but are not willing to feel too exposed, offering a white underskirt as a convenient and practical solution.
If you are not afraid of experiments, try on a bold high-collar Alexander McQueen dress. Sarah Burton decorated it with the ethereal ivory laces in the tender patchwork style but made it more sportsmanlike with a wide belt and the same color boots.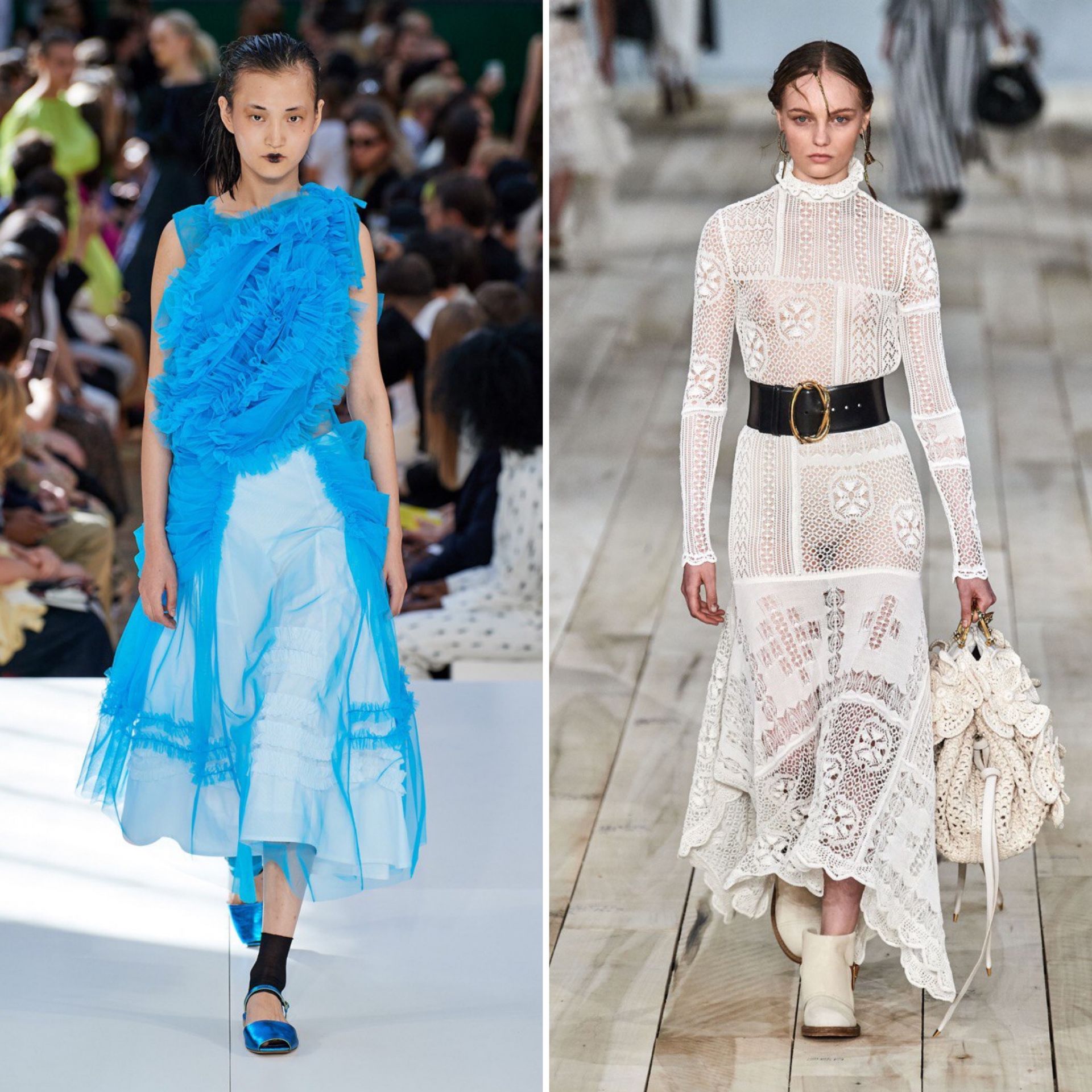 From left to right: 1. Molly Goddard; 2. Dolce & Gabbana
In his latest collection, David Koma proves that transparent materials are not limited to special occasions only and are wearable on an everyday basis. You can wear the sequins-infused pastel-pink jacket over the shiny black underwear balanced with the greyish jeans and the black belt perfect for waist- emphasizing.
Gauzy voile models would be a perfect addition to your summer wardrobe. For the lovers of calm brownish and pastel palette, Fendi presents a simple combination of transparent tulle-skirt with a knitted tank top, though also offering a range of models suitable for the more high-level type of events. If you are ready to continue mixing various garments, then you can remake the Miu Miu look: a black long-sleeve crop on top of the lightweight voile slip dress accessorized with a small net bag.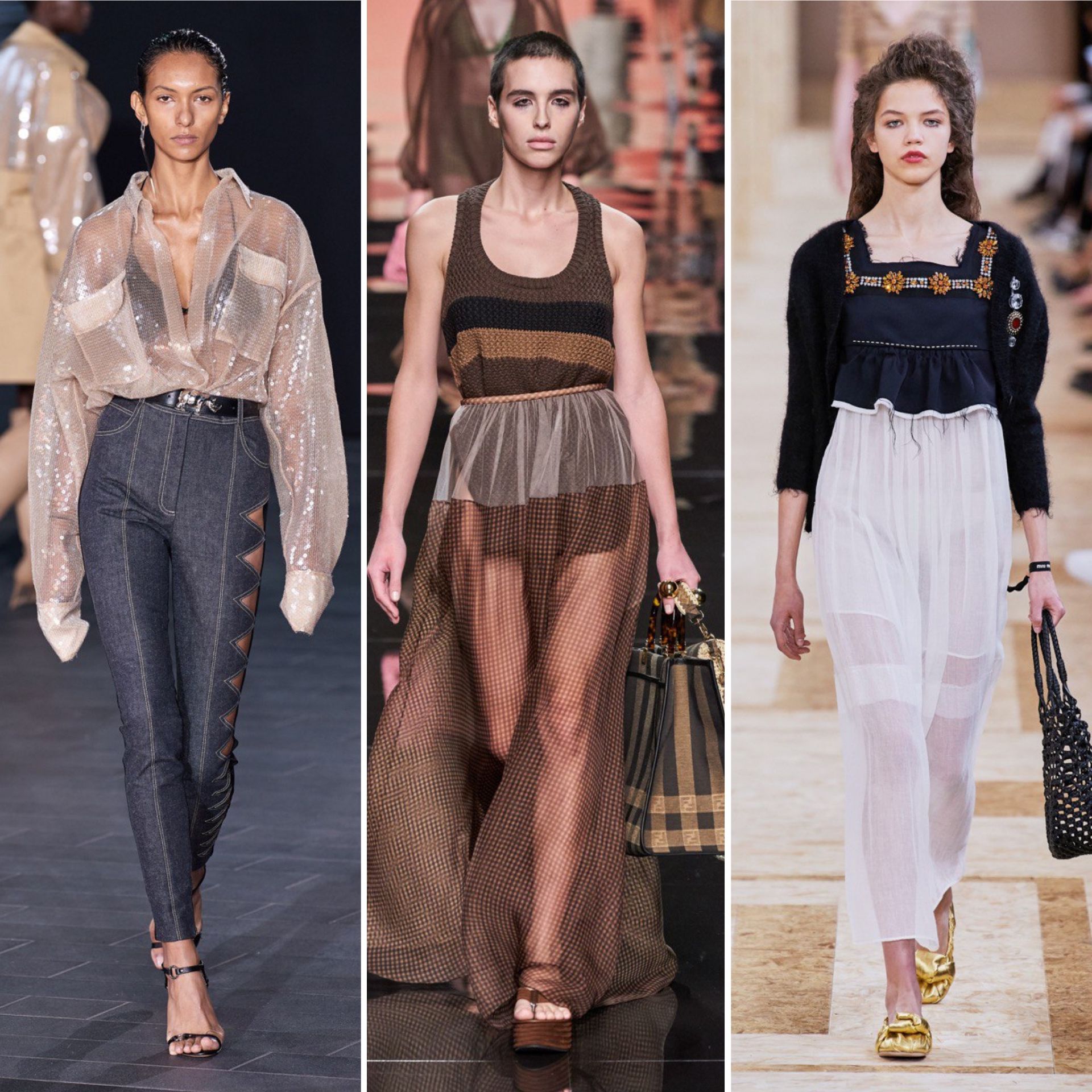 From left to right: 1. David Koma; 2. Fendi; 3.Miu Miu
This summer is to show that see-through pieces are not only for the runways - they can turn out to be a very down-to-earth item, easily transformable into something showier and more glamorous when you know well the matching rules.
Find out more summer 2020 trends:
9 bright bags that you can't ignore this summer
Mule as the main shoe trend of summer 2020: 14 best pairs to wear this season