Sneakers have long ceased to be associated exclusively with sports, taking their place of honor in the basic wardrobe. This comfortable versatile is suitable even for red carpets - proven by Billie Eilish. You can find the perfect pair not only from such giants as Nike, Puma, Adidas, but also in the collections of Chanel, Dior, Louis Vuitton, and other luxury brands, and wear them with joggers and jeans or with business suits and dresses. What models, prints, and colors to choose from this season? Check out our review of the main sneaker trends for spring-summer 2021.
White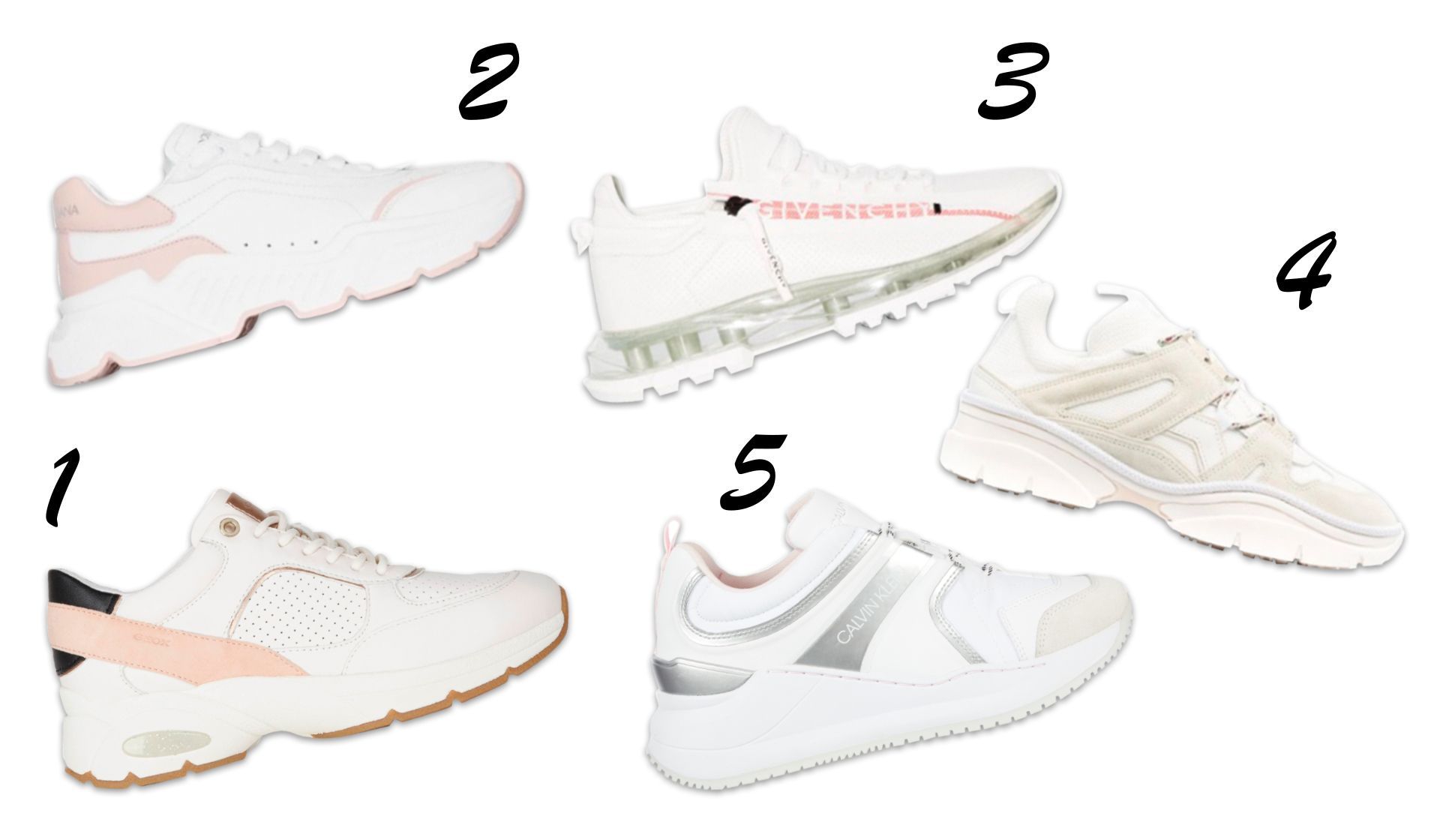 1 - Geox, 2 - Dolce & Gabbana, 3 - Givenchy, 4 - Isabel Marant, 5 - Calvin Klein
Minimalistic, comfortable, and very stylish - it is hard to imagine a more versatile shoe that fits any look. Light laconic sneakers without unnecessary details have long symbolized the final victory of sports style over the classics and the same wardrobe must-have as pumps. They suit any outfit as well as any occasion, including a romantic date, long-awaiting travel, party, or even a wedding ceremony. There is no doubt that this is an excellent base: white sneakers will never go out of fashion and in five years will be as relevant as they are now.
Chunky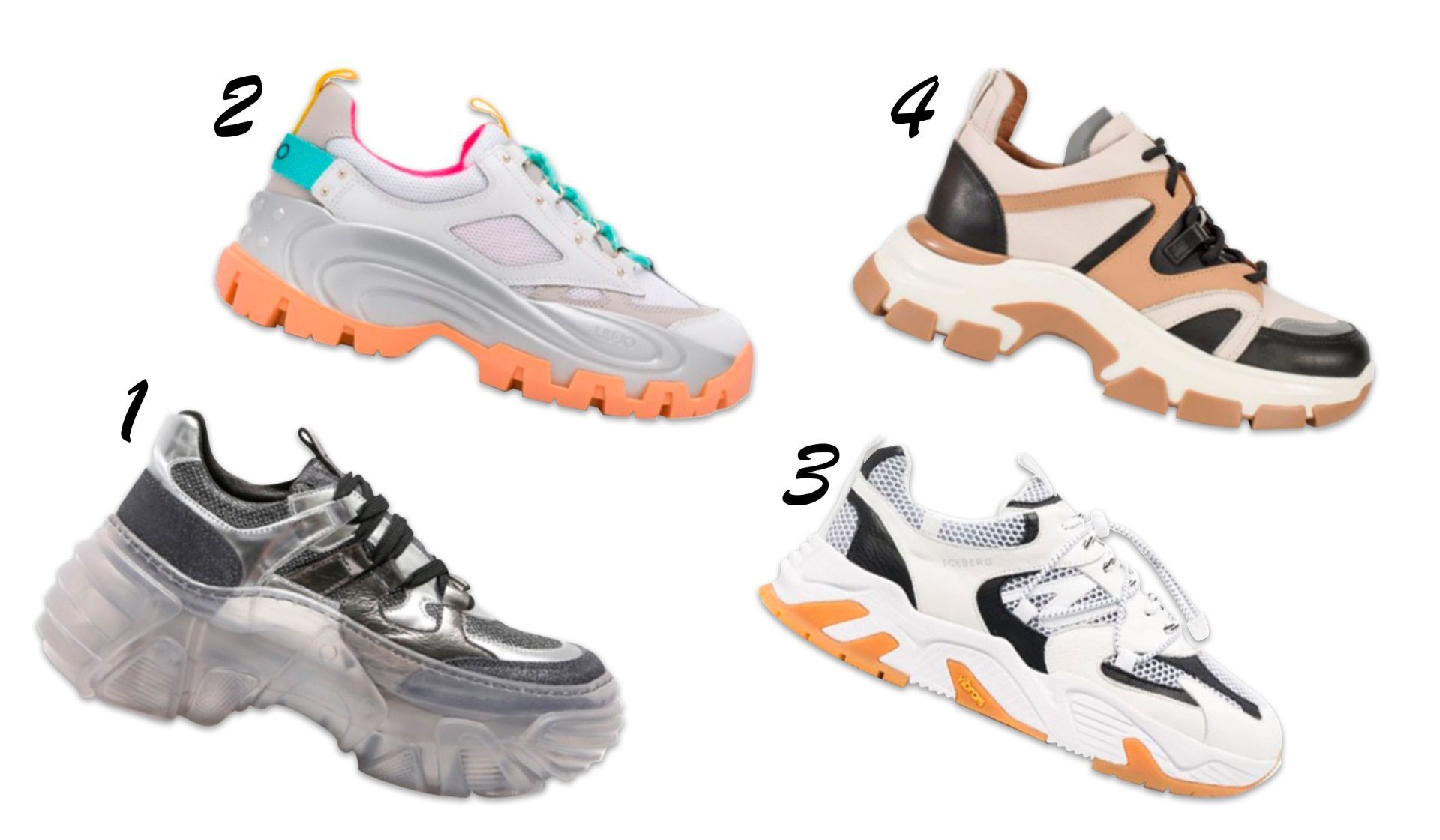 1 - YEA 2098, 2 - Liu Jo, 3 - Iceberg, 4 - Ekonika
When updating your wardrobe this spring, take a look at the chunky-soled sneakers. They can add a bright accent to your outfit, be real salvation on a rainy day, or a way to appear a little taller, avoiding uncomfortable heels. This season, the trend will be both more classic options and models on the fanciest platform, reminiscent of shoes for space travel. However, they look just as cool with skirts, dresses, and romantic sundresses as they do with nylon joggers, baggy buggies, and thin leather leggings.
High-top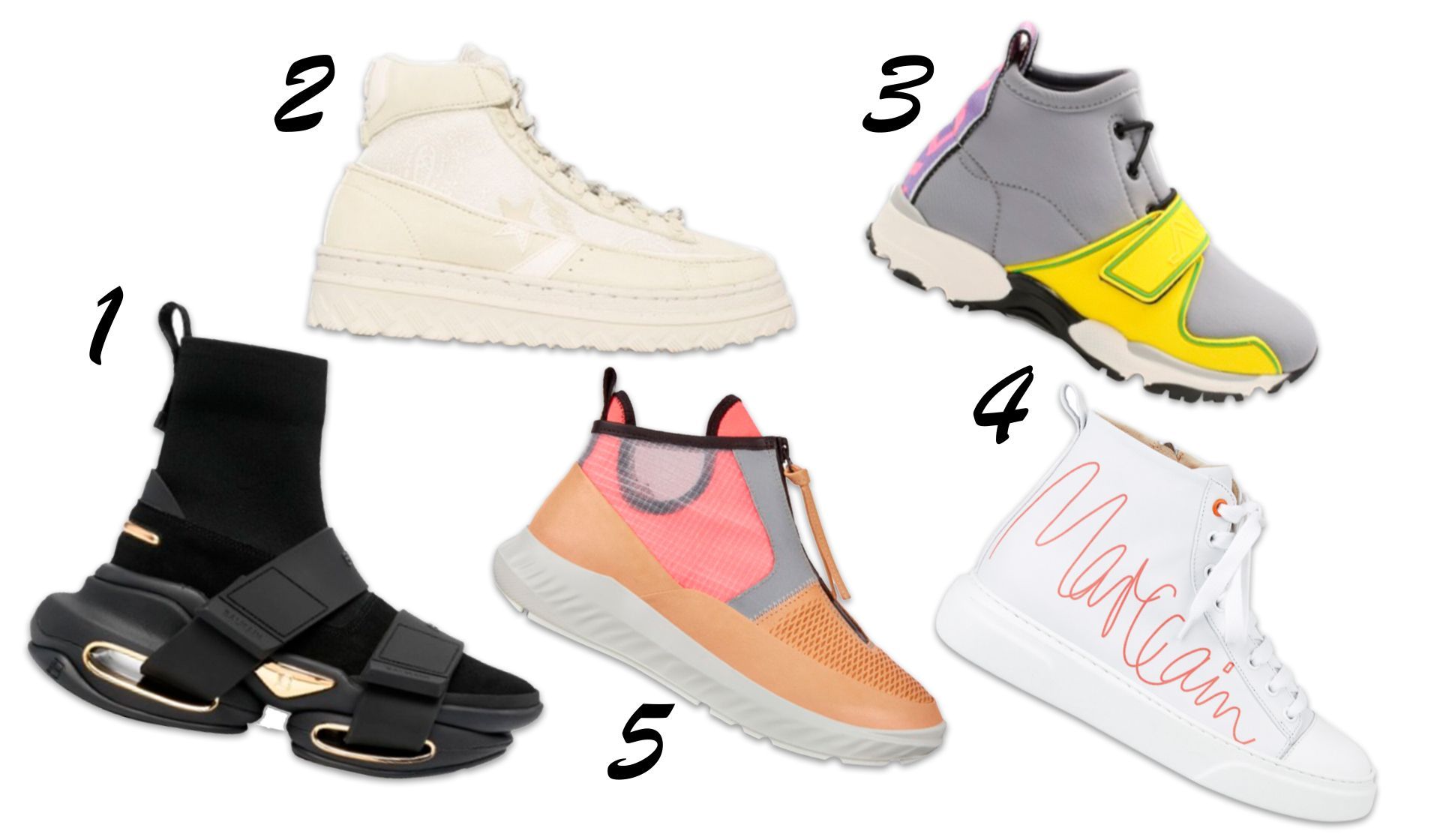 1 - Balmain, 2 - Converse, 3 - Stella McCartney, 4 - Marc Cain, 5 - Ecco
Thanks to Kaia Gerber, Emily Ratajkowski, Gigi Hadid, and other celebrities, high-top sneakers in matte leather or durable fabric are another trend this spring. A couple of decades ago, such a model was difficult to imagine somewhere else than a boxing ring or a basketball court. Now they can be seen both on the streets of metropolitan areas and the catwalks of any Fashion Week. With each new season, high-top sneakers are increasingly found in the collections of luxury and mass-market brands, and designers never stop experimenting, decorating them with embroidery, chains, multi-colored inserts, rhinestones, and even feathers.
Сolorful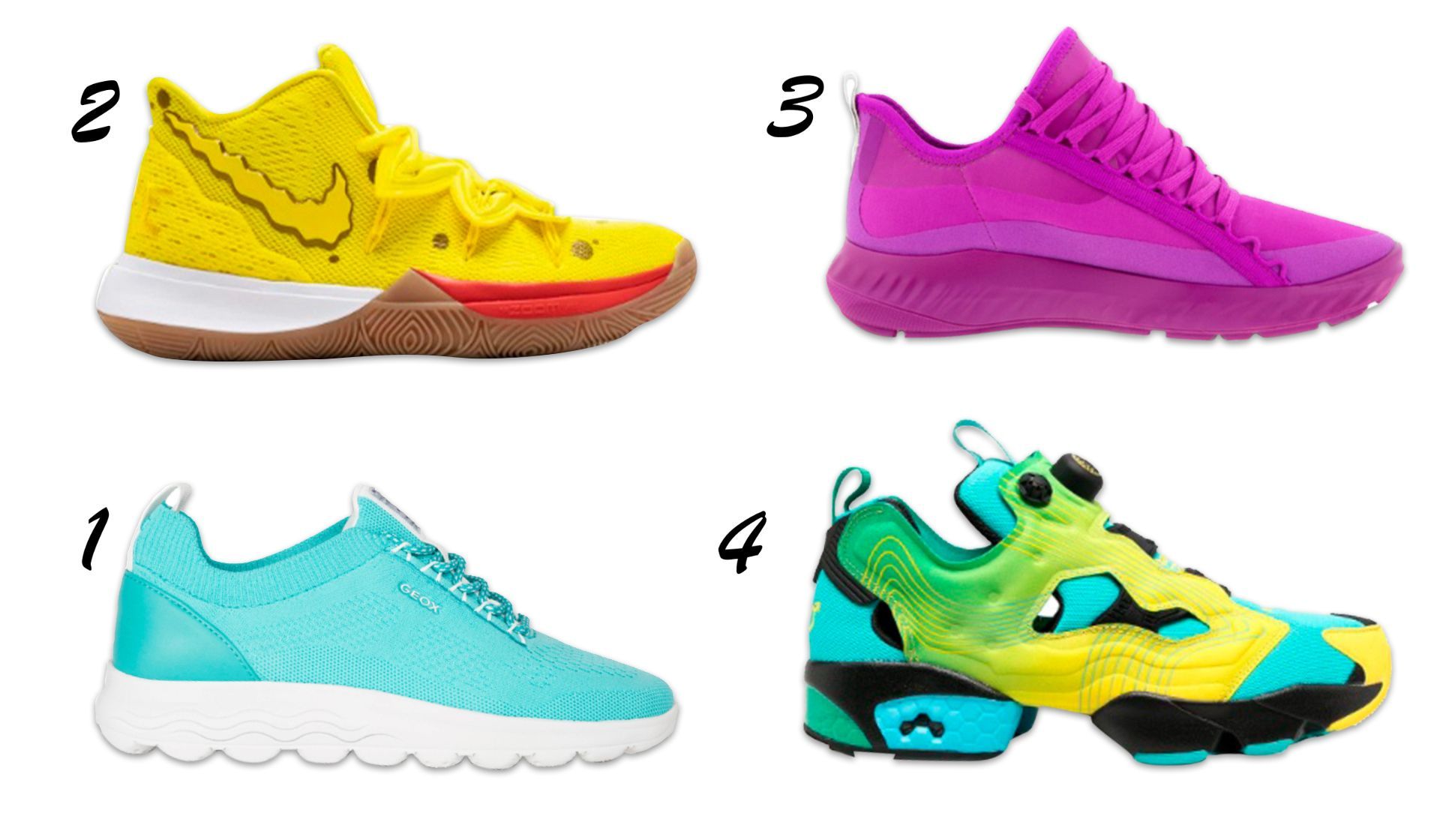 1 - Geox, 2 - Nike, 3 - Ecco, 4 - Reebok
The beginning of the warm season is the perfect time to add more bright colors to your wardrobe and allow yourself to forget about modesty, restraint for a while, and switch from pastel shades to fluorescent without any smooth t fluorescent.
With prints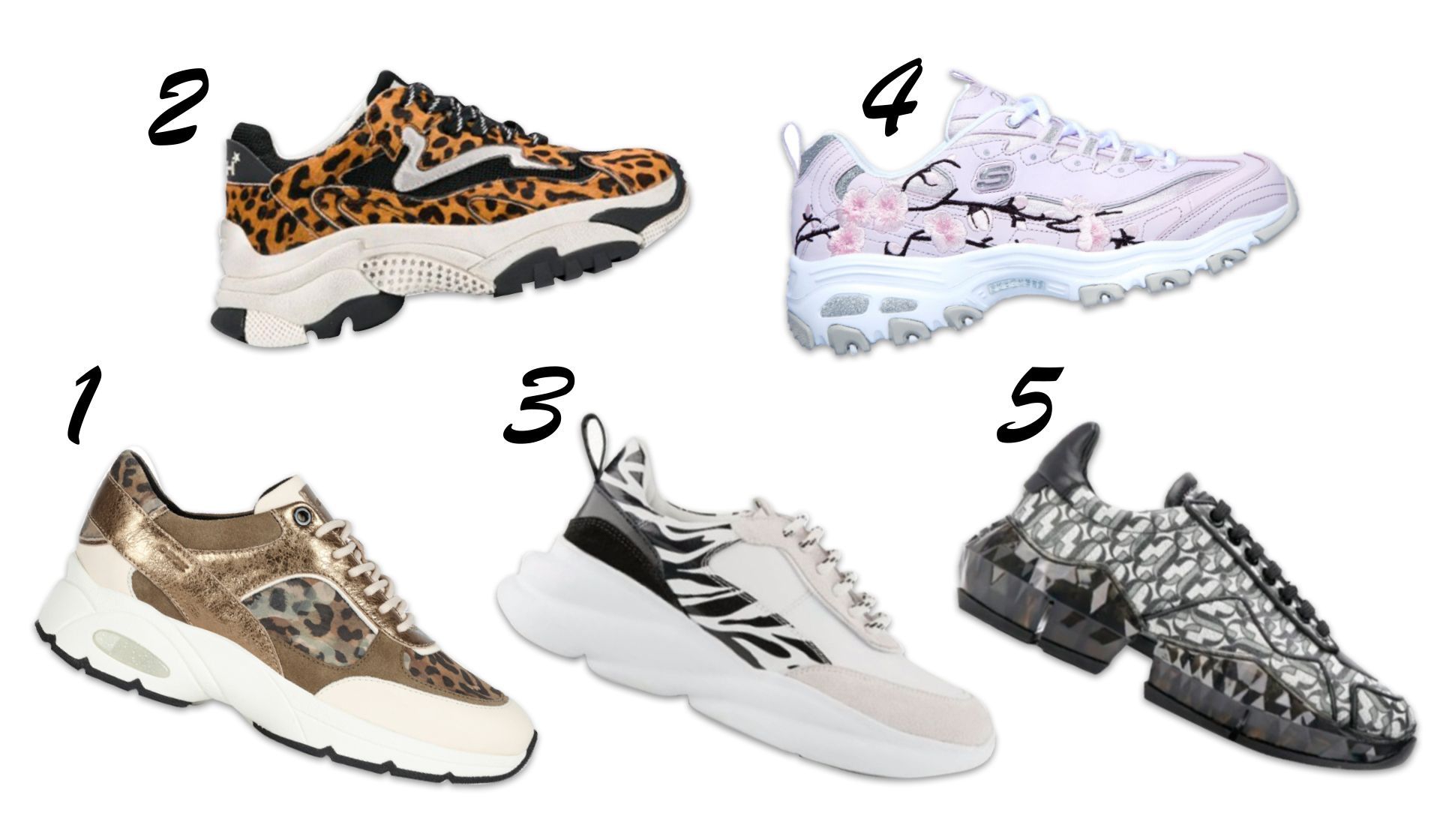 1 - Geox, 2 - ASH, 3 - Ekonika, 4 - Skechers, 5 - Jimmy Choo
The trend for shoes with prints in the spring and summer of 2021 will affect not only ankle boots, shoes, and ballet flats, but also sneakers. They will be decorated with all kinds of inscriptions and slogans, predatory animalistic patterns, cute flowers, and surreal multicolored spots, similar to watercolor stains. Wear such models with solid palazzo trousers, cropped jeans with wide cuffs, short dresses, and skirts, relying on massive models that you definitely won't want to exchange for any heels in the world.
Ugly shoes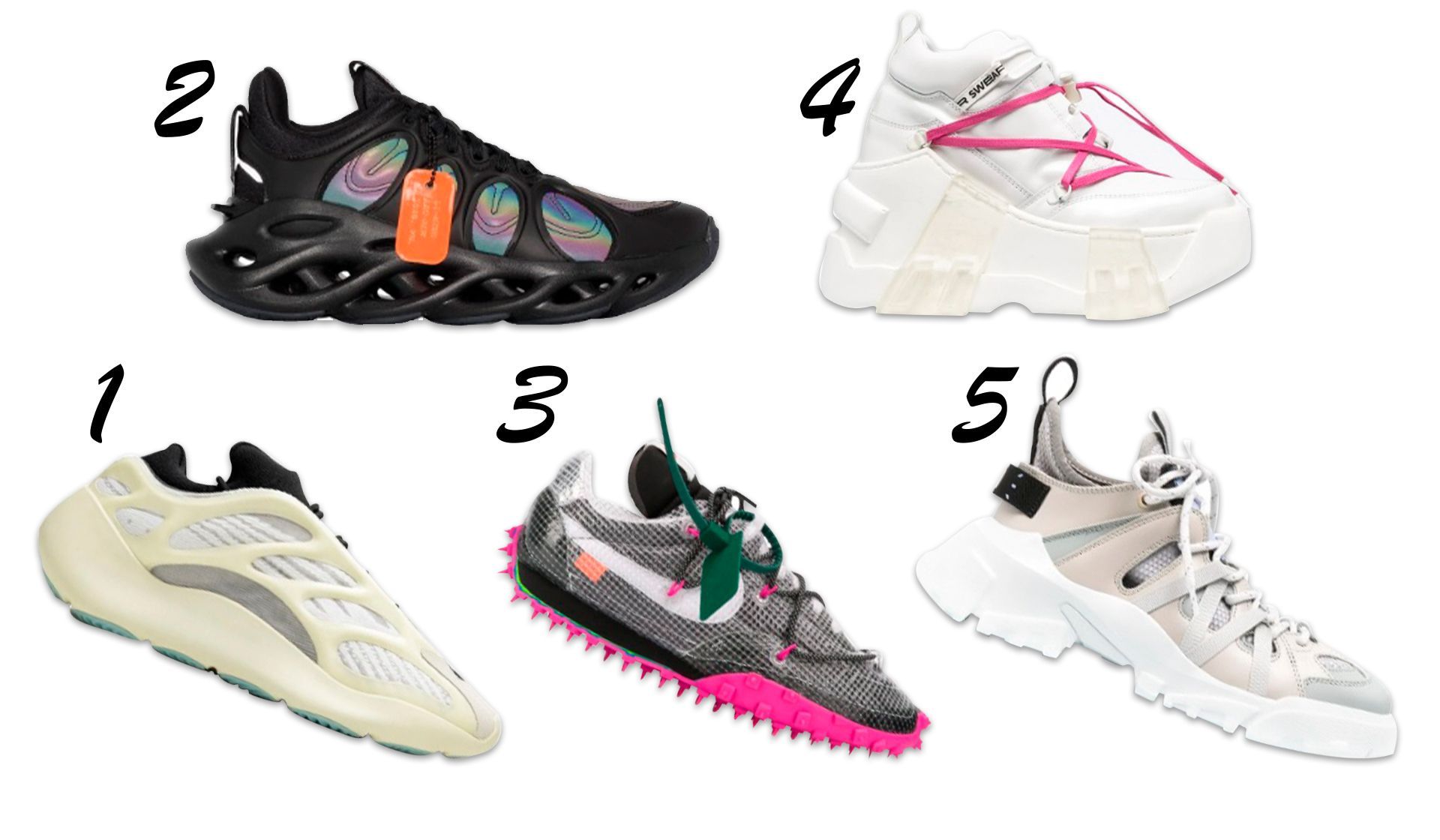 1 - Adidas YEEZY, 2 - Li-Ning, 3 - Nike X Off-White, 4 - Swear, 5 - MCQ
Previously, the term "ugly shoes" was unfairly used to name all sneakers in the style of the 1990s, but in the spring of 2021, this expression got a different meaning. Thanks to Kanye West and his Yeezy Boost brand, the most surreal sneakers became one of the biggest trends. The popularity of these models is easy to explain. Many fashionistas are tired of minimalism and are looking for something special to stand out from the crowd. Sneakers, which immediately after the release become memes and at the same time a hot trend, do the best for this task.
Read also:
Chloé, Givenchy, Schiaparelli and other catchy collections of Paris Fashion Week