A red dress is definitely among the must-haves in your wardrobe this season, so don't be pushed back by the color's vividness - there are enough shades of red for every occasion, from the everyday walk to the movie premiere.
If you are unsure which red dress design suits you better, this season designers played with a wide variety of silhouettes, fitting mostly every body type. From Genny's midi dress with the extravagant ultra-deep neckline to the Rochas loose fit maxi one, it is possible to find a model tailored exactly at your request.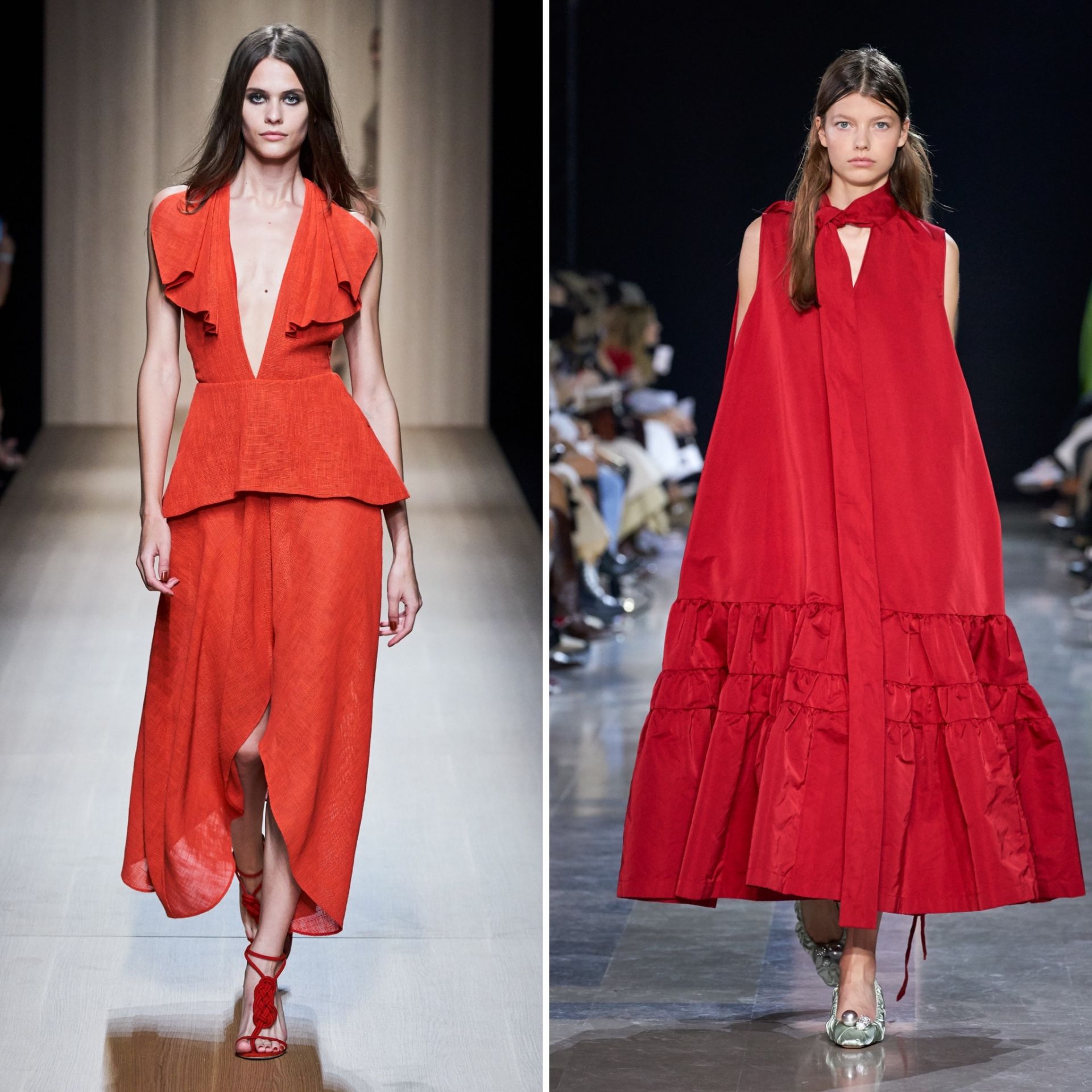 From left to right: 1 - Genny; 2 - Rochas
When choosing the right style for your occasion, Boss's high slit dress could be a nice compromise between casual and classiс. Those who want to look as passionate as possible should pay attention to red waist underlined dresses. Some brands such as Tory Burch and Elie Saab offer to belt an already sexy gown with leather straps to create the image of a femme fatale.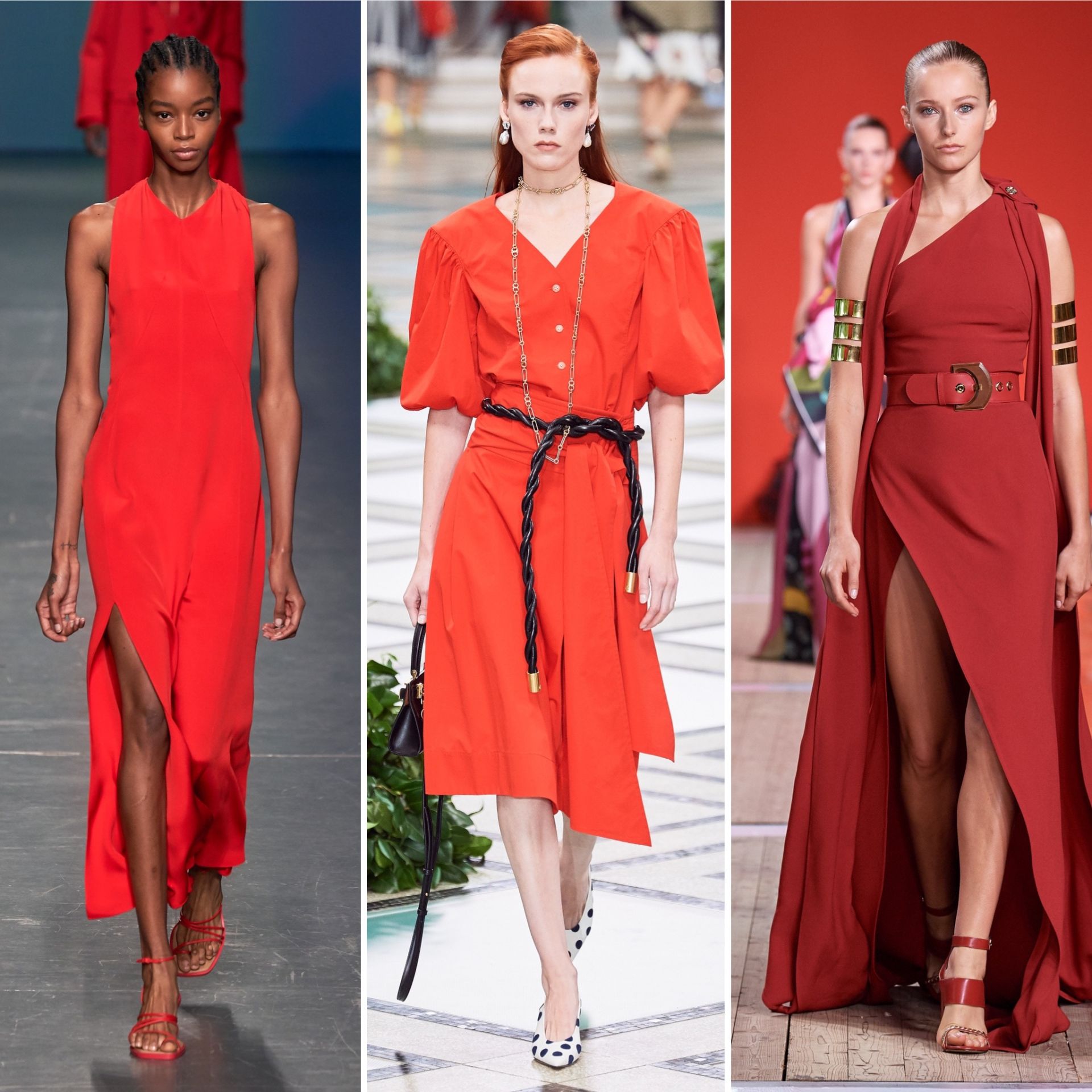 From left to right: 1 - Boss; 2 - Tory Burch; 3 - Elie Saab
Airiness and femininity will follow the red dresses throughout this summer. The flashlight sleeves, girly laces, and variety of frills can be found in Giambattista Valli, Erdem, and Christian Wijnants collections.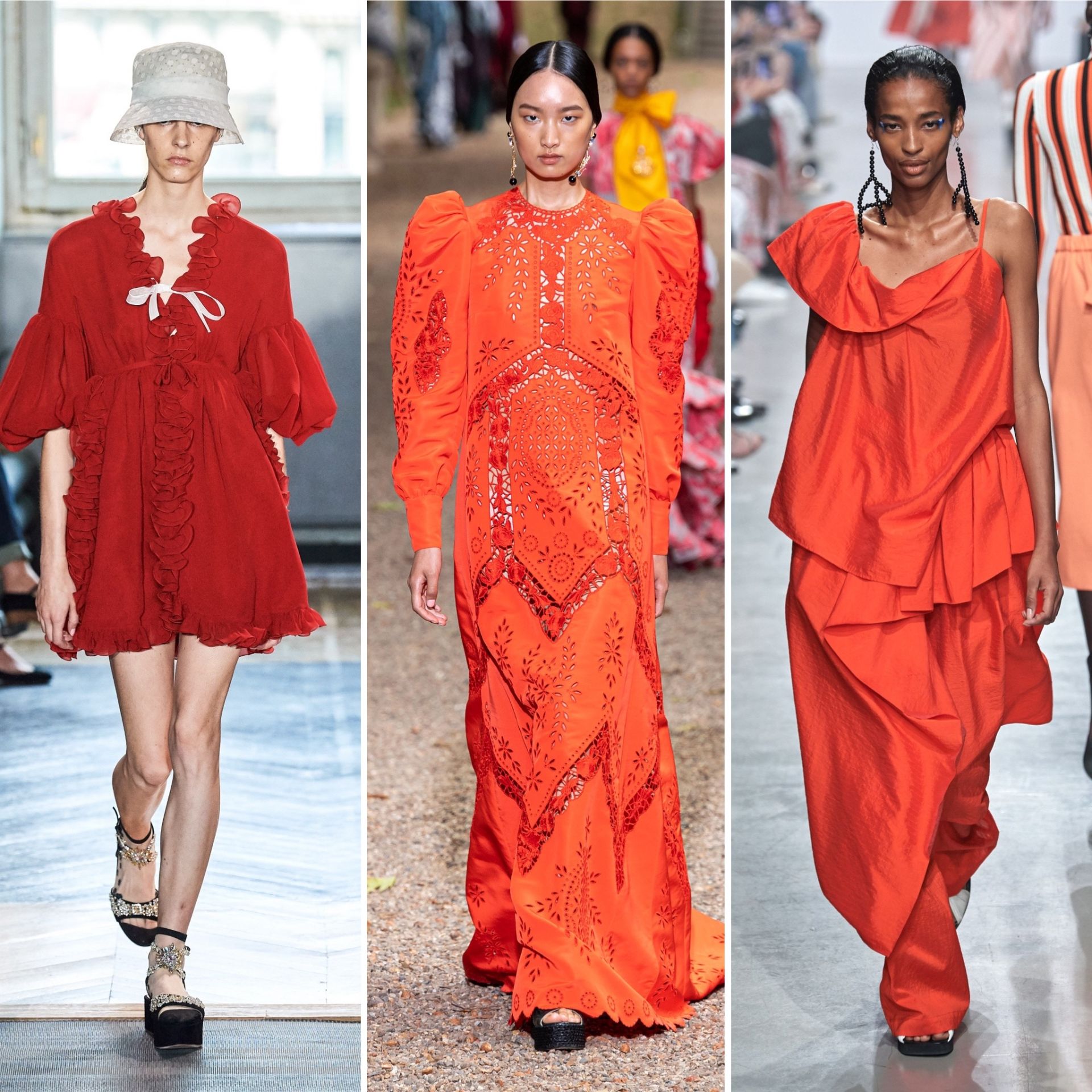 From left to right: 1 - Giambattista Valli; 2 - Erdem; 3 - Christian Wijnants
Another popular element of decoration this season is a contrast pattern - Givenchy created the fairy-tale loose-fit high neck dress with the floral print while Marc Jacobs chose the huge fluffs from dandelion to cover the red velvet dress. Being quite dreamy, both models are the perfect option for a big date or a romantic outing. Looking for something more casual, draw your attention in Michael Kors' polka-dot patterned dress that is a good option for an informal meeting in a cafe.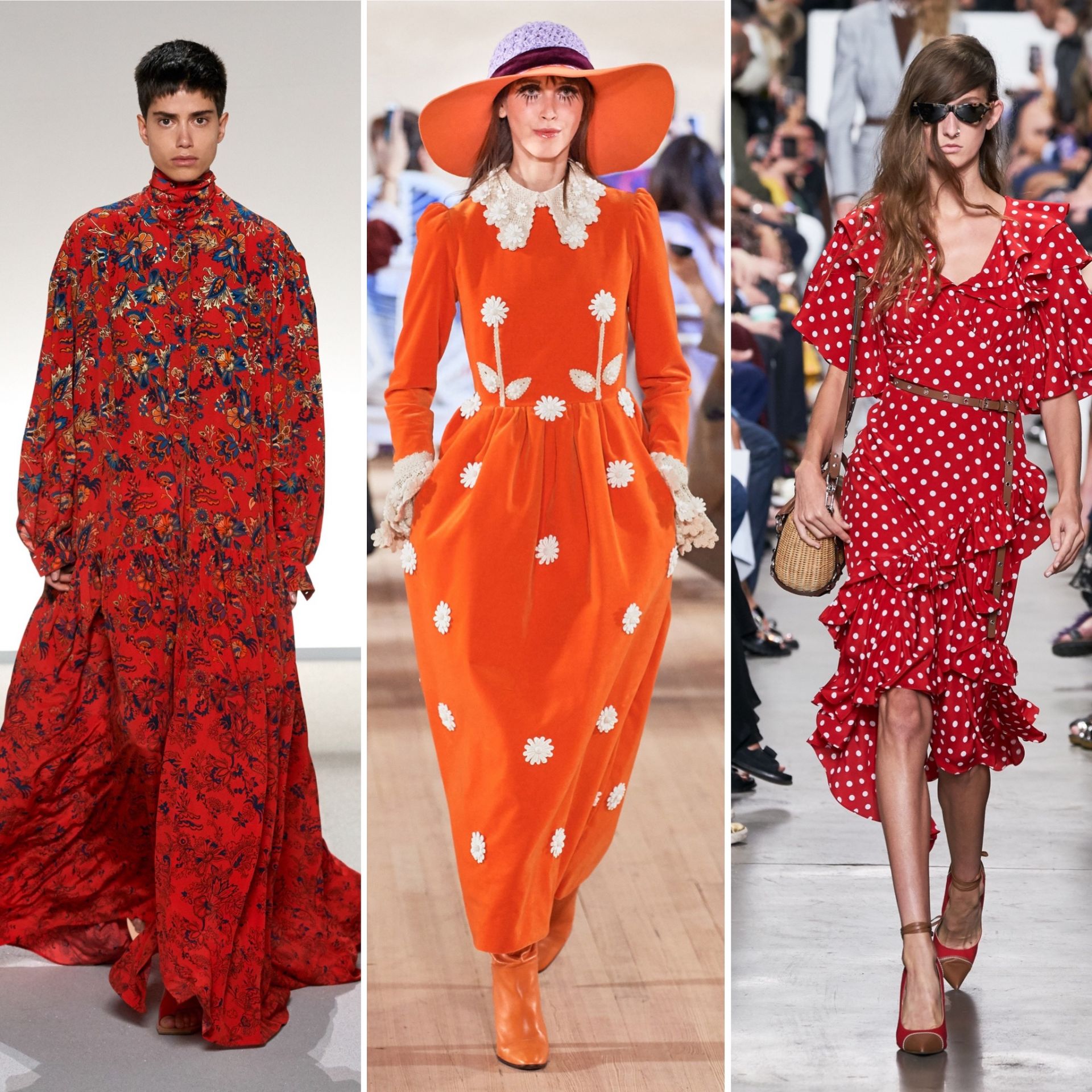 From left to right: 1 - Givenchy; 2 - Marc Jacobs; 3 - Michael Kors Collection
Thanks to delicate and soft materials such as satin and silk, you will feel as comfortable as possible this hot summer. These fabrics are commonly used for the slip dresses - Olivier Theyskens showcased it in the contrast combination with fuchsia high heels. However, if you want to wear a red gown for a fancy night out, we recommend you to keep on your mind a rhinestone embroidered dresses such as the one from Michael Kors' collection.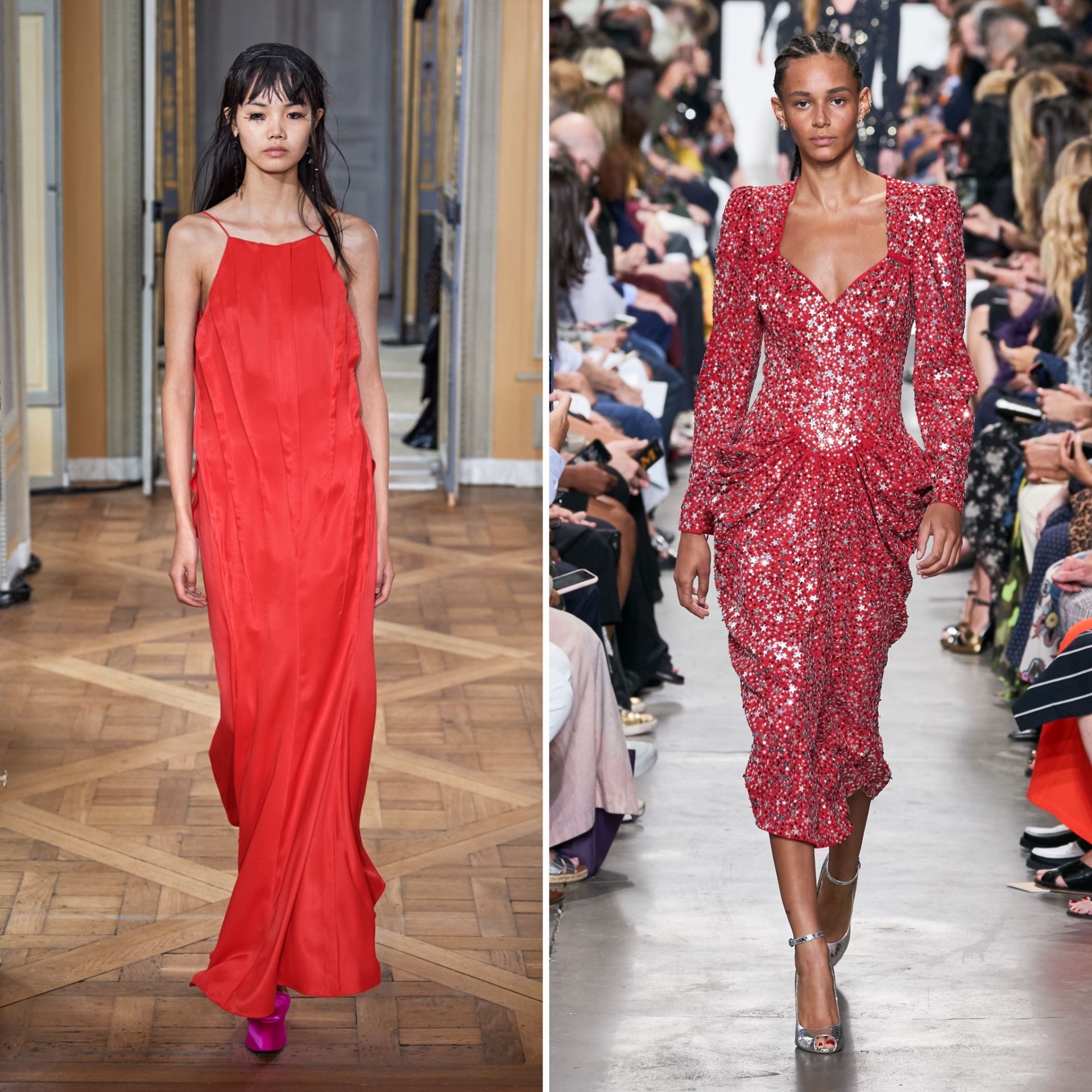 From left to right: 1 - Olivier Theyskens; 2 - Michael Kors Collection
With such a variety, every red dress will find its owner, and each customer will shine in the beautifully-colored purchase.
Read more about the latest trends:
The geometry lessons: cones, spheres, and spirals as the trendiest shape of heel this summer
Summer isn't summer without citrus color! 12 lemon garments to wear this season