The colors, with which we surround ourselves, not only affect our mood and well-being, but can also tell a lot about our character. We continue the project "Psychology of color", in which we talk about the psychology and compatibility of colors. In previous articles, we wrote about grey, red, green, blue and black colors. And, this article will be devoted to yellow.
Psychology of color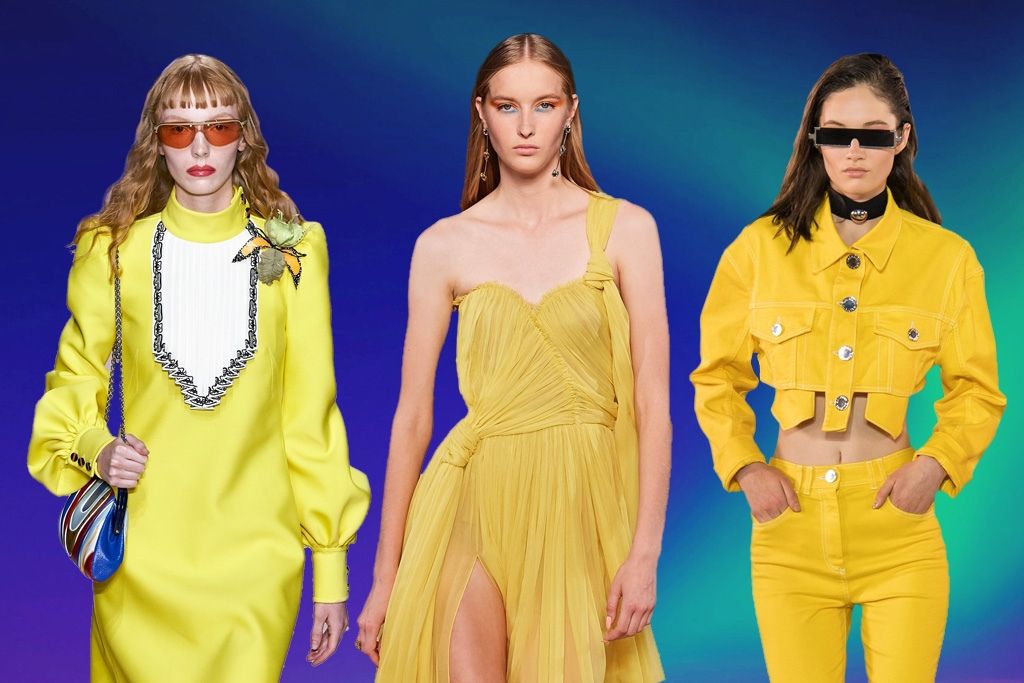 Louis Vuitton spring-summer 2020, Oscar de la Renta spring-summer 2020, Balmain spring-summer 2020
Yellow is the most positive color in the palette. It is associated with the sun, summer and warmth. In the era of the Qing Dynasty in China, yellow was considered to be imperial: only representatives of the monarchy could wear it, while in Japan one of the shades of yellow - gardenia - belonged to the forbidden colors: it could be worn only with the permission of the emperor.
In general, psychologists treat yellow very well: they say, that it has a beneficial effect on our mental activity and memory, gives vigor and energizes. In color therapy, yellow is used to fight depression.
It is believed that people who prefer yellow in their wardrobe are active and positive. They are real adventurers who are willing to take risks, are confident in their abilities and are able to ignore problems and failures.
Fashionable combinations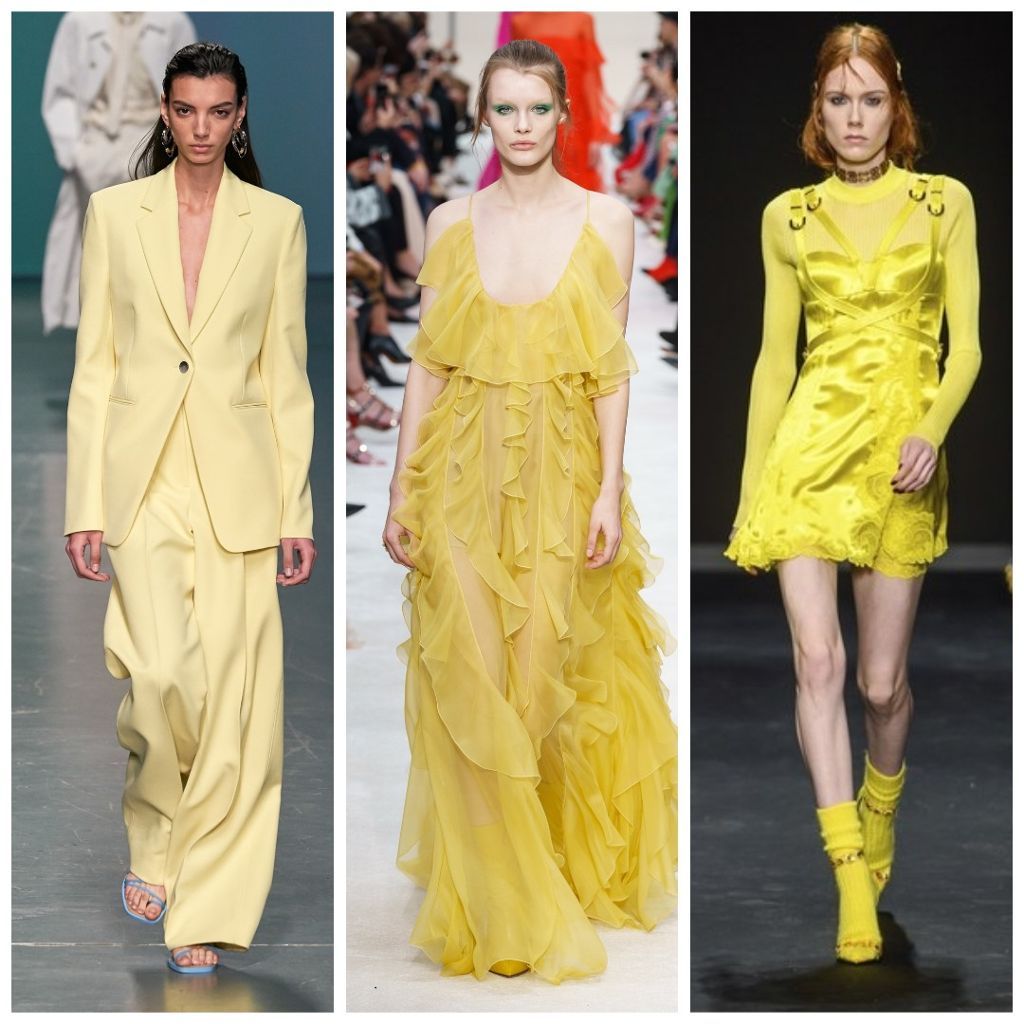 Boss spring-summer 2020, Valentino spring-summer 2020, Versace fall-winter 2019
Despite such a positive characteristic of yellow, not everyone dares to add this color to their wardrobe. The reason is simple - it is very active and immediately attracts attention. Finding the right colors for matching can seem like a daunting task. But in fact, yellow has a huge number of shades, just like other colors do: lemon, saffron, golden, sand, vanilla. Among this variety, there are both pastel and muted shades, as well as darker ones that smoothly turn into ocher. Therefore, choosing the right shade is easier than it might seem.
Yellow + Yellow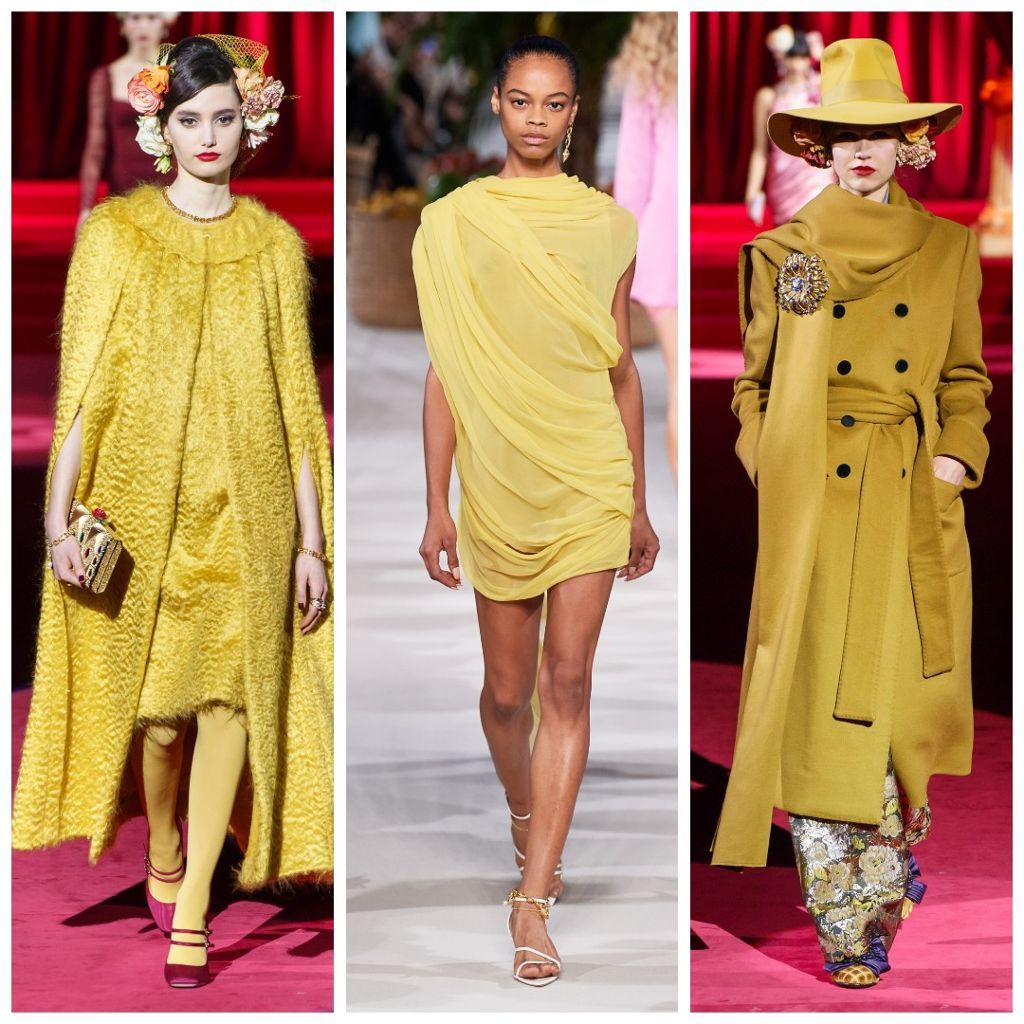 Dolce & Gabbana fall-winter 2019, Oscar de la Renta spring-summer 2020, Dolce & Gabbana fall-winter 2019
Yellow isn't the most popular color for the total look: for everyday life, such outfits are not very suitable, they are rather festive. But you can choose muted shades - for example, mustard, and use them to create a trendy look.
Yellow + Black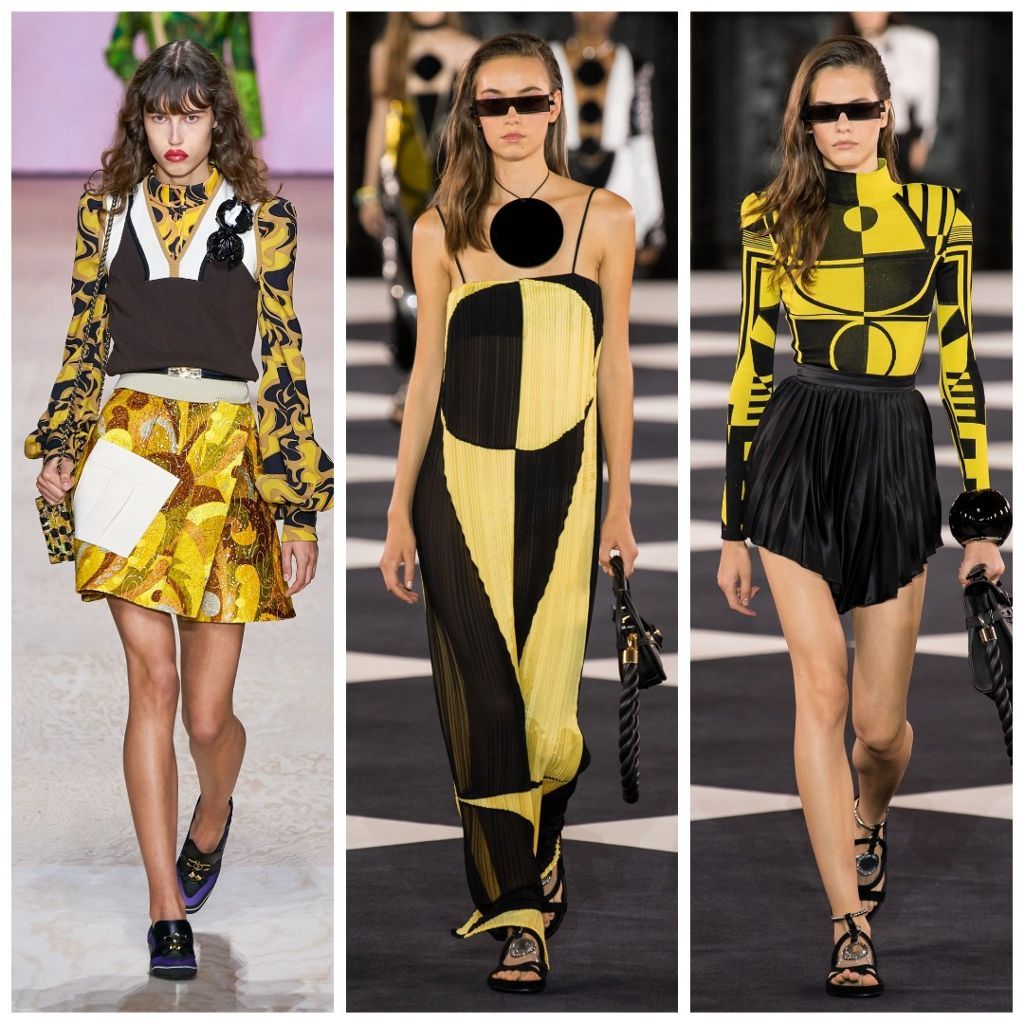 Louis Vuitton spring-summer 2020, Balmain spring-summer 2020, Balmain spring-summer 2020
Combined with black, yellow looks very playful. In the examples we presented, the designers decided to use these colors in unusual prints: the images turned out to be daring, a bit sporty and even aggressive.
Yellow + White
A refreshing combination of yellow and white is great for the warm seasons. Looks in these colors are airy and versatile, and they are suitable for any age and any occasion. In addition to yellow and white, you can add some bright accent to your outfit.
Yellow Gold + Red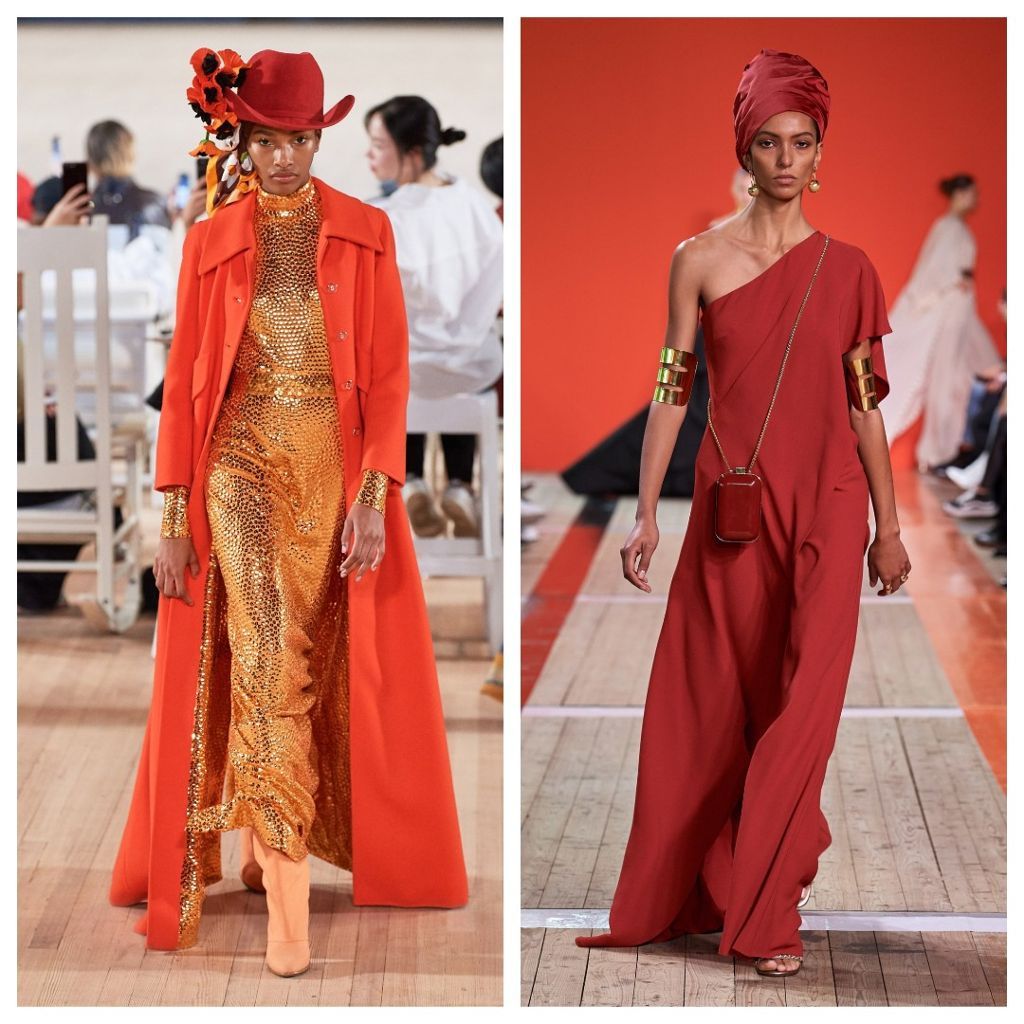 Marc Jacobs Spring-Summer 2020, Elie Saab Spring-Summer 2020
Not every shade of yellow goes well with red. One of the best combinations is red with gold. Gold itself is very active, and if you complement it with red, the look will turn out to be more harmonious, but associated with luxury, wealth and celebration. It is worth noting that gold accessories also perfectly complement the outfits of all shades of red, which we see with the example of Elie Saab.
Yellow + Blue
These are complementary colors that reinforce each other. A very organic everyday look can be made of them: a blue jacket with a yellow skirt will look trendy in the warm season. Don't be afraid to choose brighter shades of these colors.
Yellow color in prints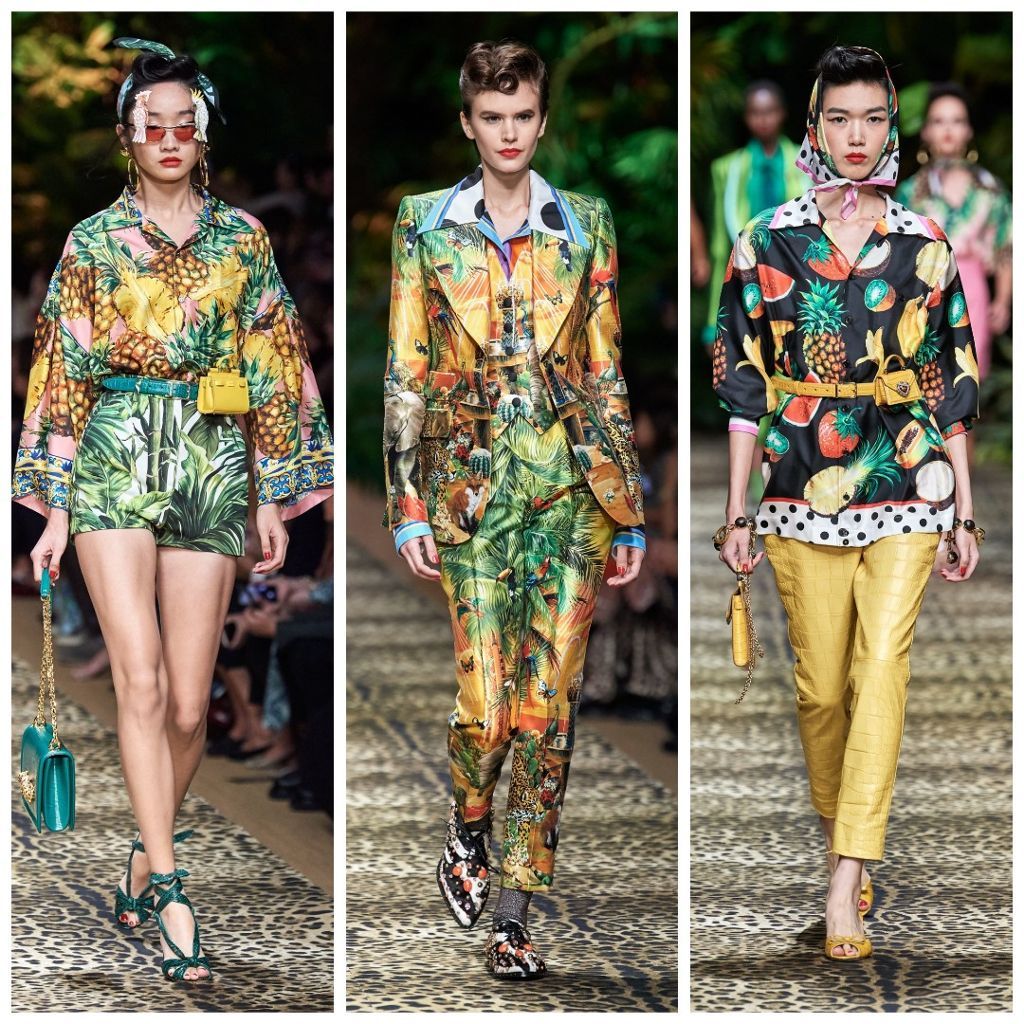 Dolce & Gabbana spring-summer 2020
Yellow enlivens any print, makes it brighter and more juicy. Pay attention to Dolce & Gabbana's looks: they use a lot of colors, but the first one that catches your eye is yellow.