Fortunately, the time is now past when jackets were worn exclusively with trousers. Today, this wardrobe item has become a key to creating both casual and evening looks. Summer jackets are the perfect option for the warm season – just choose a model made from light fabric and move out of the classic black or white jackets, because summer is not the time for boredom and conservatism. This summer you should pay attention to fitted and oversized jackets that can be worn with dresses, shorts, or jumpsuits. Feel free to choose bright models of jackets and mix several shades in one look. Summer 2020 is rich in the experiments!
Посмотреть эту публикацию в Instagram
To work: jacket x jumpsuit
The bright color of the jacket is not a reason to wear it only on dates or special occasions – combine it with white jumpsuit and animal prints shoes to impress your colleagues in the office. As accessories, you can use bright bags in the tone of a jacket and a delicate chain bracelet with an elegant pendant that goes well with business style.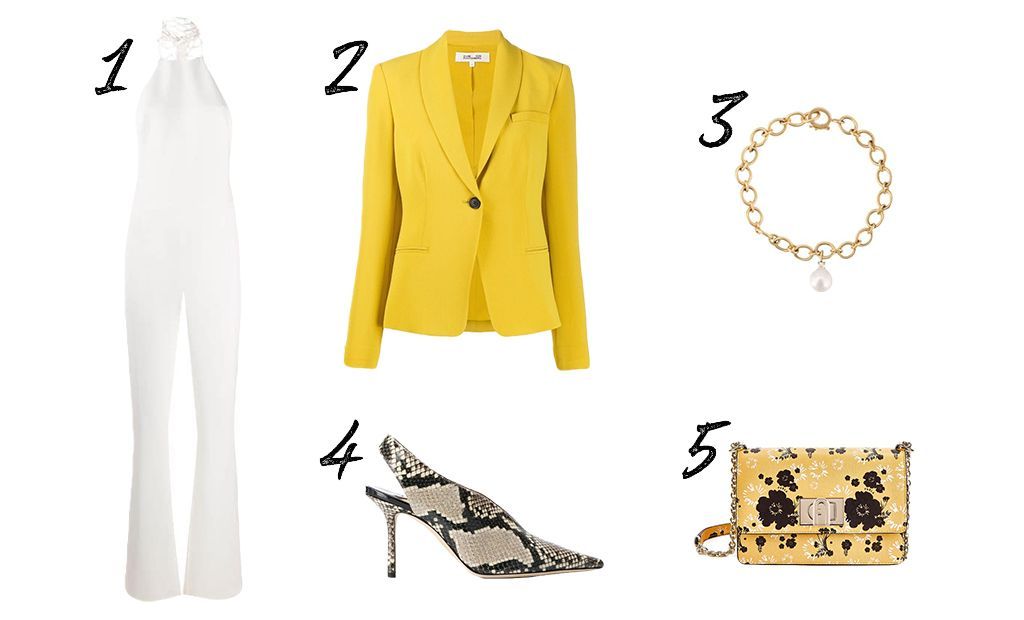 1 – jumpsuit, Calvan; 2 – jacket, Diane Von Furstenberg; 3 – braclet, Irene Neuwirth; 4 – shoes, Jimmy Choo; 5 – bag, Furla
To go out with friends: jacket x shorts
A classic beige jacket, a black linen style top and high shorts will be a perfect combo for a walk in the nearest park or for going out with your friends. Do not forget to wear trainers for the first occasion to feel free and comfy. If you are going to have a little party with your friends choose a pair of animal print high heels, a Poach bag, and elegant earrings to create the most stylish down-town outfit.
1 – jacket, Barena; 2 - shorts, Isabel Marant; 3 – top, Escada; 4 – mules, By Far; 5 – earrings, Jil Sander; 6 – bag, Bottega Veneta
On a date: jacket x bright dress
Over the years, the dress is the best option for a date (and it's not just about the legacy of Coco Chanel and Diane von Furstenberg), so if you are going to a romantic meeting, give preference to everyday colors as well as bright models. A good date may be delayed for a long time, so a stylish jacket will come in handy on a cool summer evening – add some flashy accessories to make your look unforgettable. Lifehack: a nice pair of multi-colored mules can get your mood much better even of your date was horrible!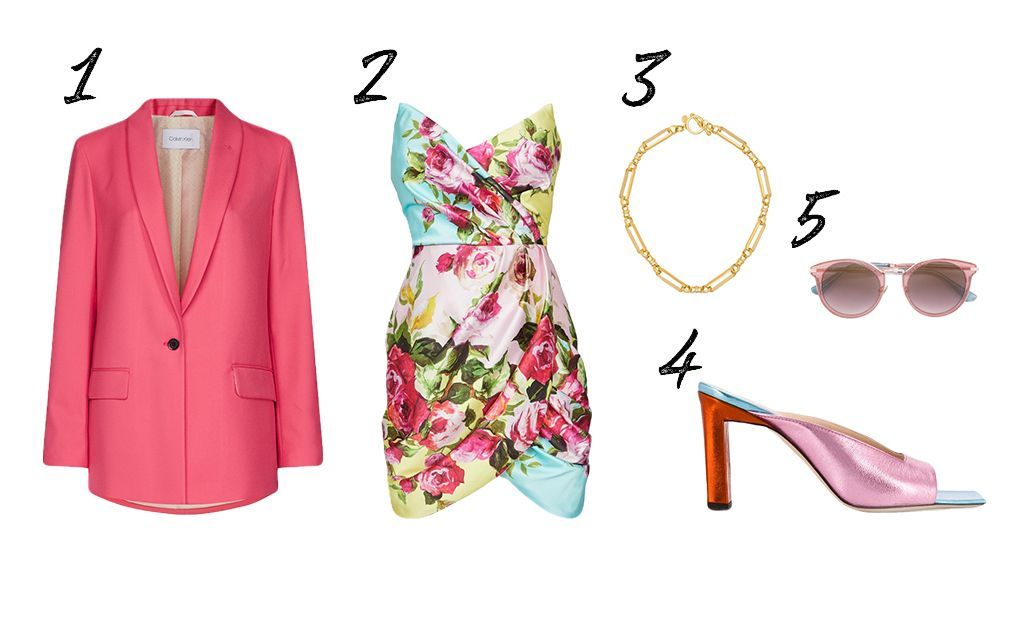 1 – jacket, Calvin Klein; 2 – dress, Blumarine; 3 – choker, Brinker & Eliza; 4 – mules, Wandler; 5 – sunglasses, Jimmy Choo
Read the latest fashion news:
Sisterhood is global: Dior launches an online educational platform
M Missoni x Yoox: what their first recycled capsule collection looks like