"Every season I am inspired by women."
Oscar de la Renta
The famous American fashion designer and owner of an extraordinarily delicate taste for beauty was born in 1932 in the Dominican Republic. Since childhood, he wanted to be an artist and dreamed of long journeys. That is why, when he turned 18, young Oscar went against his parents going to Spain to enter the Academy of San Fernando in Madrid. There he studied art history and fine arts, and in his free time, he worked part-time in fashionable Spanish houses, drawing sketches. That is how his acquaintance with design began.
Посмотреть эту публикацию в Instagram
If many of today's great designers did not immediately win public recognition and went to this for years, then in the case of Oscar de la Renta, everything happened quite by accident and unexpected for the designer himself. One day, he received an offer to design a prom dress for Beatrice Lodge, the daughter of an American ambassador. Soon, a photograph of a girl in an Oscar de la Renta dress appeared on the cover of the fashion magazine Life, after which the talented young man was literally inundated with orders and letters of praise. Having created his first masterpiece at the age of 28, Oscar also attracted the famous Spanish designer Cristóbal Balenciaga, who made him his apprentice.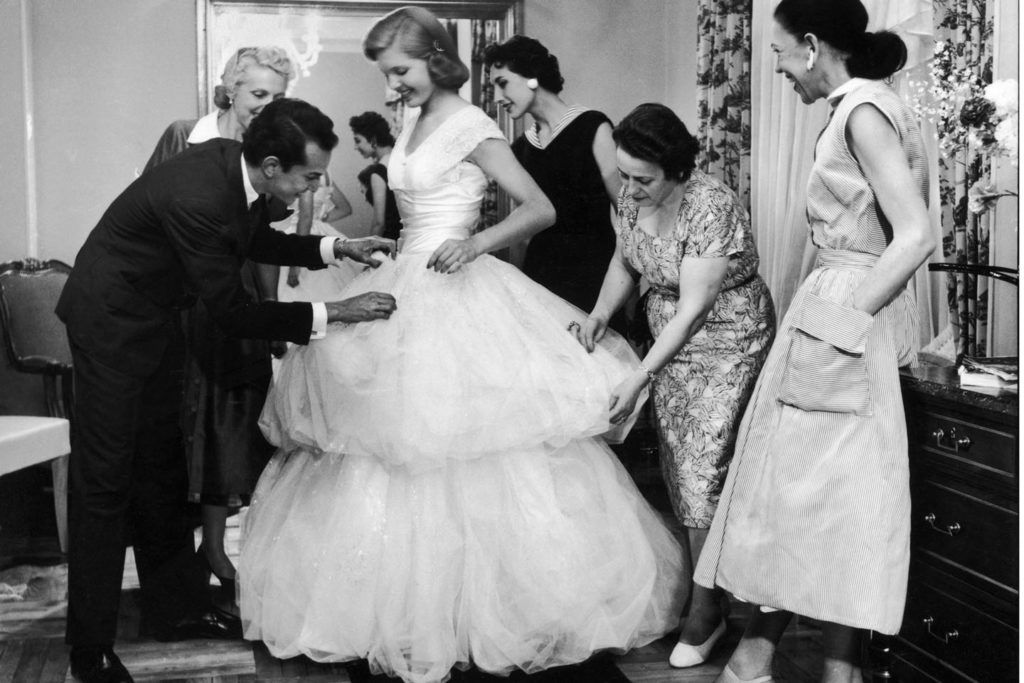 The passion for fashion did not extinguish the craving for wandering, so in the late 50s, Oscar went to Paris. There he got a job at the French fashion house Lanvin, becoming an assistant to the fashion designer Antonio Castillo. Besides, the young designer did not miss a single opportunity to collaborate with other major brands while working with Balmain Couture and Christian Dior. Nevertheless, great creativity, indomitable love for beauty, and the desire for constant development pushed the designer to the idea of ​​creating his own brand. And again, in pursuit of his dream, Oscar de la Renta goes to another country - this time to America.
This trip was also prompted by another tempting job offer. The owner of the cosmetics empire Elizabeth Arden, who had long wanted to launch a clothing line, invited Oscar to collaborate with her. The wise advice of Diana Vreeland, editor-in-chief of American Vogue, helped the designer to make the final decision. The fashion expert advised accepting Arden's offer since she absolutely does not understand anything about fashion, and this will allow Oscar to prove himself, bringing all his ideas to life. So, to not be overshadowed by eminent fashion designers, Oscar de la Renta turned down the Christian Dior fashion house and began working with Elizabeth Arden.
Посмотреть эту публикацию в Instagram
In 1965, the designer presented his first collection in New York, and two years later, founded his own namesake brand, having bought the Jane Derby brand after the death of its founder. Three years after founding his fashion house, the designer launched a line of menswear, and three years later took over as president of the Council of Fashion Designers of America.
In 2004, the first Oscar de la Renta store was opened in New York. The fashion house was able to enter the international arena in 2008 when brand stores appeared in Athens and Madrid.
Oscar de la Renta fall 2008
Photos: Vogue.com
The main distinguishing feature of all the designer's things is a clear and laconic silhouette, exceptional femininity, sophistication, and elegance, as well as adherence to his own style and vision. The fashion designer did not like to come up with themes for collections, think about trends and popular trends. "I do not have one theme for each season, I just try to make beautiful clothes all year round," he said. This approach has resonated with many celebrities. Presidents' wives, movie stars, singers, and many other famous personalities have sought to hit the red carpet in stunning outfits by Oscar de la Renta.
Посмотреть эту публикацию в Instagram
Посмотреть эту публикацию в Instagram
Посмотреть эту публикацию в Instagram
The Oscar de la Renta wedding dresses, which have become real masterpieces, deserve special attention. Delicate lace and fluffy airy skirts, flying ribbons, and amazing embroidery are the invariable classic elements of wedding dresses by de la Renta. The designer made his last wedding dress for Amal Alamuddin, the current wife of George Clooney.
The great fashion designer passed away on October 20, 2014. Oscar de la Renta died at 82 from cancer, which he heroically fought for the last eight years of his life. Despite the terrible illness, the designer continued to work actively until the end of his days.
Посмотреть эту публикацию в Instagram
After the death of the brand's founder, Peter Copping became the creative director of Oscar de la Renta fashion house. His candidacy was approved in advance by the maestro himself. The successor of the great master perfected the style of the brand using the main components of the brand's DNA such as vivid colors, floral prints, and feminine silhouettes. In 2016, after two years of collaboration, the designer left his position. Today, Laura Kim and Fernando Garcia are responsible for the brand's appearance, who have previously developed women's clothing collections for the Oscar de la Renta collections.


Посмотреть эту публикацию в Instagram
Посмотреть эту публикацию в Instagram
Посмотреть эту публикацию в Instagram
Read also:
Alexander Wang: the young talent who found new ways of doing fashion
Jean-Paul Gaultier: how l'enfant terrible pranked all fashion industry