"I defy anyone to design a hat, coat, or dress that hasn't been done before...The only new frontier left in fashion is the finding of new materials."
Paco Rabanne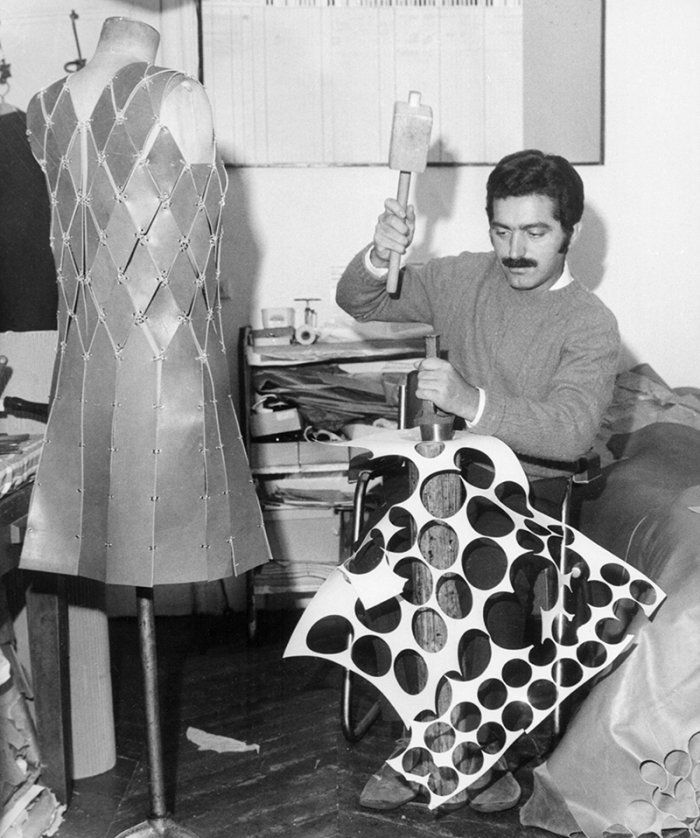 Photo: pacorabanne.com
Paco Rabanne was born in 1934 in Spain but lived there for only five years - the civil war in his homeland forced his family to move to Paris. At 18, he began studying architecture at the National School of Art while designing accessories for the Balenciaga fashion house. Gradually, in addition to cooperation with Cristobal Balenciaga, Paco started to create accessories for Givenchy, Dior, and Yves Saint Laurent.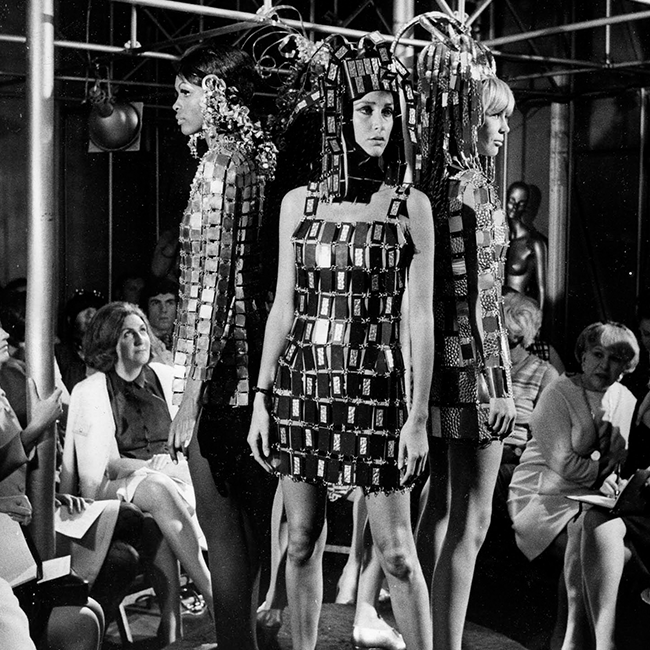 Photo: pacorabanne.com
Rabanne declared himself as an independent designer ten years later - at that time, he was 30 years old. In 1966, the namesake brand presented its revolutionary fashion show "Manifesto: 12 unwearable dresses in contemporary materials." At the show, Rabanne completely broke the concept by using music, which was an innovation at the time. Claiming that "sewing is slavery," he made dresses not from fabric, but paper and other "unfashionable" materials such as plastic and metal, fastening them with wire and glue.
Посмотреть эту публикацию в Instagram
The chainmail dresses became the iconic symbol of Paco Rabanne fashion house as well as a historic turning point for the entire industry. These dresses, like the brand itself, quickly caught on to Françoise Hardy, Brigitte Bardot, Jane Birkin, and many other celebrities.
Посмотреть эту публикацию в Instagram
Françoise Hardy

Jane Birkin

Photos: instagram.com/pacorabanne/
As a representative of fashionable futurism, Paco Rabanne not only replaced silk and satin with metal and plastic but also redefined perfumery. Launching the first feminine fragrance "Calandre" in 1969 together with Puig, the brand once again demonstrated its rebellious aesthetic mixed floral and subtle cypress scents that defied traditional perfumery. Four years later, the designer took another revolutionary step by creating the men's fragrance Paco Rabanne Pour Homme - an insane synthesis of the scent of flowers and wood.
Посмотреть эту публикацию в Instagram
Today Paco Rabanne has moved away from the fashion world. In his declining years, the master lost interest in high fashion, and in 1999 he handed over the affairs to young, energetic, and no less talented successors. Since 2013, the Creative Director of the brand is Julien Dossena, who, like Rabanne, worked for some time in the Balenciaga fashion house. Since 2014, the Paco Rabanne fashion house has been owned by the PUIG group of companies.
Посмотреть эту публикацию в Instagram
Посмотреть эту публикацию в Instagram
Julien Dossena rethought the brand's corporate identity, abandoning heavy metal - these are all the same chain mail, plates, and scales, but made of light plastic. "When I think of Paco Rabanne, I don't think retro - I think revolution, rebellion and renaissance," Julien Dossena says.
Read also:
Bottega Veneta: 'When your own initials are enough'
Dries Van Noten: freedom as a principle, independence as an element of success