"My goal is to help women become the best version of themselves."
Tom Ford
Посмотреть эту публикацию в Instagram
Perfectionism has become an integral part of Tom Ford's exquisite collections and his personality as well. The designer himself puts it this way: "I probably do have an obsessive personality, but striving for perfection has served me well." Most likely, this desire for perfection originated in him as a child, although the Ford family was far from the fashion world. Tom was born in 1961 in Austin, Texas. His parents worked as real estate agents, and his grandparents lived on the ranch, where little Tom spent a lot of time. According to Ford's memoirs, it was his grandmother who made him first feel awe for perfect beauty. "My grandmother was probably the first person who I thought was beautiful. She was incredibly stylish, she had big hair, big cars. I was probably 3 years old, but she was like a cartoon character. She'd swoop into our lives with presents and boxes, and she always smelled great and looked great," he remembered.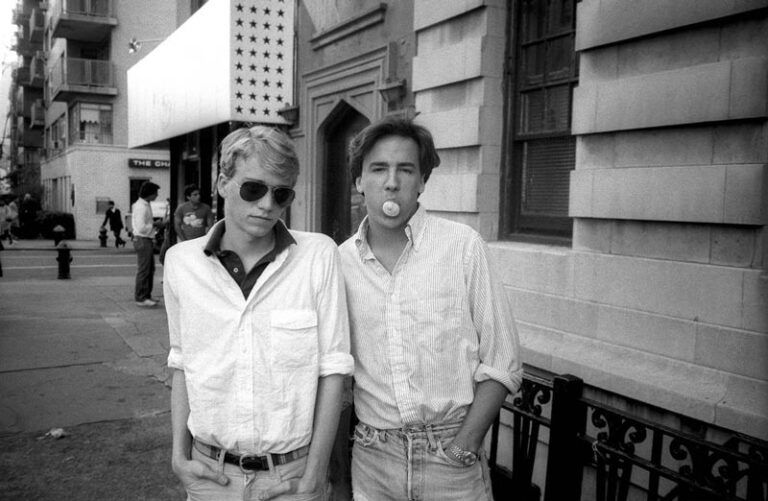 Tom Ford is on the left
Nevertheless, despite his love of beauty and subtle ability to notice even the smallest details, Tom Ford spent several years searching for his true destiny. At 18, he moved to New York to study at New York University. However, most of the time he spent hanging out at Studio 54. A year later, Tom dropped out to pursue acting in California. However, this field did not become a vocation for him. Working as an actor allowed him to save money for a new occupation: Ford entered the Parsons School of Design to become an architect but later switched to fashion. After graduating from university in 1985, he took a job as an assistant for designer Catherine Hardwicke, two years later moving to Perry Ellis. From that moment on, the career of a novice designer began to grow rapidly.
Tom Ford's real success story began when he joined the Gucci fashion house in 1990. The Italian brand was then practically bankrupt, but Ford was gradually able to return it to its former glory. He introduced a new image of the Gucci girl, making her more relaxed and sexier, and his innate perfectionism helped him avoid vulgarity. At the same time, Ford, together with Gucci President Domenico de Sole, managed to prevent the brand's takeover by LVMH. As a result, the house was able to rise on its own and become the Gucci Group. The company began buying up major fashion houses, including Yves Saint Laurent, Balenciaga, Bottega Veneta, and Sergio Rossi. Ford's mandate also included the ability to influence the group's strategic decisions. He championed the need to invest in young designers - in Alexander McQueen, whose brand was acquired in 2000, and in Stella McCartney (in 2001). All went well until 2004 when shareholders wanted more control over the brands that make up the group. In this regard, Ford decided to leave the company.
Gucci fall 1995 ready-to-wear collection by Tom Ford

Photos: Vogue.com
Nevertheless, the triumph that resulted in all the years that Ford spent in Gucci fashion house has already made him a successful designer. That is why launching the own brand was a matter of time for him. Thanks to his popularity, the designer was able to conclude several large licensing contracts and gave his name to perfumes. In 2006, the debut fragrance of the Tom Ford Black Orchid line was released.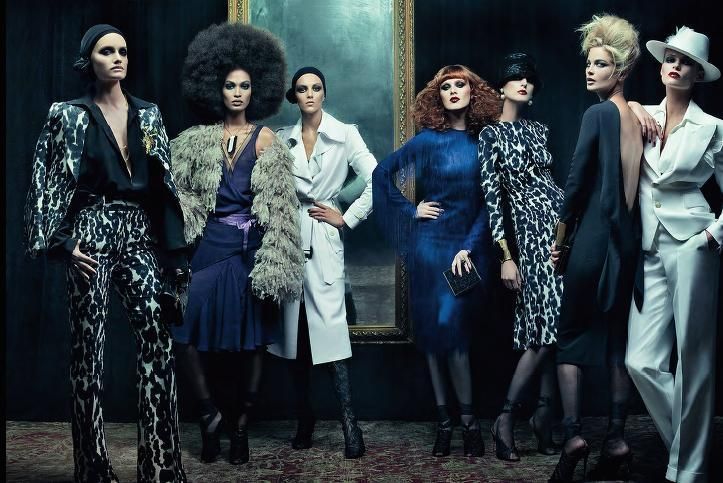 Tom Ford's first womenswear collection, 2011
In 2010, Tom Ford launched the women's clothing line. Tom Ford decided to hide his debut collection from the public eye and instead showed it to his loved ones. Two months later, it was featured in an exclusive issue of American Vogue. The brand's first full-fledged fashion show took place in 2011. "When creating the women's collection, I constantly have in my mind all of the women in my life who are inspirational," he admitted. Among those women were Beyoncé, Julianne Moore, and Daphne Guinness, who became a part of his fashion show.
Посмотреть эту публикацию в Instagram
Посмотреть эту публикацию в Instagram
Tom Ford men's and accessory lines were no less successful. Many customers began their acquaintance with the brand with its recognizable T-logo bags or sunglasses, while the men could not pass by a perfectly fitting elegant suit by Tom Ford.
Посмотреть эту публикацию в Instagram
From the first show to the present day, the designer continues cultivating sexy and seductive looks, singing the beauty of passion and temptation. In Tom Ford's advertising campaigns, there are always a lot of naked bodies and provocative shots, and each new collection causes a flurry of positive criticism and an inevitable increase in sales.
Read also:
Marc Jacobs: beauty in odd and imperfect things
Elsa Schiaparelli: how the world of shocking fantasy and surrealism became part of fashion
Oscar de la Renta as the synonym of a feminine evening dress